Despite my Nordic roots and name, it's beginning to occur to me that I'm not cool enough for the new Linde Werdelin. The Swiss-Danish watchmaker is well known for their decidedly strong design language. Increasingly, they're nearly as well known for their stoic refusal to be deterred from banking all on it. Today, it's the same. They'll stand their ground with a very special 88-piece limited edition of their first diver, the Linde Werdelin Oktopus Blue Sea.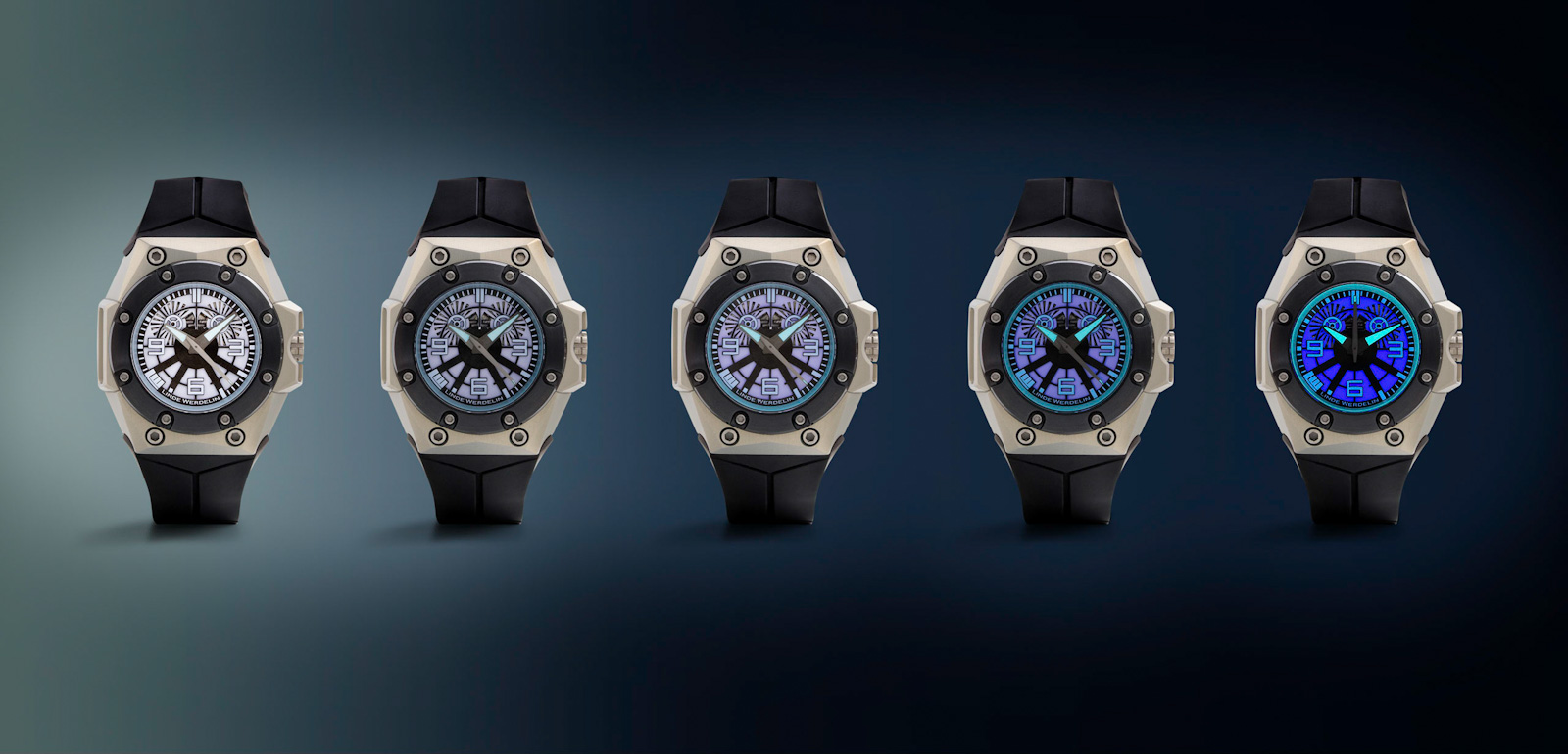 Immensely strong looking, and dainty like, well, an anvil or a block of arctic granite. Which is exactly why we enthuse about these large pieces of horology: broad at 44mm, but lugless, with a comfortable 46mm length, and shaped to fit the wrist, so comfort? Yes. Presence? Like wow. The Oktopus is a big tool diver, seemingly bulletproof with the milky-white strong LW alloy, with a dark bolted-down bezel and tough rubber strap.
The multi-layered dial is an architectural gem, and while it seems a very calm light grey tone, something magical happens as soon as you enter a dark corner of the room, or even sit in your car. A transformation into a multi-coloured, Miami Vice-sorbet colour-infused light-bomb. How did they do that?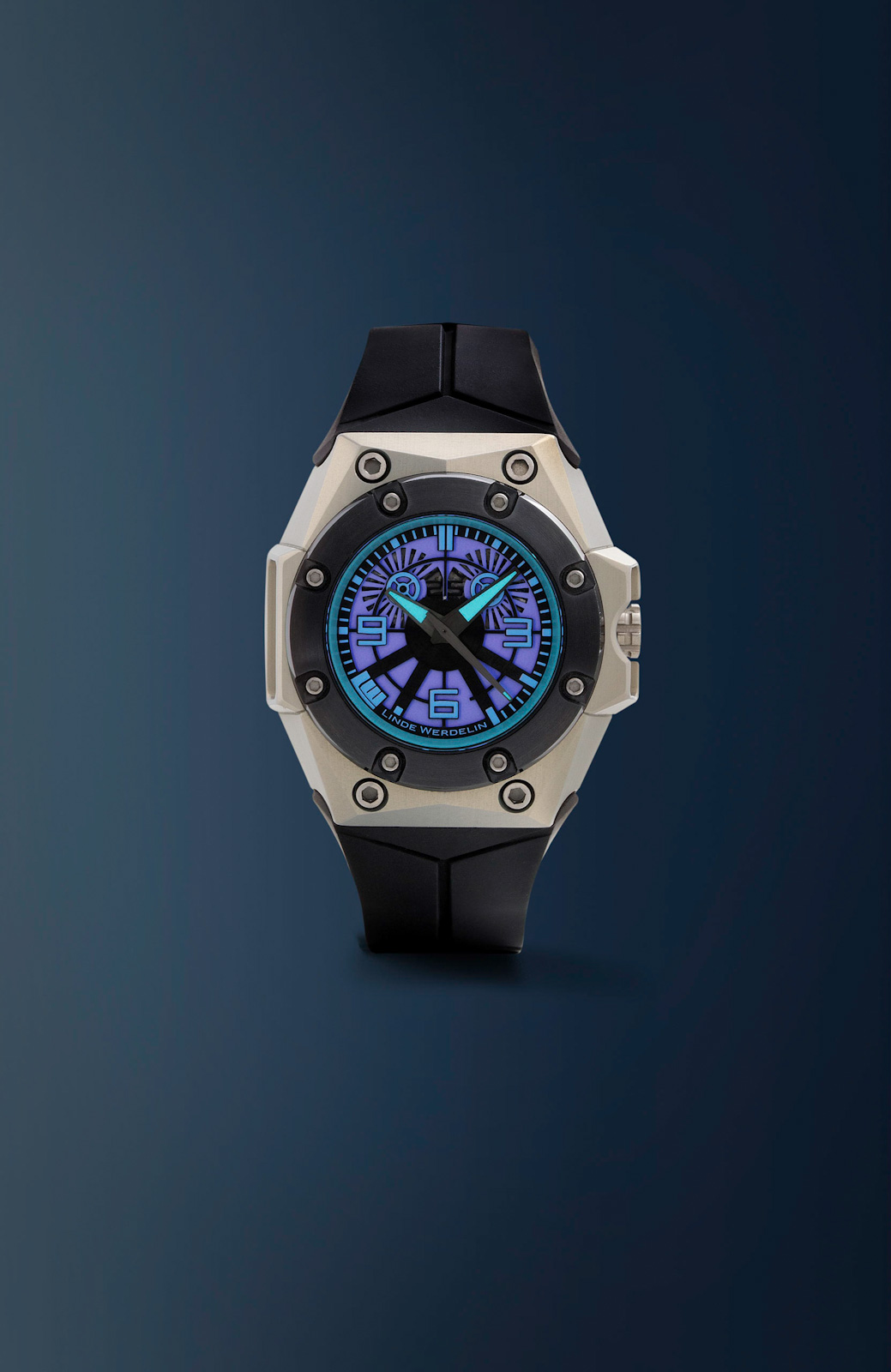 With the help of James Thompson, aka Black Badger, lume-and-materiality sorcerer du jour. I was very lucky to catch him in a fleeting moment between machining a space-age rod of Super Conductor while being on one of his daily calls with Super-LumiNova at their Swedish skunkworks/lume alchemy lab. How did this barrage of colours come about with Linde Werdelin, James?
"Linde Werdelin might be the first brand that I ever really started talking to, in 2013 or '14 I would say when we first started chatting," James explained. "Fresh from my first watch project, the Schofield Blacklamp, having just come out, with an exploded ego … Kristian Haagen called me while having lunch with the guys from Linde Werdelin: 'We've done nothing but talk about you.' We have been in touch ever since, waiting for the perfect project … and here we are."
"We just couldn't really find what we wanted to do together, it almost felt like trying too hard, but when this one came about – it sounds so dumb to say – it was so organic. The idea was a dive watch, pushing the limits of what we could do with the next generation of glow materials. I'm probably on about at least the fourth generation of photoluminescence that I'm working with, and I'm in daily contact with Super-LumiNova in Switzerland. We're absolutely pushing the limits, this place is like MythBusters. I'll try something and it might start a fire — I'll come back with one eyebrow and that's cool. I really enjoy doing that. So it's a perfect relationship."
He adds: "The Oktopus was a case of Jorn Werdelin giving me the keys to the kingdom and saying, 'Look for what we have and think what you can extrapolate from that. Originally, because a lot of the pieces that I had done previously, like my project for MB&F and Sarpaneva, people were coming for something that glows so much that it's like the B-reel from the Tron outtakes. We didn't want to arbitrarily do this, but as soon as we started talking about doing a dive watch, I really was ironically embracing the Desk Diver. You see all these videos where someone's got a f*cking $100,000 watch. Yes, you can take it swimming, but they call it a dive watch — you're not diving with your $100,000, mate."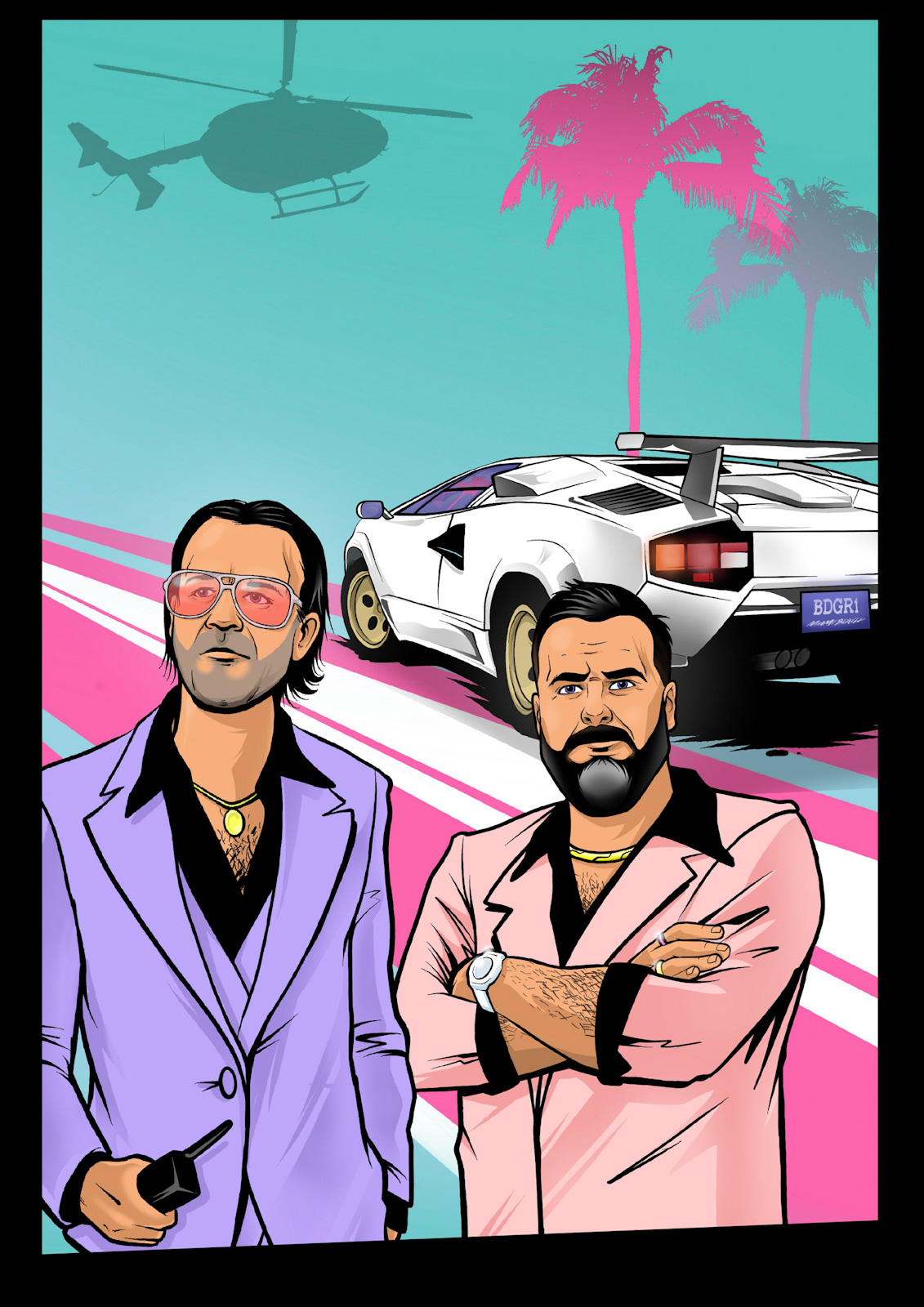 "Yes, this is an indestructible tool watch, but wait. That's where the Miami Vice vibe came from because I really like the idea of the owner of the dive boat sitting on the dock with a mojito at 10 o'clock on a Sunday morning kind of thing and just a cigar, like 'Aw, f*ck it, bring it back with a full tank of gas.' At the time there was a couple of new colours of Super-LumiNova that we were working with. This aesthetic wouldn't have worked if it was just bright green, but we were in the process of finishing up some work on the new violet, which is what features quite heavily in this piece.
"In the Oktopus there are three different colours of lume within the dial. But actually being able to play around with the colour of the emission, the colour of the glow light itself, at the same time being able to actually affect the daytime colour of the material, was, in my nerdy little world, revolutionary. On every watch that I had done, the glow material is simply tolerated during the day, and no, you don't really get excited about it. It's this old bar of soap in the back corner of the shower, greenish old toothpaste … this is some sales pitch!"
"That's why trying to hide the material, or to backlight things. Here we actually found that the interruption in the pattern is much more interesting than just how much light it emits — this was a revolution for me. With the Linde Werdelin Oktopus Blue Sea we're having the lume hold centre stage, both in the daytime and in the darkness, because the reality is that 95 per cent of the time, yes, you're going to be seeing it in the light. Was this a dive watch that wasn't necessarily interested in being a dive watch? I think having a little bit of schizophrenia in there really made it easier and more fun.
"What we found with this one, in particular the violet colour, puts out more daylight-visible light. Colours that are more towards the yellow and orange end of the spectrum put out a lot of light, but it's not a wavelength that your eye can see very well. There are three different lume colours within the watch, created by custom-designing a variant with Super-LumiNova. During the daytime all three colours are a common Pantone Cool Gray number 3, a very clean, Danish design: a graphic, architectural-looking piece. When you get it in the dark, it's just South Beach Miami."
"The violet is the one in particular that if you charge it up and you're in a viewing environment that's too light to make it really project light, the actual piece of material takes on a colour kind of similar to this blazer that Jorn is wearing on the Miami Vice poster. It gives a really soft, lilac colour, which I've never really seen before. It's the first lume watch I've ever done where I would say it looks better in the half-light than it does even in absolute darkness. Because in absolute darkness that same violet is a much darker blue.
"Going with the Miami Vice aesthetic, if you're standing on a dock or standing on a boat looking down into a reef, as you go deeper down into the water you're getting darker and darker colours. So, the highest level of the watch is the aqua, the brightest, easily perceived colour. And then you move down, the second level is ultra-marine. At the bottom of this multi-layered dial, the deepest point, that's the violet."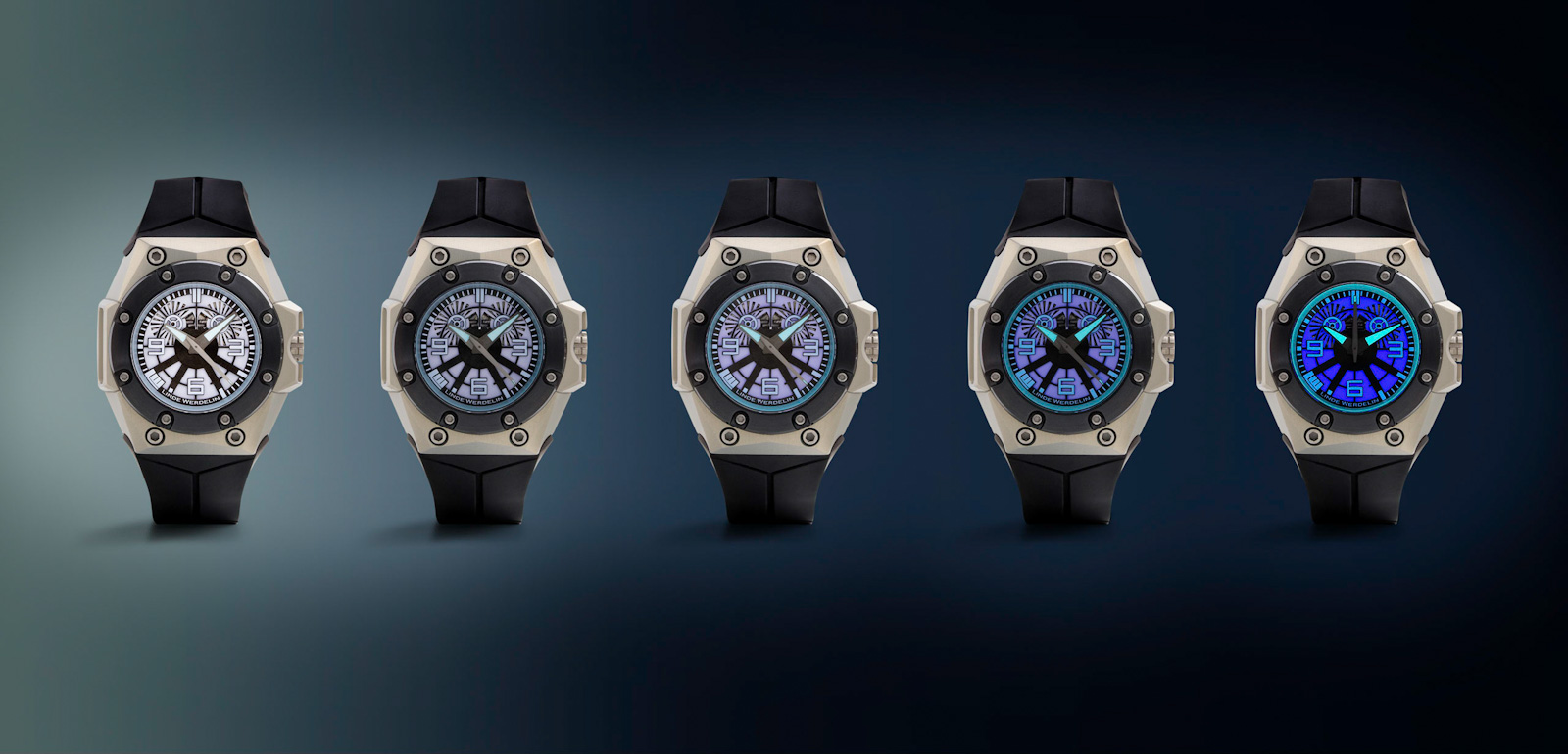 "The layering lets you almost play with light and shadow in a way that I don't think has really been done before. Every watch glows a little bit if you're driving through a tunnel, but this is like you drive past a tree or something and you get a little something going on there. It's like the Oktopus winks at you. In my very dorky world I always really enjoy those little winks, because it sort of feels like the watch is going, 'Hey, hey buddy. How you doing?' You know? And you get a little bit of a dialogue with it."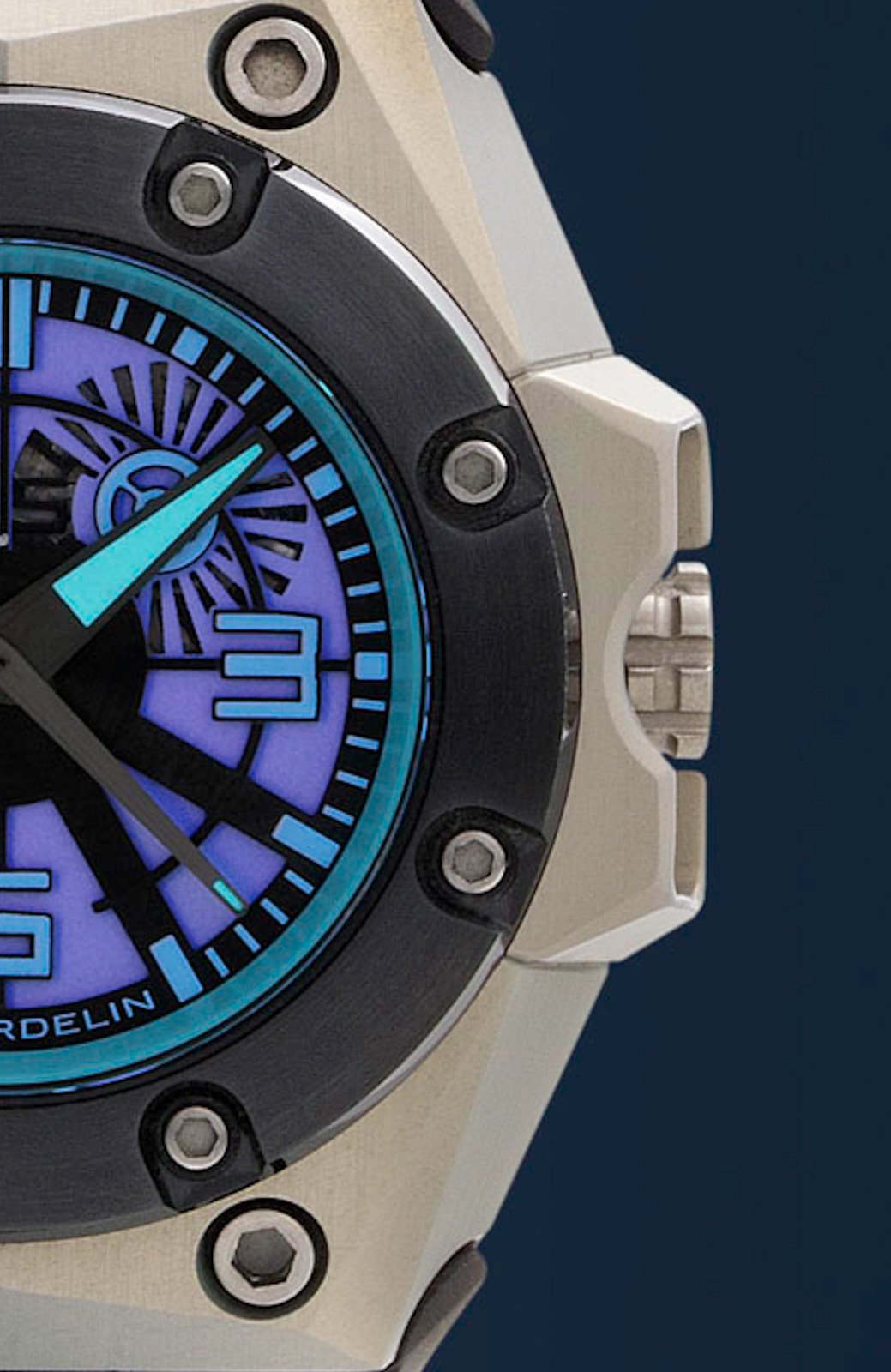 "And yes, I think there'll be more collaborations with Linde Werdelin, though I don't think that the watches will all be as theatrical as this. It's a case of not painting myself into the corner, to be the person who just comes into a respectable brand and drinks a bottle of whiskey, takes his pants off, and puts a lampshade on his head. It happens. It works on some occasions, but you also don't want to be somebody who needs to rely on shocking people in order to hold their attention."
Indeed, James. So that's an insight into the world of luminescence, and why the new Linde Werdelin Oktopus Blue Sea is a different kind of tool diver, unexpectedly blasting into life when the night falls or you're in the murky depths. The Linde Werdelin Oktopus series is powered by a customised Dubois Dépraz caliber 14580, with an intriguing double date at 12 o'clock. And yes, with its 300m depth rating and black ceramic bezel it's well tough — tough enough to outlive your adventures, while at the same time lighting up your nights with a touch of Black Badger lume alchemy.
Linde Werdelin Oktopus Blue Sea price and availability:
The Linde Werdelin Oktopus Blue Sea is GBP 12,000, is limited to 88 pieces, and available from Linde Werdelin.