Editor's note: The other day I was spending some time at my local Blancpain stockist, and I found my eyes consistently being drawn to the Bathyscaphe (which was only a little awkward as I was meant to be checking out Blancpain's 2019 releases, which was a decidedly Bathyscaphe-free zone). And while the Bathy is offered in a few variants, one of the coolest is the Blancpain Fifty Fathoms Bathyscaphe in black ceramic …
Blancpain's Bathyscaphe is one of those rare, chameleonic watch designs. A watch that, broadly speaking, owes great fidelity to its primogenitor, but a watch that doesn't look dated. It's a neutral watch — something that gives the Bathyscaphe broad appeal and great versatility. In steel, it's a classic, traditional dive watch, but here, in black ceramic, it's something much more modern in style. And the execution of the ceramic really is gorgeous. Crisp lines, even brushed finishes, really lovely stuff — the material is finished like metal, but with ceramic's advantages of light weight and scratch resistance. No matter how you slice it, the case of this watch is cool.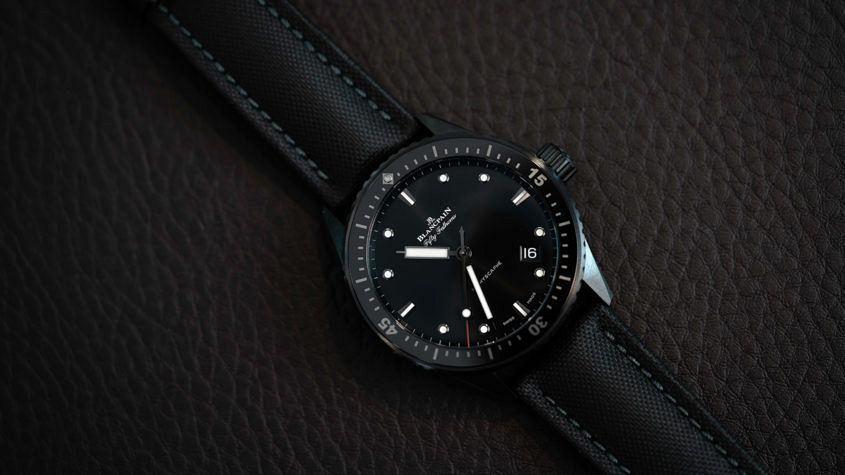 The dial isn't half bad either, and I quite like how reserved Blancpain has been, keeping the hour markers quite small when it must have been tempting to scale them up. The result is, to my eye, a more subtle, versatile watch dial, which doesn't scream 'diver!' at the top of its lungs. This is a watch you could definitely wear daily, with a suit (especially in the smaller case size), or for any Cousteau-esque underwater adventures you might have planned.
Blancpain Fifty Fathoms Bathyscaphe black ceramic Australian pricing
Blancpain Fifty Fathoms Bathyscaphe black ceramic, on fabric strap, $16,050