Big watches for small wrists – 10 watches that wear smaller than their case diameters Part 2
Zach Blass
Editor's note: As we discussed here and in Part 1 of this article, watch lug to lug is an oft misunderstood element in finding the perfect fitting watch to your wrist. Here's why. 
Ressence Type 1 Slim (42mm x 46mm)

While some Ressence Type references push upwards of 52mm lug to lug, if you are looking for one of their more compact offerings, the Type 1 Slim is your best bet. At 46mm in lug to lug measurement, the 42mm case wears very well on the wrist. Its wire lugs taper the strap downward, creating an absence of unnecessary fixed length. This Ressence watch is a great example of why you need to pay attention to lug profile as much as case profile. Larger diameters do not necessarily mean a larger watch. The front of the watch is all dial, with no bezel to take up dial diameter. This creates the illusion of a much larger watch, but it is in fact just that: an illusion. RRP: $20,600 USD/approximately $28,710 AUD
Bulgari Octo Finissimo Automatic (40mm x 46mm)

Starting to think 46mm is the perfect vertical length of a watch? Then the Bulgari Octo Finissimo is another watch that should enter the conversation. Its bold Roman architecture design leads consumers to believe it is a large-wearing watch when it is in fact the opposite. Its compact lug to lug measurement is found on both the strap and bracelet configurations as the bracelet integrates perfectly and has little to no fixed flaring. The slimmer links also mean a greater degree of sizing can be achieved. Once the right number of links are removed, this ultra-thin 5.2mm watch will blend into the wrist, making onlookers think it is not an extension of your body, but rather actually part of it! Looking for something sporty? The latest renditions also have the balance bridge found in the previous models, but now (without any major addition in thickness) also including a screw-down crown and depth rating of 100 metres – making it very hard to name a better sports/dress hybrid. RRP: Starting at $11,900 USD/$17,800 AUD
IWC Tribute to Pallweber "150 Years" Limited Editions (45mm x 50mm)

Another watch 45mm in diameter, this pocket watch-inspired offering is by no means a giant paperweight on the wrist. This gorgeous blue dial watch with a mechanically derived digital display may seem huge on paper … until you discover its lug-to-lug measurement. As compact as the BBGMT, this case reins in its vertical stance on the wrist with well-designed wire lugs. Like the Ressence Type 1 Slim listed above, the design really caters to a larger spectrum of wrists than you may have thought. While by no means small, this larger watch can be pulled off on medium-sized wrists as well. RRP: (steel, 500 pcs) $23,100 USD/$33,000 AUD. (Rose Gold 250 pcs) $36,600 USD/$52,100 AUD. (Platinum 25 pcs) $57,800 USD/$82,600 AUD
Omega Co-Axial "Racing" Speedmaster (44.25mm x 49.8mm)

While the Co-Axial lineup of Speedmasters are 2mm larger in diameter than the traditional FOIS Omega Speedmaster Professional, they actually wear the same or even smaller. The Speedmaster Professional has a lug to lug measurement of 48mm on a NATO/strap. On the modern bracelet, however, its fixed end links extend its size to almost 54mm! This proves the Co-Axial models are nothing to dismiss, and in fact may be more wearable than its more ubiquitous sibling. These Co-Axial references, which are in some configurations ceramic cases, are very worthy of wrist exploration as these packages present a more technically compelling evolution of the traditional Speedmaster without much (if any) increase to its worn size on the wrist. That being said, the original is, of course, an amazing offer as well and is worthy of consideration for any collection. RRP starting at: $8,450 USD/$12,875 AUD
Laurent Ferrier Galet Square "Autumn" (Salmon) Dial LCF0013.AC.RG1.1 (41mm x 47mm)

Though its cushion square profile makes this 41mm haute horology watch seemingly larger, the design execution and taste of independent watch brand Laurent Ferrier still shines through. At a classic 47mm lug to lug, this salmon dial watch is a great option for those who want a modern sized watch with a classic fit on the wrist. The lugs curve perfectly and will hug most wrist sizes for a perfect fit. The movement is hand finished to the highest degree of Swiss watchmaking and is thanks to Laurent Ferrier's attention to detail and previous experience as an Advanced Research and movement-prototype technician at Patek Philippe. RRP: $38,000 USD/approximately $52,977 AUD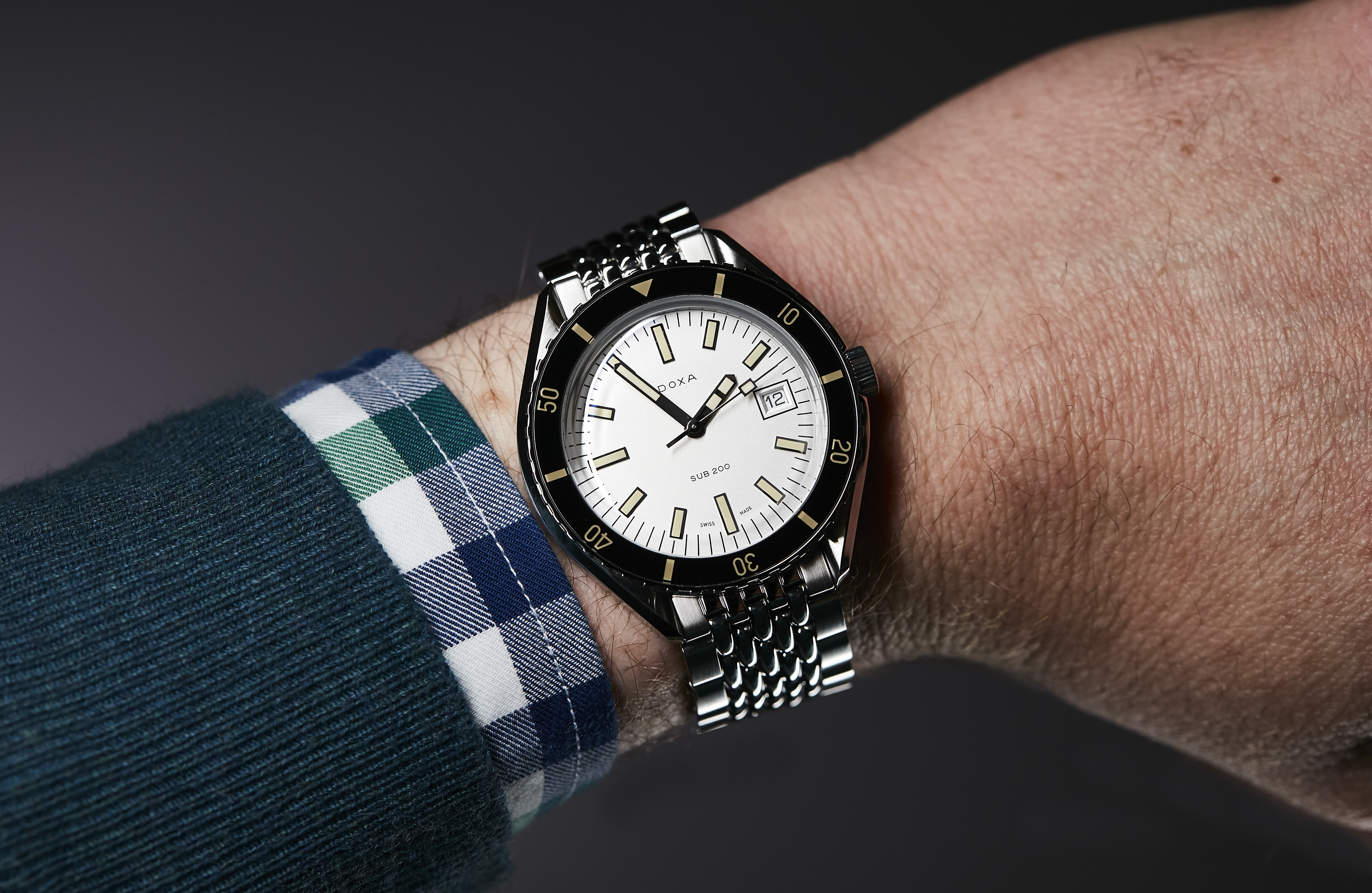 A concluding thought on lug to lug measurement
I get that some of the watches listed above may still be too large for smaller wrists, but the reality is the majority of wearers should have no issue with their size when worn. If shrinking the case diameter is not something you want to do as part of your purchase decision, designs like the above, with proportionally compact lug-to-lug measurements, are the best remedy to your watch size problems/issues. The larger dials create a larger aesthetic on the wrist, while the right lug type and length can truly drive the fit home and keep a watch from wearing too large on the wrist!