There have been several strange side effects of the rubbish situation we currently find ourselves in. Pushbikes, for example, are now more valuable than palladium. And because everything social (cafes, restaurants, bars, clubs etc.) is closed, it's enabled some of us to save cash that we otherwise would've blown on boujee smashed avo brunches.
Now that's not much of a silver lining, but you've got to take the Ws where you can find them at the mo. And as watch enthusiasts, I'm confident that we all operate under this guiding financial principle: any significant cost savings we make must immediately be spent on watches, before we do anything too sensible with it. Not a major purchase or anything, just something to keep us ticking over, to make all this abject virus-related misery tolerable.
The question is: which watch gets the nod? There are so many great timepieces out there that can be had for a grand (or thereabouts) … These are 15 fun options that make us feel good. And what price can you put on that?
Undone Basecamp 420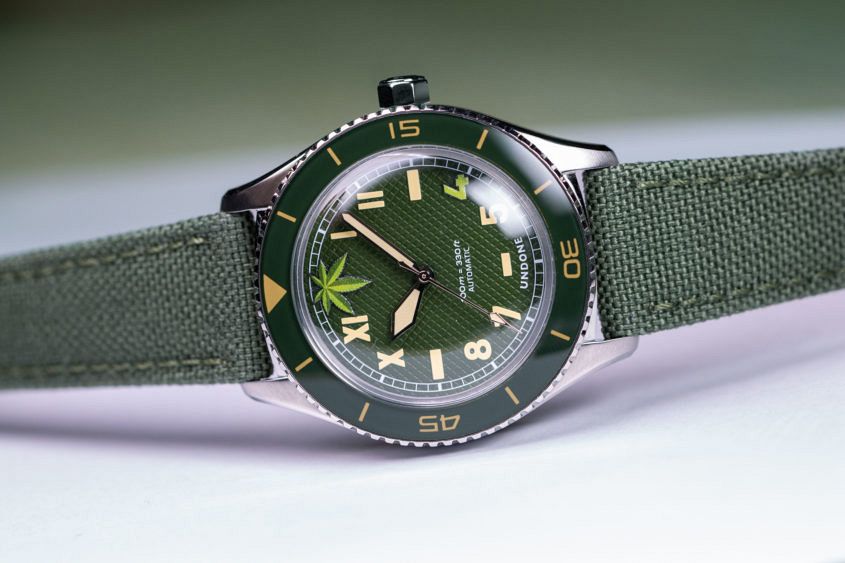 Undone's great sense of humour is matched only by its commercial smarts. What started as an April Fool's joke, quickly escalated into production, because it turns out that it was something the world genuinely wanted to exist. A dope watch dedicated to the wonder weed. Based on the Basecamp Cali Green, this giggle-inducing watch is happening, in both senses of the word. And yes, the green 4 is a reference to that good old 420, in you guessed it, 2020. Buy it here for roughly $700 AUD. For more Undone selections that we can get behind, check them out in our Shop.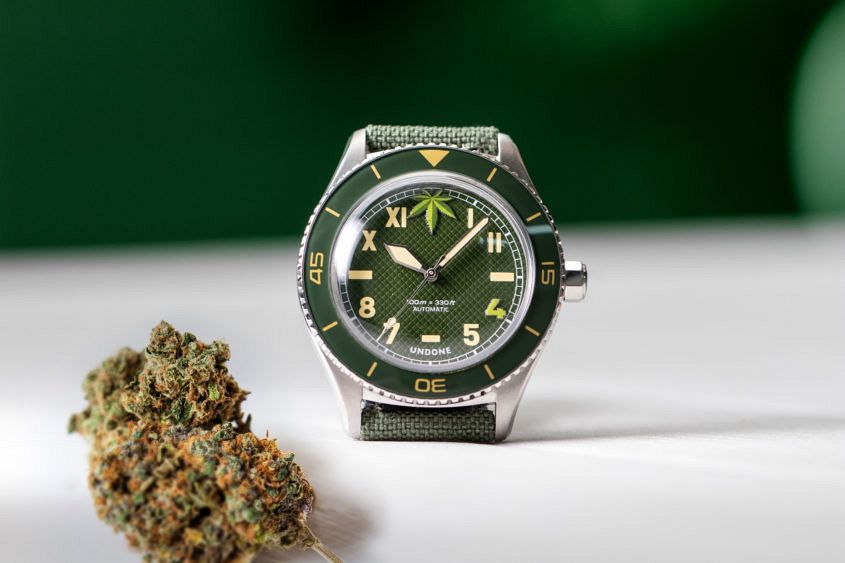 Tissot Gentleman Powermatic 80 Silicium Ref.T127.407.11.041.00
OK, so the rules are being bent a bit for this watch – can we make it under a G USD to get it in? Because the Tissot Gentleman Powermatic 80 Silicium is perhaps one of the best value-for-money propositions in all of horology. Genuinely, you're getting an awful lot of horological cred for not much cash at all. We're talking 80 hours of power reserve, silicon balance spring and a classically proportioned and styled design. This watch doesn't just bang buck … it obliterates it. $1225 AUD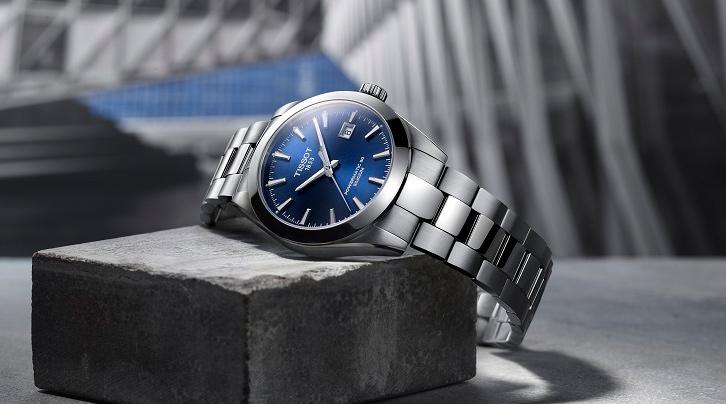 Seiko Prospex Ref. SNE545P1 "White Tuna"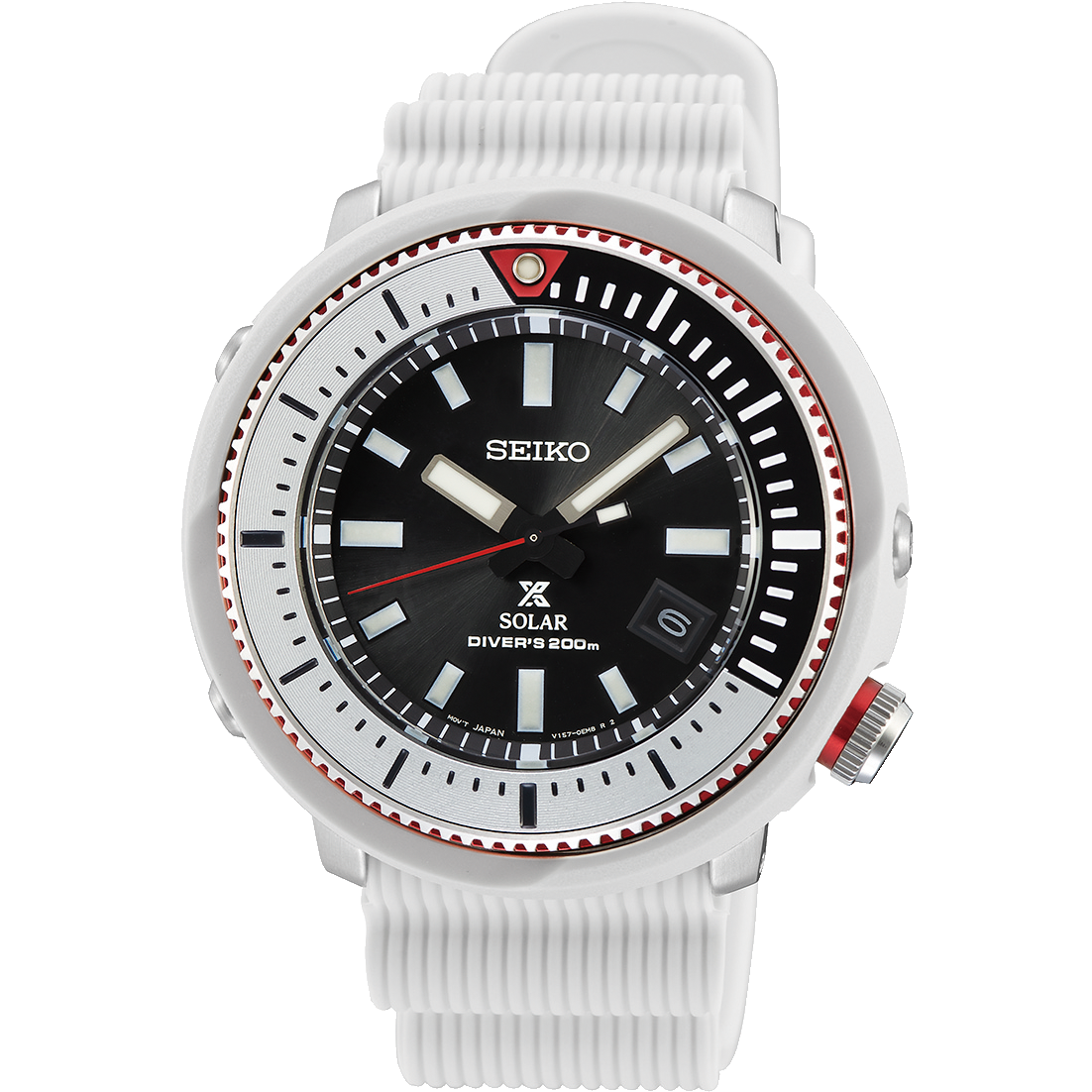 If you're living in the Northern Hemisphere, it means that summer is just around the corner. And, unless beaches are still closed (nervous emoji here), you're going to need a watch to wear when you're soaking up the rays and taking a dip in the deep blue. Luckily, this Seiko "White Tuna" can do both these things with aplomb. For starters, this Prospex is equipped with Seiko's solar-powered Calibre V157, a great movement that's accurate to ±15 seconds per month. And because its water resistance is rated at 200 metres, you'll be able to wear this bad boy in the ocean with no dramas. Oh, and it's all white, which is far and away the best colour for a beach watch. $699 AUD
Baltic Bicompax 001
This is such a good-looking watch. If you're after a Bicompax chrono that isn't going to break the bank, I actually can't think of many other watches that come close to offering what the Baltic Bicompax 001 does. The Gallic watchmaker is really on to something – perfect proportions (38mm across), manually wound movement, blued steel handset, simple and elegant dial – it's got the lot. Tasteful frugality with a chrono complication to boot … where do I sign up? $595 USD
Swatch Sistem51 Petite Seconde Black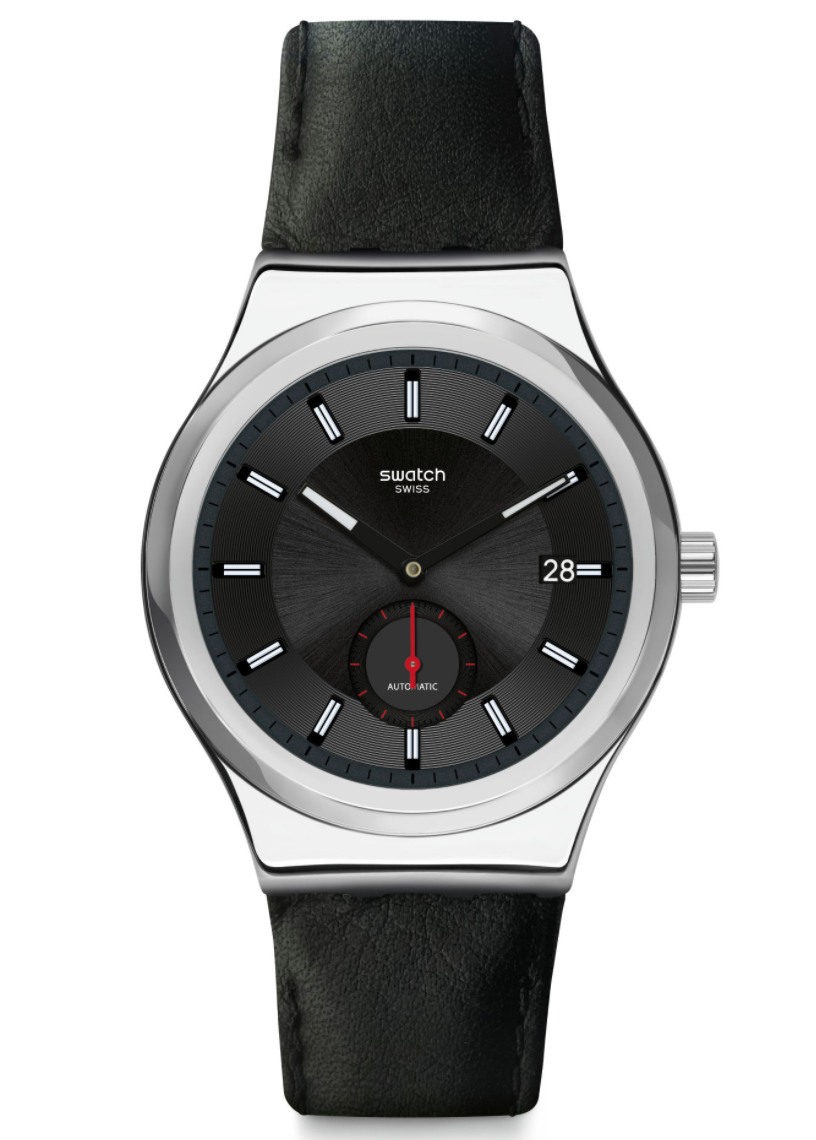 A lot of people turn their noses up at Swatch and the Sistem51, but anyone who's willing to set aside their misguided snobbery for even a moment surely has to admit that the Swatch Sistem51 is a marvel, plain and simple. The word democratisation gets bandied about far too easily in the world of editorial, so much so in fact that it's one of those words that's at risk of losing its meaning. But democratise mechanical watchmaking is exactly what the Sistem51 has done – it's showcased how a mechanical wristwatch can be wholly and solely made by robots, with a ruthless efficiency and cost-effectiveness that us mere mortals could only hope to replicate. It is a complete dichotomy of a timepiece, and this newest iteration, the Petite Seconde, shows off great Bauhaus design cues and a cleverly chic aesthetic. $310 AUD
Longines Conquest Ref.L3.759.4.58.6
The concept of being able to purchase something with as much cachet as a Longines for a grand sounds faintly absurd, doesn't it? But, for the princely sum of $1025, the legacy watchmaker will sell you their handsome and timeless Conquest. That's a veritable bargain, whichever way you want to look at it. And yes, it's only got a quartz movement, and yes, it could be argued that it's a touch conservative. But, as mentioned, the possibilities of buying a watch with this level of build quality, pedigree, prestige and reliability is pretty amazing. This Conquest is like a BMW 320i – sure it's the bottom-of-the-range model … but it's still a BMW. $1025 AUD
Hamilton Khaki Field Mechanical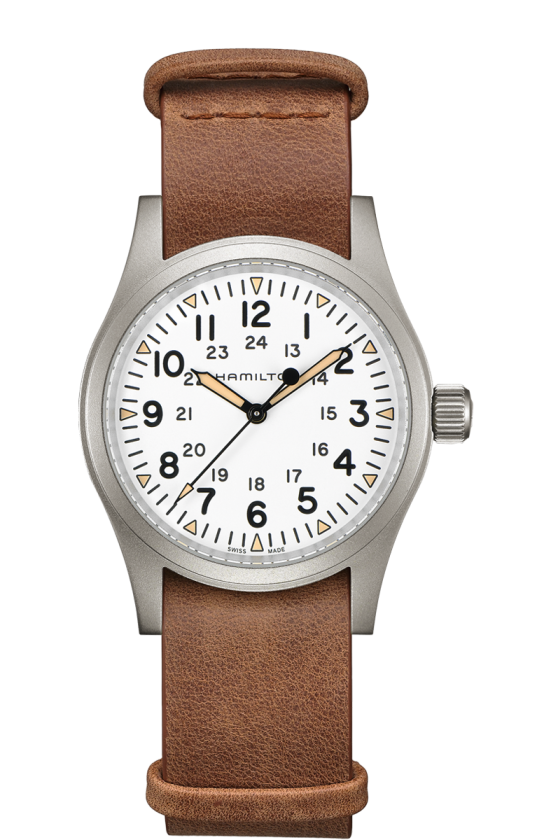 Hamilton is on a straight up roll of late, with watches like the Khaki Pilot Pioneer Mechanical and Ventura scoring much adoration from watch enthusiasts across the globe. This Khaki Field Mechanical has been an equally large hit, and it only takes a few moments of looking at it (and its spec sheet) to understand why. The granular, matt stainless steel case is a versatile 38mm across, the dial is an attractive and highly legible shade of white with bold, black numerals and the manually wound Calibre H-50 movement offers no less than 80 hours of power reserve. This Hamilton is more than a timepiece – it's a call to adventure. 515 CHF
Timex M79 Automatic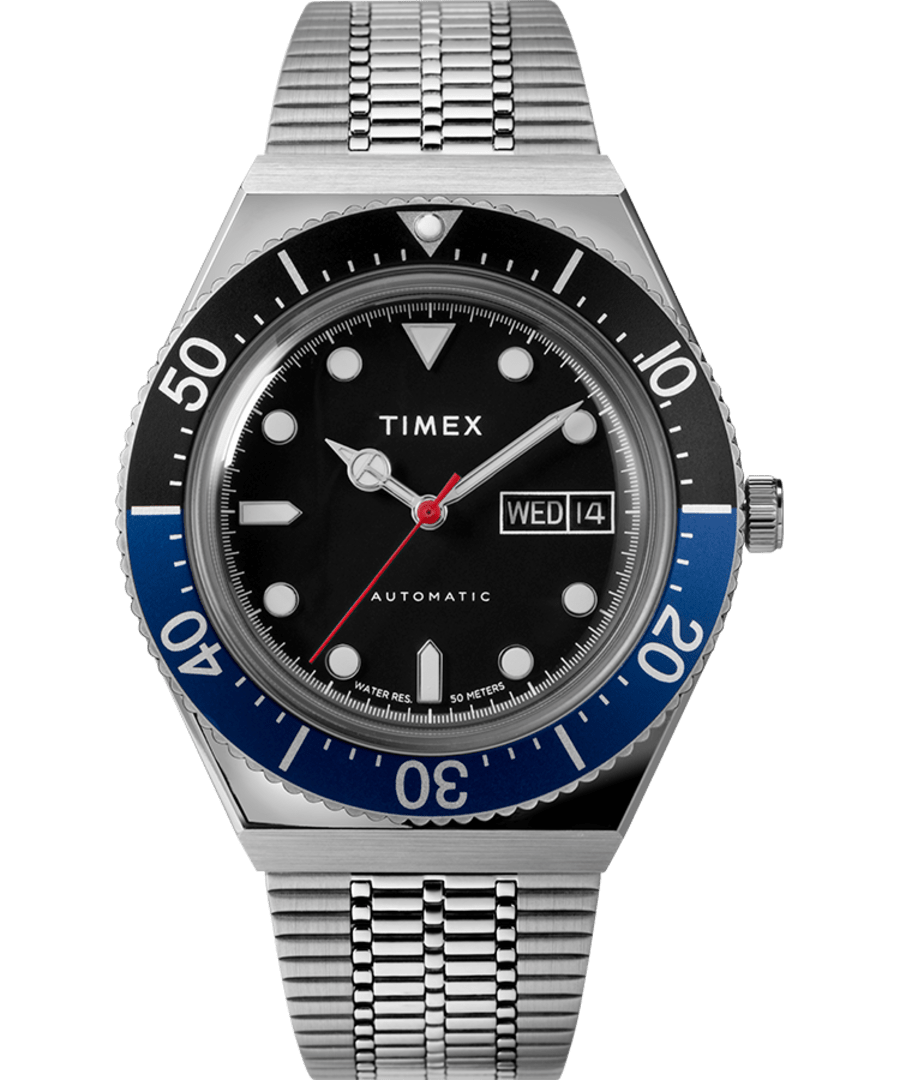 First the Q and now this … Timex are certainly getting with the times. That is, when they're not pissing everyone off by almost always selling out of their highly desirable, vintage-inspired timepieces, which then find their way onto eBay and FB marketplace for a healthy bump above retail. As they say though, "Don't hate the player, hate the game" or, in other words, bloody flippers! That said, Timex have a habit of periodically restocking these retro watches anyway, so with a dash of patience, it is still possible to actually purchase one. The new M79 Automatic "Batman" looks to be worth the wait too. $279 USD
Mido Commander Shade Ref.M8429.4.27.11 "Datoday"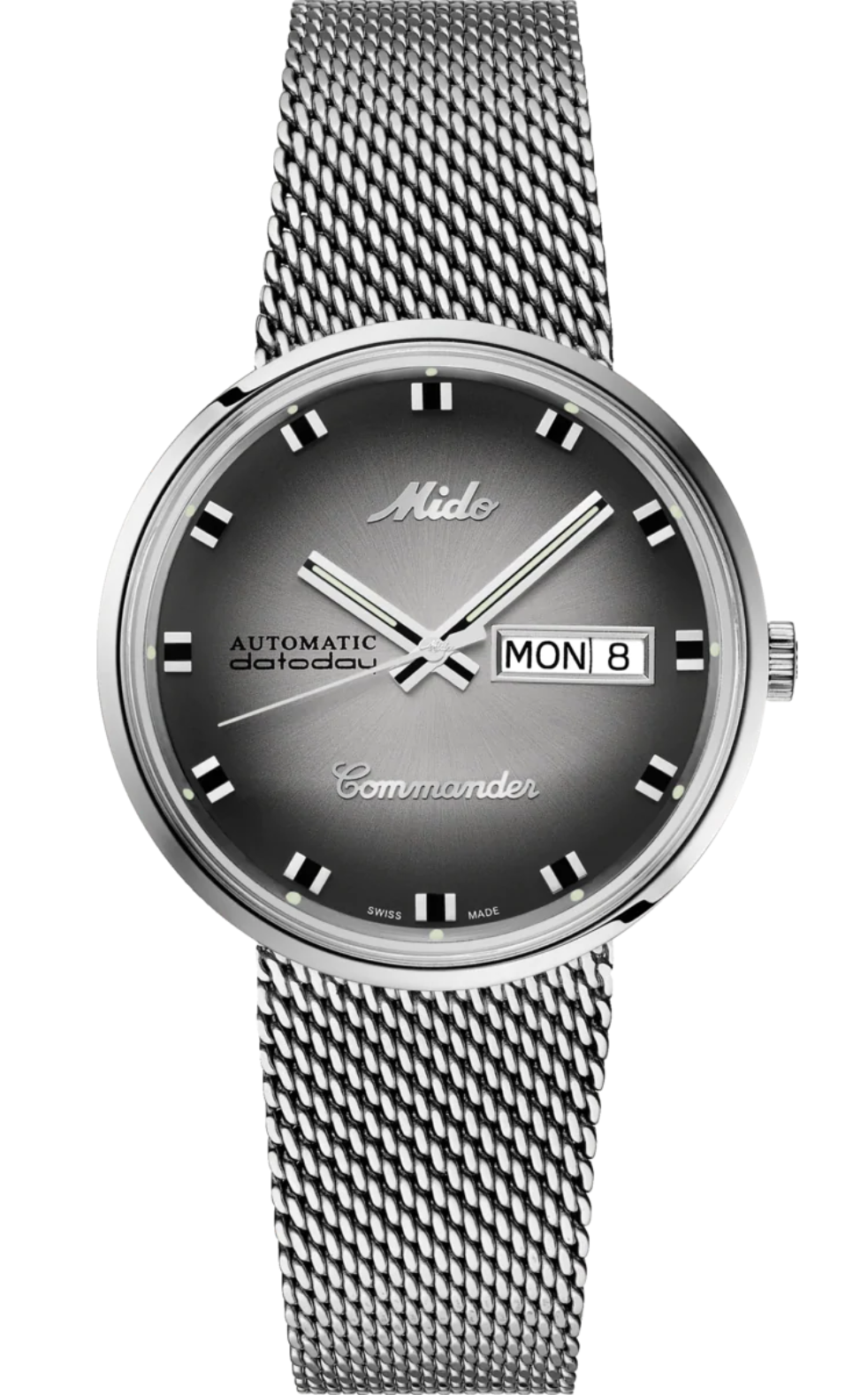 This watch screams retro '70s cool. In fact, if it wasn't for Brad Pitt's character, Cliff Booth, wearing a vintage Citizen in Once Upon A Time In Hollywood, we easily could have imagined the eponymous stunt double rocking one of these watches. The hallmarks of a timepiece from an era when bell-bottoms and tie-dye reigned supreme are all present and accounted for – Milanese bracelet, '70s-style handset and numerals, dégradé satin-finished grey dial – every trope is right here. Add to that a monocoque stainless steel case construction that is 37mm across and a self-winding ETA 2836-2 movement and you've got yourself a winner. It's a pinch over the $1K mark, but we're willing to look the other way for this beaut. $1125 AUD
Farer Stark II
It may be called Stark, but there's nothing severe or bare about this timepiece. In actuality, what you have here, for the price point, is a deadset no-brainer of a wristwatch. There aren't many watches that get everything right, but this Farer comes awfully close. The aesthetic it presents is wonderful, the dimensions of the brushed stainless steel case (39.5mm diameter and 10mm thick) are bang on and the Swiss-made Ronda 6004.D quartz movement is robust and accurate. What's more, the build quality is such that the British watchmaker guarantees all their watches with 5 years of warranty, which is a class-leading offer from a microbrand. €460
Unimatic Modello Uno U1-F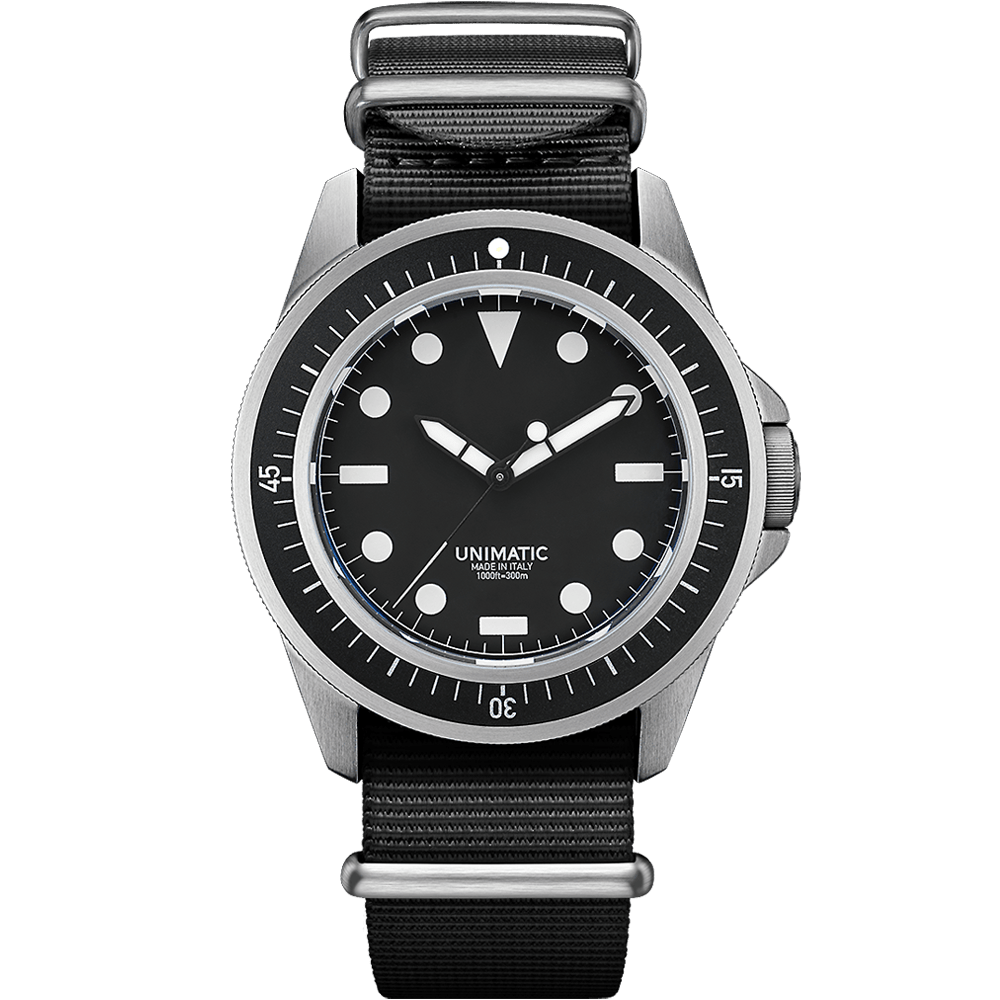 We're big fans of Unimatic here at T+T. The Italian watchmaker creates timepieces that take inspiration from the archetypal tool watches from the '50s/'60s, and then hurls them into the 21st century with cool, modern Bauhaus-like industrial design cues. The Modello Uno was the Milan-based firm's first timepiece, and it's a model that spawned several unique iterations. This model, the Uno U1-F, presents as a compelling purchase for anyone after a fit-for-purpose dive watch with a real point of difference. Anyone who does like it, however, should act fast, as Unimatic is making just 600 examples. €525
Yema Superman Heritage Quartz Blue
The Yema Superman Heritage Quartz Blue is another strong candidate for best micro dive watch for under a grand. There are many, many positives to be had with this watch, and we'll try to run through them as succinctly as possible. For a start, the case and bracelet are hewn from hard-wearing 316L steel, and the case itself (water resistant to 200 metres) measures in at 39mm across and just 11mm thick, making it one of the better proportioned divers in its segment. Next is the gorgeous, radially brushed sunray blue dial, which scores a cool looking, heavily lumed handset with matching big block hour indices, which are all filled with Swiss Super-LumiNova. And the movement, the Ronda Calibre 515 FE, gives great accuracy and robustness. The French watchmaker is offering up a lot for very little with this unique dive watch … and we like it, a lot. $490 USD.
Casio G-Shock GA-2100 Thin Ref. GA2110SU-9A
G-Shock's latest iteration of its cult-like timepiece, the "CasiOak", is part of the Japanese watchmaker's rugged Utility Collection. As such, the octagonal object has been adorned with a fetching shade of yellow that's reminiscent of the great plains of the Serengeti … and perfect for the urban jungle that we one day hope to return to. $269 AUD
Marnaut Dark Surge 300T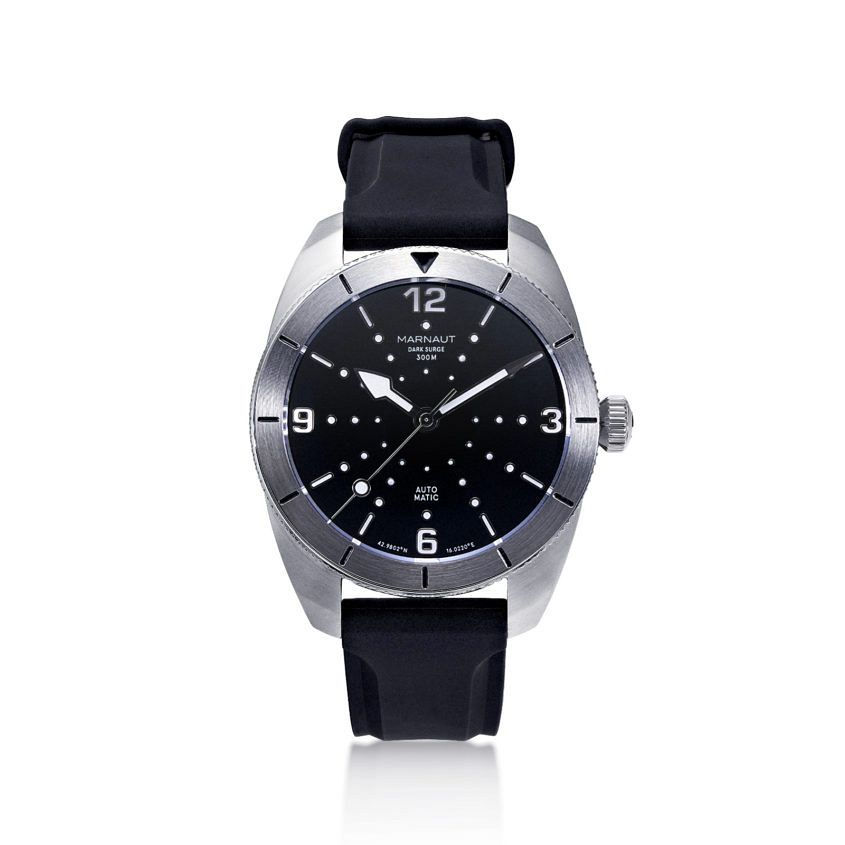 Marnaut's Dark Surge achieves that most difficult of feats: it is actually recognisable on the wrist, and from quite a distance too. This is thanks to its idiosyncratic dial, which is inspired by a creature Marnaut's Croatian founder saw a lot of growing up — a sea urchin. Evoking the strikingly symmetrical holes in a sea urchin's exoskeleton, the dial features no less than 43 Super-LumiNova filled steel indexes. Elsewhere, the robust and yet refined build quality and the 300m of water resistance make this an excellent buy at around $850 AUD.
William Wood Valiant Red Watch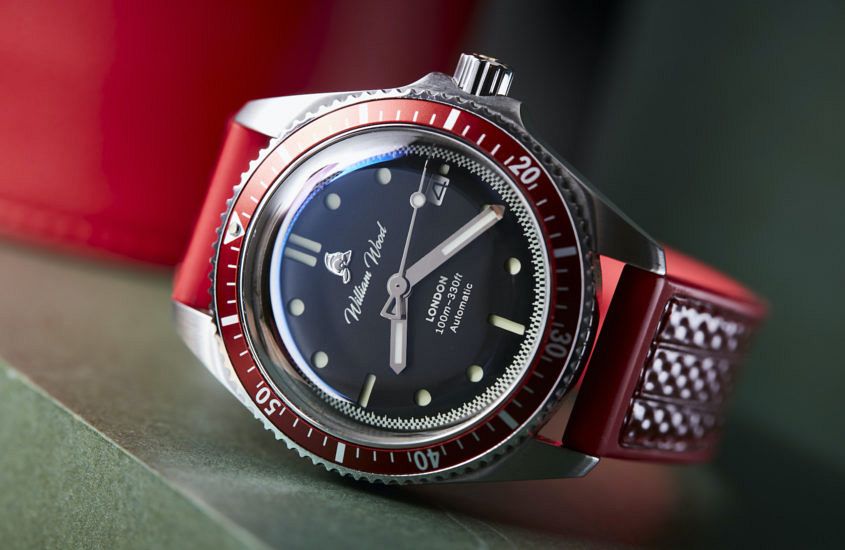 We can be accused of being just a tad biased, because Jonny, the man behind the brand, was so generous in the Watch & Act! Auction in aid of the bushfires in Aus earlier this year. Well, we might have been, before we actually handled this watch ourselves. Since then, we've transitioned quickly from friends to fans. The watch has quite extraordinary presence on the wrist – just try wearing it and not getting a comment on it – and has a supple, bloody brilliant strap which is made from decommissioned UK fire hoses that still smell quite pungently of smoke. All over, it's quite a package, and the only watch in this mix you can buy right now in our shop for $995 AUD.