BATTLE ROYALE: The T+T Team list their favourite ever Grand Seiko dial (and, guess what, no Snowflakes)
Time+Tide
Editor's note: If you're wondering, Battle Royale is a relatively new segment where someone in the team nominates a collection or, in this case, a category – Grand Seiko dials – and we figuratively fight to the death for our favourite from said group until there is one opinion standing. Well, not really. That would be bloody, time-consuming, fairly hard to adjudicate and likely to upset HR. So, why don't we just make our case for our pick, and then try to eviscerate each other's (clearly poor) choices in comments?
OK. We have news. We may be officially entering a new era of Grand Seiko appreciation, which we're suggesting might be truncated to simply 'P.S'. Because, we have just done a blind call out (no answers were known) to the team for everyone's favourite current Grand Seiko dial. And where that might once have resulted in a veritable blizzard of Snowflakes – be they white, blue or off-white – this time the weather forecast is different. We have clouds and we have mountains, but the skies are crystal clear. So, we may be living in a 'Post Snowflake' world, where Grand Seiko has escaped the formidable shadow cast by one of a handful of modern dials that deserve to be called icons. That's exciting. And, boy, is this Battle Royale a feast for the eyes.
Nick Kenyon – Grand Seiko SBGK005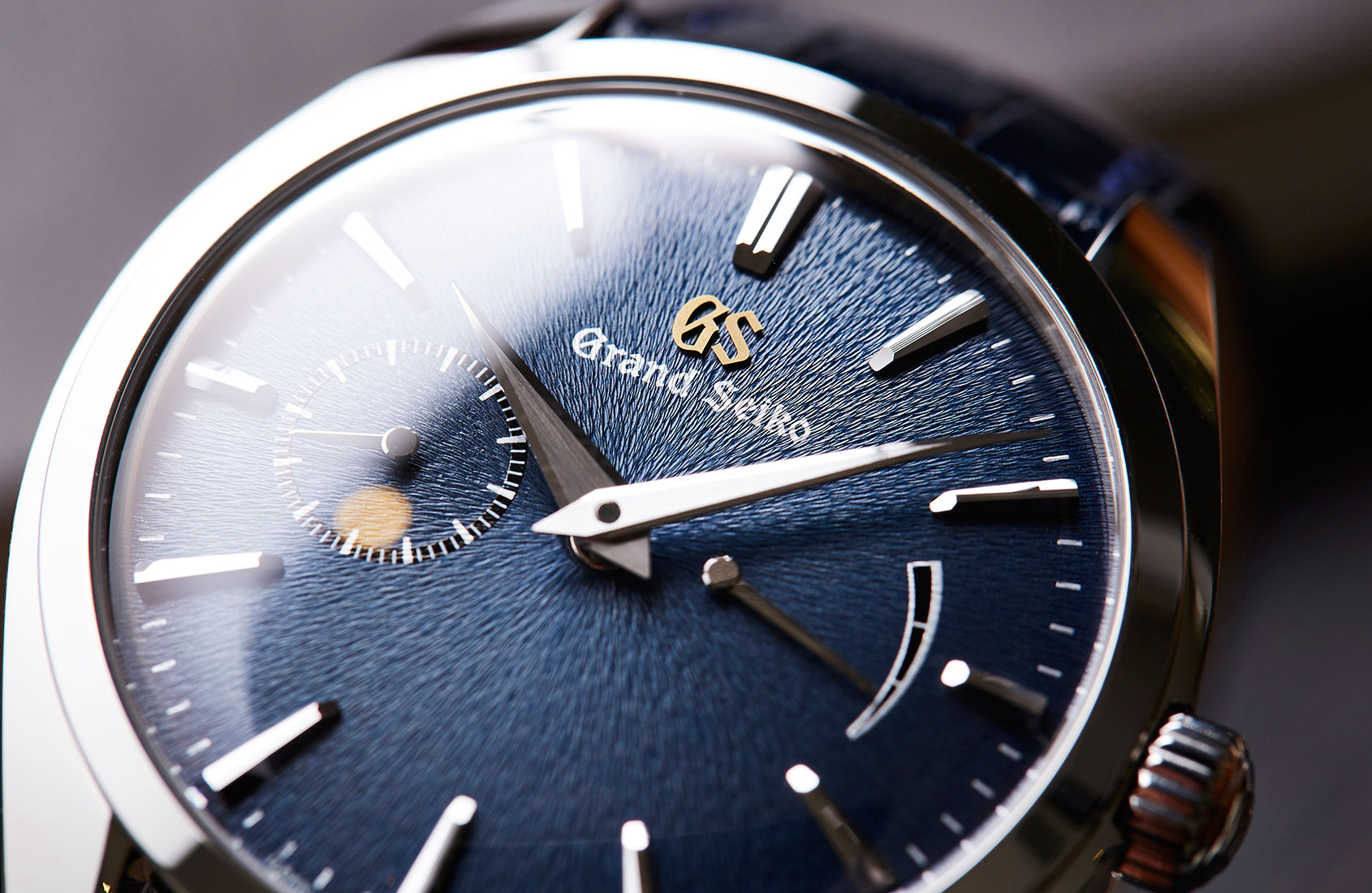 The subtle impact of the dial of the SBGK005 is unmistakable, and left jaws on the floors of the Baselworld halls when it was first announced last year. It features a Mt Iwate pattern radially played across its surface and is also coated with Urushi lacquer that seems to amplify the richness of the visual detail. While certainly not to be confused with a sports watch, the blue of the SBGK005 is playing in a competitive landscape of dial hues, and does so extremely well, occupying a space somewhere between navy and azure that catches the light to spectacular effect. The Grand Seiko Elegance Collection has a number of different dial options, however this is by far the most enchanting, and encapsulating what I see the modern goals of Grand Seiko to be – perfecting the simple.
Andrew: It's not Grand Seiko's fault at ALL, but Chopard's recent hat in the ring for a very similar dial type has impacted on my appreciation of this – as Nick rightly says – jaw-dropping beauty. I don't love it less, I just now think of the Alpine Eagle when I see it, which has an even more aggressive radial 'scratching', to create that equally creepy and equally wondrous iris effect. They are both beautiful watches. They are both stupendously beautiful, actually. It's just lost that singularity it had originally.
Fergus Nash – Grand Seiko SBGA403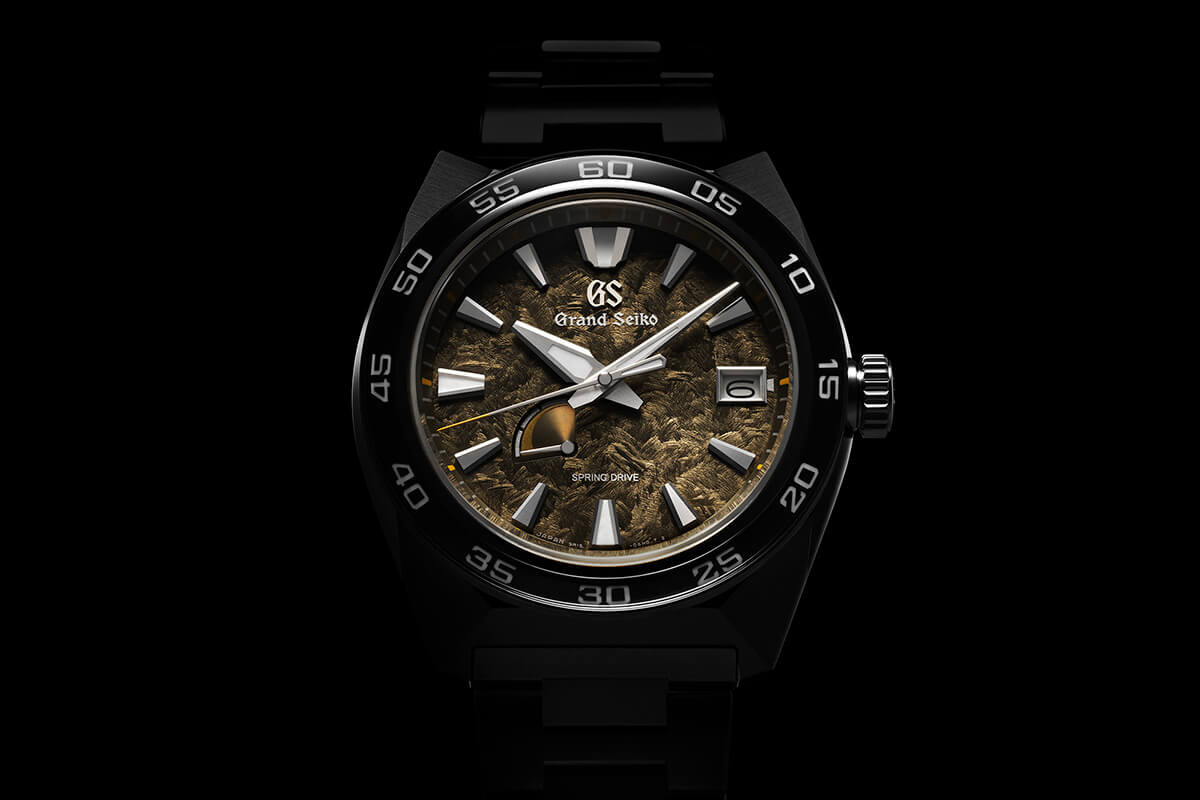 The SBGA403 has one of the most tactile and stimulating dials I've ever seen. The violent gouging of the dial creates a thick cloud effect or, as seen on the SBGA415, the deepest piles of snow in winter. Here in a drab olive brown, though, the dial can represent so many different things, depending on the way the light hits it — apocalyptic smoke clouds from a nuclear fallout, a torrential muddy river, even the long-abandoned chipboard from a forgotten industrial estate. In a time when green dials are at their peak of popularity, and vibrant hues of yellow and blue take control of the fun side of the market, interesting shades of brown or 'tropical' dials have been swept by the wayside. They're a great option for keeping a utilitarian and strap-versatile look, without having the same black dial as every other daily watch out there. Paired with the monstrous case and hands of the SBGA403, it's a powerful package of aggression and beauty.
James: If anyone was going to make a brown dial look good, it was going to be Grand Seiko. The king of dial design and fabrication have knocked it clean out of the park with this one, and while I'm personally still not 100 per cent behind the decidedly brown aesthetic, there's no denying, it's a good looking thing.
Andrew McUtchen – Grand Seiko SBGH267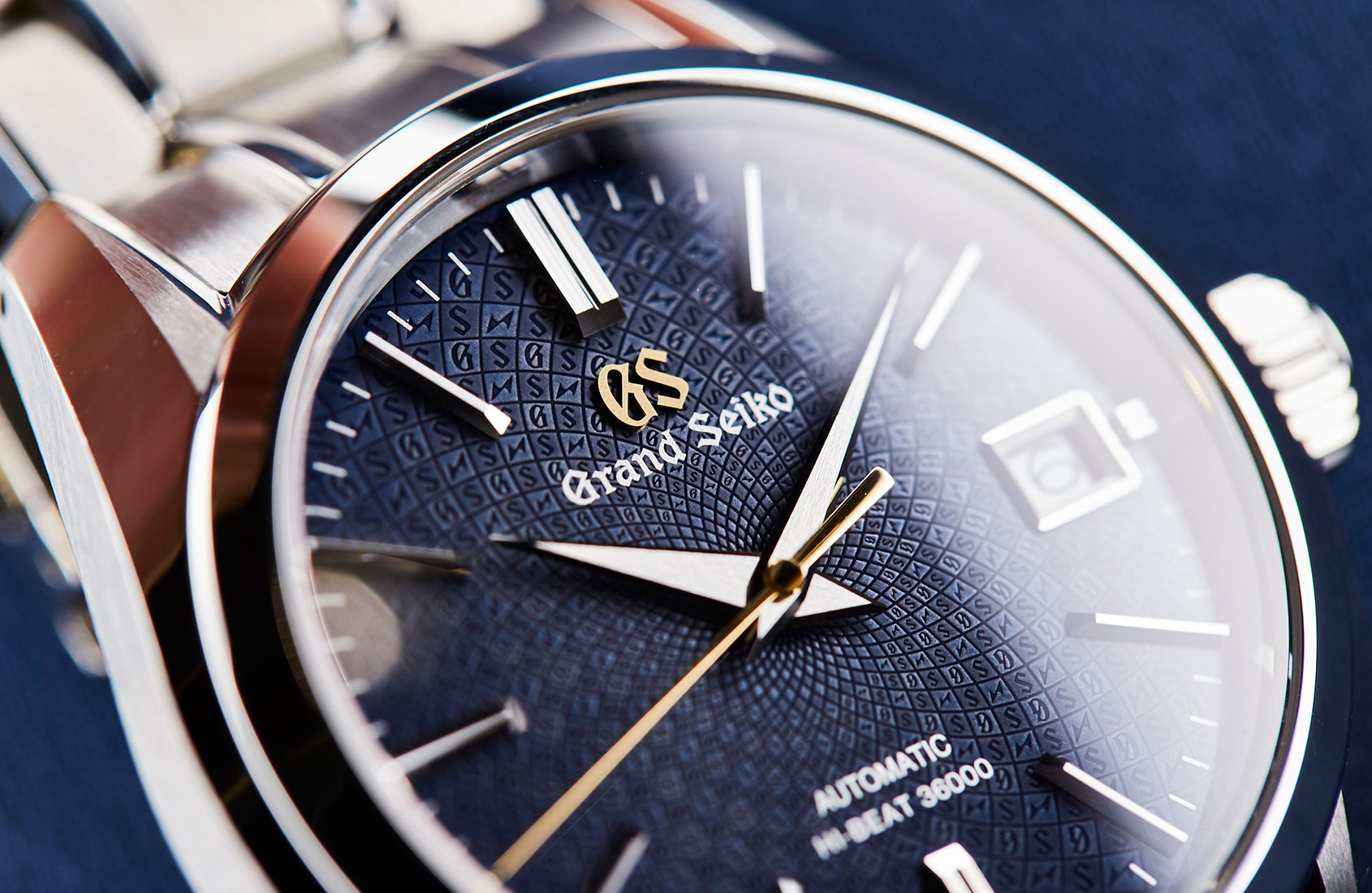 This watch is so beautiful it makes me cry. Repeat after me: "Concentric radial spirals trace the tessellated dial pattern. Concentric radial spirals trace the tessellated dial pattern. Concentric radial spirals trace the tessellated dial pattern." The phrase sounds somehow as beautiful in an onomatopoeia sense as it looks to the eye. For me, the unparalleled finery of this pattern, the almost inhuman perfection of its application and execution sums up the Grand Seiko way. Which seems to be a triumvirate of statements: Impossible is nothing. Impossible is, in fact, what we're into. OK, impossible is what we do. And then, of course, this watch is not just dial. It's the gold applied GS logo popping with the seconds hand. It's also the subtly framed date window, and the overall appeal of the rounded, yet masculine, yet bold, case. I am, indeed, quite boring at a dinner party when the subject of this watch comes up, because I'm only getting started …
James: While I agree that it's an extraordinarily eye-catching design that tends to own most GTGs when one turns up, the tessellated dial isn't for me the core of Grand Seiko's sorcery. It's more about textures and tactility; brushing, scratching, swirling, rather than this mosaic aesthetic. Still, it's a peacock by name and by nature, and it's hard to look away.
James Robinson – Grand Seiko SBGJ203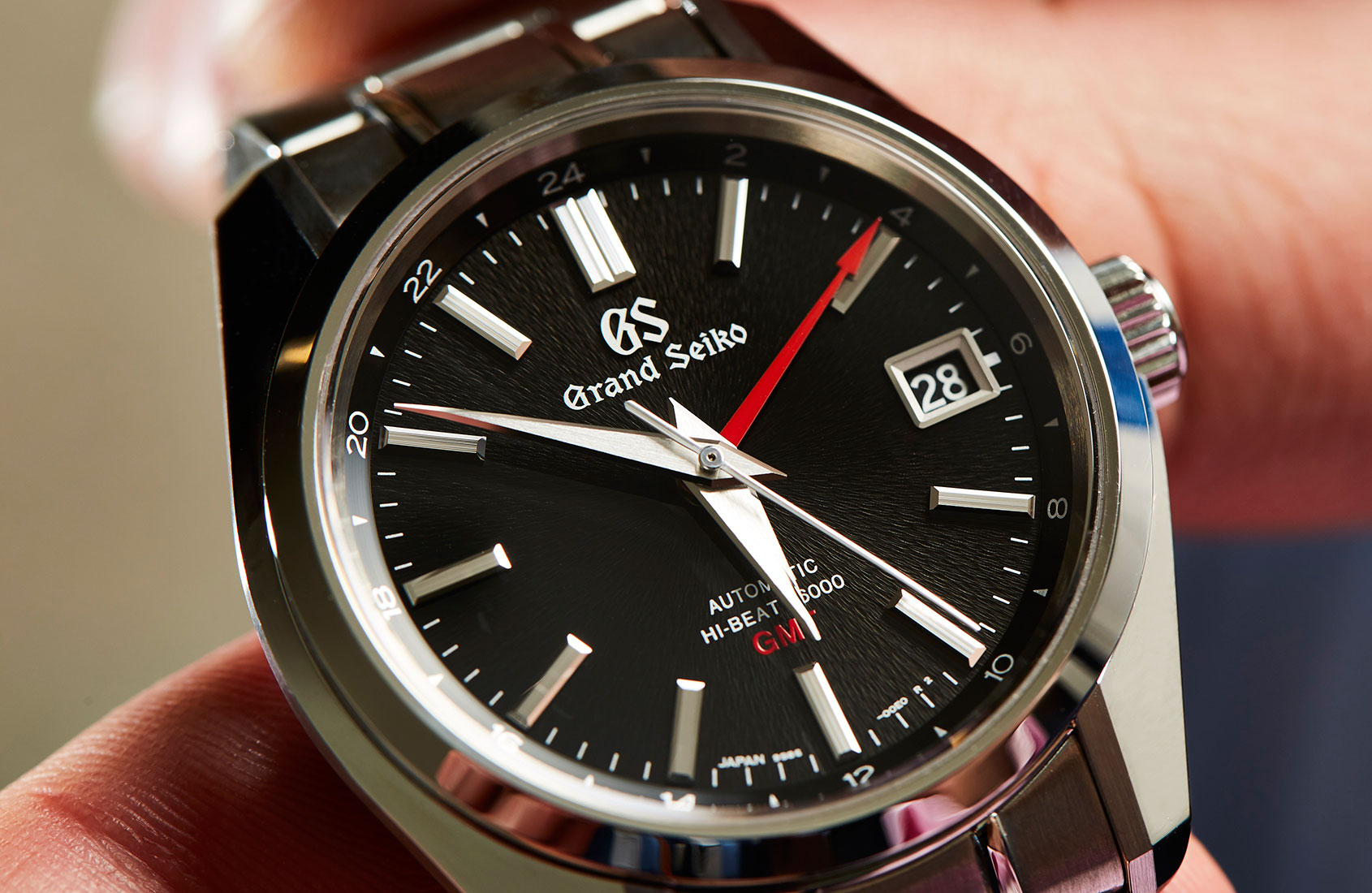 Pretty much all of the best Grand Seiko dials ever made have one thing in common – they stand out, almost shouting about how good they are … in a melodic way, of course. What I like in a dial, though, is something that doesn't give everything away immediately. No, I want a watch to still be able to reveal new things to me after wearing it for a week, a month or even a year. That's why the dial of this, the Grand Seiko SBGJ203, is the best ever produced by the fabled Japanese watchmaker. At a mere glance, the inky black dial doesn't say too much at all, but look closer and you notice there's a beautiful streaked finish seemingly etched into the surface of it. This polished decoration is known as "Mt Iwate pattern", and it's meant to mimic the snowcapped peaks of, you guessed, Mt Iwate, which are visible from GS's Shizuku-Ishi Watch Studio. To a certain degree, I'm sure that the dial does indeed look like jagged summits of the mountain, but every time I see the dial of this watch, I'm reminded of the stygian iris of a raven. The splash of red on the GMT hand and "GMT" lettering on the dial provide a welcome bit of contrast, and the archetypal dauphine handset also looks right at home with this combo. One trick pony this watch ain't, and I love it for that reason. It's a triumph of restrained elegance and more watch designers should pay attention to what Grand Seiko has been able to accomplish here.
Andrew: The only possible rebuttal to this choice is that you can file it under one of Grand Seiko's borderline 'secret' dials. As in, if you don't look closely it appears to be a solid black dial. Certain lighting conditions and times of day reveal the truth. It's a finely grained dial, that approximates black sunray in traditional watch anatomy parlance. A black rose by any other name – be it black sunray or "Mt Iwate" –  looks as sweet.