Nothing says flex like a solid gold timepiece. Doesn't matter what sort of gold it is either — yellow, white, pink … if it's 18k, then chances are you've obtained a level of wrist-worn one-upmanship that few can ever hope to own. And 2019 was not shy at all about giving birth to some very, very hot examples of precious metal marvels from a number of different watchmakers. We'd love to mention all of them, but as the title of this story would suggest, the need for summation means that we must choose our five favourites … so here they are:
H. MOSER & CIE. ENDEAVOUR BLUE LAGOON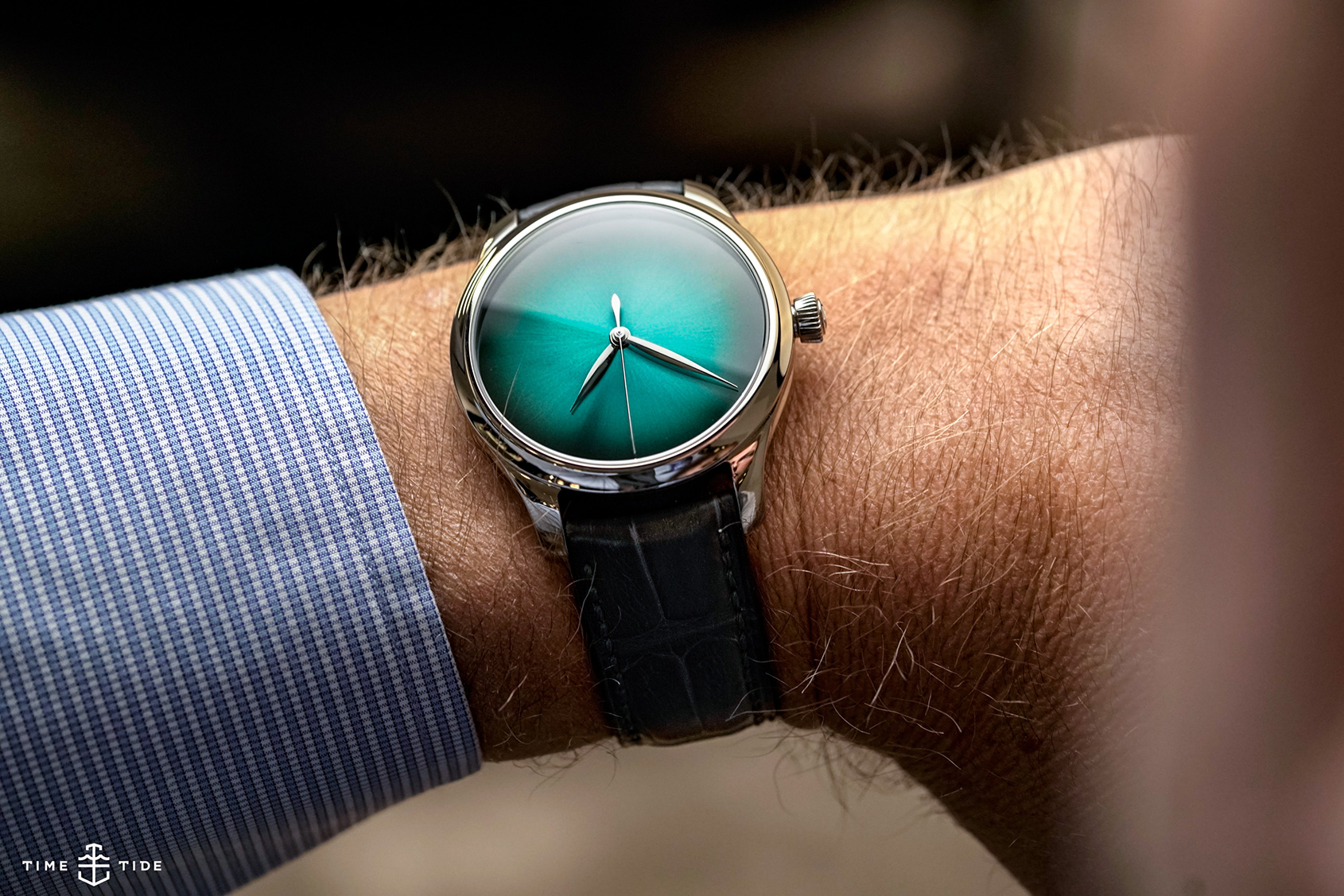 It is rare to see one of the industry's most mercurial brands tapping into the current mass-market trends, but in the case of the H. Moser & Cie. Blue Lagoon that is exactly what's happening. It seems the wealthiest watch collectors in the world are not, in fact, immune to the industry's current obsession with teal. Achingly beautiful is the only way we can begin to describe it.
Ref No: 1200-0206 / Case size: 40mm / Case material: White Gold / Movement: HMC 200 / Price: $34,850
PIAGET ALTIPLANO
The Piaget Altiplano collection remains the benchmark for thinness and has long been extolled as the epitome of men's elegance. This exquisite rose gold example uses a dark meteorite dial to great, brooding effect. The 40mm diameter is not enormous by modern standards, but the watch's startling 6.5mm thickness and wide dial aperture means this piece wears a lot larger. The advantage of this is that the watch affords its wearer significant wrist presence without being uncomfortable in any way.
Ref No: G0A44051 / Case size: 40mm / Case material: Pink Gold / Movement: 1203P / Price: $41,600
ROLEX DAY-DATE 36
The appeal of the Rolex yellow gold president bracelet is something that can take time to hit home. Often, as is the case with most yellow gold Rolex watches, it has to be seen, held and worn to be loved. On paper or on-screen, yellow gold Rolex watches can look a little gaudy. In the metal, however, their true character shines, and weighs heavily in the hand or on the wrist. The addition of a lustrous green sunray dial with diamond hour markers elevates this 36mm Day-Date to classic status instantly.
Ref No: 128238 / Case size: 36mm / Case material: Yellow Gold / Movement: 3235 / Price: $46,000
AUDEMARS PIGUET ROYAL OAK "JUMBO" EXTRA-THIN
The Audemars Piguet Royal Oak collection is one of the most iconic watch families in the world. One excellent method for confounding collectors' expectations is to stick a salmon dial on a stone-cold classic. Cue confusion. The Royal Oak "Jumbo" Extra-Thin brings together a super-slim time and date movement, in a timeless case design, enlivened by that pink. At this price, it shouldn't be surprising, but a colour-matched date wheel is always appreciated.
Ref No: 15202BC.OO.1240BC.01 / Case size: 39mm / Case material: White Gold / Movement: 2121 / Price: CHF55,000
DOXA SOLID GOLD DOXA SUB 200 T. GRAPH LIMITED EDITION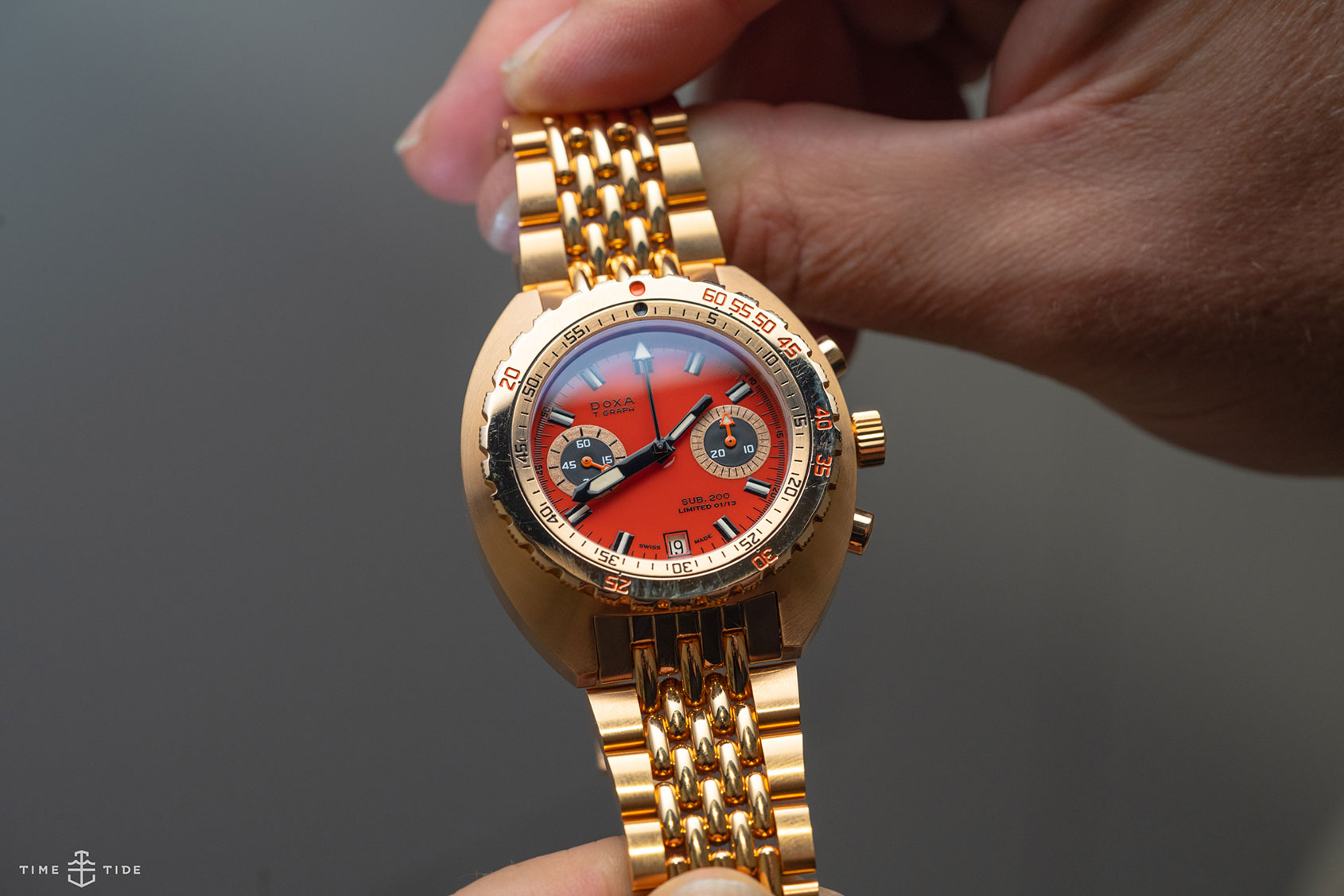 DOXA is a much-loved brand with an established forte – producing reasonably priced dive watches. That makes this outrageous all-gold piece one of 2019's most memorable moves. Extremely limited pieces are always likely to find a home in the safe of a collector to whom the six-figure asking price is small change. But even with that said, there are 13 of these pieces available, which is, for such a thoroughly bizarre piece, an awful lot. But even better than selling out, it got people talking. And that, it seems, was probably the main goal.
Ref No: NA / Case size: 43mm / Case material: Gold Movement / Valjoux: 7734 / Price: USD$70,000