The best bicompax chronographs under $5000 from Longines to Kurono
Thor Svaboe
I have a confession to make. The über-complexity of a proper chronograph dial, like the slide-rule calculating intricacy of a Breitling Navitimer, does fascinate me, but only up to a certain point. Rather than squinting to decipher all that miniscule information, I prefer the cleanliness of a twin register dial. A bicompax chronograph delivers legibility and a balanced aesthetic. It gives me all the timing information I need, while lending a calm symmetry to an information-laden dial. Luckily for me, there's a lot to choose from in this space, with everything from retro forties designs to eye-catching pandas. Keen to get in on the action? Here are some of the best bicompax chronograph options that are available for under $5000.
Hanhart 417ES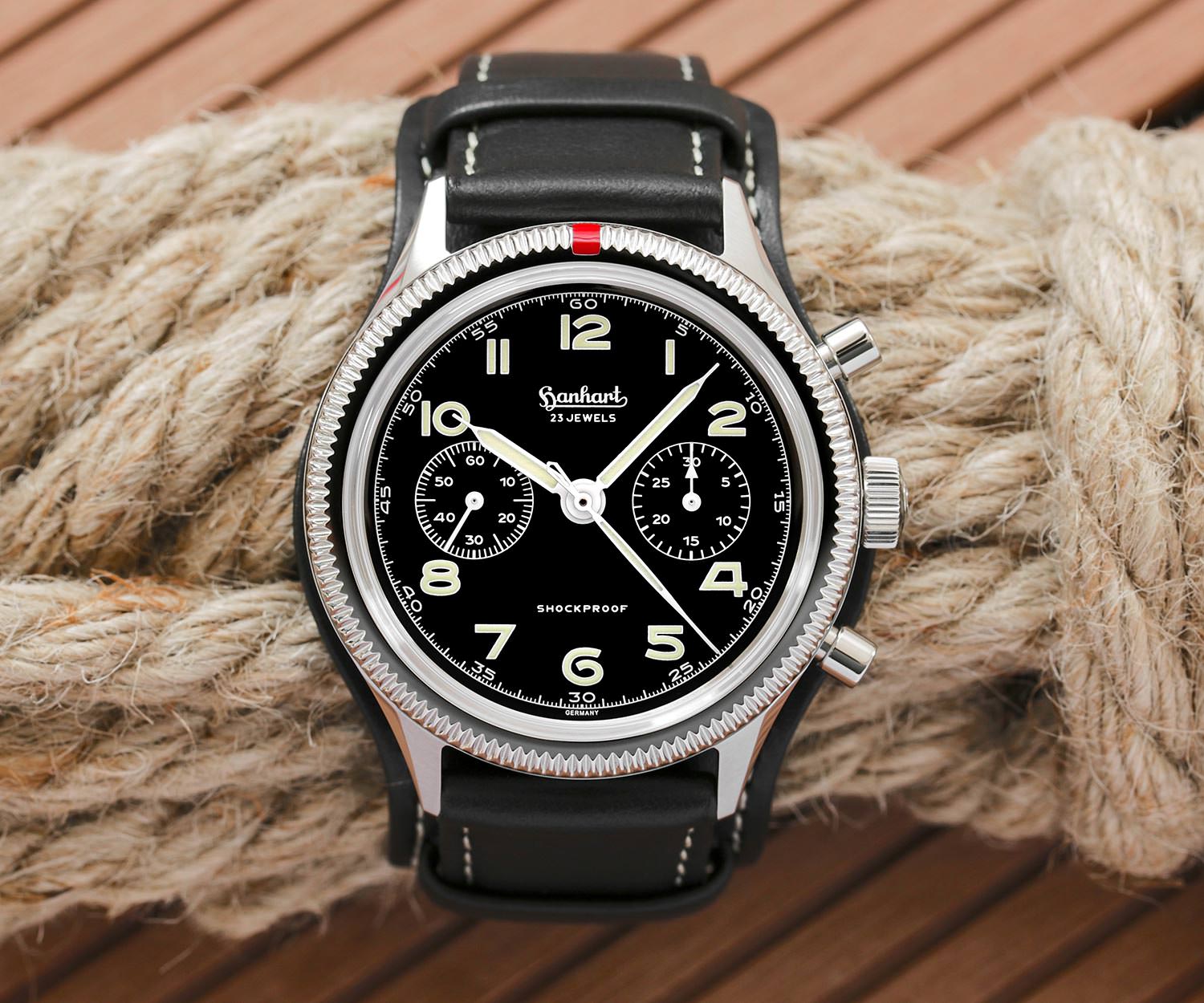 Steve McQueen wore the original 417ES while revving a Triumph Scrambler through the world endurance championships, clocking up 300 miles a day of trail riding. If that isn't test or reason enough to desire this bund-strapped piece of German pilot's chronograph history I might as well hang up my writer's cap for good. With its soft, alcantara-lined, black leather bund strap and short-lugged 42mm case, this made-to-order German chronograph is a superbly executed tool. Fair enough, it is larger than its original, but this is a pilot's chronograph with legibility as the No.1 priority.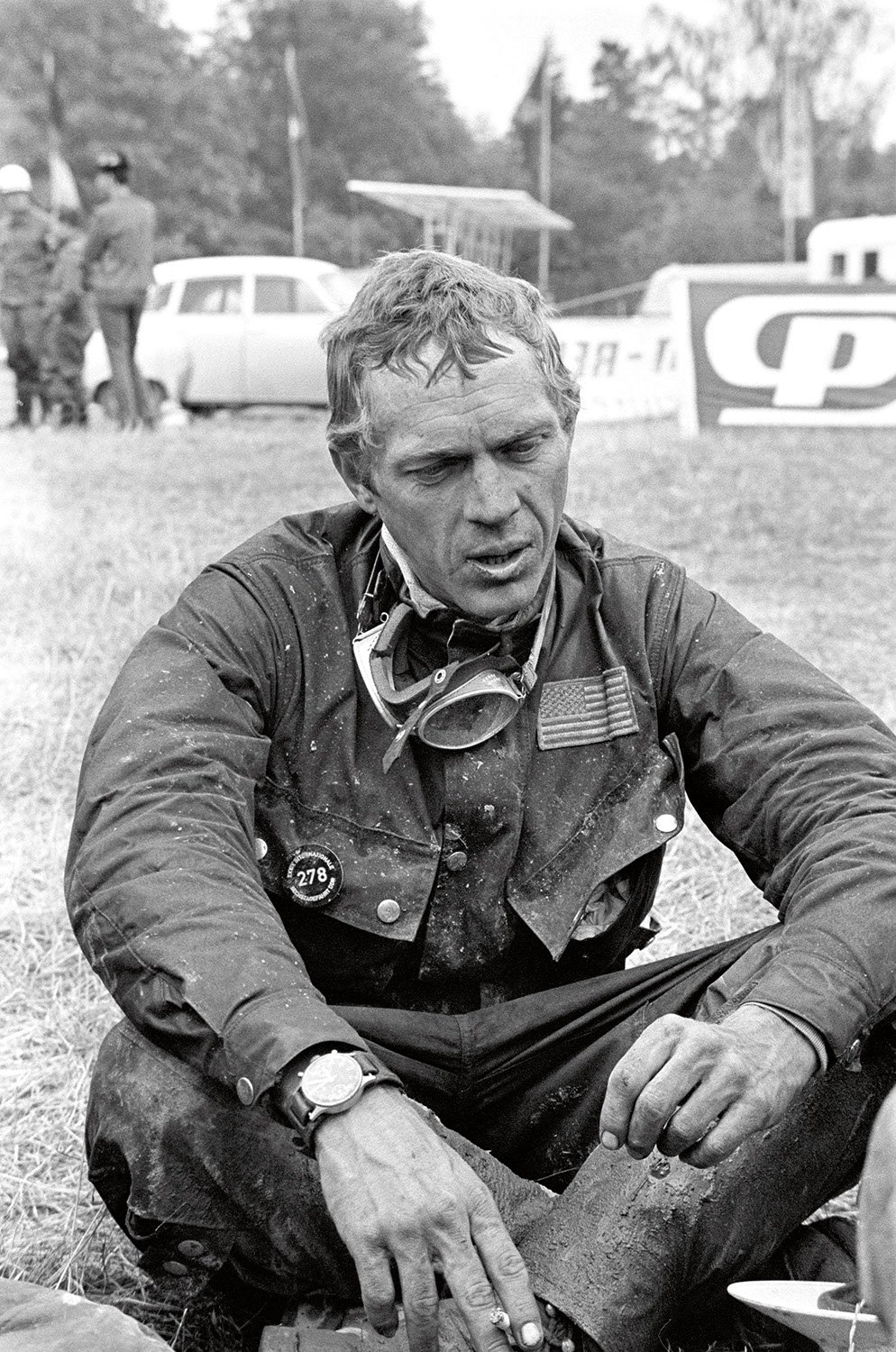 In the manually wound 417ES, Hanhart brings us the reissue of the first pilot's chronograph produced for the German forces in the 1950, ES standing for "edelstahl" meaning stainless steel. Hanhart chose to bring back their swoopy mid-century logo, and with proper AR treatment on the box crystal, the clean look of white print on a matte black dial without the bling of polished indices offers real tool elegance. The slightly recessed registers are centered vertically, and exquisitely balanced on the dial. There is just enough breathing space for the chunky lume printed Arabic numerals, and tidy minute track to be noticed, the well-chosen font having the classic ingredients of low, wide numerals, open sixes and closed 4s. Priced at EUR 1,790, it offers serious value for the rich history within its case.
Baltic Bicompax 002
Baltic has risen quietly to become a strong force in the microbrand world, with that certain je ne sais quoi and respect for vintage cues we have come to expect from small French brands. The Bicompax 2 is the second version of their 1940s tinged Bicompax that takes the watch into the sector dial layout of the 1950s. What sets Baltic apart is their strong design nous and respect for a slim, small case size of 38mm that gives the watch a coherent retro look. Through the optional clear caseback, the delightful ST19 calibre will intrigue you, a strong, workmanlike Chinese interpretation of a classic Swiss Venus hand-wound chronograph movement. Avoiding an automatic modern movement keeps the svelte feel of the watch, and ticks all the period boxes we love. With a wide choice of dial colours from blue gilt glamour to black formality, we'd recommend it on Baltic's sleek beads-of-rice bracelet. Price EUR 649
Massena LAB Uni-Racer
This evocatively named 39mm is a deep dive into the history of Universal. As a manually wound twin register chronograph, the Uni-Racer is very much the sum of its parts, and a homage in the most respectful interpretation of the oft misused term. I have nothing but respect for the time it took William Massena and his design team to get all the details right. Taking weeks just to source the right colour of thermally blued hands for the asymmetric registers underlines the dedication. This sixties chronograph is the first in-house designed model for Massena LAB and a strong debut indeed. With the smooth feeling Sellita SW510 in this hand-wound guise, the feel is just right, while it enables you to have an everyday sports watch with the look of the far more frail (and valuable) original. At  $3,495 USD, it did sell out fast, so let's hope there will be another production run, please William.
Furlan Marri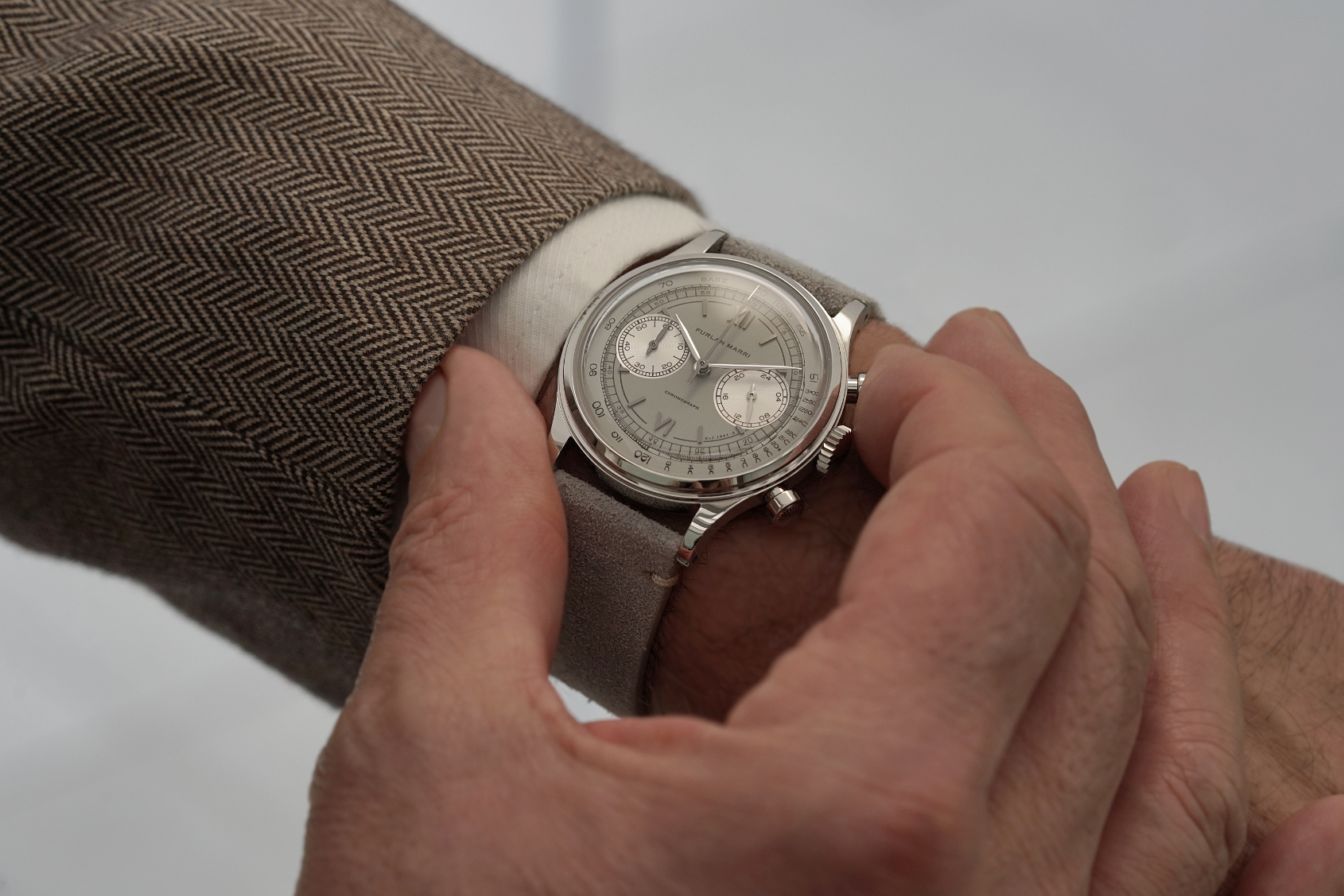 Furlan Mari revealed their vintage-infused debuts on Kickstarter this year with their cheeky takes on classic Tasti Tondi mid-century Patek at remarkably accessible prices. With a very good nose for the smallest detail, Furlan Marri saw their crowd-funding goals met within minutes to near five-fold pledge totals, and deservedly so. Cased within a slim, swoopy lugged polished case of exemplary proportions, the five references from FM are already trending on social media and watch communities despite the watches not coming out until August this year. The shot above shows the understated elegance of Mr.Grey, in its muted grey tones a perfect formal companion for those dressy occasions when that big diver's watch just isn't right. And should you feel that 38mm is too dainty for a cool everyday watch, remember that this size (even slightly smaller at 35-36mm) was de rigeur for a sports watch of the forties and fifties. With a Kickstarter price starting at less than $300 USD, it's positively delightful.
Kurono Chronograph 2
Kurono is the accessible sub-brand of watchmaker Hajime Asaoka that enables buyers to enjoy his watches at a far more accommodating price. The watches themselves are delightfully period perfect, with the solidity of a Seiko movement keeping the prices accessible, while the art deco-infused dial art punches leagues above its price points. At this level of craftsmanship you will be hard pressed to find a remotely similar chronograph, the column wheel Seiko movement being more than up to the job. Stay tuned for the next batch of Kurono releases – the prospect of the Chronograph 3 is getting me excited already. Price $3993 USD
Unimatic U3-FN
Tough, razor-sharp Italian design with colourful touches that pop off the wrist, Unimatic is uniquely clear in their vision, and keep surprising us with their quirky collabs with everyone from Massena LAB to SpongeBob. While they keep coming, you'll need your wits about you and a quick finger ready to click, as these limited-edition runs do tend to sell out instantly. Their standard models are based on three base designs, all with the minimalist-tough language of crystal-clear legibility and giving athe sense of a tool watch in an Italian suit. The U3-FN is a perfect example of the clean-cut Italian vision, as a blacked out stealth version of their quartz bicompax. The refreshing aspect of the brand is that they seem to have carved their own design niche, and while we do recognize aspects of sixties and seventies diver's watches, the language is pure Unimatic. Large, blocky and short of lug, the case is a comfortable 40mm, powered once again by the Seiko VK94 mecha-quartz. Mission-ready, it would look sharp with a designer polo, as well as with your Navy SEAL tactical gear for a night mission. In short, this is bullet-proof elegance at a mere EUR 625.
Longines Tuxedo Chronograph
Longines have had a more formal, straight-laced approach to vintage re-issues, carefully curating releases from their own catalogue. Their monochrome sharp Tuxedo Chronograph might be slightly larger than the original at 40mm, but the craftsmanship is there in spades. It sports a smooth overall case design, with both short curved lugs and a stepped case that genuinely takes you on a time-travelling excursion to the 1940s. The stepped, top portion of the case is concentrically brushed, which provides an arresting dichotomy when contrasted with the polished accents of the rest of the case. The watch features an oversized crown, with large, block-like pushers that look right at home on what was a tool watch in its day. The vintage cues continue with domed sapphire crystals with several layers of an anti-reflective coating sitting atop both watches. Powered by the ETA-family L895 calibre, it's 28,800vph and solid 54 hours of power reserve makes this a perfect vintage everyday watch, that will encourage you to take just that extra bit of effort. Price $4425 AUD