When you're buying a new car, there's usually some key criteria that dictate whether or not said automobile will make the cut. You know the sort of things we're talking about – fuel economy, safety rating, 0-100km/h times … that sort of stuff. Oh, and of course, price.
But is this same buying style employed when you want to take the plunge on your next watch? Or do you just go off aesthetics and which brand made the watch?
If we did buy our watches like we buy our cars, then the Baume & Mercier Clifton Baumatic ref. 10467 would be an absolute no-brainer. On paper, this watch offers a shedload of technical prowess, features and capability … and exceptional value for money.
Take, for example, the movement. Calibre BM13-1975A is made in-house by the Swiss marque, and it benefits from a range of features that would make certain timepieces worth three times as much blush.
We're talking a gargantuan five days (120 hours) of power reserve, chronometer certification (–4/+6 seconds per day), and, according to Baume & Mercier, service intervals of no less than seven years.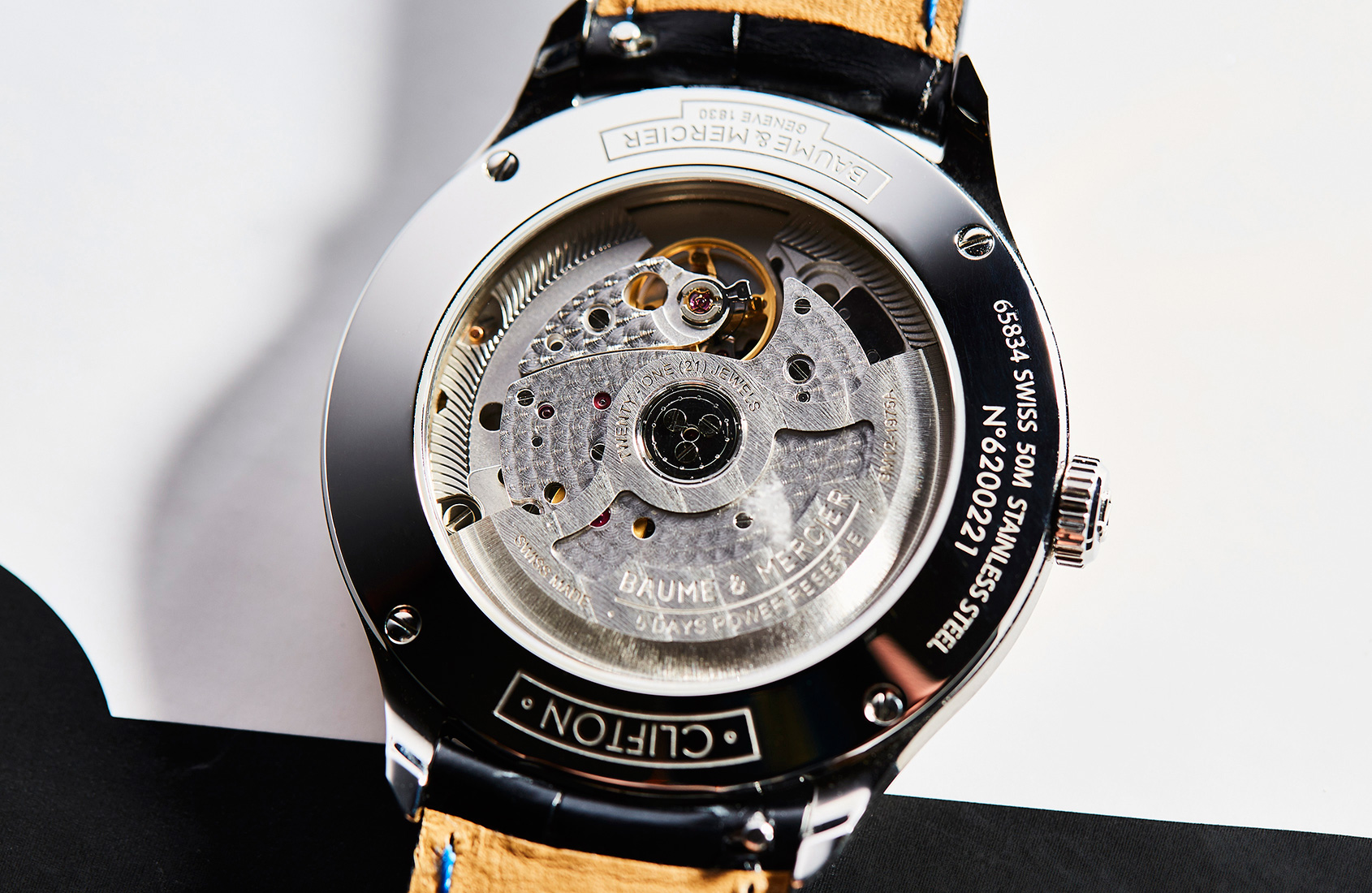 And, in addition to having two years of international warranty, Clifton Baumatic owners can also register their details on Baume & Mercier's website for an additional year of warranty.
The remarkable thing about the Baume & Mercier Clifton Baumatic ref. 10467, however, is that it doesn't rest on the laurels of its mechanical boons – the aesthetics of this timepiece are downright arresting, and as far as dress watches go, once again, for the money, it's in a pretty rarified segment of the market.
The charmingly rounded stainless steel case measures 40mm across and a lissom 11.1mm thin, which is just about the perfect size for a modern dress watch. And the lugs, which elegantly flow down from the sides of the case, are nicely tapered, ensuring dressy sensibility and a cuff-friendly frame.
Both sides of the case are also capped by sapphire crystal with an anti-reflective coating – domed on the front and flat on the back. This gives the watch a superior level of legibility and owners the chance to glimpse the aforementioned imperious movement, which is handsomely decorated.
What really makes the Baume & Mercier Clifton Baumatic 10467 though is its dial … it's nothing short of a triumph.
The sumptuous tones of gradient blue are something to behold, and the way that the colour bleeds in a dégradé fashion, from a radiant shade of navy to an almost black around the dial's edge, is enchanting, and constantly draws your gaze.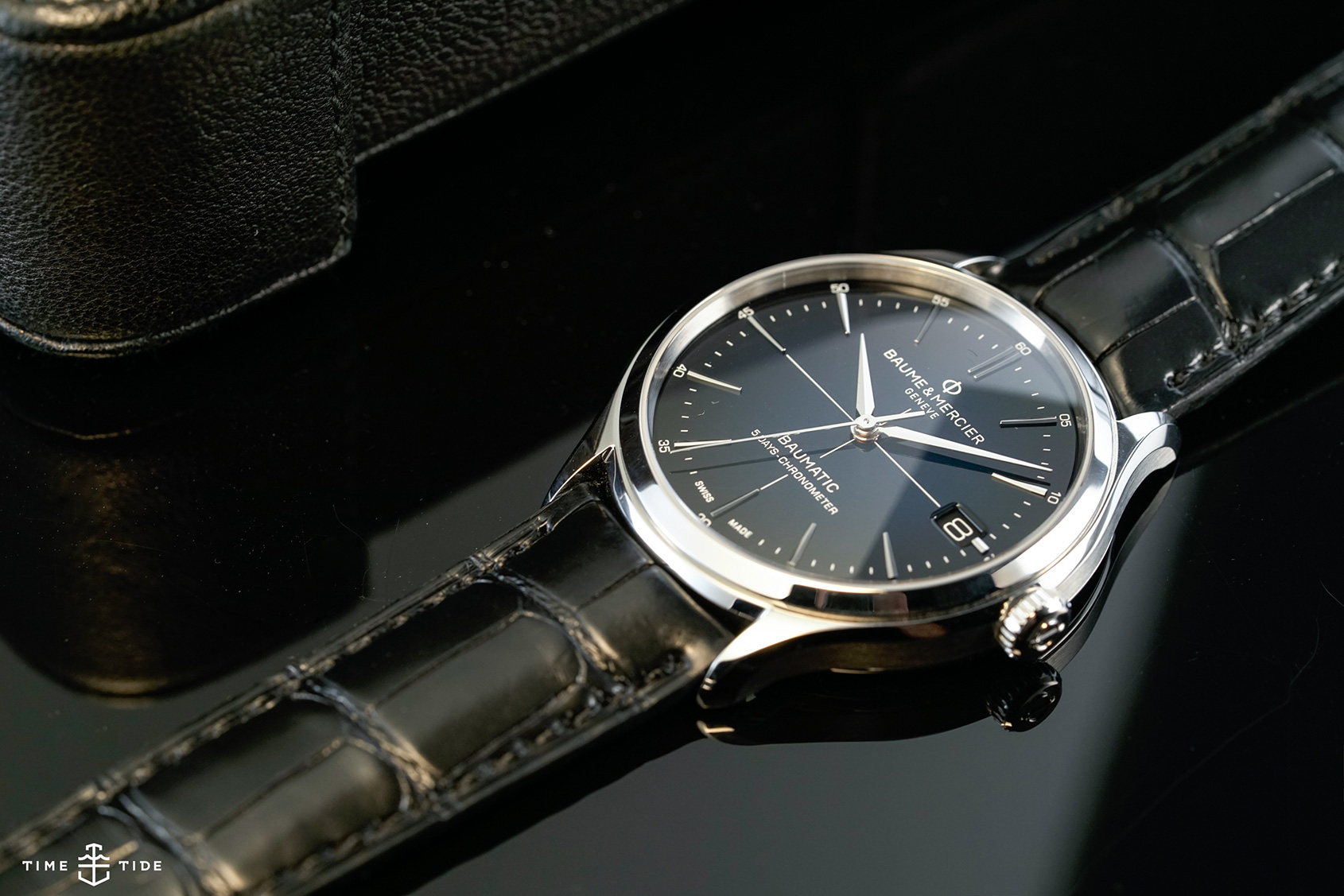 As a result of the dial also featuring sectoring cross-hairs, the Baumatic gains an added layer of visual complexity, which gives the timepiece a heightened level of maturity, further enhancing its formal savoir-faire.
In addition, the lettering, handset and riveted indexes are all very well judged, and admirably bridge the gap between conspicuous and underwhelming.
The whole ensemble is pleasingly tied together by the complementing matt alligator leather band that features a stainless steel, adjustable triple folding buckle with security push-pieces.
So whether you buy with your heart or your head, the capability and overall presentation of this watch is undeniable, and when you take into account that it comes in at well under $5000 AUD, it's a veritable bargain … no two ways about it.
Baume & Mercier Clifton Baumatic ref. 10467 Pricing:
The Baume & Mercier Clifton Baumatic ref. 10467 has an Australian RRP of $4600.