HANDS-ON: The Baume & Mercier Clifton Baumatic 10436 White Dial
James Robinson
2019 is the year of the blue dial. Doesn't matter if it's a steel sports watch, solid gold dress watch or a one-off pièce unique – if you want your wrist flex to be as en vogue as a pair of R.M. Williams and beige chinos, a timepiece with a blue dial is the only way to go.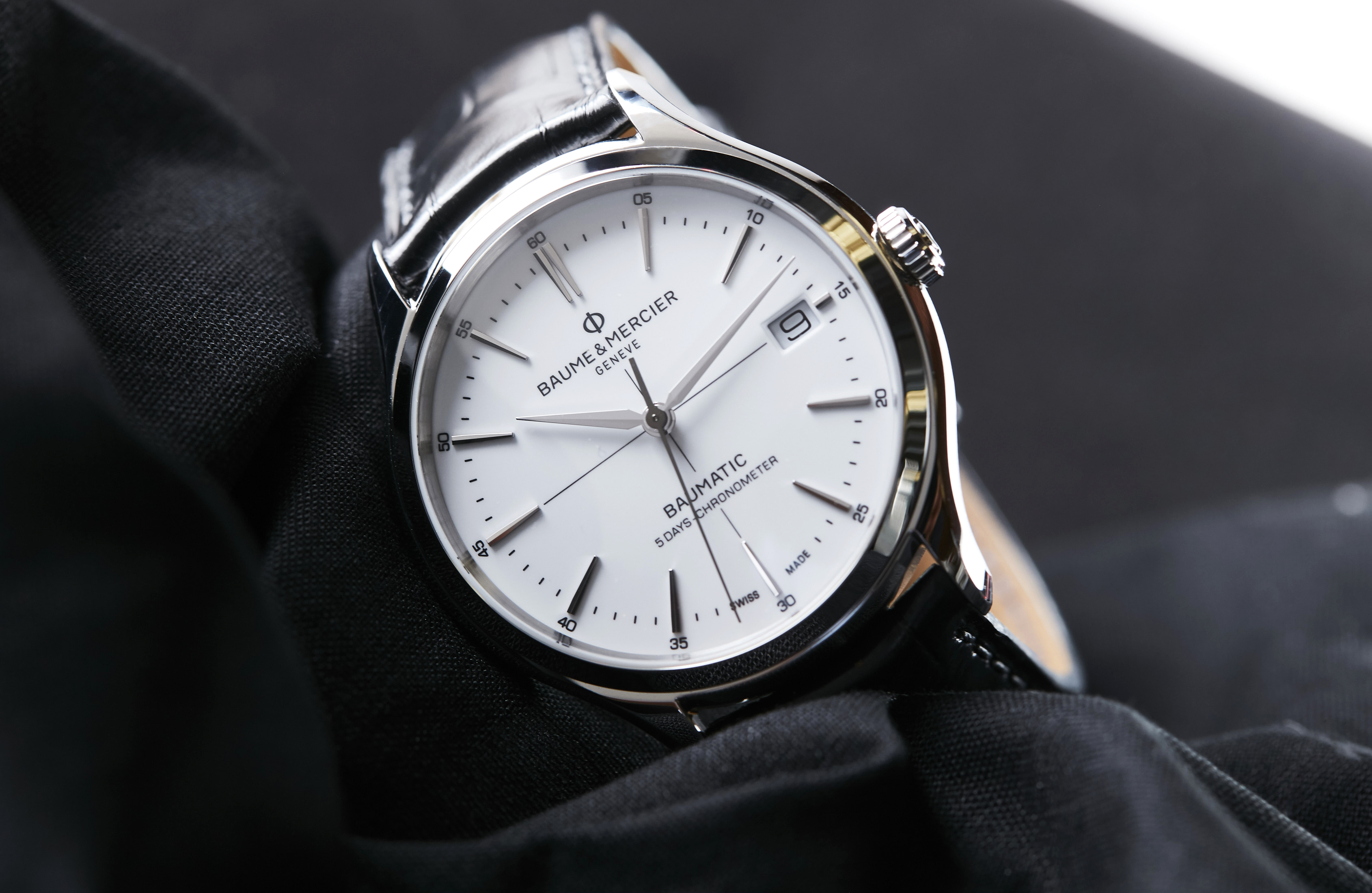 And, as we discovered not too long ago, Baume & Mercier's attempt at this trend with the Clifton Baumatic is a particularly choice implementation of the popular aesthetic.
But what happens if you're a massive fan of the svelte, stainless steel dress watch and all that it has to offer, but not of the fleeting, flavour of the month vibes of a blue dial?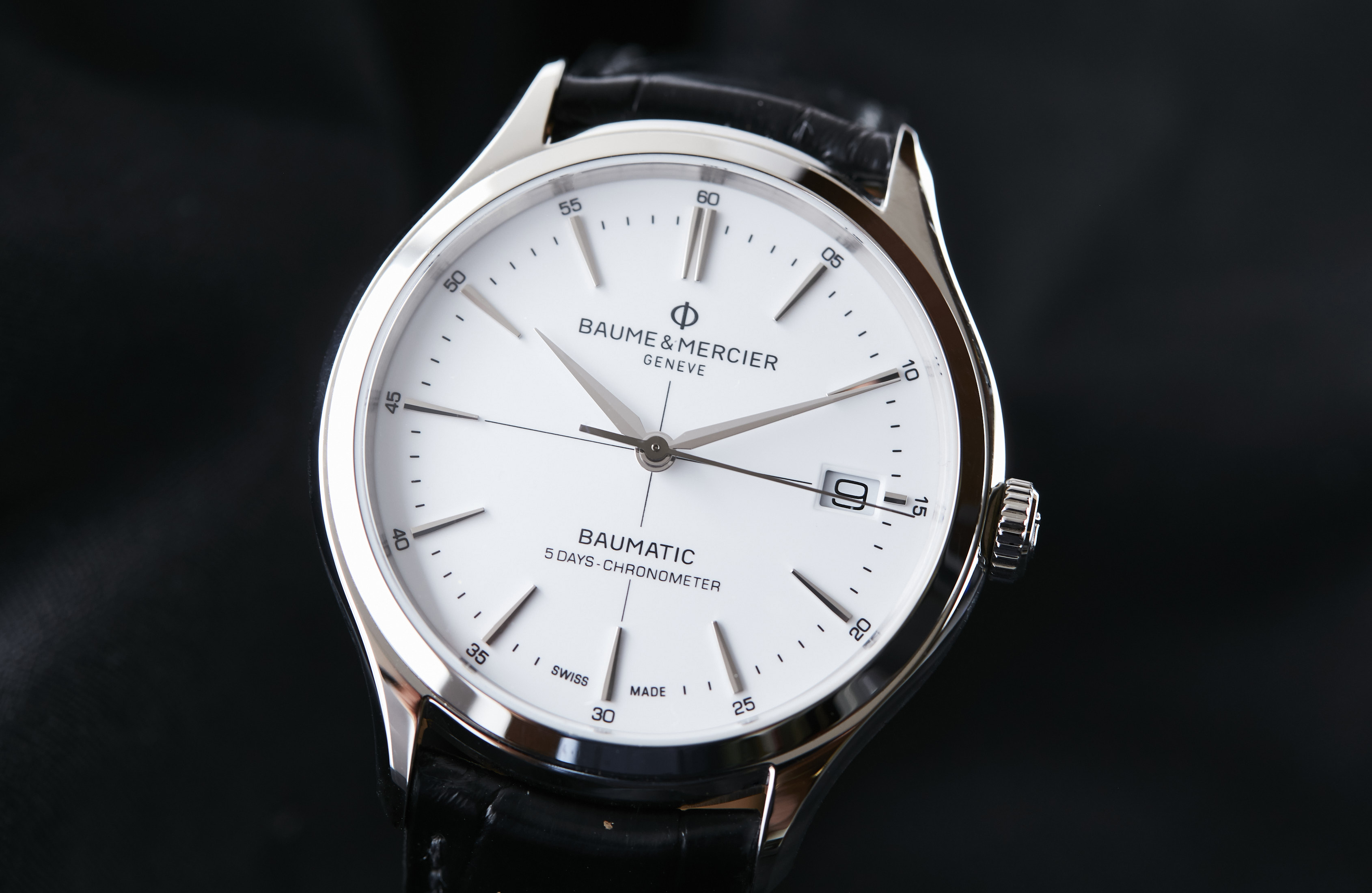 Well, you buy this, the white dial iteration of the Clifton Baumatic – ref. 10436.
Now, although these two models are identical on paper, the change from blue to white dial is quite profound – swapping date night dressiness for boardroom bravado.
Thanks to the sobering glossy white tones and opposing black accents, this watch presents a much more sophisticated appearance … more pared back and restrained, especially when attached to its contrasting black alligator leather band.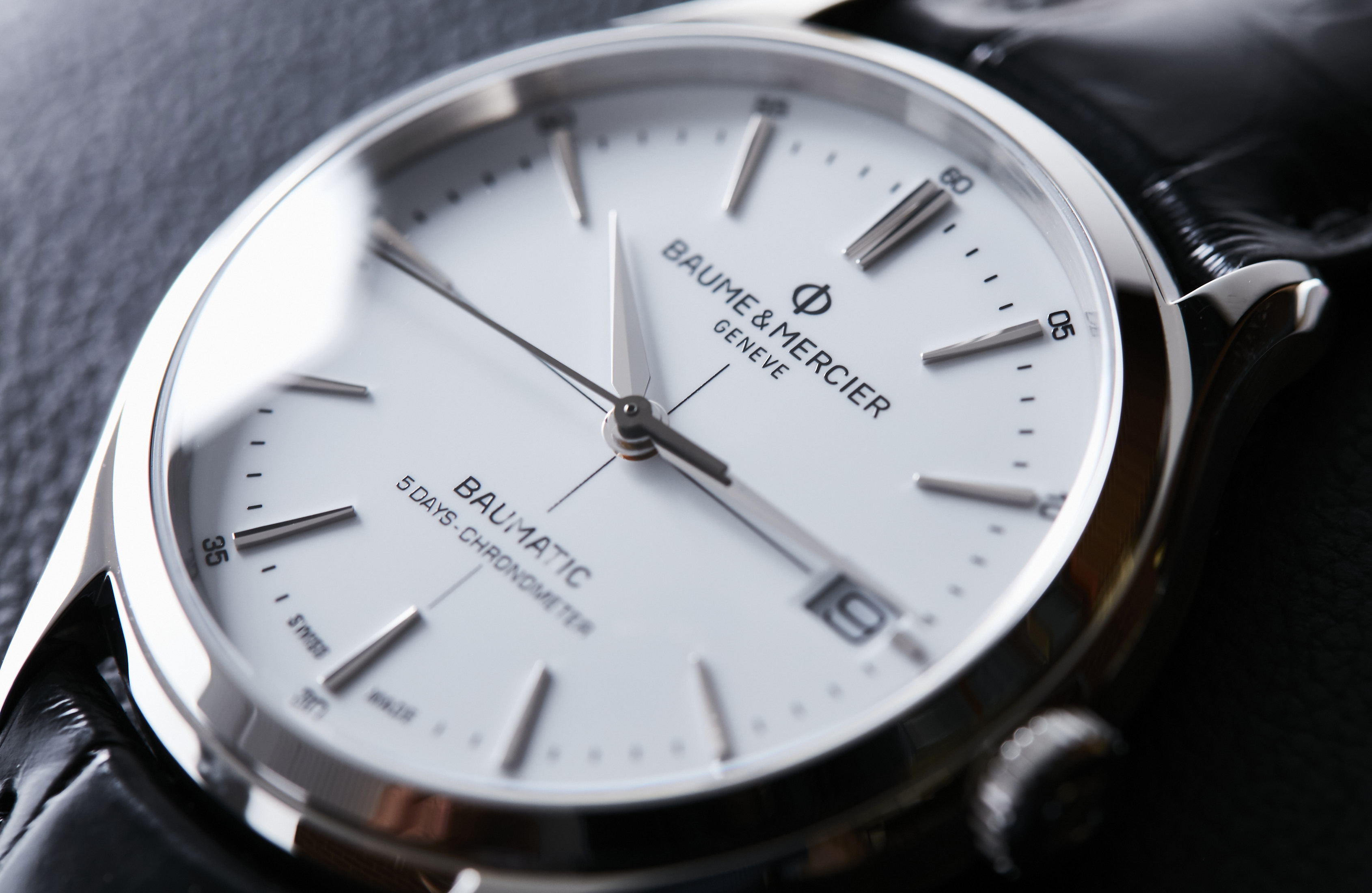 And while the enviable versatility of its blue brethren is somewhat lost on this black and white iteration, the argument could be made that the loss of bandwidth has been replaced by a more streamlined timepiece, one akin to a distilled tonic with a real sense of purpose, rather than an all-round crowd-pleaser.
Let's also not forget that the real selling point of the Clifton Baumatic in my opinion, regardless of dial colour, is the absurd amount of features that the movement serves up.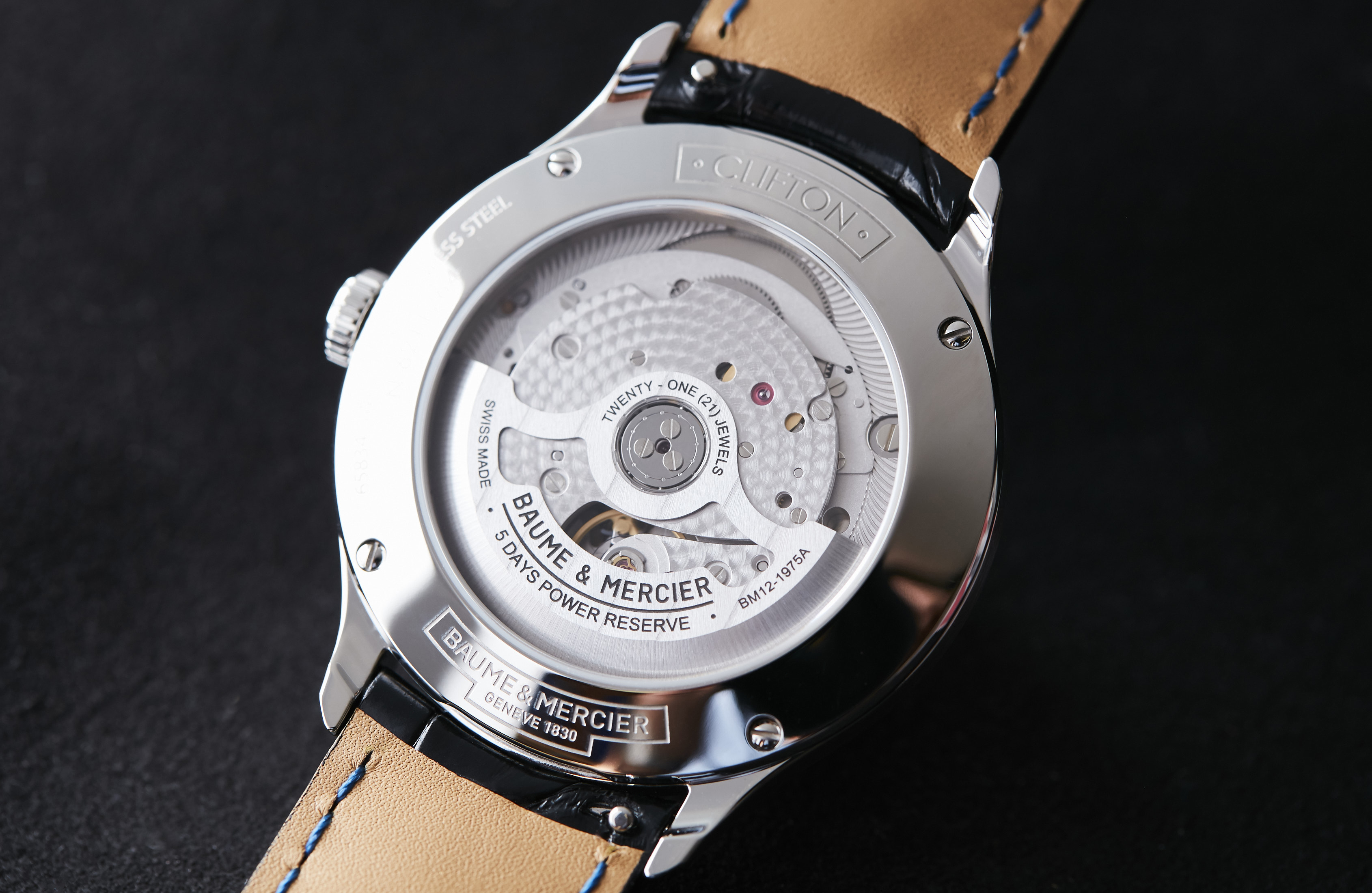 Calibre BM13-1975A is, on paper, nothing short of a triumph, providing a host of benefits that include self-winding, five days of power reserve, chronometer certification (–4/+6 seconds per day) and service intervals of seven years. Oh, and it's made completely in-house by Baume & Mercier, which is no small feat.
These specs, coupled with a price tag of just $4600 and three years of international warranty, are enough to merit the purchase of the timepiece, regardless of what it looks like.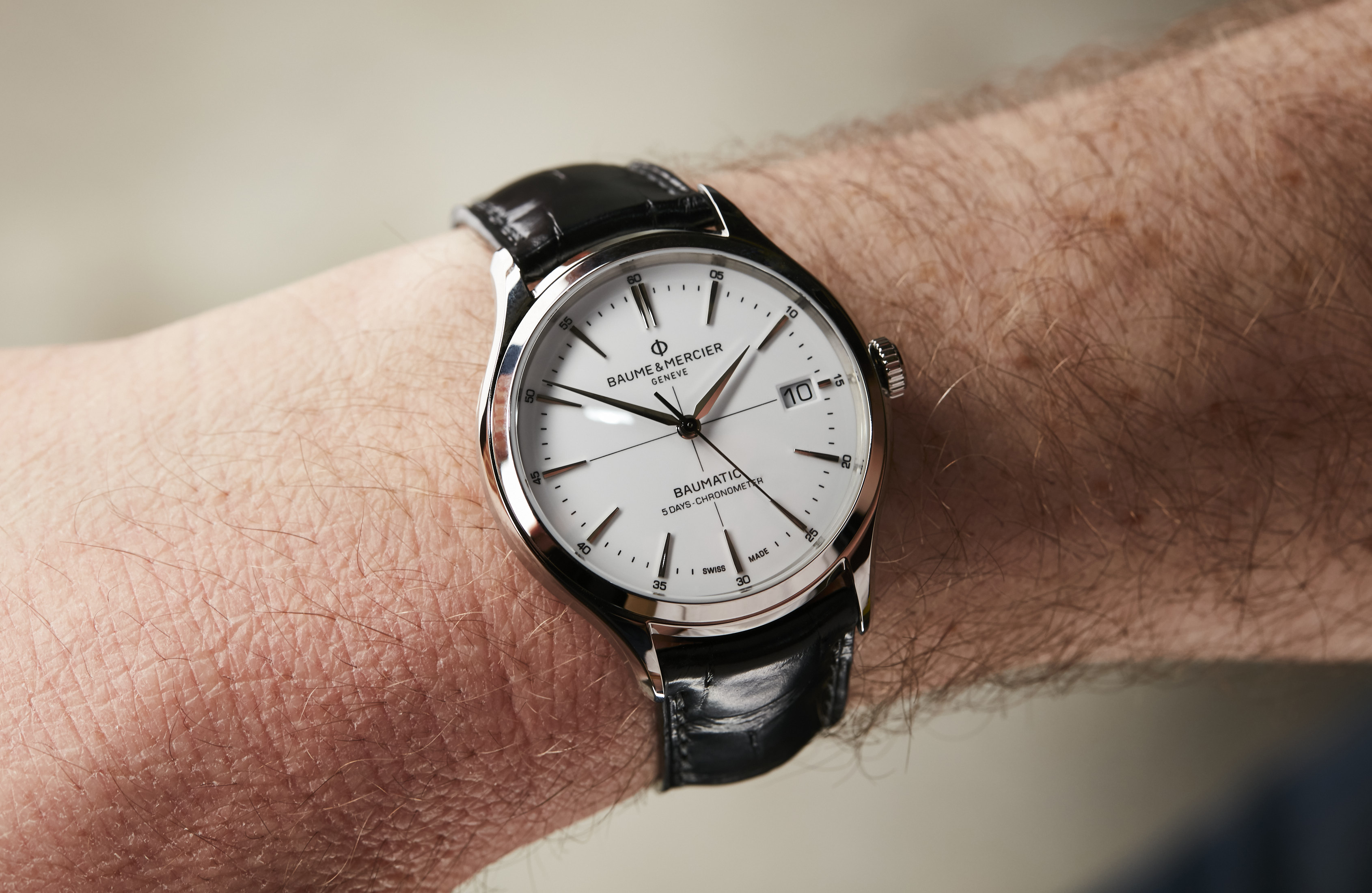 But, if that wasn't incentive enough, the powerhouse of a movement is slotted into a perfectly sized 40mm stainless steel case, which is just 11.1mm thick.
Thanks to a classically rounded design that incorporates nicely tapered lugs, the brushed and polished case sits comfortably on the wrist, never feeling like an encumbrance.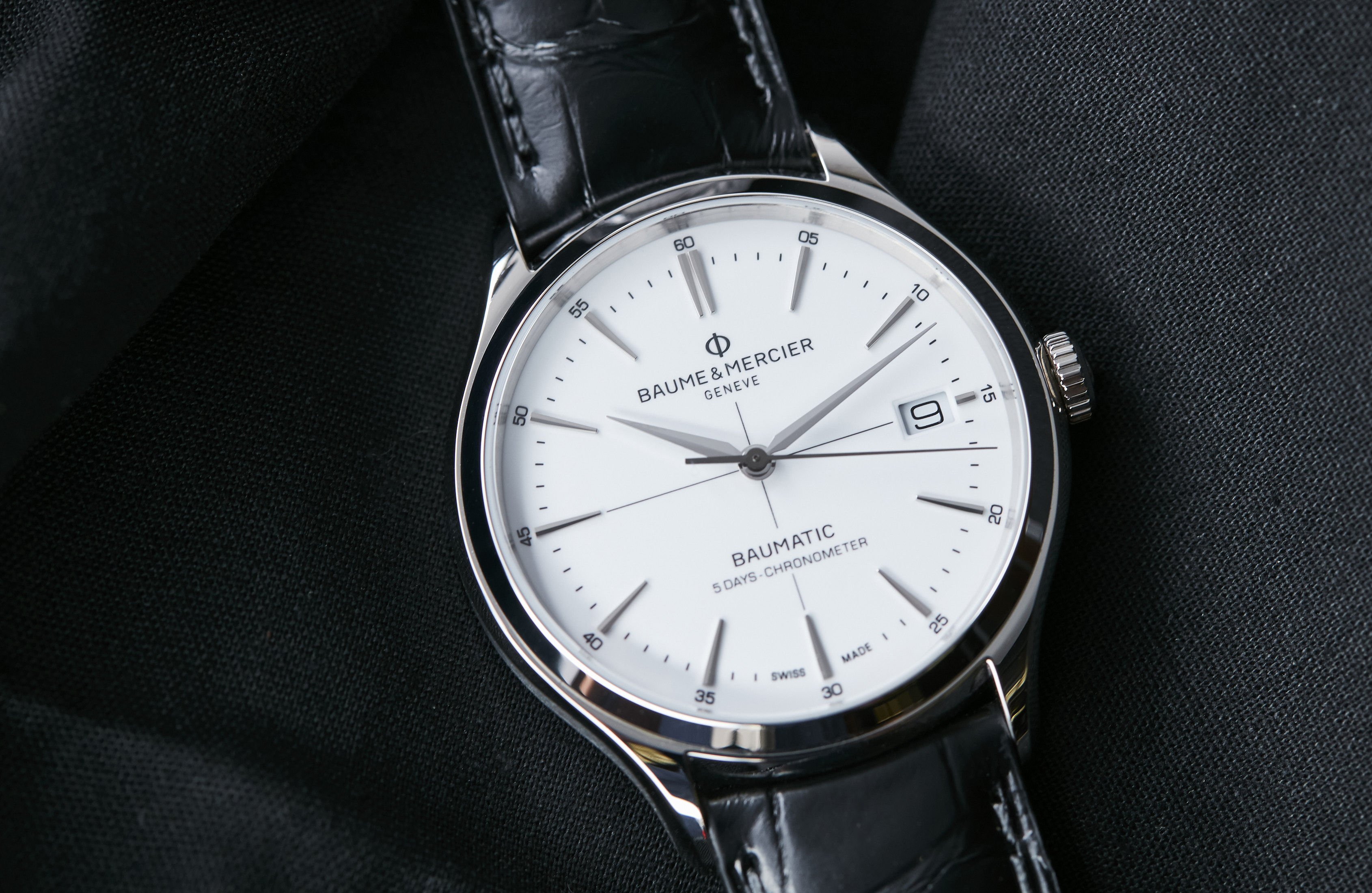 Crazes exist for a reason – they have their place. But to buck a trend in favour of something that is timelessly elegant is never a bad idea. If you're that way inclined, then this Baume & Mercier Clifton Baumatic 10436 White Dial is a convincing package.
Baume & Mercier Clifton Baumatic ref. 10436 Pricing:
The Baume & Mercier Clifton Baumatic ref. 10436 has an Australian RRP of $4600.