The IWC Big Pilot collection is a pillar of the brand for a reason. The design is iconic and has remained unchanged for the best part of a century, the wrist presence is almost unparalleled, and the double-barrelled power reserve means you can take it off for a week without needing to reset the time. As a result of its significance within IWC, and its popularity on the wrists of collectors around the world, the Big Pilot has been expressed in countless different ways, from simple time-only references to perpetual calendars and tourbillons. With that in mind, I canvassed the team for their thoughts on the Big Pilot reference that was most dear to their heart, and arrived at some interesting answers.
Nick Kenyon – IWC Big Pilot Heritage IW501004
There is an unsurprising boldness to the IWC Big Pilot Heritage that speaks to me loud and clear, harking back to a time when this type of watch was a crucial part of a pilot's equipment. While the creamy off-white lume might whisper "fauxtina" into the ears of purists, the darker metal of the 46.2mm sandblasted titanium case complements it by matching a vintage-looking dial with a case that doesn't have the new watch shine. While you can't say "Big Pilot" without big, it definitely delivers an under-the-radar feel that can't be said for the entire IWC BP collection.
Andrew: In my choice below I express a trepidation I have with watches that really go hard into the paint on beige/tan/fawn markers and hands to project a 'vintage' vibe. I am still torn on the new Bond 300M 007 Edition for example. Like Nick, there is just a dissonance for me between brand new watch, and elements designed to look aged. Which is why I'm back in that cooker when it comes to this model. It's devastatingly handsome, there's no doubt about that — the blued steel hands with double-whipped creamy lume, the stealthy sandblasted titanium case … it's a knockout. If only I could properly get over myself and just love it unreservedly.
Another small gripe is that, while IWC have nailed the sympathetic date wheel, in terms of it being the same colour as the dial, it would have taken it next-level for the numerals to be in sand, rather than white. But maybe that's a nod to legibility. Either way, Nick's right, this one is enormously compelling. And I obviously have many feelings about it. I'll stop now, and start waxing lyrical about my choice …
Andrew McUtchen – IWC Big Pilot "Le Petit Prince" IW501002
This watch proved to be a stone in my shoe that I grew so tired of walking around with, that I bought one. Interestingly, though, I held out for five years before giving in. It was in the very early days of Time+Tide that we first encountered, reviewed and shot the LPP BP. And the pics by Jason Reekie were ones I kept coming back to. But I was conflicted. On an ideological level, I had an issue with the dial. I'm a little on the fence when it comes to re-purposing tool watches with dress elements, such as this gorgeously grained blue sunray dial. This was originally intended for stressed-out pilots, needing to get the information from the wrist as quickly as possible. Legibility was everything. Aesthetic embellishments would have been seen as a distraction from the task at hand.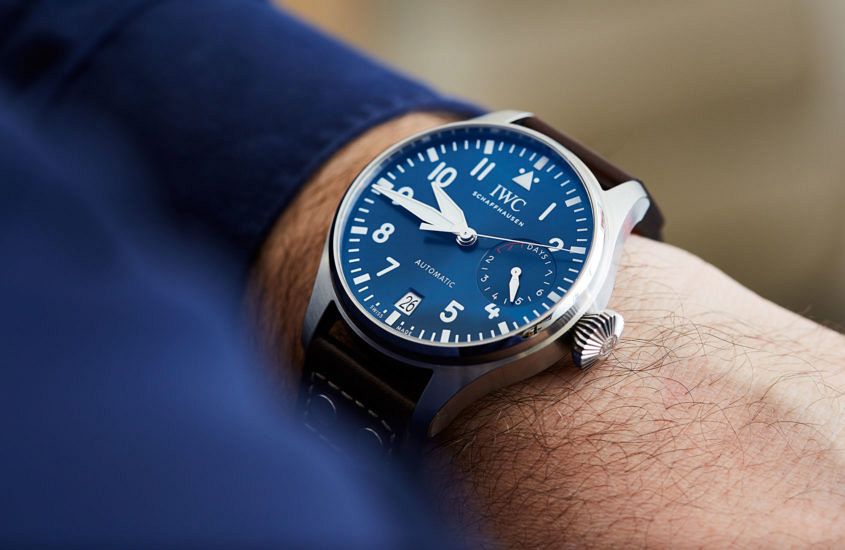 In the end, though, I just gave in to the desire that knows no logic such as this. The combination of the blue, the pips of red in the power reserve indicator, the lush brown strap and the orange underside — it's a symphony of colour that harmonises perfectly to my eyes, especially in this expansive case. One interesting criteria about the watches we own is how they look on us when we see ourselves in photos. This is my favourite watch to be either shot or filmed wearing. It just looks right.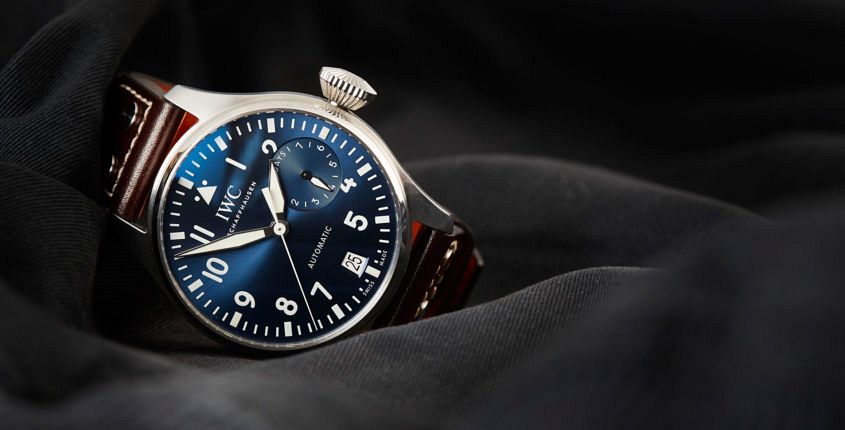 Nick: I can't fault Andrew on this one. Apart from being a huge fan of Antoine de Saint-Exupéry and his whimsical novella, there is a thoughtfulness to the faintly brushed midnight blue dial that can't help but put you in the flying gloves of a 1940s pilot. The white lume is crisp like stars against an evening sky, and the hands feel more propellor-like than any other member of the Big Pilot family. Great choice.
James Robinson – IWC Big Pilot Perpetual Calendar Edition "Rodeo Drive"
Nobody has ever used words like "subtle" or "elegant" to describe IWC's gargantuan Big Pilot collection – it's a 46.5mm smack straight to the solar plexus, and if you wear one, it's because you want to be seen. And, if that's the case, which it is, you may as well be seen wearing the iteration of the Big Pilot that offers, and costs, the most. In for a penny, in for a pound. This Big Pilot QP "Rodeo Drive" is like the horological equivalent of a hamburger with the lot and, strangely, the lauded complication works wonders on the overt, radially brushed sunburst navy blue dial. The blacked-out ceramic case is also bad-ass, and it suits the character of the Big Pilot down to the ground. Large and in charge, it's a great-looking barge.
Luke: James has a good approach here, and it only makes sense to pack in as much as you can to the ample case and dial space. As he said, in for a penny, in for a pound, and that is exactly what IWC has done with this watch, serving up one of their most complicated references in a format that takes The Rock to make look small. If size is the prize, they just took first place.
Luke Benedictus – IWC Big Pilot Edition 'Right-Hander'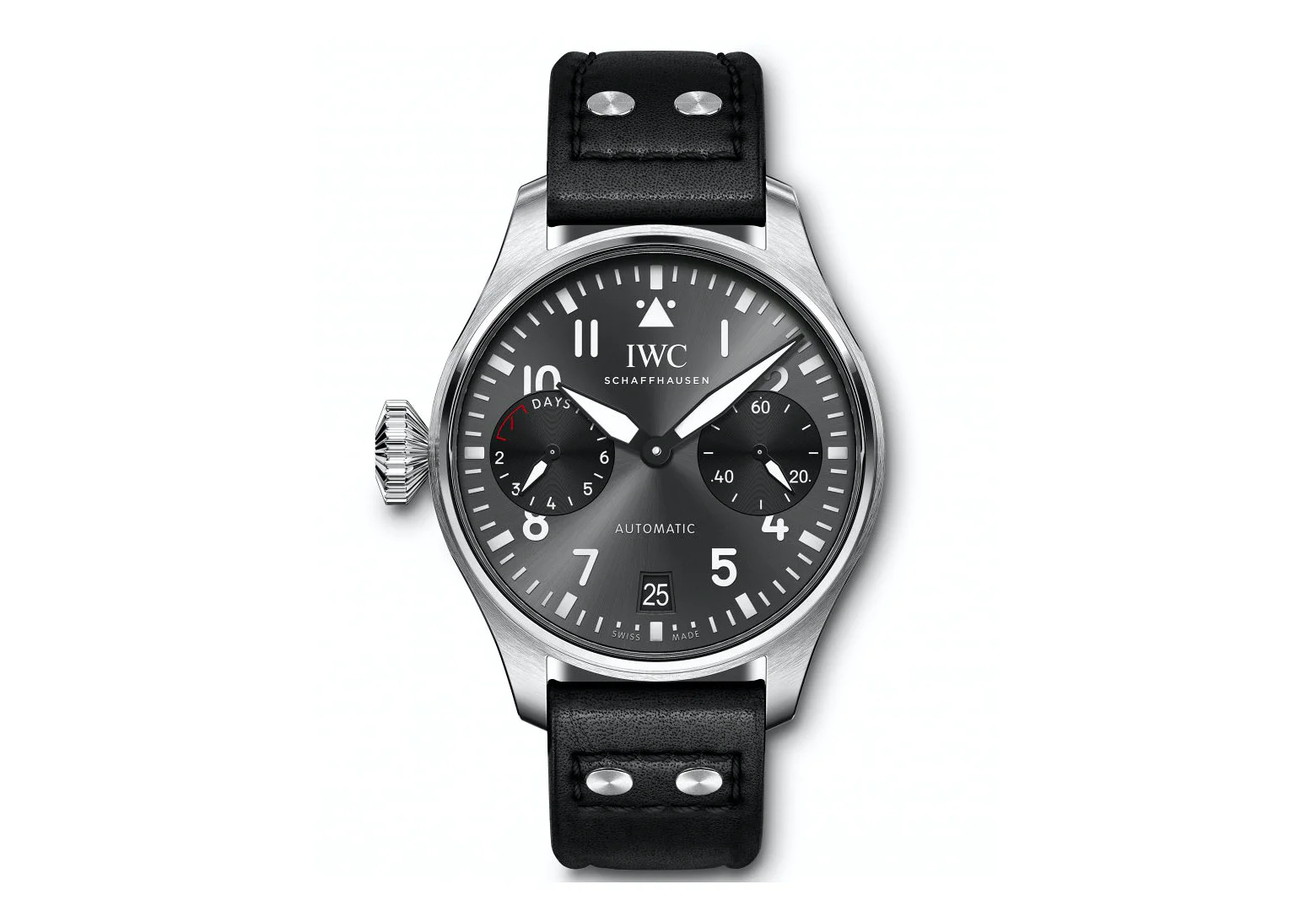 Leonardo da Vinci. Robert De Niro. David Bowie. Winston Churchill. Marilyn Monroe. Jimi Hendrix. Diego Maradona. Chewbacca the Wookie … What do they all have in common? Left-handers, the lot of them, and they're not alone: IWC estimates that as many as 40 per cent of pilots are lefties, too.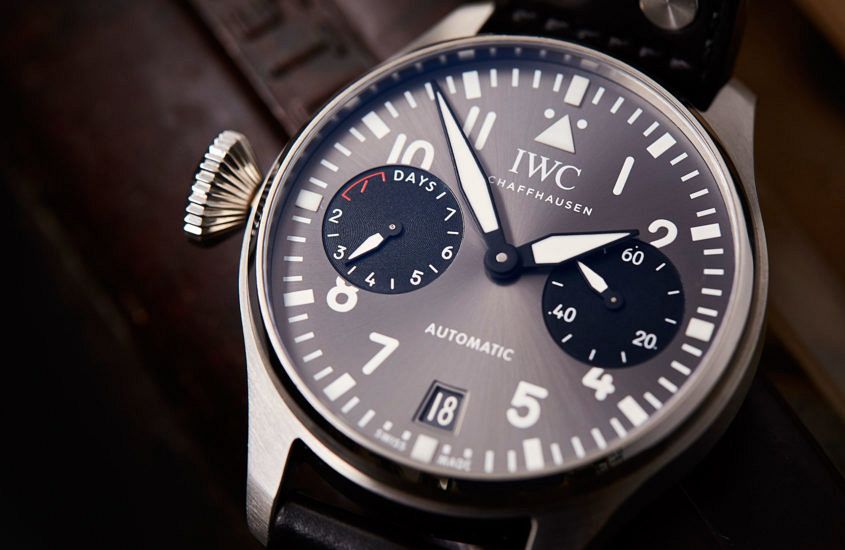 That's why the brand decided to furnish that neglected market with this handsome brute that offers a slate grey dial, stainless-steel case and in-house movement with seven days of power reserve. Oh, and before we forget, it's also got a crown on the opposite side of the case to make it easier for a left-hander to wear.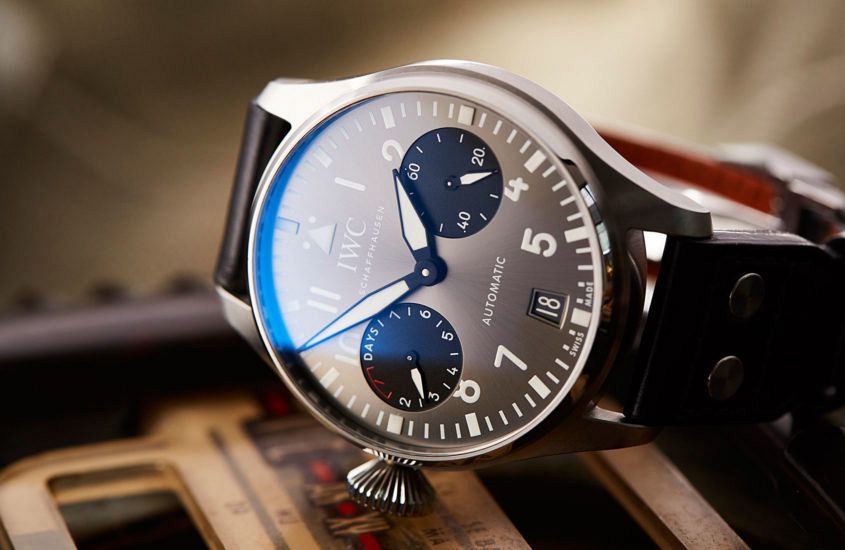 James: Props to Benedictus for this choice, I love the IWC Big Pilot Right-Hander. It may well be the most comfortable variant of the moniker ever created. Why? Because for folks like myself who wear a watch on their left wrist, the most annoying tendency of the Big Pilot has always been its bulbous onion crown digging into flesh whenever there's even a slight articulation of your wrist/hand. By moving that big ol crown to the left flank of the sizeable case, this issue is eradicated.