BASEL LOOKBOOK 2016: Day 3 , featuring Rolex, Omega and Patek Philippe
Ceri David
The Basel Lookbook, in which our friend and fashion advisor Ceri David casts an eye over the best releases of Baselworld and suggests what might look nice to wear with them. If you'd like sass with that, you'll be most pleased.
What's this then?
Rolex Oyster Perpetual Day-Date 40, with a brand-new green dial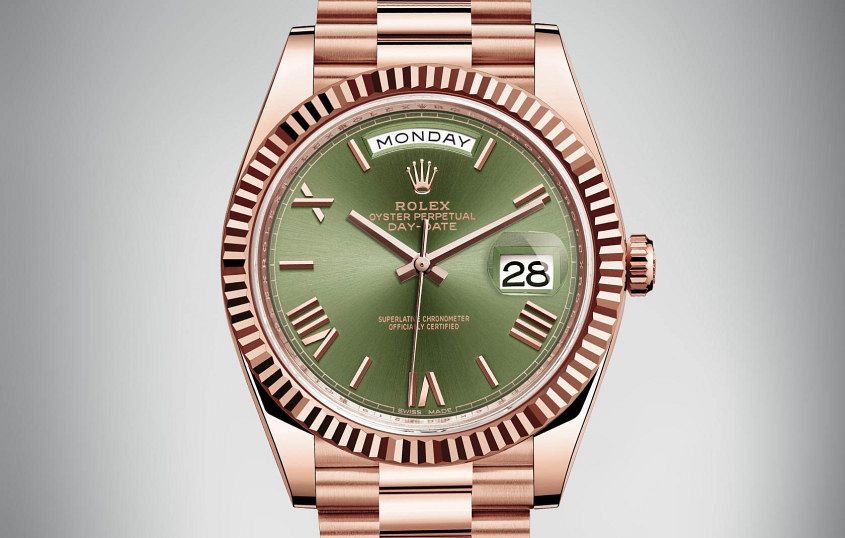 What does it go with?
The tabloids may have had their knickers in a twist over gender fluidity this past year, but it's old news in the watch world – and this Rolex is a faultless example of that unisex appeal. Likewise, sports-luxe – the trend we're teaming it with – works for both men and women. Worn top-to-toe, you can end up looking like one of Run DMC, so for best results apply sparingly, as per this Hiller Bartley jacket that's been softened up with an Erdem skirt, both from MatchesFashion. Chaps – feel free to swap the floral skirt for a nice chino. Or not. No judgery here.
What's this then?
Say hi to the Omega Speedmaster CK2998 Limited Edition.
What does it go with?
Whether you're an investment banker or a spy, a stay-at-home dad or a restaurateur, the following items should be staples in your wardrobe: a Breton top, a trench coat, a Moonwatch. In the T+T-imagined utopia which we hope will one day be a reality, every man will be issued with this uniform on his 18th birthday, safe in the knowledge that he can go forth and achieve anything in this outfit. Until then, if you are not 100 per cent confident that you own the full set, now's the time to do something about it. Go on. We'll still be here when you get back.
What's this then?
The white gold Patek Philippe 5930G-001 World Time Chronograph.
And what does it go with?
From now until October, it's all about layering – not least to avoid looking like you've been hitting the Ben & Jerry's a bit too hard of late. Go for lightweight, tonal fabrics in varying textures, along the lines of this look from Oliver Spencer. Like the PP, it's complex and elegant, and only works with the kind of swagger it's impossible to possess in your twenties. Oh, and one cravat at a time, please. (Yes, Matt Preston, we're looking at you.)