BASEL LOOKBOOK 2016: Day 2, featuring Rado, Nomos, Blancpain and Longines
Ceri David
The Basel Lookbook, in which our friend and fashion advisor Ceri David casts an eye over the best releases of Baselworld and suggests what might look nice to wear with them. If you'd like sass with that, you'll be most pleased.
What's this then?
La Grande Classique de Longines, on a powder blue alligator strap.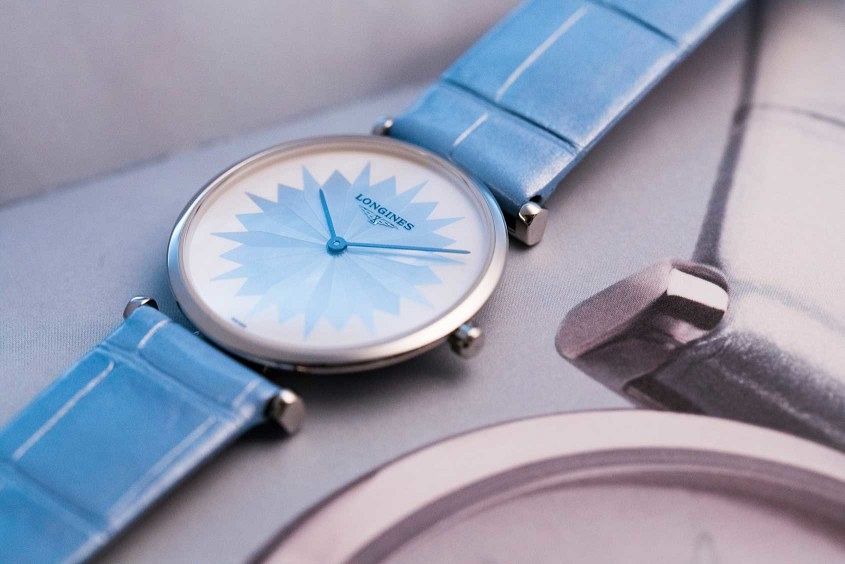 What does it go with?
Right now there's nothing more zeitgeisty than Vetements jeans, each pair made of two vintage finds cut-and-shut together to make a straight-leg high-rise dream that's far more than the sum of its parts. That rawness acts as the perfect foil to this ice maiden of a timepiece. The alternative is to climb into some tulle and go full Frozen, and if that's your thing, we promise we won't judge. "Let it go, Let it go…"
What's this then?
Blancpain Fifty Fathoms Bathyscaphe, in grey plasma ceramic on a sail canvas strap.
What can I wear it with?
Nautical is a trend that will never die. Like Bert Newton and Keith Richards, it will keep on reincarnating itself regardless of the drug overdoses and wig malfunctions life throws at it, so there's no point trying to avoid it. In which case, there are two ways to tackle it. The first is to hire a sailor's costume from your nearest dress-up shop – and please bear in mind that this is how most navy and white ensembles look to the casual observer. The second is to keep things low-key in indigo denim and crisp white T or jersey. We're pretty sure you know which one we're erring towards.
What's this then?
The too hip to be square Nomos Tetra Neomatik.
What can I wear it with?
Even when worn with the most yawn-worthy of outfits, this has the power to make you come across as interesting thanks to the unconventional shape. (NB – does not apply to Mark Zuckerberg and his normcore wardrobe. Nothing can save that situation.) Low-key rebellions such as this are precisely what get us through tedious dress codes – especially at work. Granted, if you're David Gandy leaning against a vintage Benz, you'd look good in, well, Zuckerburg's clothes. But he's also demonstrating how to stick to a uniform without losing your own personality. Your choice of watch is key, as are the shoes, tie, pocket square and sunglasses.
What's this then?
It's Rado's limited edition True Open Heart, in matt black ceramic, with dreamy mother of pearl dial.
What can I wear it with?
Maybe you run a portfolio of successful tech start-ups. Maybe you just want to look like you do. This watch will help. Once you've finished geeking out at the mechanical peep-show through the dial cut-outs, get your Gattaca vibe on with futuristic fabrics and minimalist shapes. We love this greyscale Berluti ensemble, with trousers in ultra-light, paper-textured cotton and a nubuck calfskin blouson jacket. Let's pretend the holdall is full of hundred dollar bills, even though you haven't handled actual cash since 2004.