BASEL BUILDUP: It's happy families at Time+Tide most of the time. We have our likes, dislikes. But it's horses for courses, and it's cool. That said, if there's any setting that causes a bit of healthy conflict, it's the Baselworld experience. And by about day four it's a pressure cooker. This is about when we wrote this story last year, and no doubt we'll write something similar in 2017. Picture Felix and I lacing up the gloves as we speak. You can decide who's the guy in white and who's the roo….
Mummy and daddy are fighting again. But sometimes it's for a very good reason. Good relationships rely on clear and honest communication. And if you've run into Felix and I around the halls of Baselworld this year, the chances are you've seen us openly and honestly communicating. Sorry for the shouting in public, but we don't always agree. And that's why, hopefully, Time+Tide is bearable to read. It's also why we're continuing to open the site to new voices. We hope you've enjoyed recent contributions from Ceri David, Justin Mastine-Frost, and David Chalmers as much as we have.
But when it comes to Felix and I, well, we like to come at watches from different corners, and that inevitably leads to the odd punch-up. These are four watches we are arguing the most about at Baselworld 2016, though, to be fair there's a larger number of watches we agree 110% on, like, to pick one, the Bulgari Finissimo Minute Repeater. Why is nobody else freaking out about this masterpiece? There's nothing to it, and it rings as clear as birdsong on a Sunday morning! Anyway. One final note, we haven't seen all brands yet, so there is still plenty of disagreement to be had. For now, just over halfway through, these are our sparring positions. Stand well back now, and feel free to take sides…
The Glashütte Original – Senator Excellence
ANDREW: They went dangerously close with the homage to the Lange One that was the Glashütte PanoMatic Reserve (pictured above), but the Senator Excellence is just too much like the Richard Lange on the face of it. And it's a shame, because the extra 20cm of Nivarox mainspring they've fitted into the expanded spring barrel, which has extended the power reserve from 42 to 100 hours (regulated by four screws on the hairspring) is impressive. As well as the ingenious bayonet mount that makes the movement really stable, so bravo, but for me this tips from tribute to something else.
FELIX: Sure, they're from the same town. Sure, they both make super traditional three-handers with Roman numerals and vaguely marine-chronometer style dials. But if that's a crime, it's time to lock up three quarters of the watch industry. Nope. I'm fine with it. Next.
The Tudor Heritage Black Bay Bronze
ANDREW: I just can't get right with the colour of the dial on the Black Bay Bronze. I think the issue might lie in the press pics. They make it look so much darker, which for me is a preferable colour contrast with the blonde hue of the bronze case than the actual, under-lights, in-real-life lightish brown that it actually is. If you're going to go a lighter colour dial with a bronze case, it's hard to beat the Bronzo's mossy, almost patina green. Like the green in the fabric strap below even. I reserve the right to change my mind (we both change our minds all the time, that probably should have been another disclaimer) but for now I'm dreaming of a black or green-dialed version.
FELIX: I've actually got no issue with the dial or the way the alloy will patina, but to be honest I'd much rather they'd kept to the proportions of the 41mm Black Bays.
The Chanel Monsieur de Chanel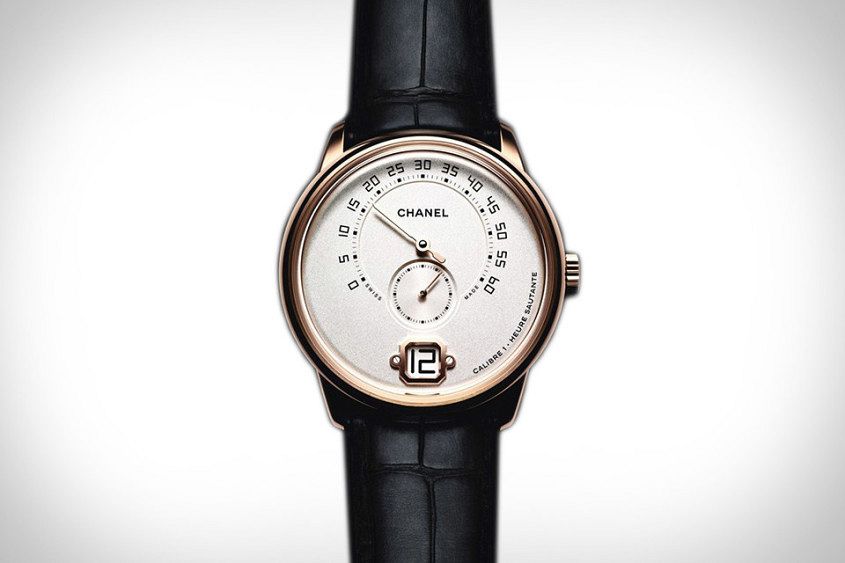 FELIX: I love being surprised at Baselworld – something pretty rare this year to be honest. But Chanel managed to make me sit bolt upright in my chair when they presented this one. To come out of the gates this strong with a dedicated mens watch well and truly got my attention – rocking a brand new, complicated in-house movement developed with assistance from Romain Gauthier. Chanel nailed it. I love that the fashion guys are continuing to bring it to the traditionalists.
ANDREW: The font. The font in the hour aperture kills me! It's kind of cute, in a 'I built my own robot out of meccano' way, but I prefer the Bulgari Octo Retrogradi.
The Rolex Oyster Perpetual Cosmograph Daytona in steel with a Cerachrom bezel
ANDREW: I don't think anyone in the whole of Baselworld agrees with me, but I find the bezel on the 116500 is not as shiny as any of Rolex's other ceramic bezels. It's almost matte in some lights and at some angles, which for me amps up the vintage feel. It's a brilliant move and yet more proof (after the crushingly on-point Yacht-Master from 2015) Rolex are really listening to their fans. And a slightly matte finish makes it suck that extra bit of light in to give it a less blingy and more dark chocolatey texture. Sad to say I even prefer it to the super, super-shiny, entirely ageless ceramic on my Batman.
FELIX: A classic example of how Rolex can make a few tiny changes, and release a watch that people are going mad for. The fact that fans have been begging for a steel/ceramic Daytona for the last 10 years probably helps. But yeah, that bezel is still pretty shiny Andrew.