The baby blue and black Bamford G-SHOCK 5610 sold out in 6 minutes, which sucks, because it's great
Fergus Nash
The democratisation of watch modification has been sinking in for a few years, moving from diamond-encrusted Rolex watches, all the way down to swapping out a set of hands on your favourite Seiko SKX. In recent times, it's become apparent that watch brands are trying to cover their bases and provide the unique look of a modified watch in a completely stock package. We've seen it with the new Seiko 5 Sport line, and we've seen it with Rolex reintroducing their vibrant Stella dials of the past. Even Casio aren't immune, with the latest "Casi-Oak" being hewn from a GA2100 and an aftermarket steel case to look even more like the famed AP Royal Oak. Well, now G-SHOCK are showing the world their intentions by teaming up with Bamford Watch Department — one of the world's premier modifiers of luxury Swiss watches.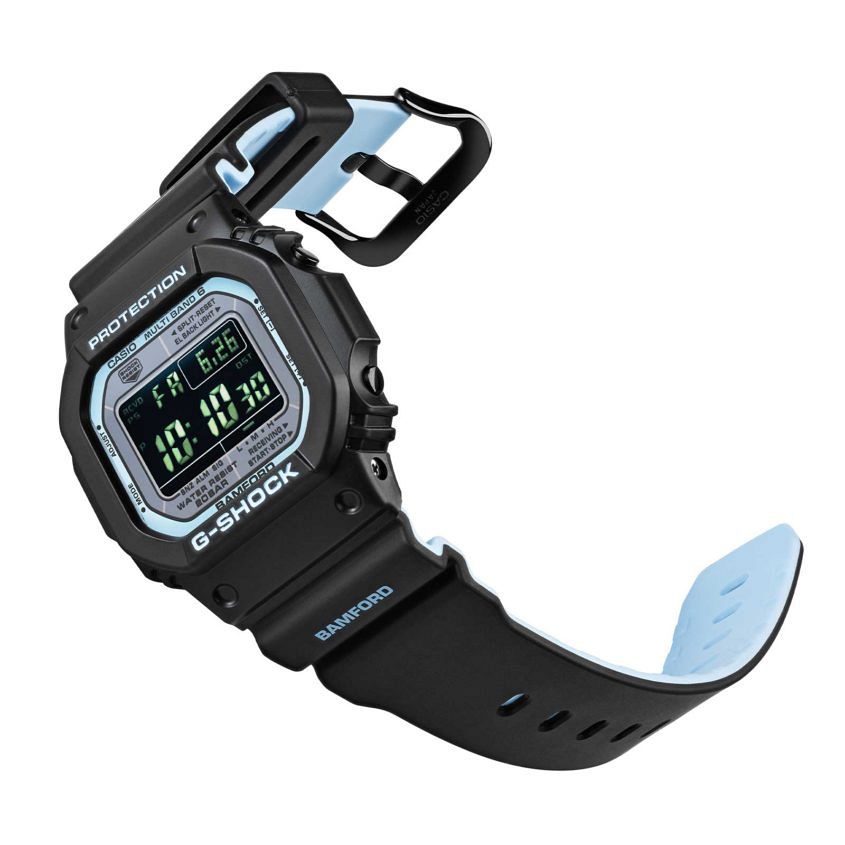 This isn't our first rodeo with Bamford Watch Department, having picked through their catalogue of mostly high-end watches from the LVMH group. The sleek designs of George Bamford are always clinically crisp, with the high-contrast neon colours creating an almost two-dimensional spectre of a watch for your wrist. While the modifier may focus on luxury brands such as TAG Heuer, Zenith and Bulgari, it's great to know that Bamford's identity isn't lost when it's partnered up with an affordable watch as unpretentious as a Casio.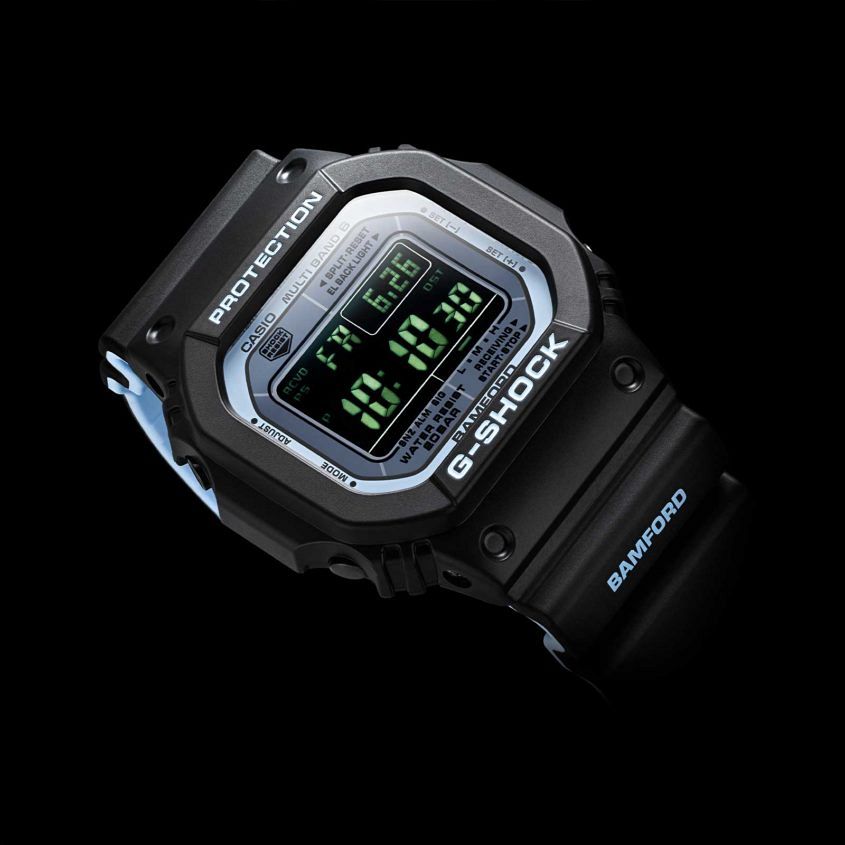 One of Bamford Watch Department's major calling cards is, of course, the black "Diamond Like Coating" of a steel watch case, giving it a stealthy or tactical look while improving the durability. Of course, a Casio G-SHOCK is already made from black resin and is as durable as it could possibly be, so what exactly marks this limited edition out from the standard model? Well, for starters George Bamford's personal favourite shade of light powder-blue lines the outer ring of the dial, the underside of the strap, as well as the printed text on the bezel, but that's not where the real magic of this watch comes from. The negative-display dial with green numerals perfectly cements this watch within an air of retro-futuristic sci-fi, and captures that Tron feeling in a much more subtle way than the "Grid Tunnel" G-SHOCK we saw earlier this year. The Bamford name is made clearly known on the strap and the retainer, adding more touches of that pastel blue which seems so refreshing.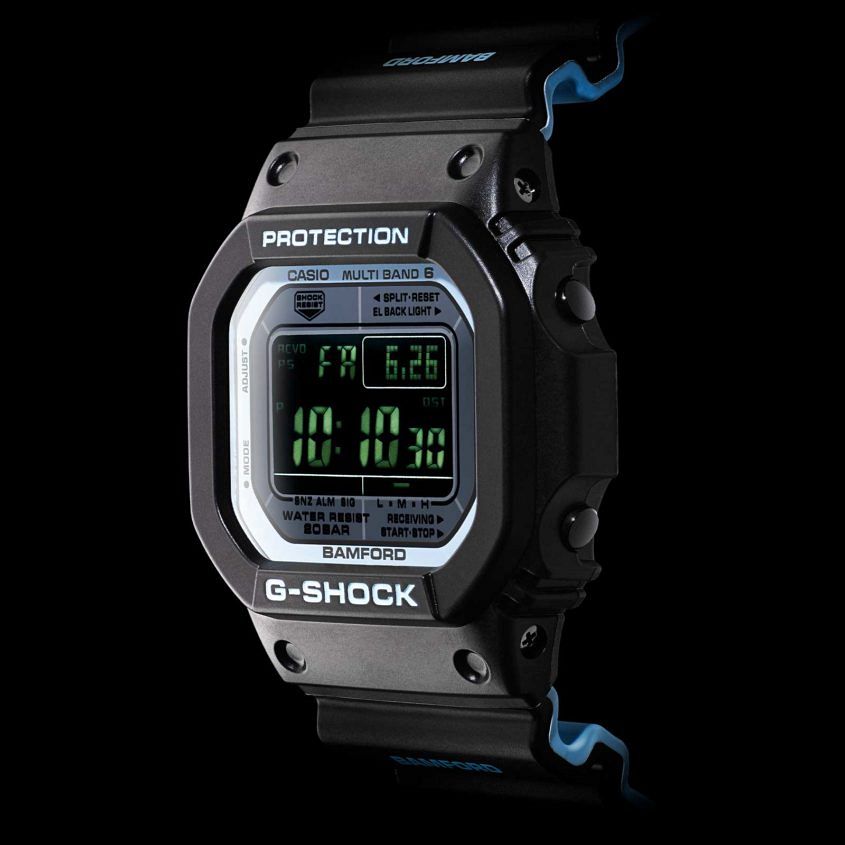 No matter how much fresh style is loaded into this G-SHOCK, the essential philosophies behind its design and use remain the same. Beneath the case lies the standard Casio solar module from the G-SHOCK 5600 series, absolutely packed with useful features and functions. Its Radio Controlled Timekeeping means that the watch will automatically synchronise itself at regular intervals, in essence making its monthly accuracy totally irrelevant. A full calendar, stopwatch accurate to the hundredth, 24h countdown timer as well as multiple possible alarms, all ensure that this is the ultimate do-it-all digital watch, as well as being a joy to look at. The case is just as shock-resistant as ever, and its 200m of water resistance means you shouldn't even bat an eye at taking this thing swimming — which certainly can't be said for some of Bamford's work with loftier brands.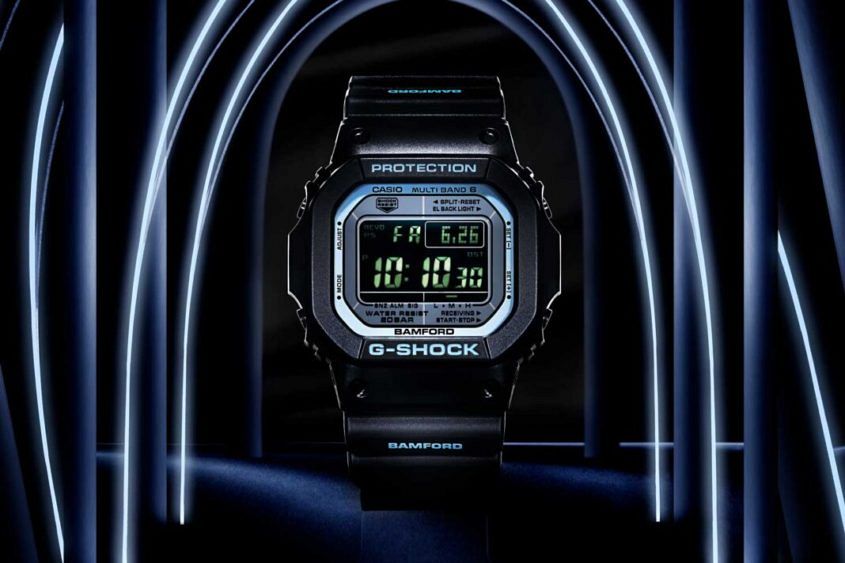 This is, of course, a limited edition, although the exact number of watches available is unclear. The only problem? It sold out in a reported six minutes, which is likely a record for a Bamford Watch Department collaboration.