It's Monday, baby! June. The. First. I'll skip the "pinch and a punch" nonsense – the first half of this year has been a dystopian nightmare … we can only hope things get better from today. Luckily, there are indeed slivers of hope that our fortunes are on the rise, even if our thermostats aren't (damn you, winter!). For example, from this evening here in Victoria's capital city, Melbourne, we're allowed to go to the pub, have up to 20 mates 'round for a bevvy and, crucially for me, indulge in regional travel. Why is that last point so important? Well, aside from watches, my other great passion is cars. I love cars. And I love driving them around some of Victoria's best twisty roads that, unsurprisingly, are not located in the CBD. No, to get to the asphalt spaghetti that all us motoring enthusiasts adore, you've got to head to the country … and now I can!
All these thoughts of automobiles, burning rubber and the great open road also, rather handily, lead me to introducing the other big topic here at T+T each and every Monday. That's right, it's Micro Monday, and this week we're taking a closer look at American watchmaker Autodromo.
Founded by Bradley Price in New York nearly a decade ago in 2011, Officine Autodromo is an outfit dedicated to the expression and passion of timekeeping and automobiles from the '60s, '70s and '80s. Price is a self-professed petrolhead; he's got high-octane coursing through his veins, and he has done since he was born. Just take a look at his stunning Ferrari Dino 208 GT4, and you'll get what I mean. Cars, just like his Dino, wholly inspire the timepieces that Price and Autodromo create, whether it is the shape of the watch cases, which look like something right out of Bertone's design studio, or any of the watch dials, which take their stylistic cues and inspiration from vintage dash clocks and speedometers. As is the case with almost all microbrands, Autodromo's timepieces have utilised a number of different movements over the years, both quartz and mechanical, and from both Switzerland and Japan. All of the New York outfit's watches cost around $2000 – $4000 AUD each, depending on the model, and if you're interested in watches that prioritise design above all else, they're some of the best in the biz. And they're quite hard to get hold of, as Price and his team release only a few watches every year. Past examples have been very, very compelling, especially for a fellow autophile like myself. So, if you appreciate the mechanics of personal transportation as much as the mechanics of personal timekeeping, check out these three watches from Autodromo … they look pretty great.
Autodromo Intereuropa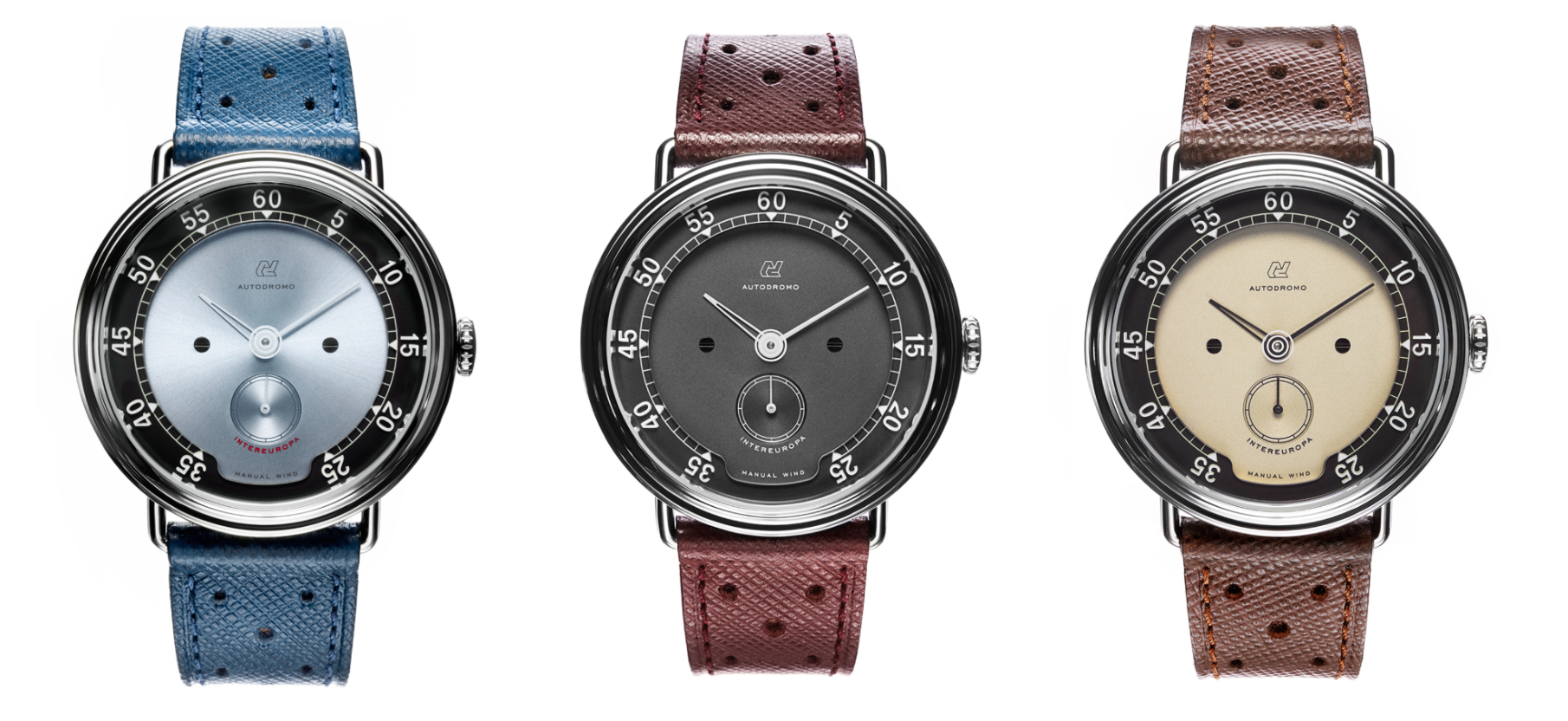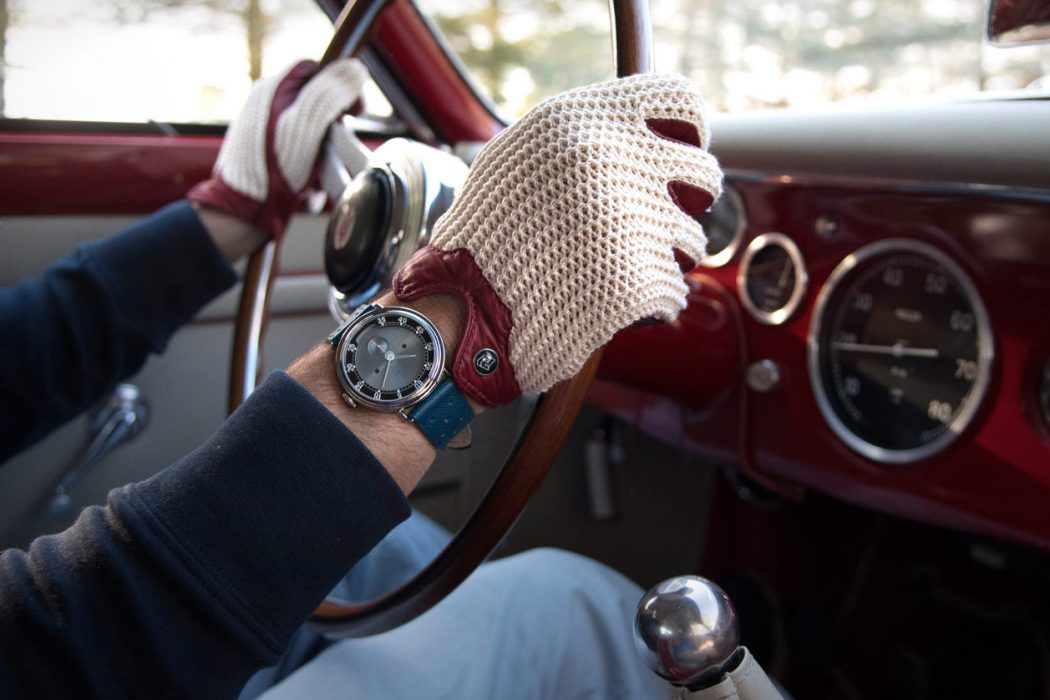 This sleek-looking timepiece is actually named after a support race for the Italian Grand Prix that took place every year at Monza between 1949 and 1964. Known as the Coppa Intereuropa, the motorsport event was comprised of thoroughbred coupes of the era from the likes of Ferrari, Maserati and Alfa Romeo. Unlike the full-blown racecars of the Grand Prix, these automobiles were designed as true GT cars – comfortable and elegant, yet fast and nimble. The Autodromo Intereuropa continues this ethos of duality. The 39mm stainless steel case is lissom and graceful thanks to its relatively small dimensions and wire-style lugs. Likewise, the Saffiano leather rally strap provides an added layer of tactile and visual opulence. The dial is attractive, and features stylistic cues reminiscent of the speedometers that these GT cars would've had, but it's also not overly ornate – it provides clear legibility. The movement, a manually wound ETA 7001, also provides a distilled singularity of purpose – it's time-only, providing the undiluted essential purpose of a timepiece, nothing more, nothing less. Available in either a Gray, Cream or Silver Blue dial, the Intereuropa costs $1250 USD (roughly $2000 AUD), and if you own a vintage Italian GT car, this watch could be its perfect companion.
Autodromo Group B Series 2 Safari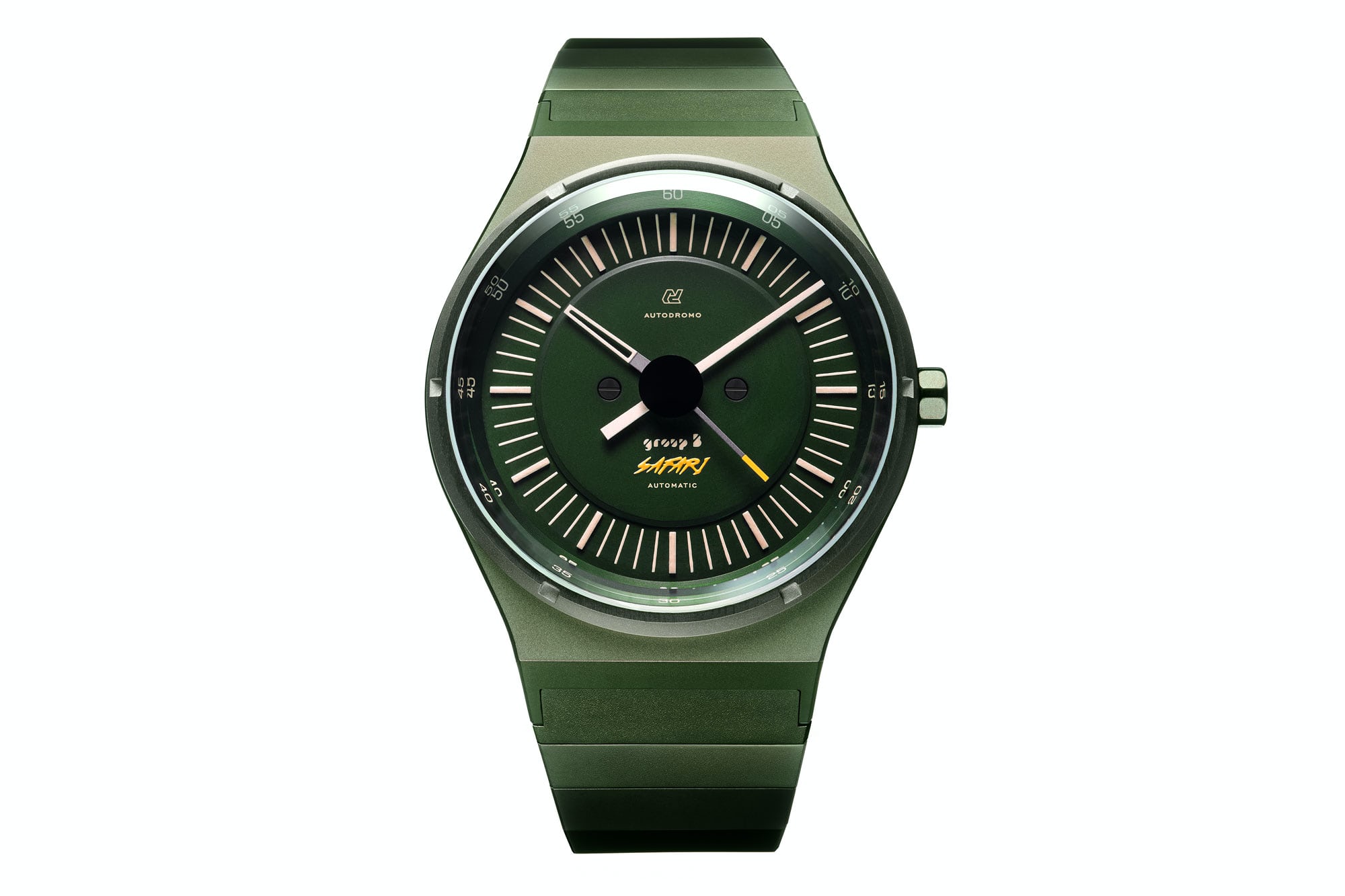 Anyone who knows anything about motorsport will have heard of Group B. It's widely regarded as the best, scariest and most captivating era of the Rally World Championship, a time when the drivers and, more importantly, the cars, were unhinged, unfettered monster machines. Group B lasted only four years, running between 1982 and 1986, before being cancelled because — and I kid you not — the cars were too fast and dangerous. Anything that gets eighty-sixed on those grounds is A-OK in my books, and Autodromo's homage to this wild era, which is named after the lethal regulations, is quite the timepiece.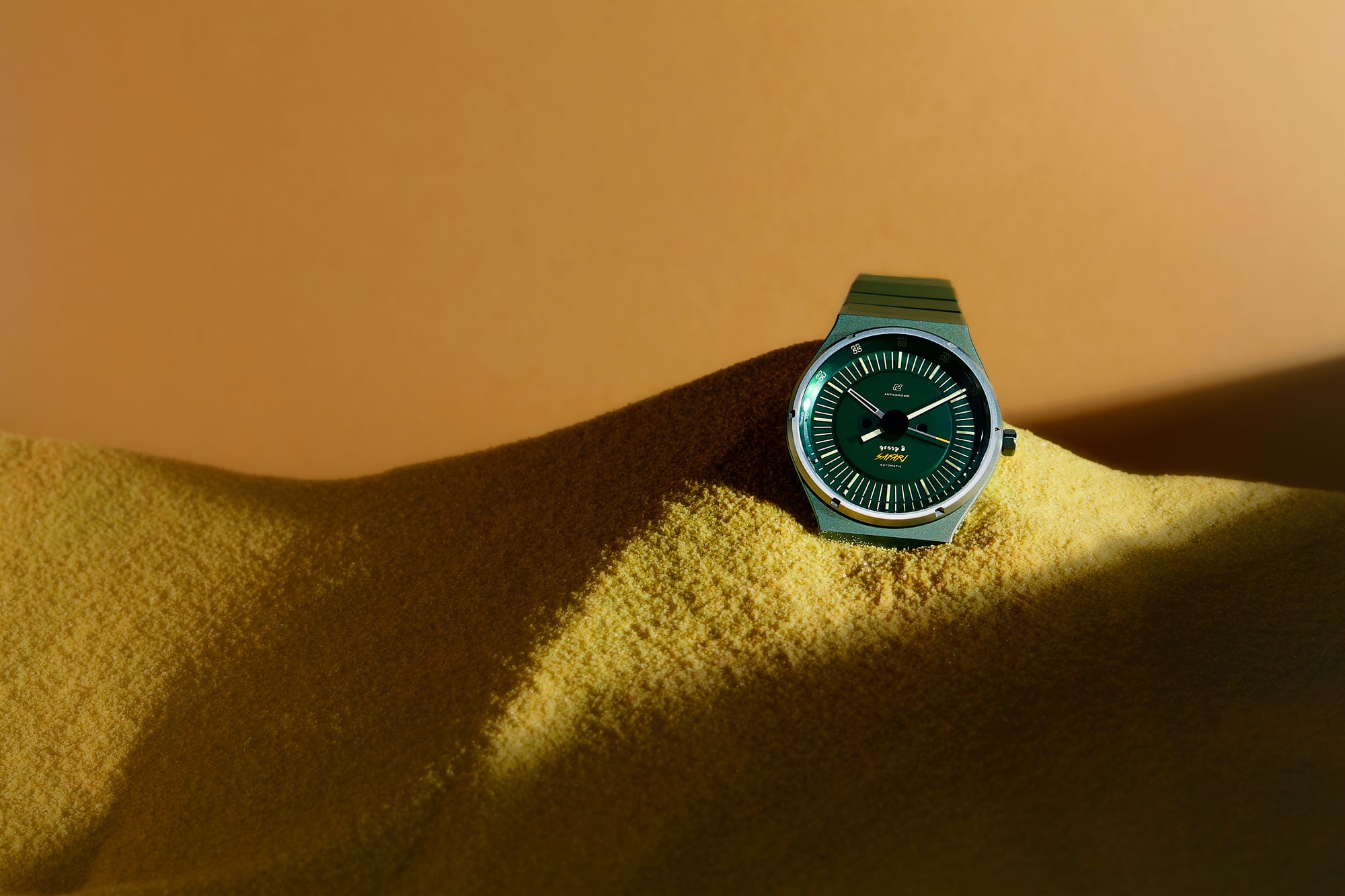 This particular iteration of the Group B model, the Safari, tips its hat to the fabled East African Safari and Paris-Dakar rallies of the era, and it's a wild-looking device. The integrated 39.5mm case features a titanium and stainless steel bimetallic case construction, and it's finished in an iridescent green that changes colour drastically, depending on lighting conditions. The complementing integrated stainless steel bracelet also looks resolutely of the era, and it, too, is finished in the dark, almost forest green. Inside the tech-laden case is a Miyota Calibre 9015. This movement offers up self-winding, 24 jewels, hacking seconds and roughly 42 hours of power reserve. The Autodromo Group B Series 2 Safari will set you back $975 USD (roughly $1600 Aussie dollars) and it's definitely my favourite timepiece that the New York watchmaker currently offers.
Autodromo Monoposto Automatic Chronograph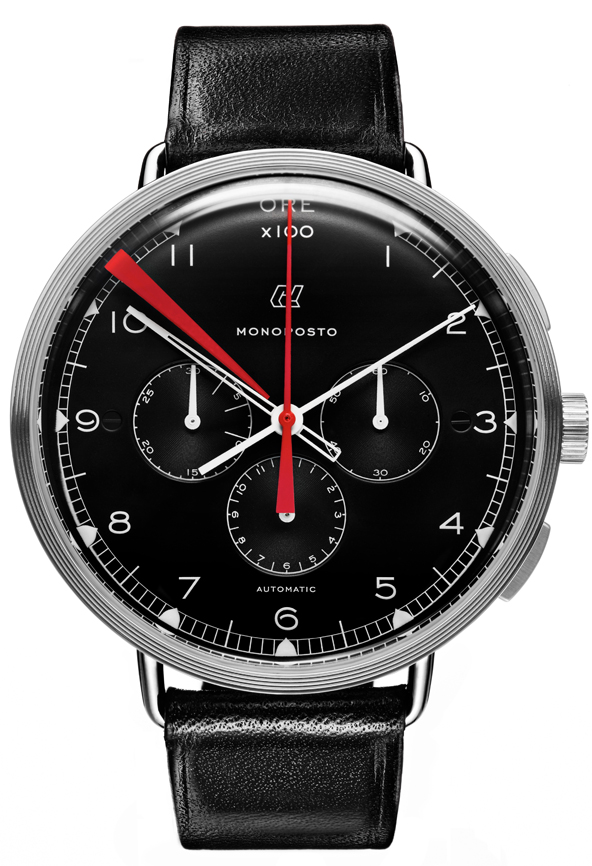 If you're after a larger watch from Autodromo, this is the one to have. Styled to pay homage to Formula 1 cars of a bygone era, the Monoposto (single seat in the King's English) measures in at a substantial 43mm across and 14.8mm thick. The stainless steel case is very round, and this spherical appearance is only enhanced thanks to the diminutive wire lugs. There's a very good reason why Autodromo have gone to such lengths to make the Monoposto so round – the whole watch is meant to mimic that of a rev-counter you'd find on an F1 car of the '60s. That's why the dial features a big red streak just past the 10 o'clock position, it denotes the RPM redline that the engines of most of these racecars would've had back in the day. That's a nice touch. What's also nice is the movement found behind the instrument-esque display. It's the Seiko Calibre NE88, a self-winding workhorse that features a chronograph complication with column-wheel, 34 jewels and 45 hours of power reserve. This is the priciest Autodromo you can currently buy, with an RRP of $1800 USD ($2800 AUD), but for the money, you're getting quite a lot of technicality, and a charming overall design.