How Zenith's aviation heritage cemented their sky-high appeal
Fergus Nash
Take a look at some of the most famous pilot's watches of all time, and ask yourself what they're missing. It won't appear obvious at first, but once you've realised then it will seem like a glaring omission forever. The answer is of course the word "pilot" itself, which is entirely due to Zenith registering the trademark for the word upon a watch dial all the way back in 1888. Although it was nothing more than a forward-thinking business decision at the time, Zenith have since justified their ownership of the word through their contributions to aviation over the years.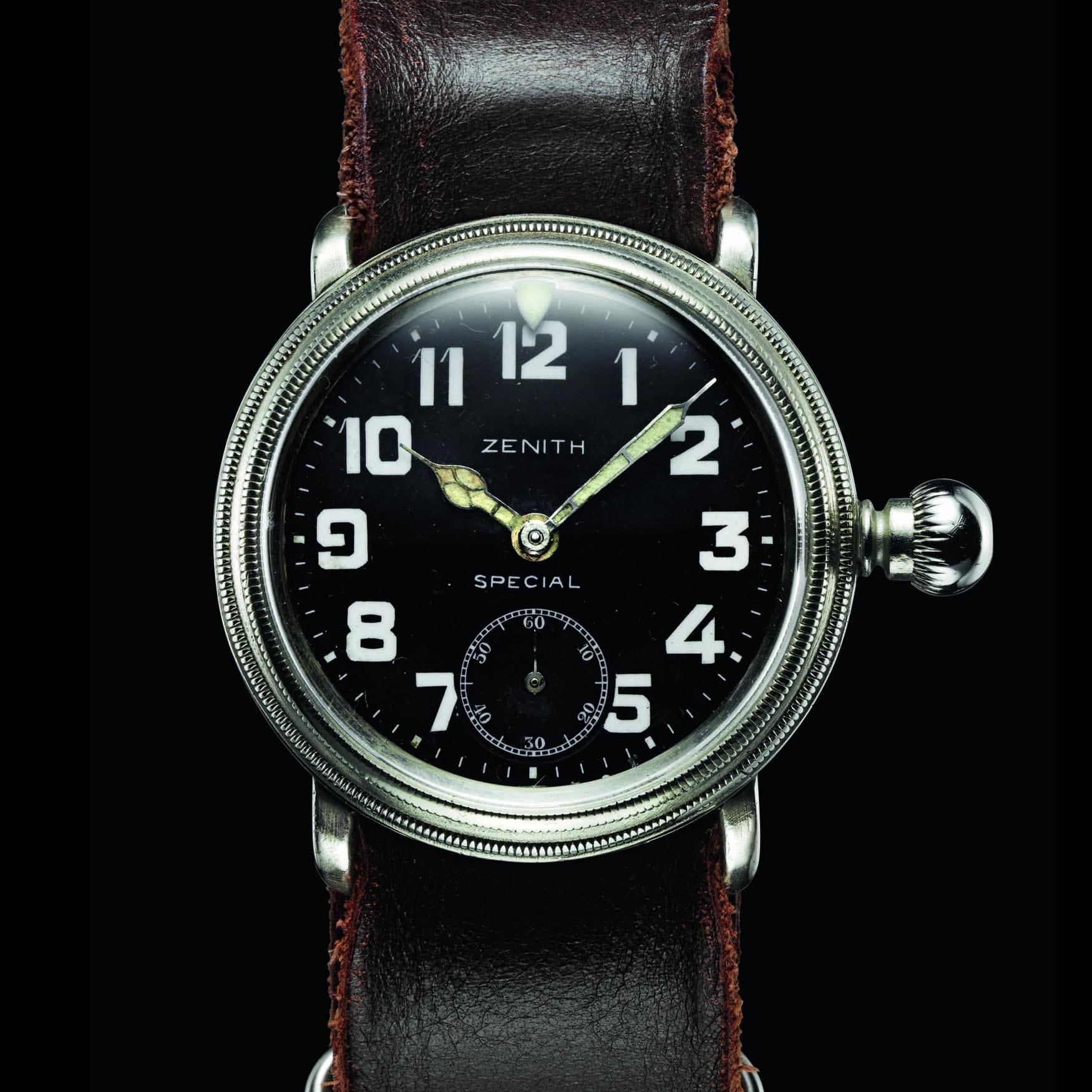 Zenith's history with aeroplanes is intertwined with the technology's very first decade, as the best watchmakers were clamouring to be associated with flying machines and their daredevil pilots. Starting out with wristwatches as well as hand-wound clocks for aircraft dashboards, Zenith watches wound up in the hands of Louis Blériot, who completed the first flight across the English Channel in 1909. He would go on to say "I am very satisfied with the Zenith watch, which I usually use, and I cannot recommend it too highly to people who are looking for precision."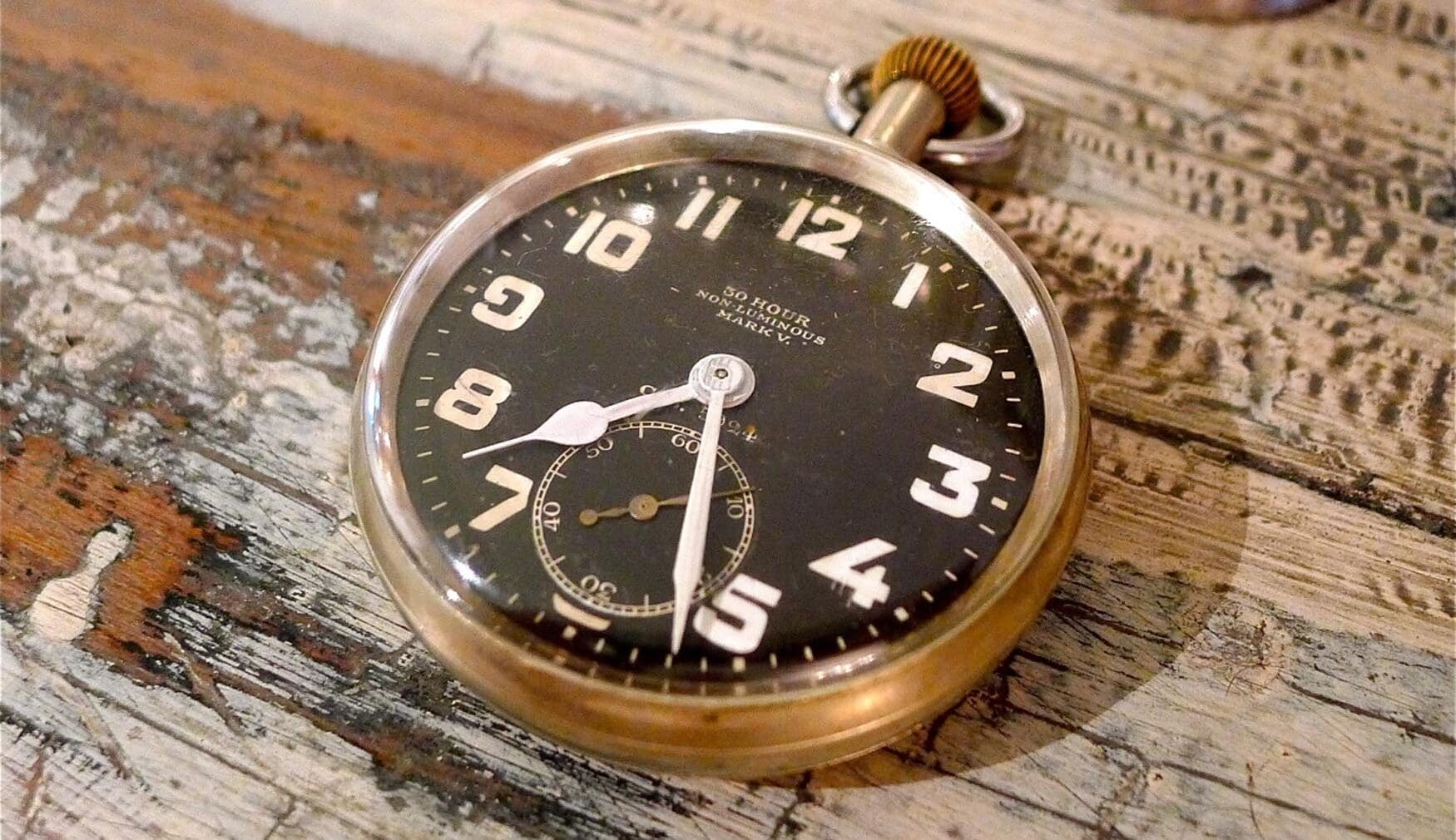 Having established themselves as a vertically-integrated company, Zenith's reputation as a manufacturer of watches, chronometers, and even aviation instruments such as altimeters was pristine. Not only could people respect the performance of their timepieces, but they could also rally behind the identity of the brand. That said, there came a time when the importance of quality watchmaking far outweighed the need for brand power, and that was at the outbreak of World War One. Although Zenith did produce some wristwatches, the Mark IV.A and Mark V pocket watches were a widespread issue to British air forces because they could be fitted to the instrument panel. They were nicknamed Cockpit Watches for obvious reasons, and featured long shank winding stems so they could be adjusted from outside their panels. Other manufacturers who chipped in to Mark V production were Omega, Doxa and Electa.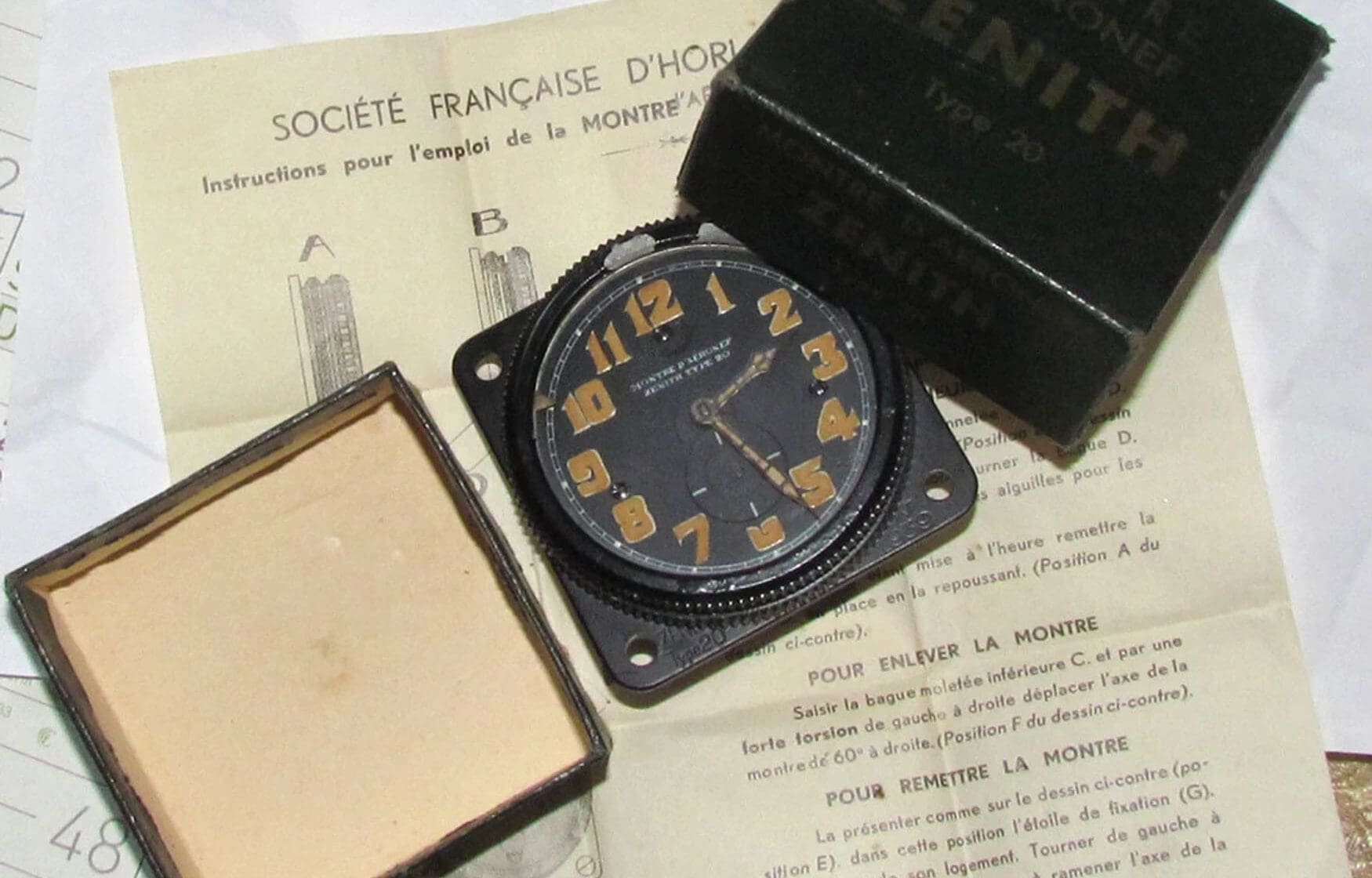 World War Two required new developments, as the onset of trench warfare necessitated wristwatches for the ground troops, but the pilots still needed attention too. Zenith produced their Type 20 Montre d'Aéronef in 1939 for the Armée de l'Air, brilliantly relocating the winding and setting of the clock to a coin-edge bezel for easier adjustment with gloved hands.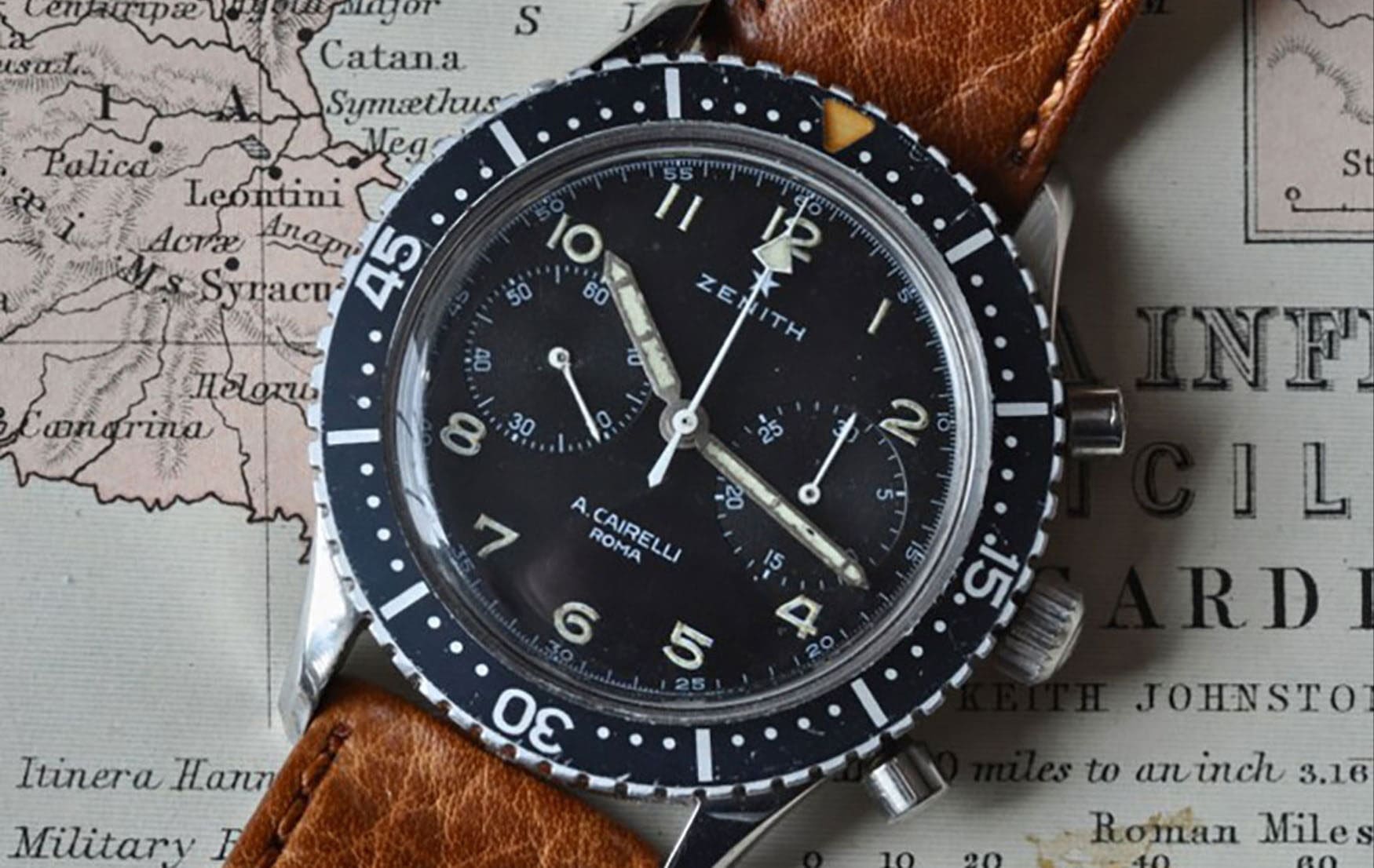 The global transition towards wristwatches throughout the World Wars took up a lot of energy for watchmakers at the time, but Zenith would return to aviation in the 1960s when they started making the Tipo CP-2. The dial was co-signed with Roman retailer A. Cairelli and then distributed to the Italian Air Force, but also to the Navy and civilians. It had a hulking 43mm case, perfect for cockpit visibility and pushing forward the growth of case sizes. The movement was a hand-wound Calibre 146, which Zenith had developed after acquiring the Martel manufacture in 1960, and helped in the development of their legendary El Primero — the world's first integrated automatic chronograph. However, as trends turned towards racing chronographs, Zenith's pilot watch catalogue would enter hiatus.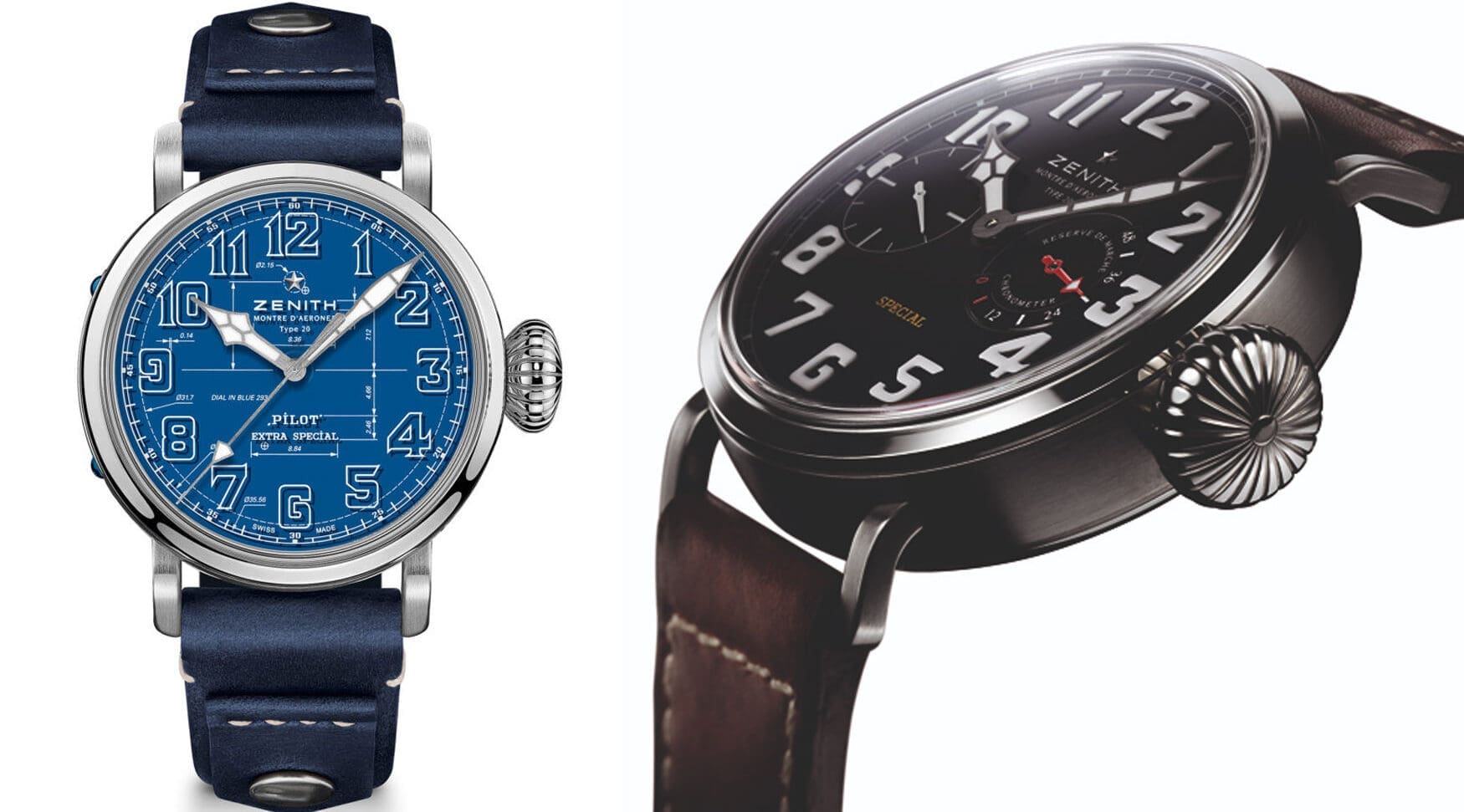 Zenith couldn't have made a bigger splash with their pilot's watch return than the Zenith Pilot Montre D'Aeronef Type 20 in 2012, taking direct inspiration from the 1939 clock of the same name but with many modernising tweaks. One thing they didn't modernise was the size, with a 57.5mm case designed to house the hand-wound 5011K pocket watch movement, named by the Neuchâtel Observatory in 1967 as the most accurate chronometer they had ever tested. The Zenith Type 20 collection has continued to be a platform for experimentation and boundary-pushing, including the wild Type 20 Blueprint that was released in 2020.
This year has seen the introduction of a brand new Pilot series from Zenith, with Watches & Wonders bringing in four new references with modern and vintage aspects. The Zenith Pilot Automatic is a sporty three-hander with a corrugated dial and bold legibility, while the Zenith Pilot Big Date Flyback packs in a lot more complexity thanks to the El Primero 3652. Both watches are available in either stainless steel or black ceramic cases, letting you decide if you prefer more of a classical look or prefer to opt for contemporary flair.