The 5 best new features of the new Apple Watch Series 6, including panda dials and GMT faces
Zach Blass
The Apple Watch has been a point of contention with watch collectors since its debut in April of 2015. When the dust settles from the rants and snobbery, one fact becomes clear – the Apple Watch is the most complicated piece of wristwear for the dollar in the entire world. The Apple Watch Series 6 and SE models are the latest smartwatches from Apple, and you are sure to see plenty of coverage on these releases across the web. So rather than recap the specs and features, let's focus on five things that are new to the Apple Watch lineup.
WatchOS 7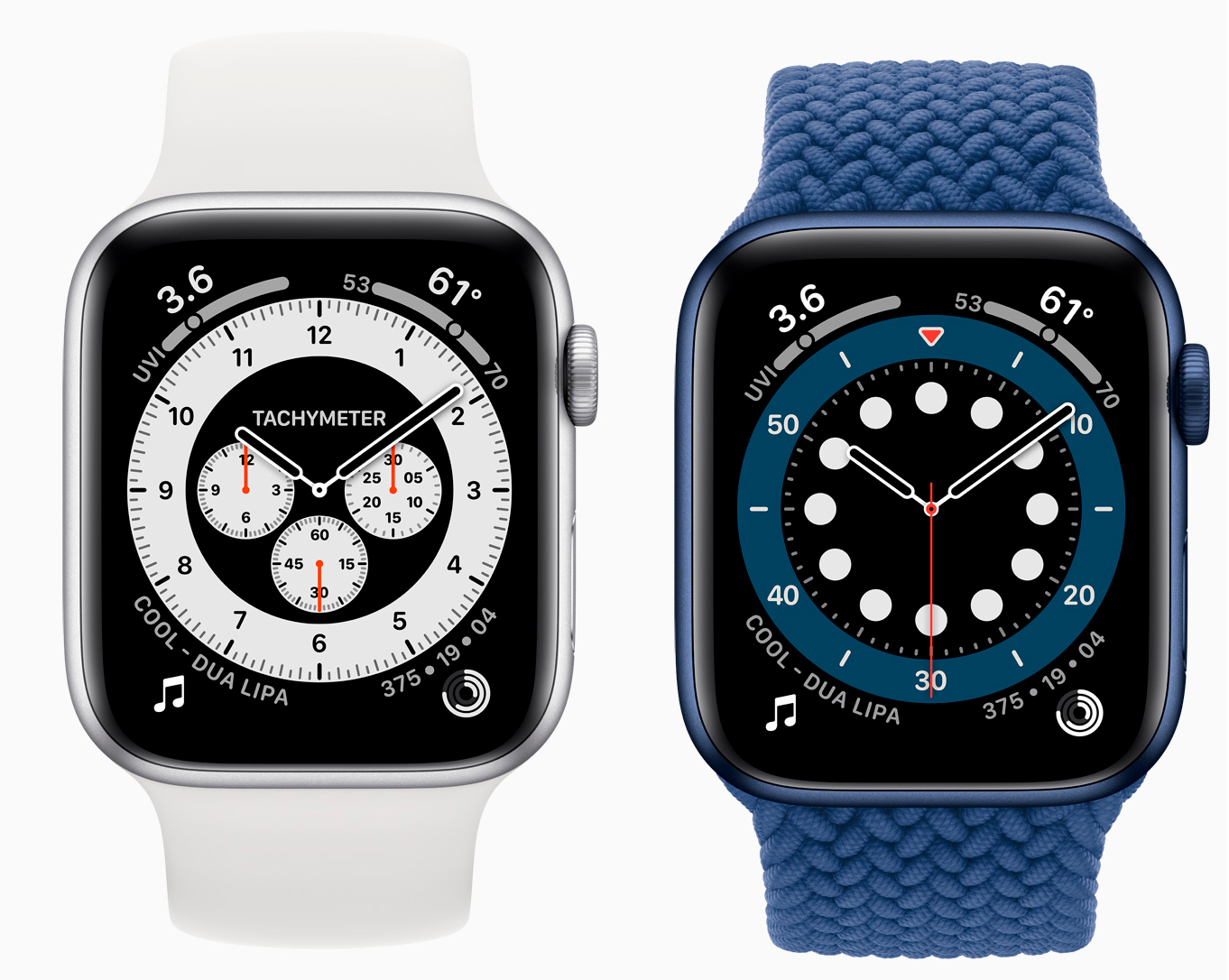 WatchOS 7 continues to advance the capabilities of the Apple Watch. While watchOS 7 introduces seven new faces into the mix, the two that are sure to be fan favourites will be the new Chronograph Pro and GMT face configurations. These new faces are also very customisable – with the wearer being able to adjust everything from the colour scheme to the style of numeral display on the bezel. This arguably makes the Apple Watch Series 6 the most compelling Apple Watch yet for horology fans – as you can change the aesthetic in many different combinations without having to mod your watch.
People forget that those who initially worked on developing the Apple Watch, such as Jony Ive and Marc Newson, are both conventional watch enthusiasts. It is not a coincidence that all of the dial features are referred to as complications. New health and fitness features have been added, including low-range VO2 Max, sleep tracking, new workout types (including cycling tracking in maps), and even automatic hand-washing detection – which starts a timer to ensure the wearer washes their hands for at least 20 seconds (and will shame you with a notification from Siri if you stop early).
The last important thing to note – watchOS 7 introduces "Family Setup" (soon to be available in Australia). This allows children, or the elderly, to own an Apple Watch without having to own their own iPhone. The Apple Watch (must have LTE connectivity for full capability) would have its own number allowing children to communicate via the watch alone. Interestingly, a new "School Time" mode gives parents the capability to restrict access to certain apps and capabilities during a specified time window of the day (and even provide parents notification when their child gets home from school).
New and updated case colours
For the first time, Apple has added blue and red (for the RED charity organisation) aluminium to the list of case tones. The red straps configured with these models are exclusive to the watches and cannot be purchased separately. Stainless steel models were also updated with a rich grey-black hue graphite tone and a new take on their classic yellow gold colour introduced last year.
New "Solo Rubber" and "Leather Link" bands
Apple has introduced three new band styles in their pursuit of offering ultimate customisation to their customers. These innovative new bands provide a tailored and comfortable fit, and is achieved without traditional clasps or buckles. According to Apple, "In an industry first, the ultralight Solo Loop introduces a continuous and stretchable band design that comes in two materials: soft silicone and braided yarn. A special UV treatment process used on the soft silicone of the Solo Loop creates a smooth, silky finish, while a precision-braiding machine interweaves the 16,000 polyester yarn filaments, made of 100 per cent recycled material, with ultra-thin silicone threads, giving unique stretchability and a distinct look to the Braided Solo Loop."
Apple has always done a great job with ensuring the Apple Watch was a highly customisable watch in function and fit. This year Apple has added a new sizing system which offers nine possible lengths for the Solo Loop styles. This makes it very unlikely a wearer won't achieve their desired fit.
Apple has also introduced a new "Leather Link" strap, which according to Apple is "the first-of-its-kind". Apple explains, "Leather Link wraps elegantly around the wrist, effortlessly attaching on the other side with flexible molded magnets. The first-of-its-kind Leather Link wraps elegantly around the wrist, effortlessly attaching on the other side with flexible moulded magnets."
New sensor
Apple Watch Series 6 introduces a new sensor, and app, that measures the oxygen saturation of the wearer's blood. Oxygen saturation, or SpO2, represents the percentage of oxygen being carried by red blood cells from the lungs to the rest of the body, and indicates how well this oxygenated blood is being delivered throughout the body. According to Apple, "On-demand measurements can be taken while the user is still, and periodic background measurements occur when they are inactive, including during sleep. All data will be visible in the Health app, and the user will be able to track trends over time to see how their blood oxygen level changes."
The Apple Watch SE
For the first time in the history of the Apple Watch, Apple has released an SE version. SE lineups, or "Special Editions", are typically cost-conscious products for Apple consumers who want a more entry-level product. According to Apple's chief operation officer Jeff Williams, "Apple Watch SE combines elements of the Apple Watch Series 6 design with the most essential features of Apple Watch, all at a more affordable price. We're excited to offer another great option to help customers stay connected, be more active, and keep an eye on their health." So, what is the catch with this new affordable option? The SE does not have the ECG and Blood Oxygen App capability, which implies the cost savings is due to the absence of the latest sensor developed by Apple.
Apple Watch Series 6 and SE pricing and availability:
The new Apple Watch models, both Series 6 and SE, are available for pre-order today directly from Apple and will start delivering this Friday, September 18. They should also be available in-store for viewing and purchase on Friday.
The Apple Watch SE models start at AUD$429.
The Apple Watch Series 6 Aluminium models start at AUD$599.
The Apple Watch Series 6 Stainless Steel models start at AUD$1,049.
The Apple Watch Series 6 Edition (Titanium) models start at AUD$1,269.
The Apple Watch Series 6 Hermès models start at AUD$1,899.