INTRODUCING: The Apple Watch Series 5 and the 3 upgrades that matter 
Felix Scholz
It's that time of year again. Apple has unveiled their latest and greatest Watch (as well as some pretty serious new iPhones), which has the unsurprising name of Apple Watch Series 5. And there's always a lot to unpack with the world's most popular watch (yeah, I went there). There are small but significant advances, like international support for emergency calls, improvements to navigation and watchOS 6. 
But really, for us it comes down to three main points, two of which are pretty obvious, and the third is a small, but substantial change. 
The Apple Watch Series 5 now comes in titanium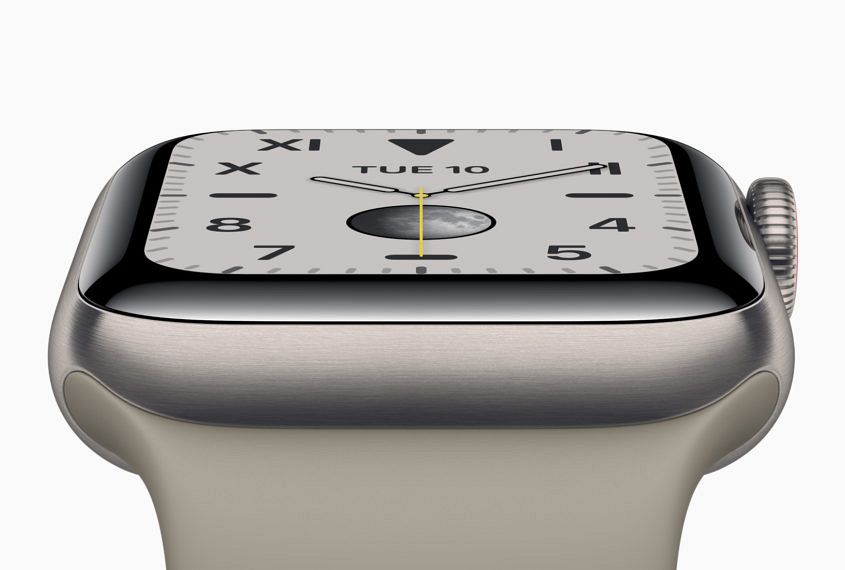 So the form factor of the Series 5 remains the same as Series 4, which was a big change, but this time around we're treated to some new case materials, along with the core steel, gold and space black aluminium treatments (which is now recycled). We also get a fresh new white ceramic and a slick black ceramic option for the top-tier Hermès edition. But to our minds it's the titanium that is the standout. Lightweight and tough, titanium has long been a go-to material for active watch cases and it makes perfect sense on the Apple Watch — it doesn't add much weight over the aluminium, but will hold up far better over time. It's offered in a brushed treatment, or a black DLC version. 
The Apple Watch Series 5 now has an always on screen
This is one we've been waiting for for ages, and one of the few areas where Apple has been lagging behind its Android equivalents. The screen now constantly shows key info (like the time), and automagically adjusts for brightness. New tech offsets the additional energy drain, meaning Apple still claims "all-day 18-hour battery life".
The Apple Watch Series 5 is now customisable at the Apple Watch Studio
OK, this is less of an obvious upgrade than some of the others, but it's an important one, and speaks to Apple's ongoing positioning as a premium brand. If you buy your watch directly from Apple, you can enjoy a more customised experience, meaning you don't have to buy the 'Apple-approved' watch/strap combo and add to it, you can build your own, right out of the gate. It's a small change, but as a big fan of the sports bands and not a massive silicon strap advocate, I heartily endorse this customer-focused tweak. 
Apple Watch Series 5 price and availability
Apple Watch Series 5 (GPS) starts at $649 AUD, Apple Watch Series 5 (GPS + Cellular) starts at $799 AUD, available from Friday September 20.