Everything you need to know about the new 100m WR 49mm Apple Watch Ultra
Zach Blass
The Apple Watch is the world's most popular watch. Yet while it's always been relatively rugged for a smartwatch, the Apple Watch still has its limitations – leaving some wondering when an even more robust take on the device would hit the market. Today, during Apple's Keynote Event, the tech giant revealed the Apple Watch Ultra. Let's dig into the highlights you need to know.
Their most robust Apple Watch yet
The 49mm case, their largest yet, is made of aerospace-grade titanium to be robust yet lightweight on the wrist. Apple explains: "Apple Watch Ultra is certified to the relevant aspects of MIL-STD-810H, used for military equipment and popular among rugged equipment manufacturers. Testing includes Low Pressure (Altitude), High Temperature, Low Temperature, Temperature Shock, Contamination by Fluids, Rain, Humidity, Immersion, Sand and Dust, Freeze/Thaw, Ice/Freezing Rain, Shock, Vibration, and more."
The watch has also been designed to operate within a greater range of temperatures, with an on-wrist operating temperature from -4° to 131° F (-20° to 55° C). Also, previous Apple Watches have only been water resistant up to 50m – which would allow wearers to safely swim with the watch at or near the surface. The Apple Watch Ultra, however, is twice as water-resistant with a depth rating of 100m.
Apple explains: "Apple Watch Ultra is designed for water sports, including extreme activities like kitesurfing and wakeboarding, along with recreational scuba diving to 40 meters with the new Oceanic+ app. To support these underwater adventures, Apple Watch Ultra is certified to WR100. Apple Watch Ultra is also certified to EN 13319, which is an internationally recognized standard for dive accessories, including depth gauges that are relied upon by recreational divers around the world." Utilising a new depth gauge, and new depth app, recreational divers will be able to utilize their Apple Watch as a dive computer for the first time.
It is also worth mentioning, considering it is a crucial point of interacting with the device, the Apple Watch Ultra's digital crown has been enlarged, with greater depth to the knurling, to ensure it is easier to grip and maneuver than ever before. In fact, it was designed to be able to be used while wearing a glove – whether biking, hiking, running, or swimming.
Action Button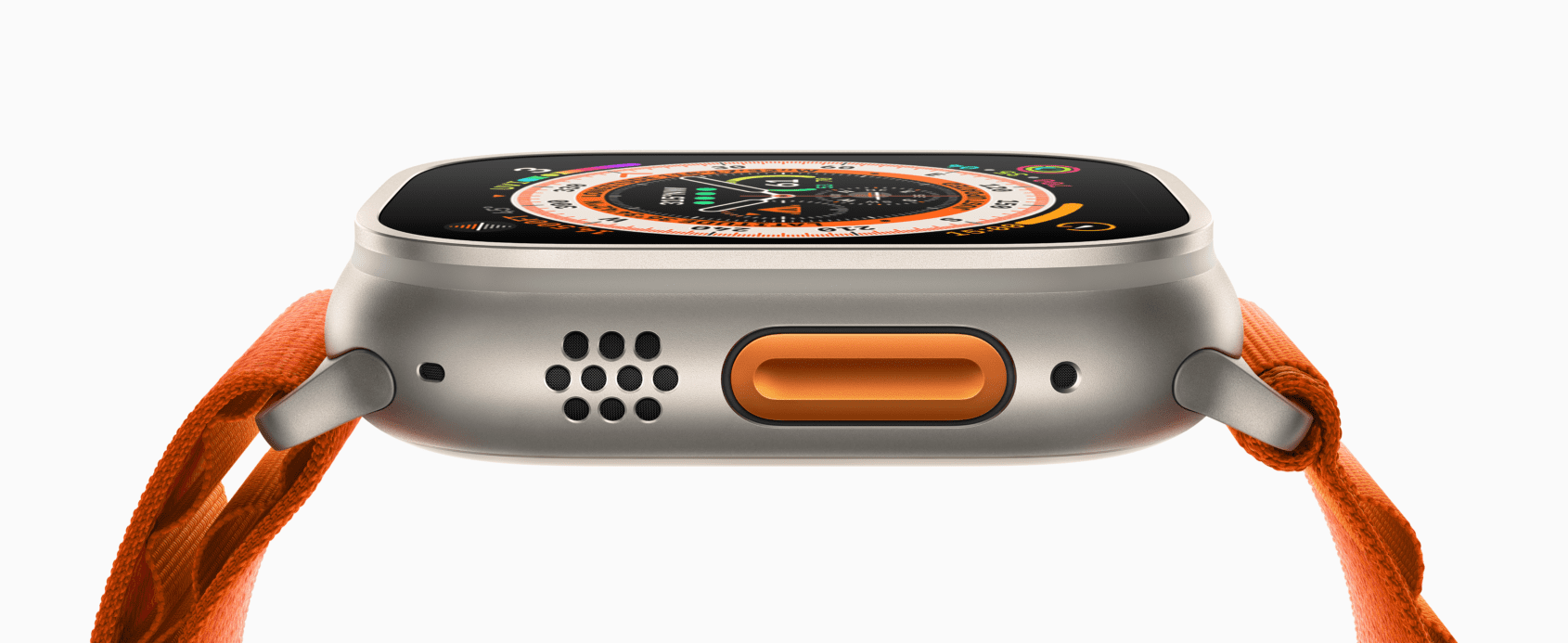 A new action button, in highly discernible orange, serves as a hotkey of sorts that allows users to have instant access to a feature of their choice – whether workouts, compass waypoints, backtrack and more.
Their brightest screen and largest battery to date
Legibility is paramount for someone truly using their watch as a tool to track and aid activity, exercises, or exploration. So, prospective buyers will be glad to know this is Apple's biggest and brightest display ever made for an Apple Watch. The Retina display boasts 2000 nits, making it twice more bright than previous models.
Now, with greater brightness you might be concerned about battery life. And, of course, you cannot be stressed about battery life as you are hiking up a mountain or diving beneath the surface of the ocean. The good news here is the Apple Watch Ultra also has the largest battery ever made for an Apple Watch, offering 36 hours of battery life – up to 60 hours with an incoming power-saving setting to WatchOS. Apple explains: "For multi-day backpacking trips, battery life can be extended to reach up to 60 hours using Low Power Mode plus an additional low-power setting that reduces frequency of GPS and heart rate readings."
Speaking of improvements, the Apple Watch Ultra has two speakers to make it louder than ever before and three microphones to ensure you can be heard taking calls during intermissions or emergencies of your adventures. Apple explains: "Apple Watch Ultra has three built-in microphones to significantly improve sound quality in voice calls during any conditions. An adaptive beamforming algorithm uses the microphones to capture voice while reducing ambient background sounds, resulting in remarkable clarity. In challenging windy environments, Apple Watch Ultra uses advanced wind noise-reduction algorithms, including machine learning, to deliver clear and intelligible audio for calls."
Night Mode
On the opposite end of the brightness spectrum, a Night Mode has been developed for the Wayfinder face to create a highly legible readout during night-time hours. The red hue ensures optimal readability, and I would imagine the darkening of the screen, with only the information in red, would also better preserve battery life as well. This readout can be simply activated by rotating the digital crown in dark settings.
Wayfinder face optimized for exploration
The new Wayfinder face legibly packs in the most complications in an Apple Watch face, with space to display up to eight complications. The face can be tailored for your area of exploration, whether ocean, mountain, or trail as Apple refers to it. A central functionality of the Wayfinder face is the compass displayed in its centre, which provides both digital and analog readings for the user.
More precise GPS
The Apple Watch Ultra has the strongest GPS system ever made for a smartwatch, according to Apple, utilising a new L1+L5 dual frequency GPS – the most accurate GPS for a smartwatch on the market. This means more precise measurement of distance, pace, and route data for training and competing.
New temperature sensor and 'Crash Detection' mode
While a new temperature sensor will serve a function in explorative activity, what Apple is most proud about in regard to the temperature sensor relates to women's health. Armed with this new sensor, the Apple Watch Ultra (and new Series 8) will be able to analyse ovulation cycles for women – providing retrospective ovulation estimates Apple believes will be a major aid for family planning. It also will provide "period predictions" for users who menstruate.
Crash Detection builds upon features such as Fall Detection, and will, in the event of a car crash, notify emergency services and contacts the wearer has been in a car crash thanks to two new motion sensors and an advanced sensor-fusion algorithm.
Siren feature
To avoid any 127 hours Aron Ralston canyoneer situations, or other moments where you may want to signal out to your surrounding area, Siren mode allows you to use the Ultra's strongest Apple Watch speakers ever made to send out a distinct sound that people within 600 feet or 180 metres will be able to hear. Apple explains: "An 86-decibel siren is designed for emergencies, should users become lost or injured, and can help draw attention to a location. The unique sound signature incorporates two distinct alternating patterns, which can repeat for up to several hours. The first pattern suggests distress, while the second mimics the universally recognized SOS pattern."
New straps
Fitting of the ocean, mountain, and trail themes of this explorer-oriented Apple Watch, three new straps have been designed for the Apple Watch Ultra: the trail loop (thinnest band yet), alpine loop strap, and ocean band with tubular geometry (from left to right). Each strap has been tailor made to best suit one of the three core activities the smartwatch was designed for.
Apple Watch Ultra pricing and availability:
The Apple Watch Ultra will be available worldwide September 23, 2022. Price: starting at $799 USD
For more information on the new Apple Watch Ultra, you can head to Apple here.