IN-DEPTH: The anOrdain Model 2 
Felix Scholz
The story in a second: The anOrdain Model 2 is an unbelievable dial at an unbelievable price.
From where I'm sitting, 2019 has been a fairly quiet year on the watch front, thanks to a more fragmented release schedule than usual and a general sense of reticence on behalf of many big brands to push the boat out in what is euphemistically called a soft luxury market. Which is why the headline-grabbing hits have been few and far between. Don't get me wrong, I think this is actually a pretty good state of affairs. The generally conservative slate of releases has been pretty good for the wearer: smart, incremental design upgrades benefit more people than brand new tourbillons (or whatever). It also means that people like me — professional watch reviewers — have to work a bit harder for their stories. I mean, there are only so many words we can write on a minor dial upgrade of an existing model. All this is a particularly long-winded way of saying that the anOrdain Model 2 is a watch I've been SUPER excited to get on my wrist since I first caught wind of it. 
Before I go into why I was so pumped to give this simple 36mm steel watch a whirl, a little backstory is necessary, as anOrdain aren't what you'd call a household name. anOrdain has been around for a few years and the Model 2 is (you guessed it) their second offering. Now, unlike many smaller brands operating at this price point, they do the assembly (using supplied ébauches) from their base in Glasgow, Scotland. On its own the Scots connection would be enough of a selling point for most, but for anOrdain it's just the starting point. Founder Lewis Heath has assembled a talented crew of designers, watchmakers, jewellers, and typographers to create watches that are, in my opinion, exceptional. 
The dial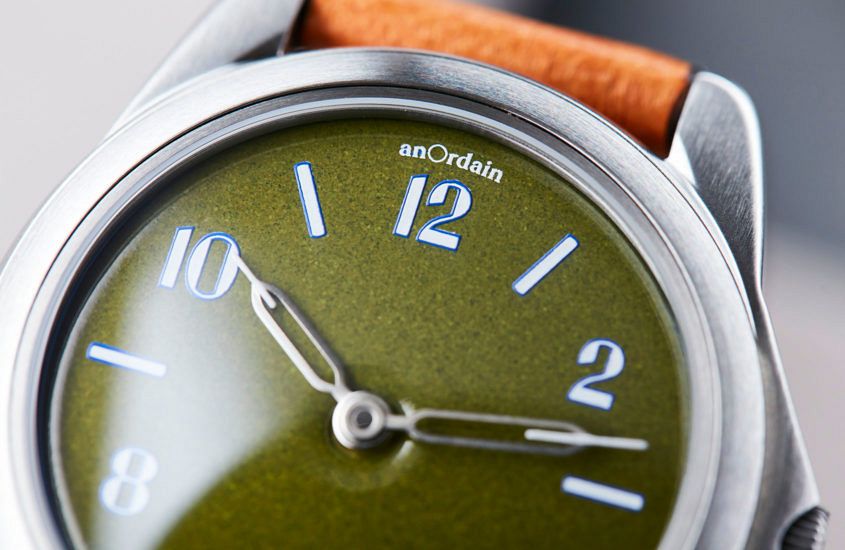 All right. The dial is the star of the show here, and there's a lot going on. Let's start at the top. This dial is, what the Swiss watch industry refers to as Grand Feu enamel, and what anOrdain (and much of the rest of the world) call vitreous enamel. anOrdain have been messing around with enamel since 2015, years before they made their first watch and, as you can see, the practice has paid off. It's also worth noting that they do the work themselves, rather than use a contractor. Apparently, each dial takes a minimum of 12 hours' work. In-house workmanship, baby. The dials are everything you want in an enamael dial. Rich, warm, subtly textured. They're also more colourful than you normally see. AnOrdain has been inspired by the colours of Scotland for their six dial options, and the colour choices are really sophisticated. I was particularly drawn to this moss green option, but apparently the purple has been a hit, too. But the enamel material is only one of the cool things about this dial. Typeface has been custom-designed for the watch — inspired by mid-century industrial equipment, and it's certainly full of character. Also worth further examination are the hands. Another custom-designed element, these thin, syringe-shaped hands are perhaps my favourite part of the watch. They're actually made by two Swiss suppliers, one to stamp the larger part that 'holds' the luminous needle, the other supplier to hand-paint the tiny needles with luminous materials. AnOrdain did not need to do this — most people would have gone with an off-the-shelf option, or even a simpler custom design. But they did it because it looks good and, boy, does the hard work pay off. All told, this dial punches far above its weight, and if it was on a watch with a price tag 10x what it is, I don't think anyone would bat an eye.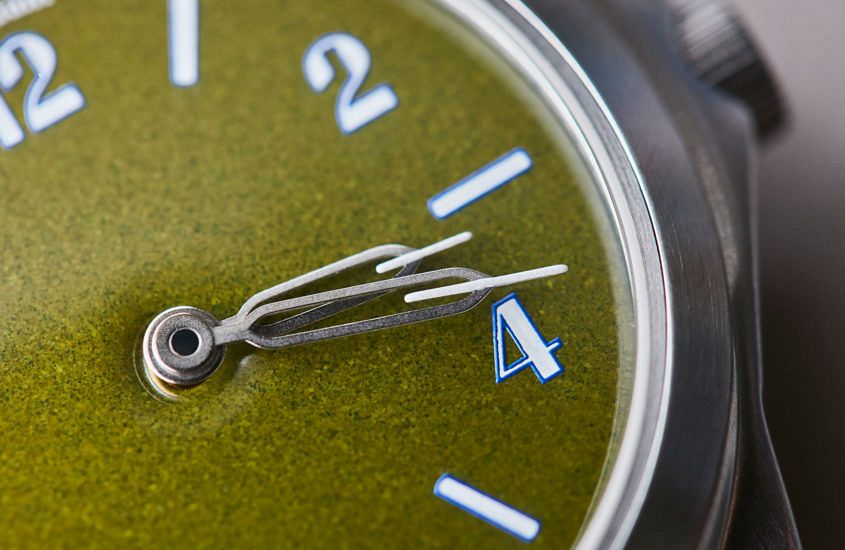 The case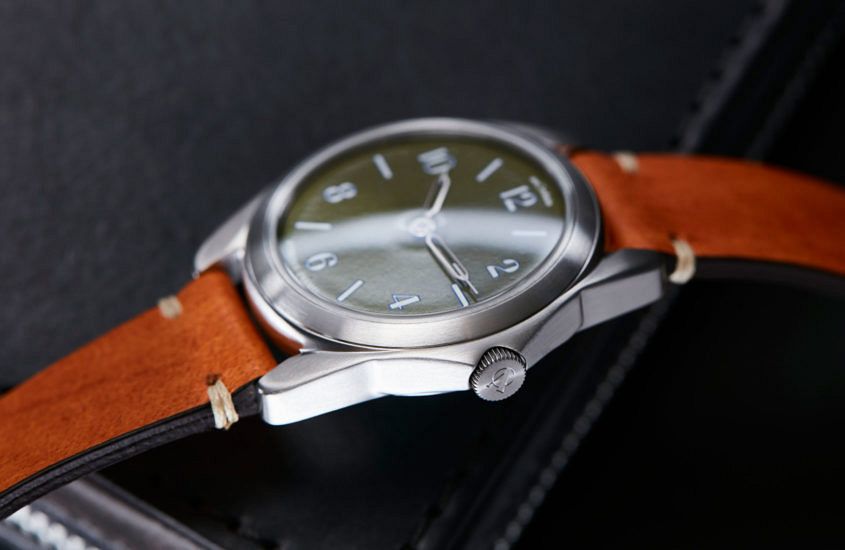 If the dial of the watch is wonderful in its thoughtfully designed complexity, the case is wonderful for its (equally thoughtful) simplicity. The 36mm steel case is where the inspiration from field watches is most obvious. It's a rugged everyday design, made to be worn and not overly fussed about — but without the OTT tool styling of a full-on dive watch (plus, the 50m WR here should be good enough for most people). You get a nice broad bezel, thick lugs and gently swelling crown guards. All in a practical brushed finish – though some dial versions come with a dressier polished treatment.
The silhouette is pleasing, and the execution is no fuss. The brand haven't gone to the expense of adding multiple textures to the movement — it doesn't need it. There's enough going on with the dial, you don't need to be overly fussed with the case. However, anOrdain have ensured that getting a look at the dial isn't going to be an issue. The sapphire is double domed and has six layers of anti-reflective coating.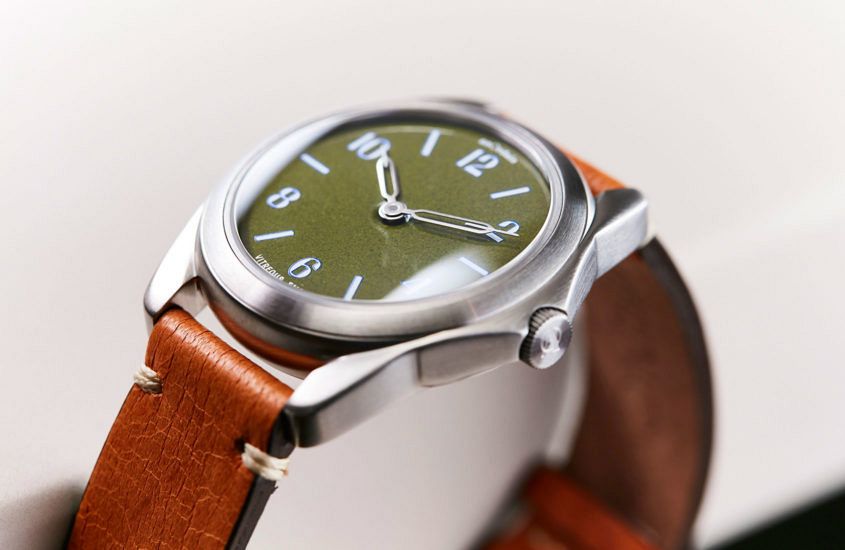 The movement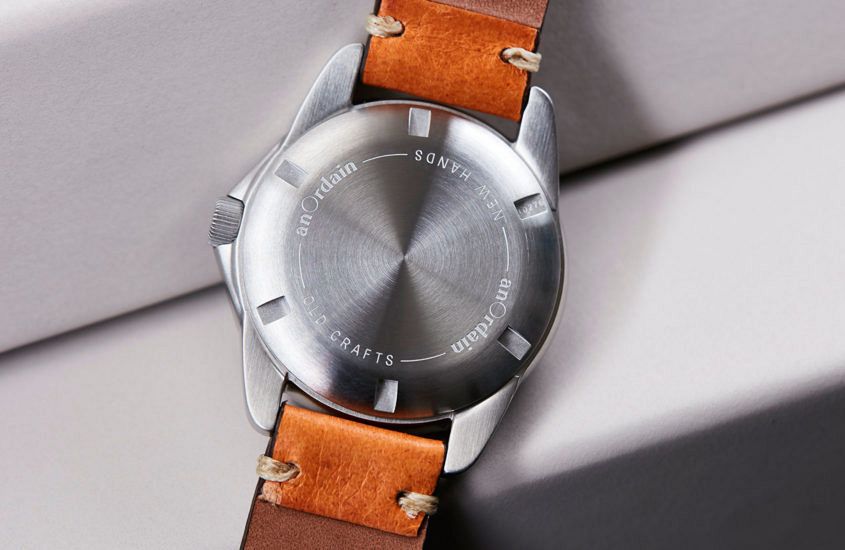 Hidden behind the solid caseback is a SW-210. This is another pragmatic choice for a small brand. This Sellita-made movement is the manually winding version of the ETA 2824, and is about as reliable and hard-wearing as they come. And what you lose in cachet or engineering coolness you more than make up for in robustness and supreme-serviceability, as well as being cost-effective. No complaints from me. 
The strap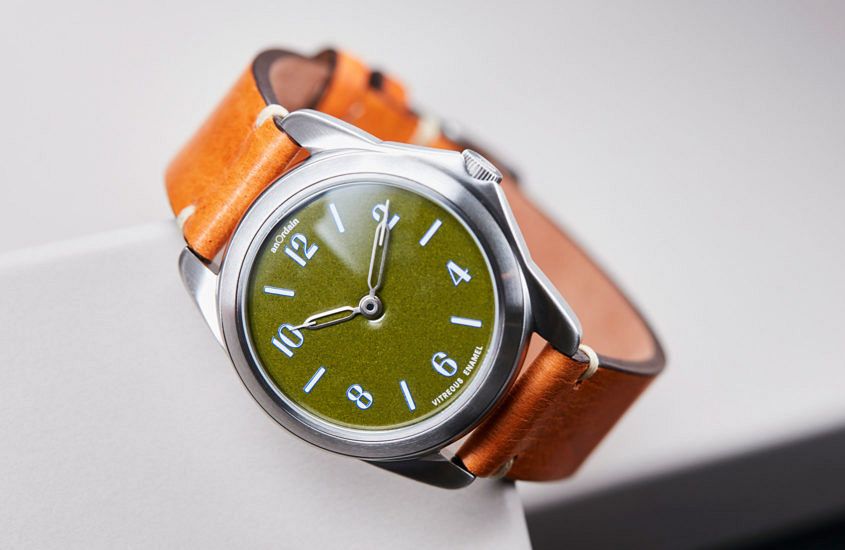 When selecting your watch, you get quite a few options, from calf to suede to mesh or cordovan. This watch came on a goatskin strap in an orange colour, which is super comfy on the wrist, and looks a whole lot like one of the first custom straps I ever bought, many moons ago (but that's neither here nor there). The width is 18mm, which is appropriate given the smaller case size, but part of me would have loved a 20mm option (if only because I've got an extensive library of 20mm straps, many of which would look great on this watch). I'm also a bit surprised that anOrdain don't offer a fabric strap option — which would well suit this sort of watch, and I suspect a great deal of fun could be had with tweed. But perhaps that's something we can look for in the future. 
On the wrist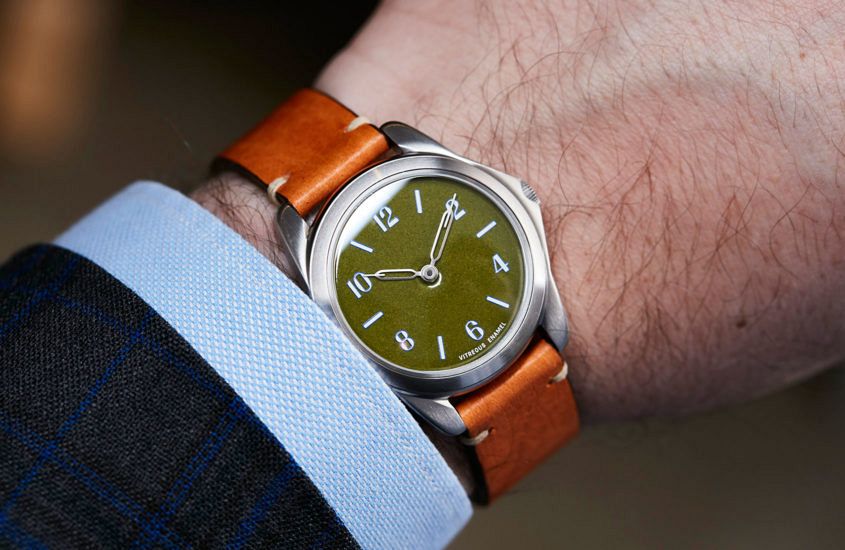 Let's be honest, I've got a pretty large wrist and while I've regularly worn 36mm watches, it's been a while, and this size factor was my biggest anxiety going into this review. But you know what, while I was expecting to want a few more mm in diameter, after spending a bit of time with the Model 2 on the wrist, not only am I OK with the more modest size, I don't think I'd want it any other way. For me the size harks back to the inspiration of this watch — your classic field watch. These watches were tools, made for living, not flexing on the 'gram. And that carries through here. The 36mm case is perfect for every day. It doesn't get in the way. It doesn't catch on things. It's a field watch, albeit the best-looking field watch I've ever worn. 
The verdict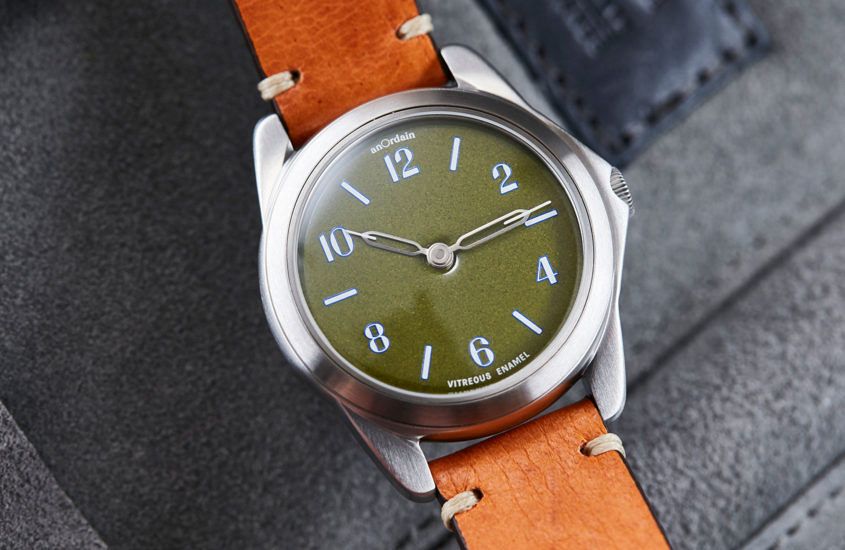 What I was most struck by when I held and wore the Model 2 was just how clever anOrdain has been in the economy of their design. I'm far from an expert when it comes to the costs of producing a watch, but I have a bit of an idea, and making a quality watch at a price point starting at 950 GBP is a tough ask. Especially when you factor in that gorgeous dial, those complex hands and the fancy packaging. The packaging is gorgeous, by the way: the anOrdain comes with a lovely designed outer box and ordnance survey-inspired paper around a solid, quality leather travel case. To achieve this, anOrdain has prioritised these elements, and not splurged on unnecessary elements elsewhere. Fancy case finishings — don't really need them; automatic movement — thicker, and more expensive, so let's not bother. Clear caseback — see previous. Many brands starting out fall into the trap of offering all these elements because they're what people generally say they want. But, really, people want a watch that looks good and wears well. No need to sweat the small stuff. On these metrics, the Model 2 has smashed it out of the park. And that's what really matters.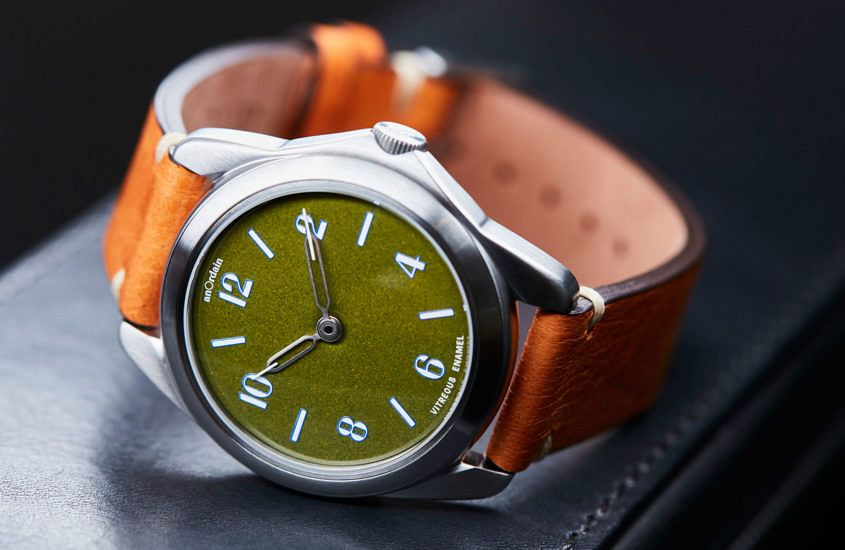 Who's it for?
People who want a great watch at a great price. But more than that, people who want to support smaller artisanal watchmakers who are doing something a bit different, and doing it really well. 
What would we change?
Not much. Some people might want to make it bigger, but I'm OK with the size. If I had to make a change, I'd get drilled lugs. It suits the aesthetic, and is a user-friendly feature. 
anOrdain Model 2 price and availability
anOrdain Model 2, from 950 GBP (circa $1730 AUD), available from anOrdain.