Long read: A week in Sydney with Aldis Hodge – Hollywood's only watchmaker Pt 1
Andrew McUtchen
Aldis Hodge and I are in an Uber, in Sydney. I am in the front seat. Aldis is in the back, with his sketch-book out, trying to work on a watch design that is due to his CAD engineer yesterday. The driver is driving. Very, very badly. He starts talking about his history with various drugs while making erratic lane changes. 10 grams of cannabis a week. Amphetamines. Cocaine, "that stuff is so good it's evil!"
While he talks, he pumps on the accelerator, then takes his foot off altogether. The speed surges up and down, up and down. Nauseating waves. "But I'm clean now…" he says, before shouting "most of the time!" I glance back at Aldis with wide eyes. His sketch book is now back in his bag and he is looking at the ceiling. Please just get us to our destination alive. Please just get us to our destination alive. Please just get us to our destination alive. I really need to see the second series of City on a Hill. Aldis really needs to shoot it. My daughter has a birthday coming up. The AD just called and my root beer is waiting for me back home in Melbourne…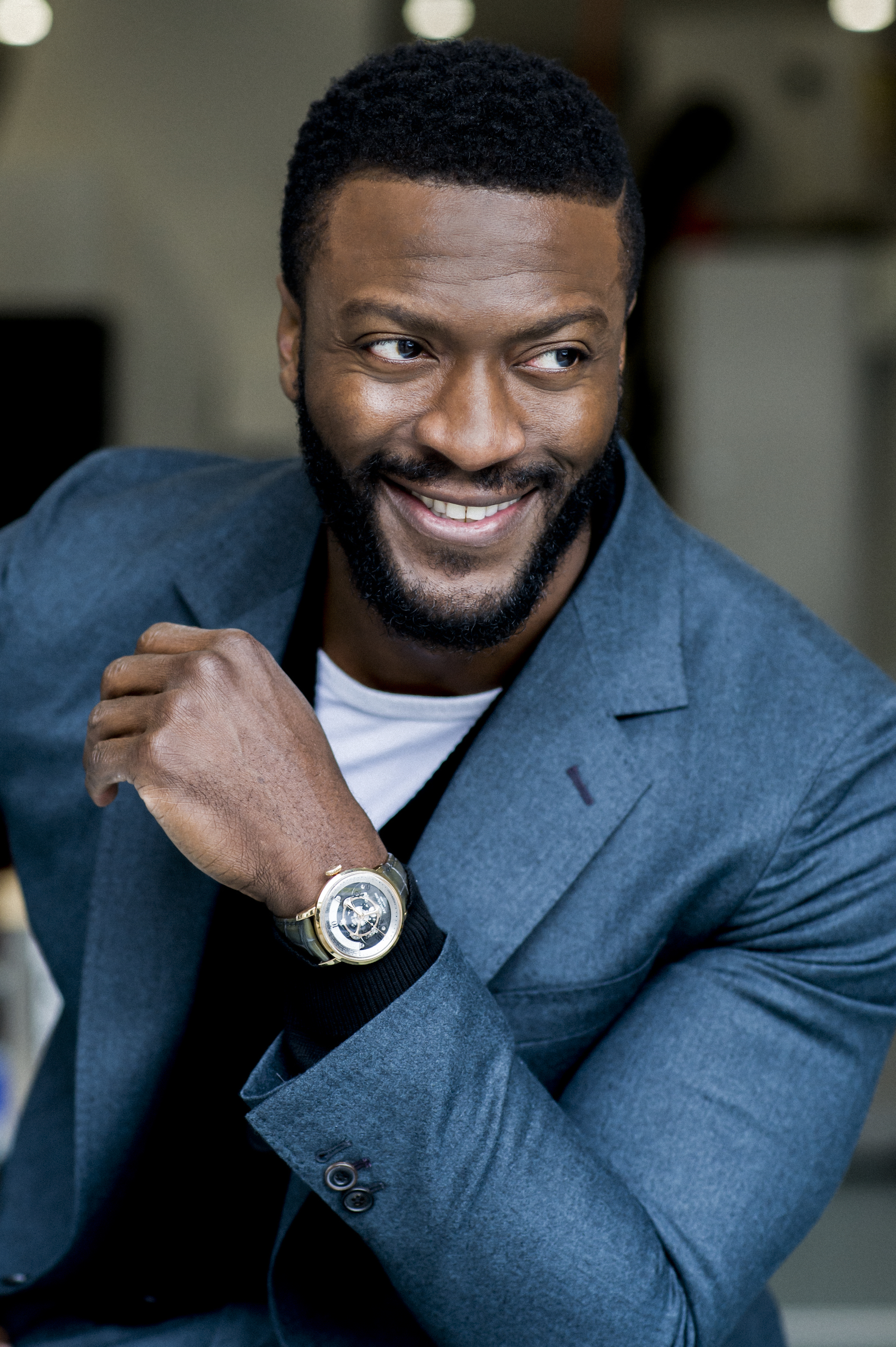 "What do you do?" the driver shouts to Aldis in the back.
"I'm an actor," he says.
"Oh yeah," he narrows his eyes and squints at the rear-view mirror. "Would I know you from anything?"
"City on a Hill maybe?"
"Oh yeah, I seen the ads. (It's currently on billboards everywhere in Sydney and Melbourne) It's a cop show, right?"
"Yeah, crooked cops," Aldis says.
This diverts the driver. He changes the subject to the crooked cops he's known. Five long minutes later, we pull up to our destination, an industrial park in Brookvale. The car's front left wheel mounts the curb, we lurch upwards to a halt. I open the passenger door and place one trembling foot on solid ground, extending that little bit further to account for the extra few inches of air. Aldis is out of the back like lightning, clutching up his suit bags and backpack.
We are here because it's the manufacturing facility of Nicholas Hacko, Australian watchmaker on the make. Aldis is a watch designer, whose first ever conversation with me was an excited show and tell on his phone of his new guilloche machine, straight outta the early 1900s. I know both of them well enough to be sure that this hookup is a good idea, and that at the very least, what's about to happen will be an interesting afternoon. Especially when we throw fabled fashion photographer Tim Swallow in the mix to capture it all.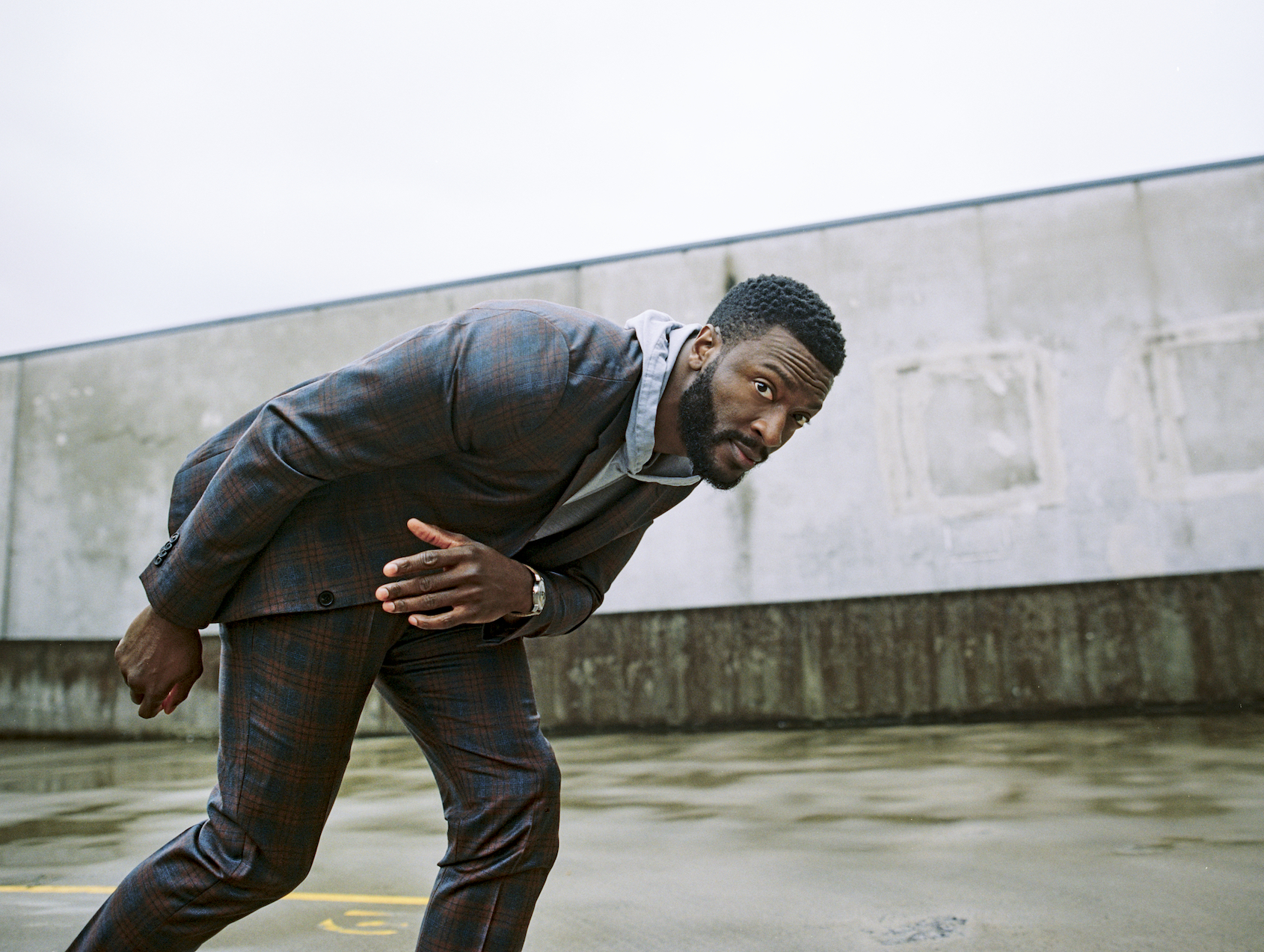 We walk from the street through an industrial park, up several flights of stairs through a carpark and meet Josh Hacko, Nick's son, at the door of the manufacturing facility. We shake hands. Pleasantries. But Aldis is already craning his neck around to see what's inside. Within minutes, the big man – yes, his giant on-screen presence carries over – is absorbed. There is a lot to explore. He moves among this giant machinery with the same ease as he did the giant half-built houses on the Fox Studios Sound Stage, where I'd met with him earlier in the day.
It's no wonder, really. He's been acting since he was two-years-old, when he joined his brother on a print job for Essence Magazine. Since then, his imdb page tells of a prolific career. Die Hard With A Vengeance, next to Bruce Willis when he was 8 years old. A stint on the pilot season of cult series Friday Night Lights. Straight Outta Compton marked a jump to the brighter lights in 2015. Aldis is the son of parents who were U.S Marines, and met on the job. His pre-memory life was on U.S. marine bases. He was born in North Carolina, moved to Hawaii, then from Hawaii to New Jersey.
Aldis' first proper leading role came at 21, on the series Leverage. It was the solid beginning of a better life. But at no point was acting about fame, or even self-actualisation. This is a pretty extraordinary thing. As we discuss this part of his life, there are so many names he could drop; for example, Samuel L. Jackson was in Aldis' sphere as a child when they worked together on Die Hard With A Vengeance. He even offered Aldis' mother some advice on the best path forward for him as a young talent. Jackson recently remembered Aldis and his brother later when they met again, but he doesn't rate a mention.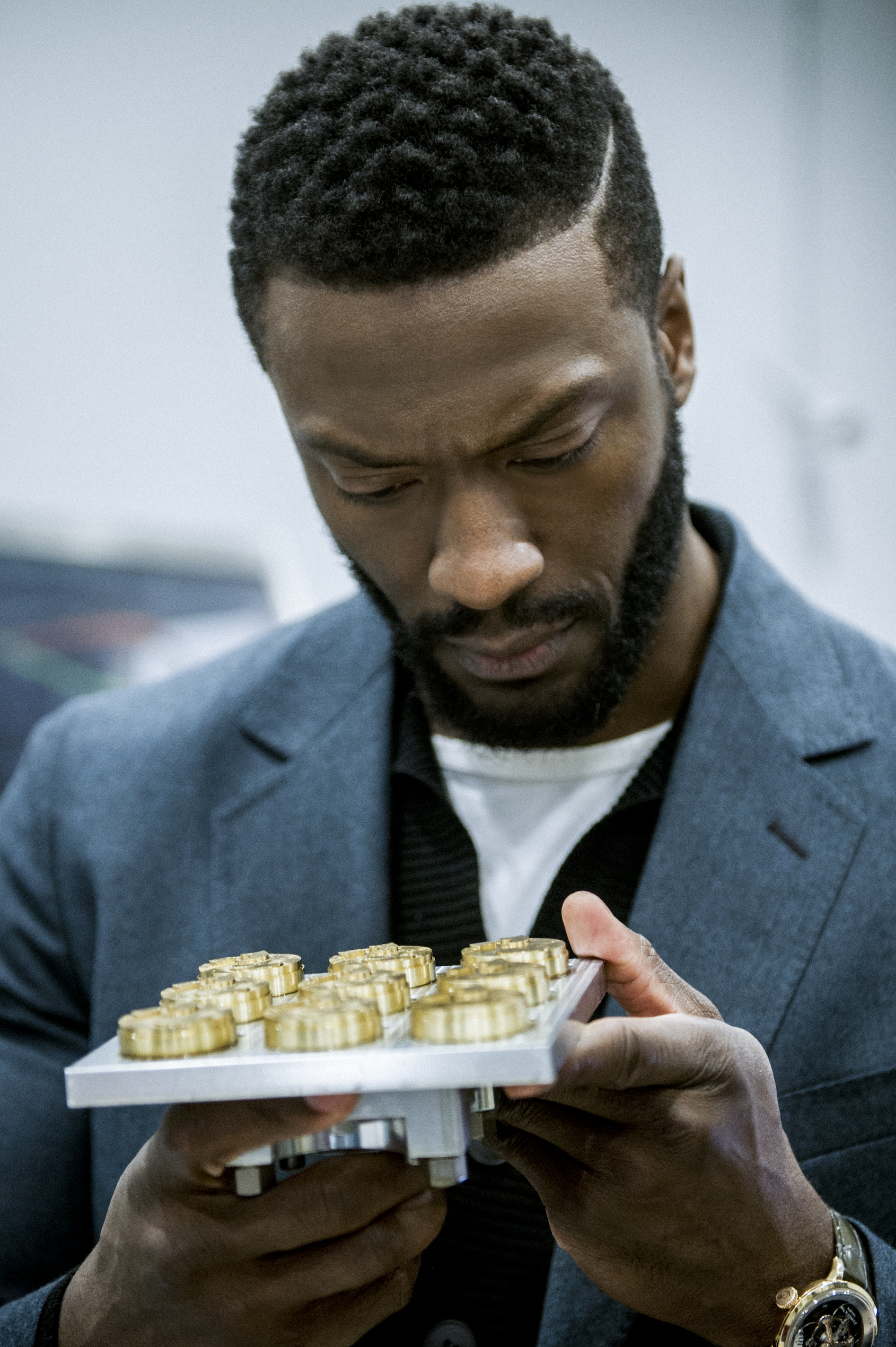 Asked about his acting heroes, the Academy member – he was invited after his ensemble nomination for Best Picture as Levi Jackson in Hidden Figures – replies instantly, "I didn't have any. I never had acting heroes because growing up… my hero was my mom and, to a degree, still is for lots of reasons.
"She saved our life and in many different ways. She sacrificed a lot for us. She was always the person right in front of us being the shield (Aldis attended UCLA at 14-years-old thanks to his mother's focus on academic success). I was never turned on by acting for the sense of acting. Acting was my sense of communicating with people. I'm a weird person socially. Socially awkward. I'm naturally an introvert. Hence the watchmaker."
In this casual aside, "hence, the watchmaker" we have both a key tell about Aldis Hodge and how he sees himself, and we also have the very essence of why we are here. How did this happen? This connection between Time+Tide and SAG Award Winning actor Aldis Hodge. Well people, it's basic.
It should give hope to all of you if you too want to become buds with your favourite actors. I was watching City on a Hill one night. I was more than just a little bit impressed by Aldis' prowling, physical presence in the show. The "I'm King Kong" scene in episode four –blew my mind. And, inspired to drink by the mighty Jackie Rohr, played by Kevin Bacon, who hits the hard stuff in practically every scene he is in, I might have built up some Boston courage thanks to a couple of whiskeys. I DM-ed Aldis from the Time+Tide Instagram account; "Hey, what's up? It's Andrew from Time+Tide…"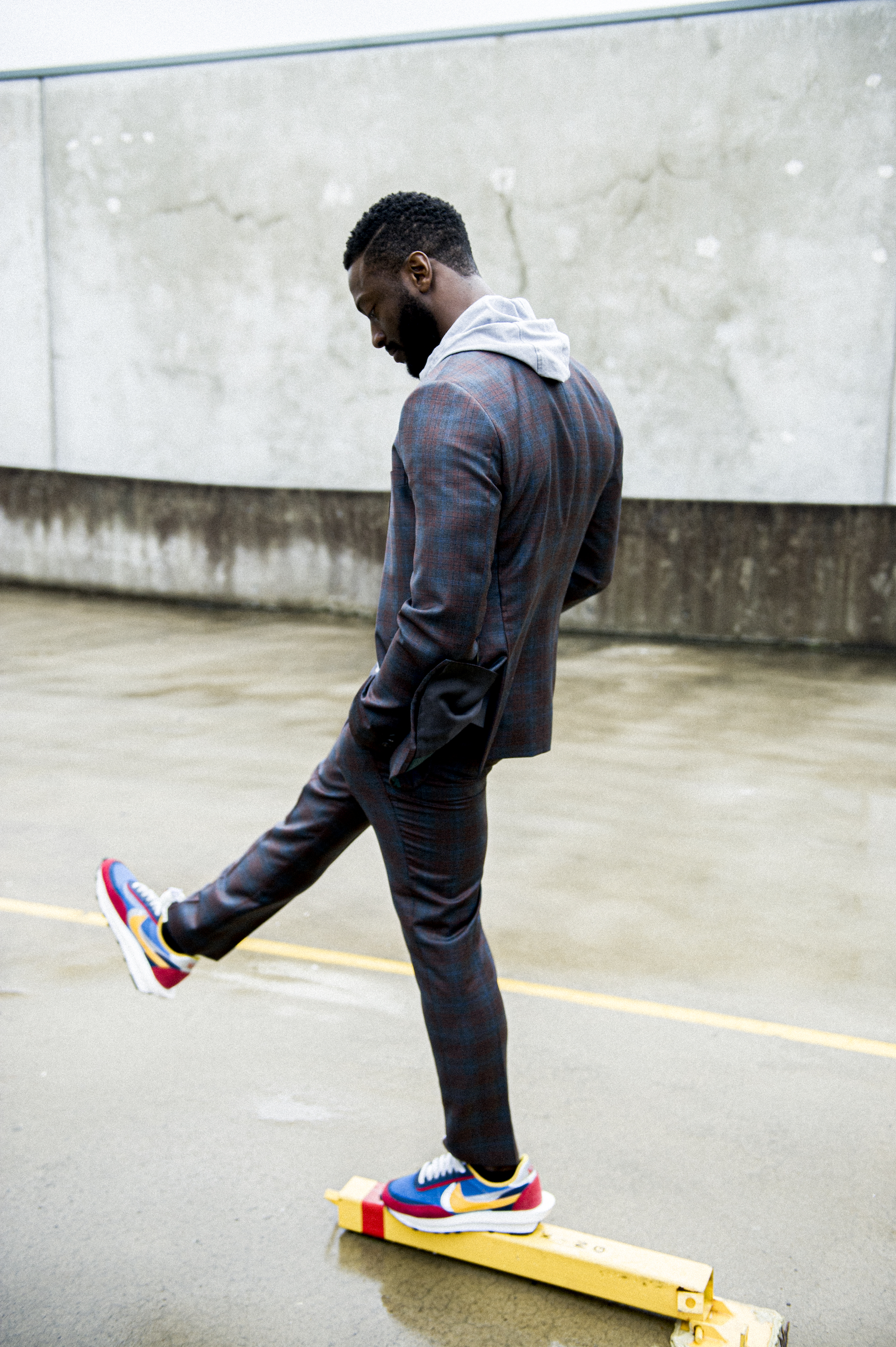 To my horror, he responded immediately. The little dots appeared straight a-fucking-way. Holy smokes. Hell of a way to sober up. Something along the lines of "Hey, Time+Tide, I know you, how you doin'?" Utter horror. I'm watching Aldis. I'm texting Aldis. HE KNOWS TIME+TIDE. Fate would have it that he's in Sydney shooting a picture. Not really having any idea where to go from here, I revert to Kevin Bacon's character; "That Jackie Rohr really is an asshole", I say. I get a laughing emoji. Then a tilted laughing emoji. Joy. And so, the friendship commences. Many moons later, he hits me on the back in a random moment and says "Brother, you're ONE degree of separation from Kevin Bacon!" Be still my beating mancrush.
It's a friendship that sees us catch up for a dinner at famous Sydney restaurant Icebergs a few weeks later, in which Aldis pays our bill when I go to the bathroom. "I'm a foodie, it's like my second vice after watches", he later admits. It is the single greatest act of stealth generosity I've ever experienced with a celebrity. It was so sneaky. If you're ever fortunate enough to have dinner with Aldis Hodge, watch out. He managed to pull this gig off in less than 90-seconds flat. I was in the bathroom, I was out, the bill was paid. Incredible. And then there were a string of subsequent catch-ups. There are three interviews in total in a single week in Bondi, Sydney a couple of months later.
It culminates with this big day out to Hacko's joint. A day out where we have the watchmaker, the introvert in his element. Within minutes, he's quizzing the son of Nick Hacko, Josh, on all kinds of minutiae. These filings, are they steel? They look too shiny… (They're aluminium). This Kern machine, where on earth did you get it? It turns out it was purchased from Rolex for an undisclosed sum (in the general realm of a million), and shipped over from Switzerland with Rolex paperwork and instructions still taped to the back. As an interesting aside, Josh points out that the Rolex instructions, written in French, advise that, in the case of a fire, the machine operator must save the gold filings from the burning machine before saving themselves. It is very clear about this. Gold first, operator second.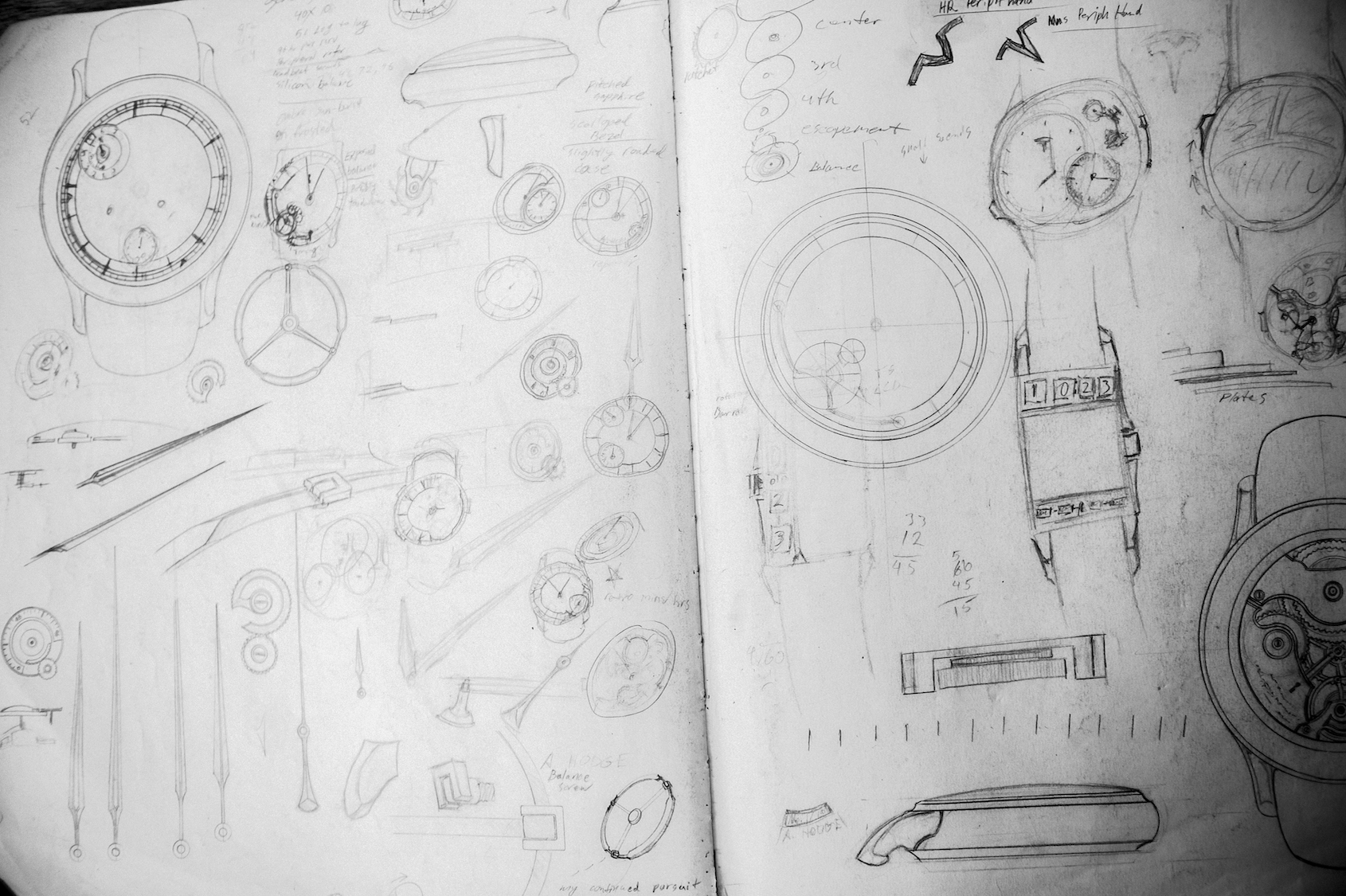 Aldis' improbable passion for all of watchmaking – seriously, it comes out of his pores – raises the big question. How did a young African American kid raised between Jersey and New York, on the path from two-years-old to becoming an Academy member, get so totally obsessed with dull old Swiss watchmaking? How, in the hierarchy of people you get starstruck by did Dufour get ahead of Daniel Day-Lewis? "I don't get starstruck by any actors, not a one," he later says. "But I remember sitting at a table with Roger Smith and I was thinking "This is pretty awesome."
And, most importantly, how, when, why and where did he get the idea in his head that he wanted to be the next Robert Greubel? The next Journe? The next Dufour? To the point where he's here talking about the watches he's going to launch that will prove to be his greatest legacy as a human being? To the point where he's here, answering questions on what it's like to join the judging panel at the GPHG? To the point where a huge sketchbook – as ancient looking as the dusty tome on The Never Ending Story – he carries with him, mentioned right in the opening scene, is filled with flowing sketches, intricate designs and handwriting far too neat to ever have him pinned for serial killing.