A Tudor Black Bay Bronze 58 became my milestone watch to celebrate taking charge of my mental health
Chris Antzoulis
Editor's note: The below story is a submission by Time+Tide reader Chris Antzoulis, who was moved to write it after listening to the Milestone Watches episode on About Effing Time. Here, he shares the story of what he has dubbed his "mental milestone watch".
Ever since I was a kid I loved watches — my first had a hologram of Darth Vader on the crystal (pure class). But, ever since then, I've also been struggling with focus, often explaining how I think as akin to standing in a room made completely of televisions — each one tuned to a different channel at random with the volume turned all the way up. Each screen presents a memory, a thought, an experience, while one shows present life. To focus on that one I actively tune out all the rest. As a child this was tiring. Those mental TVs displayed episodes of the Mighty Morphin' Power Rangers, and Batman the Animated Series. They showed me images of my friends in anticipation of sleepovers and hangouts to come over the weekend. They showed Christmas presents and birthdays. Dinners with grandma and grandpa. Vacations with my family.
View this post on Instagram
But as an adult it was exhausting. The saturation on the televisions greyed. I saw time passing and things I haven't accomplished; failed relationships and friendships; the reliving of trauma from the past and the anticipation of trauma in the future. People make jokes, myself included, about the cuteness of ADHD — we do mental math in a funny way, or forget little things (sometimes big things), or how we can be distracted by silly thoughts (I used to think there were tiny gnomes with branding irons inside the toaster that charred my English muffins). And while all that is true (except the gnomes), the brain noise is mostly stuff that I constantly distract myself from facing, or else risk spirals of depression. Regret. Fear. Forgetfulness. Anxiety in anticipation that triggers ADHD paralysis, which leads to being incorrectly labelled as lazy or punished for being difficult.
I lived my whole life, up until 34, thinking that what was going on inside me was normal. But, the exhaustion and anxiety snowballed in my late 20s. My first panic attack came to a head in a grocery store up 21st Ave in Queens (ironically a mere 0.7 miles away from Bulova Corporate Headquarters). I'd recently broken up with a girlfriend who was mentally abusive, and found myself staring into Captain Crunch's judgmental eyes when my heart started pounding in a painful way. Dropping to my knees, I managed to gasp for help. Another customer came and put their hands on my shoulders, and asked what was wrong. I thought it was a heart attack and that's what I relayed. They helped me breathe and called an ambulance. As I took deep breaths and focused, my heart rate started dropping. At the hospital the doctor told me it was a panic attack.
After years of this anxiety, which also grew at an exponential rate because I hated my job, I finally decided (with the support of my brother, parents, and best friends) to see a therapist at the age of 32.
I cannot stress more the importance of therapy for everyone, not just when a breakdown is on the horizon, but in general. I'm especially looking at you men; yeah, I'm talking to you. Toxic masculinity lives in that meat bag you walk around in and you need to get it the f*ck out. There are cost-effective ways to do it. I used the OpenPath website to find affordable therapists in my area, but you can also check local colleges and universities for sliding scale therapy. There are also apps that connect you to therapists digitally. There are options, that's all I'm saying, but I digress.
It took two and half years in therapy to finally reach the point of an ADHD Inattentive diagnosis. In that time I started growing as a person during my weekly conversations. Most weeks were relieving and I looked forward to sessions; other weeks were hard, and I pushed myself through. Every discussion was important. The effort was and is still important.
ADHD aside, I wasn't taking care of myself. I hadn't seen a doctor in 10 years. I ate poorly (still actually working on this). I dressed like I didn't give a shit about anything, unless at work. And I judged myself every moment of every day, and took that negative energy out on others through my judgments of them. It takes more than someone telling you to love yourself to understand that that isn't a cheesy idea. I had to find the things that make me valuable, and prove them to myself.
When the diagnosis of ADHD came it was hard not to initially be saddened. Imagine what I could've accomplished had I known as a child. How many great things could I have done with the knowledge and assistance in controlling my brain? After weeks of discussing it in therapy and reading everything I could find on ADHD, watching every helpful TED Talk and YouTube video on the subject, I realised I'd accomplished a lot all the same. I'd earned a Bachelors in English Literature, a Masters of Fine Arts in Creative Writing; I became a writing professor, a published poet, a published comic book writer, and I worked with authors in a literary agency. I did all that on my own; and, realised that it was ok to be hurt, to be sad, to fail, to reach out for help, and I could love myself every step of the way. That is how I've grown.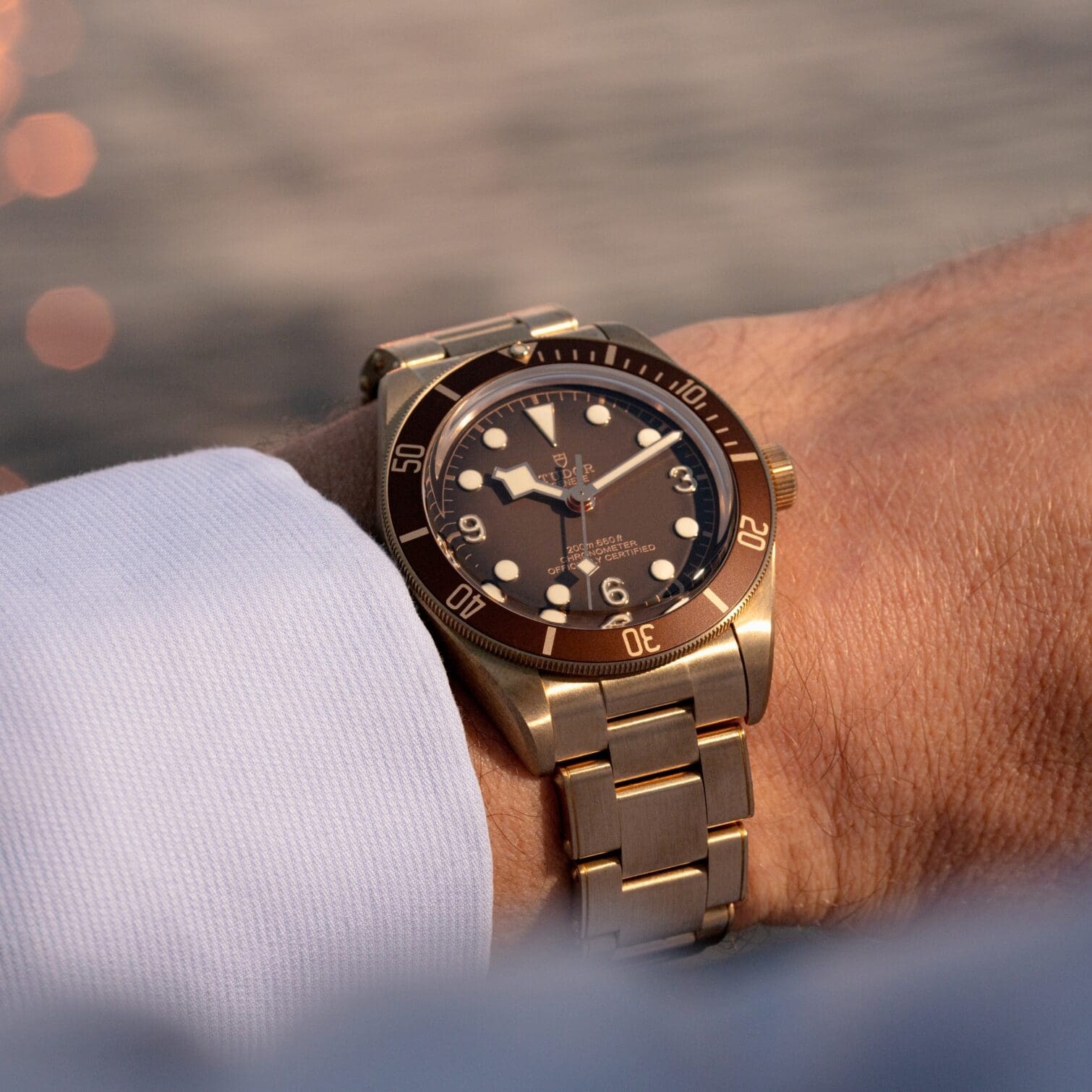 Now, back to the watches. I collected them for a while, and like many of you pined over the ones I couldn't have, couldn't afford, or didn't allow myself to have. I went into the expensive jewellery stores and boutiques, and tried them on. In October 2021, I went up to New York City, where I had lived for 11 years before leaving, to visit my friends. While there I found a day to spend alone. I walked through my favourite spots in Washington Square Park, the East and West Village, and the Chelsea Food Market. I also utilised the time alone to look at some watches I love, because my friends don't share in this hobby. I went in to the newly opened Tudor boutique and admired a model of the Black Bay 58 Bronze Boutique Edition. A quirky version of a massively popular watch. Since I contain multitudes of quirk, it was a watch I lusted after but how could I ever spend US$4,700 on a watch?
They didn't have the watch in stock, so I tried on the regular Black Bay Bronze, and the steel Black Bay 58. I liked them, but they were just not as fetching to me. The BB58 Bronze had a bronze bracelet, T-fit clasp, and it looked nicer than the original BB Bronze. The AD gave me a coffee, and indulged me in trying on so many pieces. At the end he asked if I wanted to put myself on the list for the BB 58 Bronze, I chuckled and said "Yeah, sure." I was never going to buy it, but I enjoyed pretending for a day.
Four months later, I got a call on my phone from the Tudor Boutique in NYC to ask if I still wanted the Black Bay 58 Bronze. This call came one week after my ADHD diagnosis, when I was starting to accept it and my neurodivergence as a win. I thought back on how I'd got to the point I was at, and how much I had grown as a man.
View this post on Instagram
I called the boutique back and told them I'd like the watch. Afterwards I felt proud — not because I was going to own a watch I had only ever dreamed of owning, but because I had finally acknowledged the work I had done, and placed value on myself, not in dollars but in self-love. Every time I look down at my wrist when the BB58 Bronze is on I feel that self-love. Addressing my mental health is the greatest milestone achievement in my life, and my watch serves me as a reminder of my own growing value as a person.