A journey to the coldest RedBar meeting on earth – Part 1
Bruce Duguay
Editor's note: Regular Time+Tide contributor Bruce Duguay has recently shared his thoughts with us on the challenges of buying an Omega Speedmaster, and why the Rolex Oyster Perpetual 39 might be the perfect daily watch, but he also made the treacherous journey through the icy landscape of Alberta, Canada to his first ever RedBar meeting. What is it like attending one of the coldest watch get-togethers on earth? Does the warmth of the watch enthusiasm offset the frigidly chilled air? Bruce shares his experience of meeting the collectors, and the watches he saw, in this two-part piece.
It's been cold. Like really cold. Like you can't even imagine if you're an Australian Time+Tide reader this kind of cold. To give you some perspective, when the invitation to attend Calgary's RedBar event in early January hit my inbox, the average daytime temperatures were -25 degrees Celsius. Three days before the event, the mercury dipped to -36 degrees. At these temperatures even Canadians start to complain and it's very tempting just to remain at home and stream every single television program ever made instead of going out to socialise.
Luckily, the cold snap broke before I embarked on the two-and-a-half hour drive to Calgary (+4 degrees!) and I was able to persuade my lovely partner and photographer to come along to share in my first RedBar get-together. I had attended and even organised watch get-togethers with close friends in the past but this would be my first sampling of an actual RedBar chapter. For newbies like me, a little background on the organisation always helps.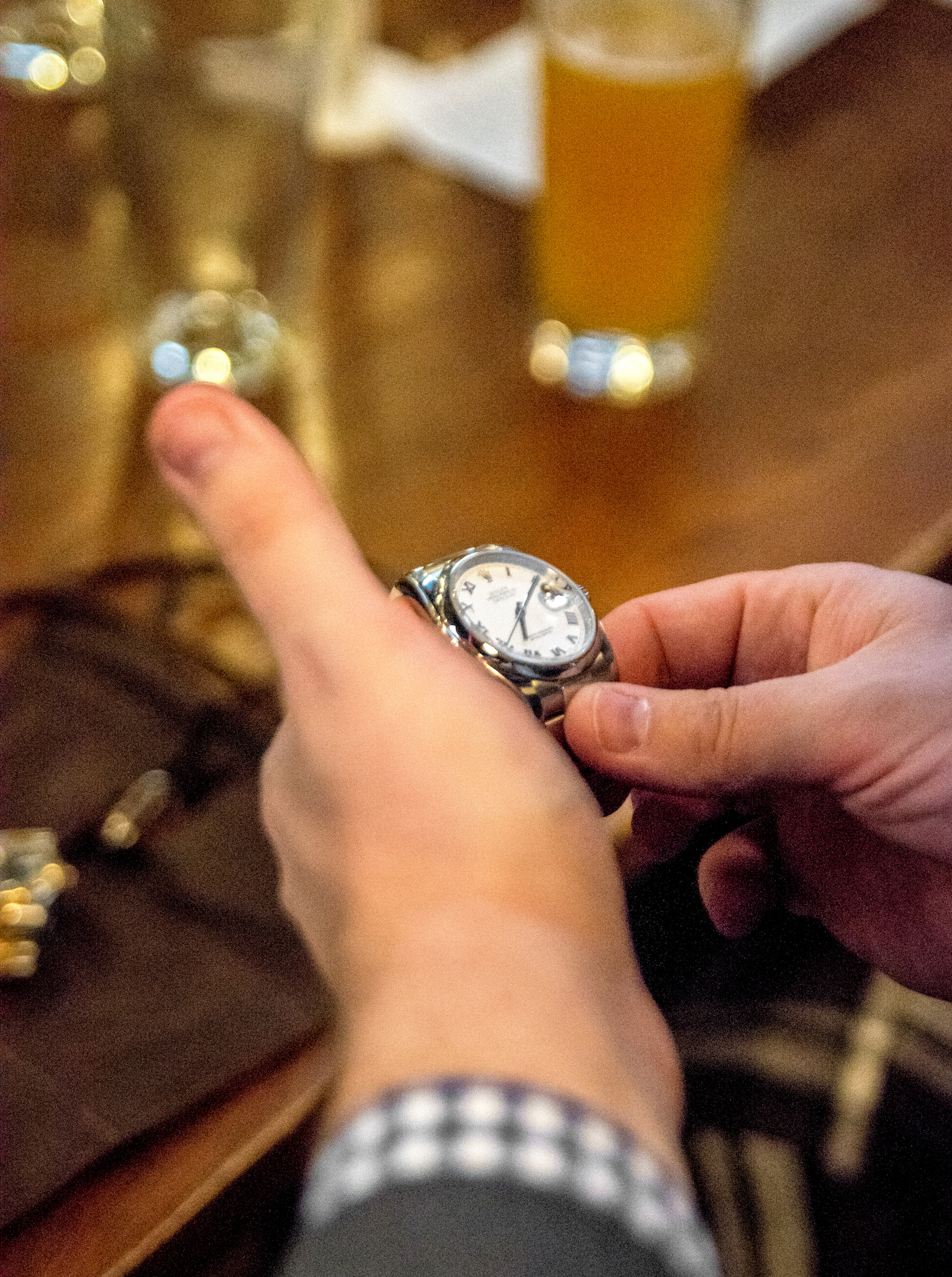 Started in New York by a couple of watch-loving friends to gather watch enthusiasts together, RedBar grew to become the flag-bearing organisation for facilitating watch communities in many additional cities around the world. The idea is to give brand-like structure, credibility and weight to watch gatherings. It appears the individual city gatherings are largely controlled locally but use the common RedBar branding and social media commonalities.
We arrived at our hotel in Calgary to freshen up, and I grabbed my watch roll and came up against a difficult choice. I knew I should bring an assortment of watches to the event, but which watch to actually wear? I'm sure this was unnecessary pressure, in retrospect, as the evening ahead had more than 30 different watches to try on my wrist. After much back and forth, I donned a new Omega Seamaster 300M on a dark blue NATO, feeling like it covered a lot of bases. First world problem, solved.
We headed out to the venue, which was a pub located in Calgary's busy stadium district (remember the Saddledome from the 1988 Olympics?). We arrived a bit early as planned and found the section reserved for the RedBar meeting. There were two long tables marked off but only one lonely soul had shown up so far. We made introductions and ordered drinks. Instantly we got to talking about a watch this fellow had brought. Even though it was a brand and model I had never heard of, I was riveted as he recounted a memorable trip to England where he subsequently purchased this watch. I could see in his expression and tone that he was very excited to have someone to show this watch to.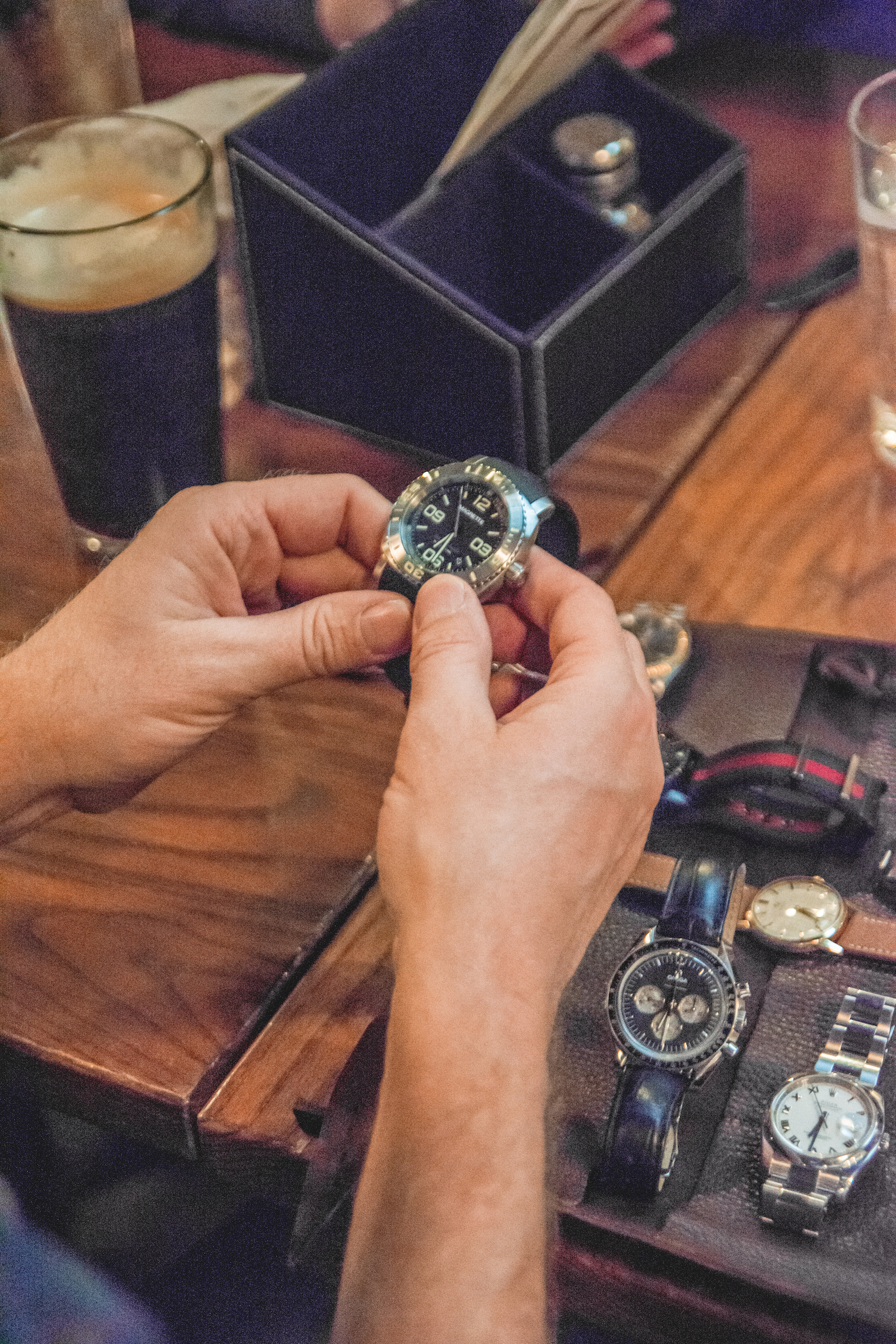 Then and there, I realised this wasn't going to be so much about the watches, rather the people who collect them and their enthusiasm, in combination with their need for a complete "nerd-out" with like-minded cohorts. As we wrapped up our conversation, more attendees had arrived and started their own conversations. I was intercepted by one of the founders of this Calgary chapter with whom I had been previously corresponding about writing this article. He introduced me to several other attendees and mentioned this was expected to be one of their biggest turnouts in a long time.
Find all of Part 2 right here.