"A big chunk of the industry is somewhat screwed." An interview with Fears MD, Nicholas Bowman-Scargill
Mike Christensen
I'm going to put it out there and say there is no more charismatic person in today's watch world than Fears managing director Nicholas Bowman-Scargill. In an industry littered with formidable personalities – hi Jean-Claude Biver, Patrick Prunnaux and Georges Kern – there is something refreshing about he of the double-barrelled name, and that is his quintessentially English lilt not to mention his Instagram stories that divulge an impressive tie and cufflink collection as well as a penchant for a late-night Maccas and an early morning Greggs sausage roll.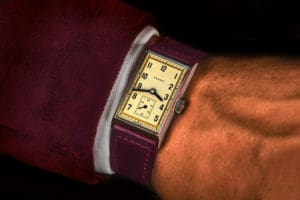 On the eve of Fears' latest watch reveal, we catch up with the man who makes no secret of having an ambition to one day be knighted and addressed as "Sir Nicholas". Indeed, as the brand celebrates its 175-year anniversary with the launch of a stunning rectangular Archival 1930 two-hander and three-hander, the acknowledgment that for 39 of those years Fears lay dormant, presumed dead, is testament to the honesty and openness with which Bowman-Scargill intends to play his and Fears' cards. Over a martini or two, we cover everything from Aston Martins and similar British institutions to his 50-year grand plan for the watch brand that runs in his family.
Time+Tide: Happy 175th anniversary, Nicholas. Can we start by talking about the inspiration behind the two 1930 Archival pieces you decided to celebrate this landmark with?
Nicholas Bowman-Scargill: As a teenager, I was obsessed with watching Jeeves and Wooster and I read Agatha Christie and P. G. Woodhouse all the time because the 1930s was just the period. Art Deco was suddenly seen on buildings, in trains, everywhere. It was this wonderfully ornate, very modern take on looking into the future. And as that period progressed, watches were rectangular, it was literally like having the Empire State Building on the wrist. Watching those shows, I loved all the decadence and glamour so thought, "You know what? My husband wears a Cartier Tank every day and I love the JLC Reverso so perhaps this would be fun to do."
T+T: What are you most proud about this watch? 
N B-S: I love the fact that if you just glance at it you go: "Oh, it's rectangular." But when you really look at it and analyse it you realise: "This is very different." The ratios of its case shape, the ratio of the dial to case… The bezel is one millimetre thin. It's actually completely different from other rectangular watches out there, so it gives it a very distinctive personality. At 22mm by 40mm, that sounds like tiny dimensions but put it on the wrist and you realise it's all dial. You see a vintage champagne-coloured dial but then you notice the glossy black printing against a sandblasted finish and the metallic gold border. That's what happened in the Art Deco period – things appeared to be very simple but when you look you're like, "Every angle, every detail, every changing colour is bang on."
T+T: In your opinion, what is the key to a popular watch?
N B-S: It's very much how most people would approach looking at, say, an E-type Jaguar. Beautiful car. Look at the lines, the elegance, the bit of chrome. Most people have no idea whether it has a six cylinder engine or V12 engine, or what its top speed is, or any of that. But that doesn't matter. It's the same with a watch, it's always going to be about dial, case and hands. Movement is important but which way round are you wearing your watch? I think watch CEOs largely use a lot of technical information as a crux, but the question that you have to ask yourself is if a watch doesn't have the name on the dial – thus immediately removing reputation and brand heritage – is it still a damn good looking watch? That's all that really matters and for me what I've always tried to do.
T+T: As a young MD starting out, what's your view on the watch world as a whole?
N B-S: When I look at the whole industry, I think a big chunk of the industry is somewhat screwed. I am talking largely about the Swiss watch industry here. They didn't have to fight the world wars so were able to grow the industry. They had the quartz crisis, but geniuses like Nicholas Hayek managed to save it. Then suddenly the mechanical watch had a resurgence. Then China saved the Swiss watch industry. They have had so many lucky breaks, more than any industry deserves. And that's fine, good for them. But I think it can make them very blind to what else is going on around.
T+T: When it comes to customer service, what policy do you take?
N B-S: We don't do any compromises on the experience. Everyone gets the same blanket 110 per cent experience. But how on earth does a little tiny brand like Fears compare to the shark that is Rolex or Patek? How do we compete with them? I can't do it by branding. I can't do it by marketing. I will argue we can do it by quality, but that doesn't matter if no one could find our product. But what we can do is ensure Fears will offer the best customer service in the entire watch industry. We will beat Richemont, Swatch, LVMH, Philippe Dufour, Laurent Ferrier, everyone. That's our aim, to offer the best experience.
T+T: And how do you do that? 
N B-S: As well as a good product that lives up or exceeds what we promise, it's also about the interaction. It's about the communication. It's about the process. Feeling like you are walking into 13 Rue de la Paix in 1912, which is the Cartier headquarters, and you are commissioning a Tank in platinum and they're making it. All of that. I want to give you that for your £3,500 watch, and that's where we can exceed.
T+T: What does the future hold for you and Fears?
N B-S: It's certainly never going to ever be a grow for growth's sake. In my business plan from day one there's always been the next year, the next five years, 10 and 50. Our vision in 50 years is to be the British example of good capitalism. And that doesn't really have anything to do with watches, that's to do with how we do it. I want Fears to have a reputation that makes other brands go, "We need to up our game. You know what? We need to make sure that we're doing our QC better, that we're making sure that actually everything we put on our website is 100 percent true." I want everyone to look at themselves and go, "Let's hold ourselves to a high plate."
T+T: What sets the British watch industry apart from its peers?
N B-S: Britain is an incredibly creative nation. When you look at our creative industries, it's phenomenal. I think it was Terence Conran who once said the British design sensibility is graceful yet purposeful function. And if you look at Vertex or a Fears or a Christopher Ward watch, we all make very different looking watches but there is one thing that links them all together – functional design that just has that edge in the elegance and the proportions. It's nice to see British watch brands realising what we're very good at doing isn't always the engineering. It isn't making every component in house and on site in the UK, rather it is designing products that have soul and personality.
T+T:  You are very transparent about where your watch parts are manufactured. What's your view on being British made?
N B-S: There's a lot of talk about us manufacturing our own parts but bear in mind that the German case and dial makers who I work with, they're building for the most of the large Swiss watch brands on Bond Street. So we're talking about big brands that most people assume make their own parts in house, but they don't. I hope that the industry won't get too fixated with the idea that we need to be making everything on our own shores. I mean, that's a lovely idea, beautiful rhetoric – it sounds great. But let's concentrate on what we do better than other people. Design, project management, creativity, coming up with things. We do that better than anyone.