8 watches that might just be sub-$10k bargains at Phillips Geneva Watch Auction XII
Nick Kenyon
Let's face it, watch auctions can be a little bit intimidating. The big players in the watch game are centuries-old organisations, with Christie's and Sotheby's both pre-dating the First Fleet sailing into Botany Bay, and Phillips only eight years younger, being founded in 1796. All this history, the seven-figure headline lots and the sometimes confusing rules of the game can build to the impression that it is an inaccessible world of richly scented mahogany.
But it doesn't have to be that way. In fact, there can be hidden gems at the (relatively) more affordable end of the scale. With that in mind, I had a dig through the catalogue at the upcoming Phillips Geneva Watch Auction XII, and found eight sleepers that might just prove once again that big watch auctions can be for everyone.
Patek Philippe ref. 513 – A fine yellow gold rectangular-shaped wristwatch, retailed by Tiffany & Co.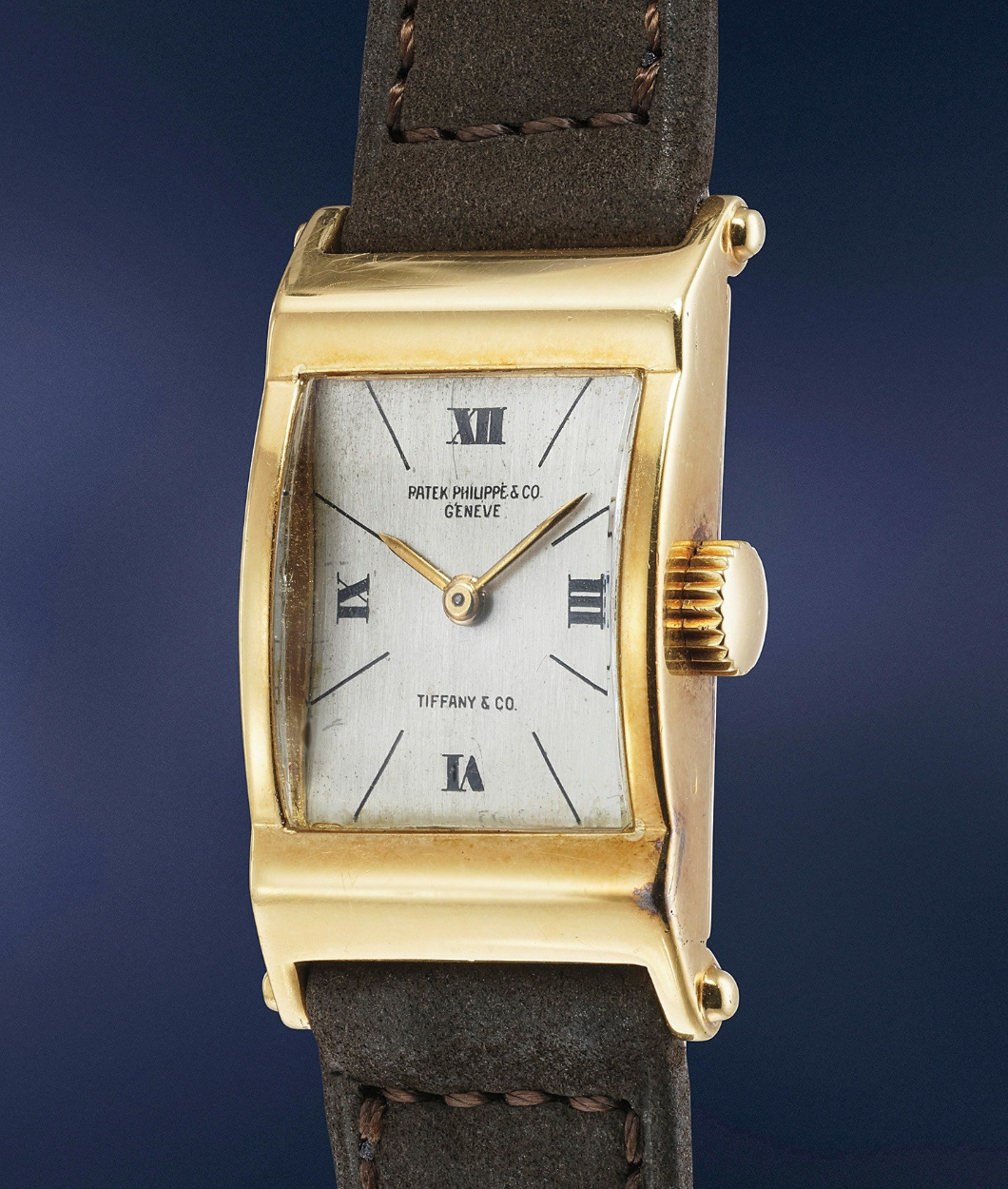 There are endless areas of the vintage watch world to obsess over, but one of the most historically interesting corners to seek out is the phenomenon of double-signed watches. This Patek Philippe was produced in 1951, and was sold by their longstanding American retail partner Tiffany & Co. in 1952. With an interesting rectangular yellow gold case and silvered Roman numerals on the dial, there's a lot to love here. Estimate: $4400-6500USD. Click here for more details.
DOXA – A charming and rare 14k pink gold wristwatch with "Cornes de Vache" lugs and number-matching original hang tag
DOXA is best known today for their brightly coloured stainless steel dive watches, made famous on the wrists of Clive Cussler and Jacques Cousteau. But over their long history, they have actually produced a range of different dress watches and chronographs. This 35mm example in pink gold features an early automatic bumper movement and wonderfully sculpted lugs. What makes this watch even more exciting is the condition, which is pristine, and was clearly very rarely, if ever, worn over the last 75 years. It even has its original DOXA hang tag. Estimate: $2200-4400USD. Click here for more details.
A. Lange & Söhne – A very rare and historically important chrome-plated wristwatch with black dial
The history of A. Lange & Söhne, perhaps more than most watch manufacturers, has been closely tied to the political tides of Europe. The Glashütte-based brand had its factory totally destroyed on one of the last days of WWII, which saw the disappearance of the Lange name from the dial as a result of Soviet occupation. Despite this development, this 40mm watch wasn't sold until 1950, making it likely to be one of the last watches produced in that era. A remarkable piece of history, especially for fans of the German watchmaker. Estimate: $5500-8700USD. Click here for more details.
Rolex ref. 1625 – A fine, rare and interesting stainless steel automatic wristwatch with "Thunderbird" bezel, centre seconds and non-luminous dial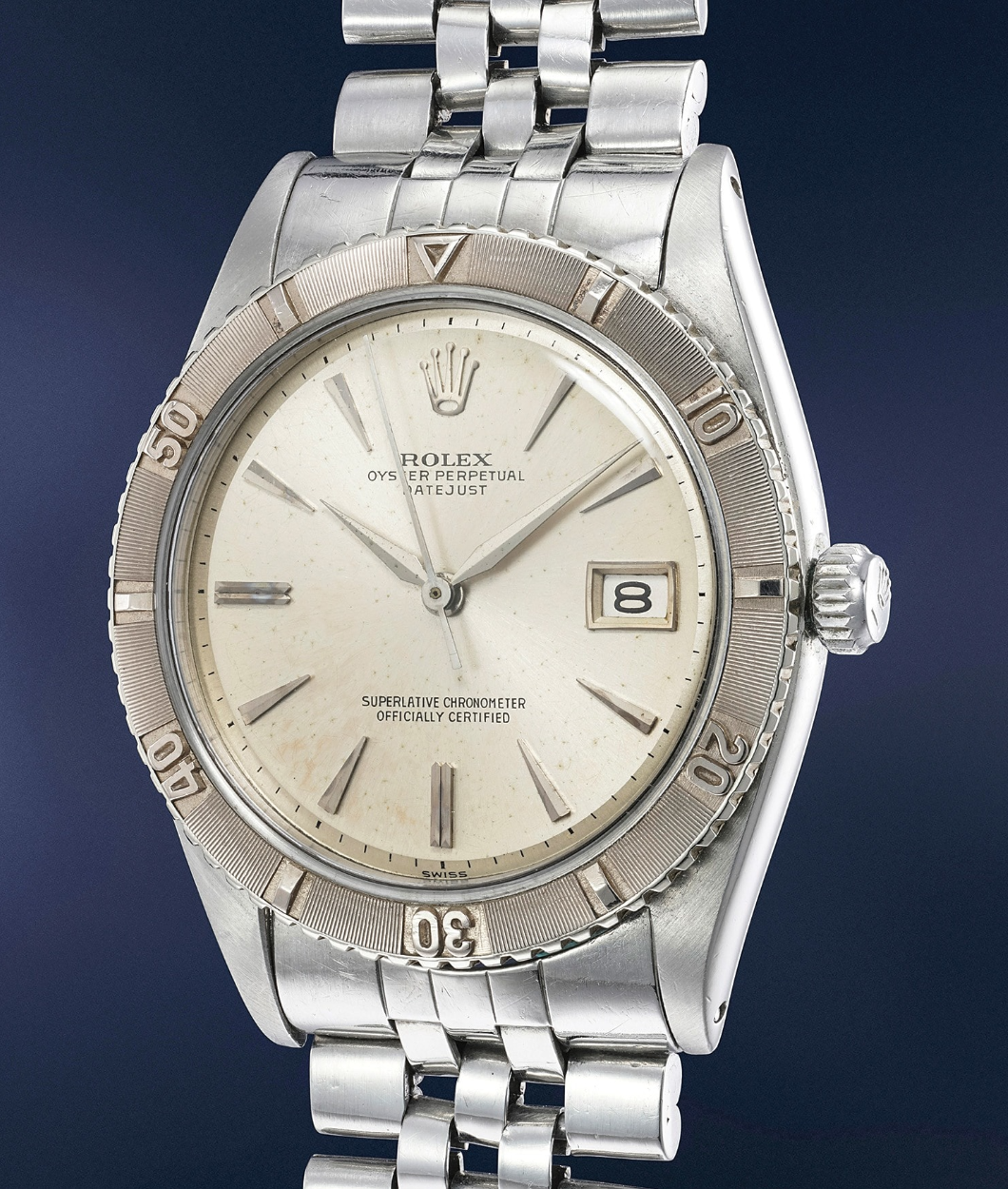 The Rolex Datejust is one of the most ubiquitous models in the history of watchmaking, but that doesn't mean there aren't unusual variations within the line. The Rolex Datejust Turn-O-Graph is one of them, which was advertised alongside the U.S. Air Force acrobatic flying team, and features an unusual rotating bezel. This example is even rarer than most Datejust Turn-O-Graphs, as it was produced totally without lume, due to a ban by Japan and Canada of watches with radium paint. A select watch from a rare set. Estimate: $4400-8700USD. Click here for more details.
Audemars Piguet Ref. BA25720 – An unusual and elegant yellow gold wristwatch with rotating satellites, display complication and certificate of origin
Produced in 1993, this Audemars Piguet is by far one of the most unusual watches that the brand has ever released. Featuring a remarkable Star Wheel time display that consists of three rotating discs that display the hour while simultaneously pointing at the minutes display. The lower half of the dial is executed in the same yellow gold as the case and finished with fine guilloché work. Weird and absolutely wonderful. Estimate: $6500-8700USD. Click here for more details.
Cartier Ref. 1735B – A highly rare and attractive yellow gold limited edition wristwatch with burgundy numerals, made for the Italian market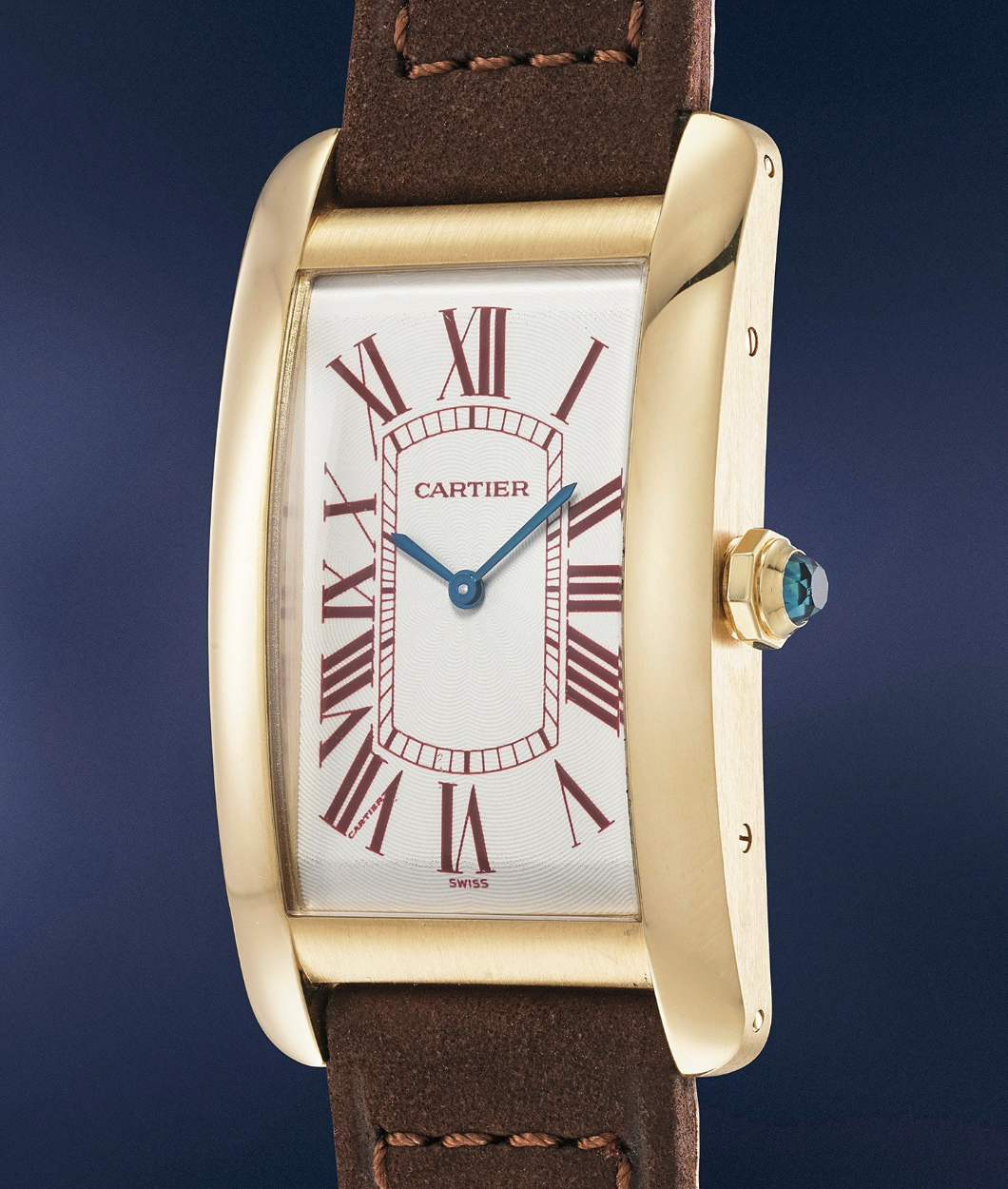 This Cartier Tank Américaine, like many of the French-founded jewellery firm's designs, is a tried-and-true classic. Subtly curved to meet the contour of the wrist, this yellow gold example was produced for the Italian market as one of only 170 pieces. What makes this piece special is the highly unusual burgundy Roman numerals, which offer a tasteful contrast against the blued sword hands. Estimate: $5400-10,900USD. Click here for more details.
Rolex – An extremely unusual, rare and interesting stainless steel wrist compass with two-tone dial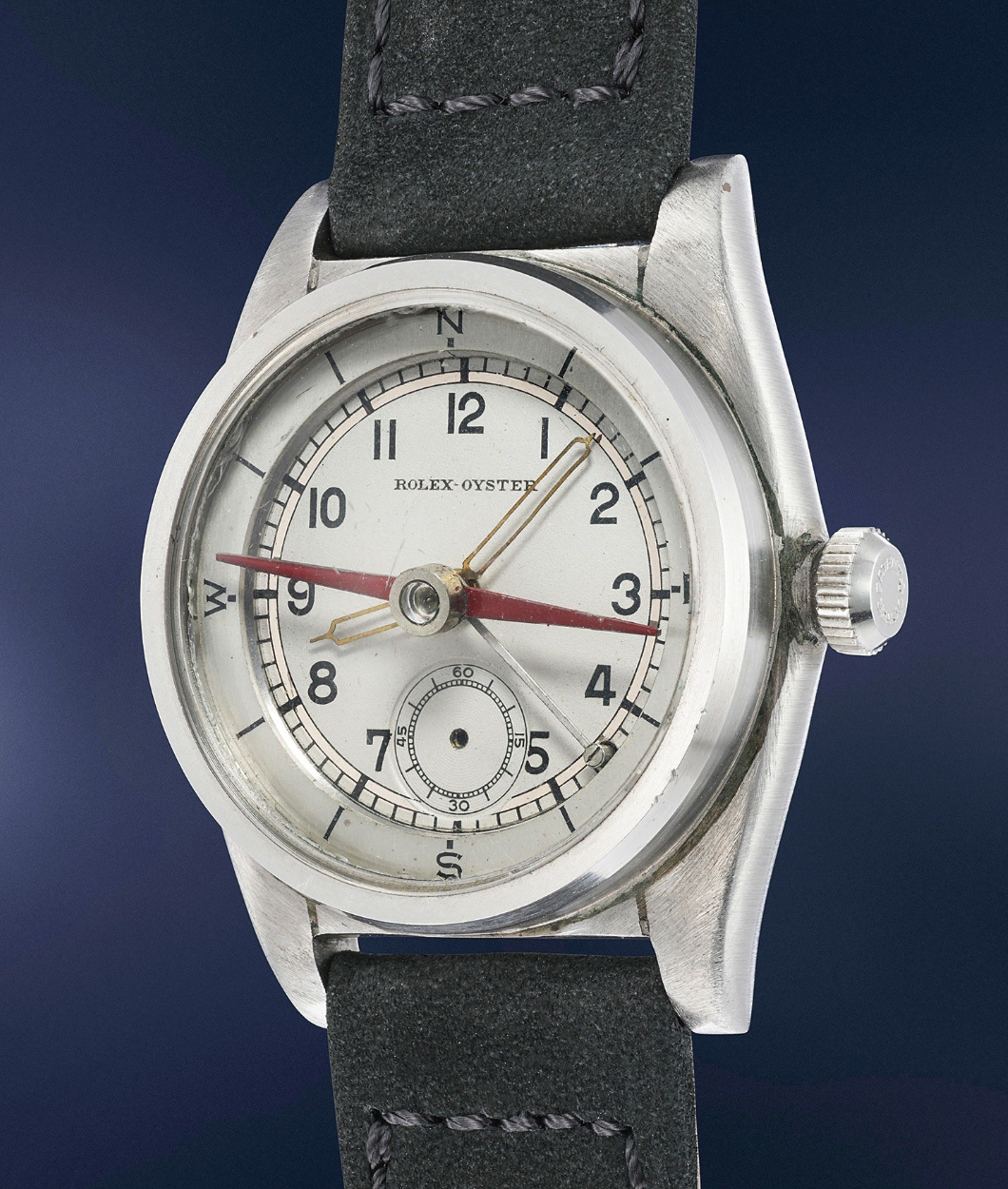 First and foremost, Rolex has historically produced tool watches with a specific purpose in mind. From the deepest parts of the ocean to the peak of Mt Everest, Rolex make watches that are built to survive anywhere, and aid their owners as much as possible. This unusual watch from the 1940s encapsulates that ethos, and is believed to be a prototype that was produced for explorers of the day. Estimate: $10,900-21,800USD. Click here for more details.
Audemars Piguet Ref. 5093 – A rare, extremely slim and attractive wristwatch with two-tone dial and guilloché bezel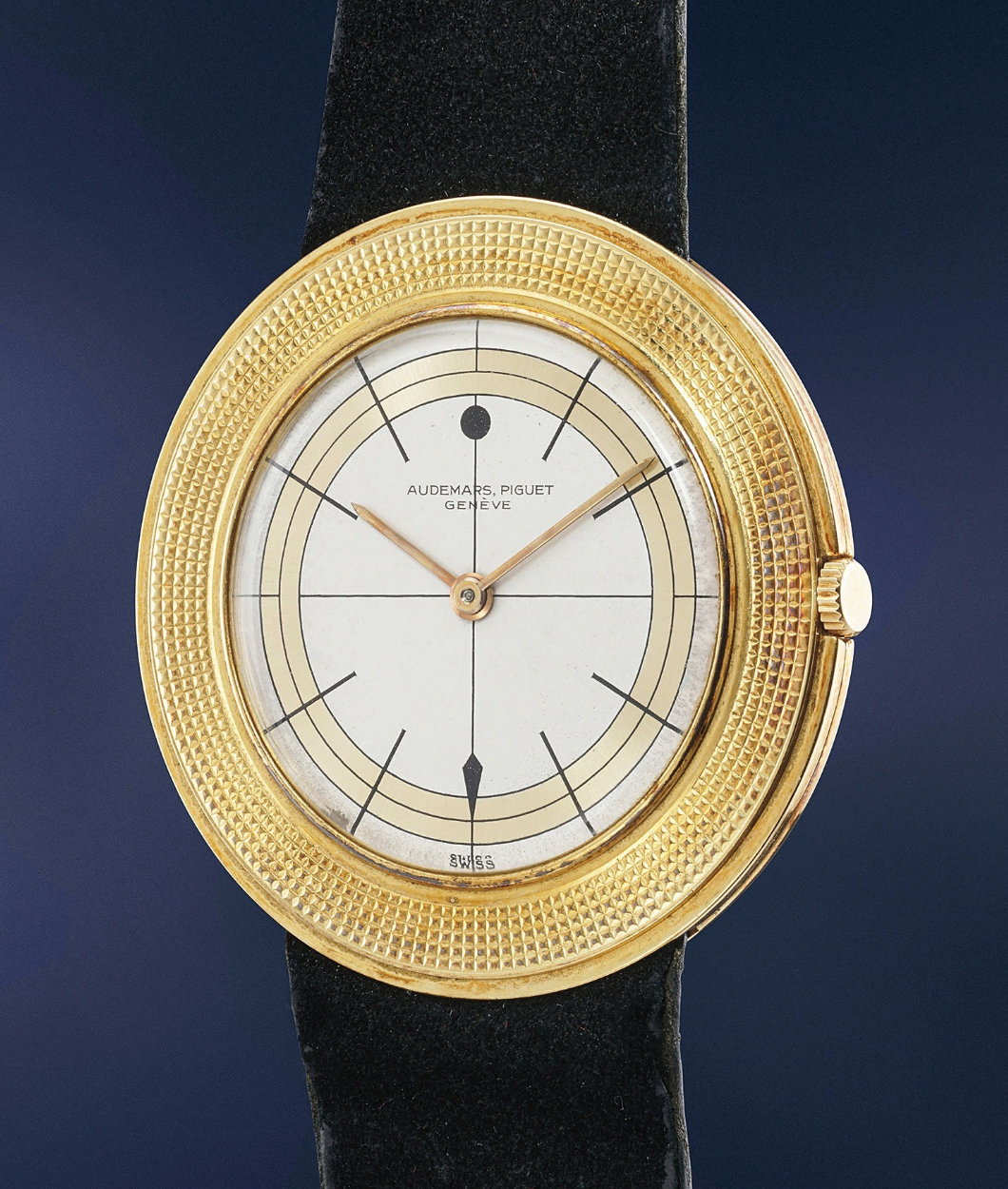 In the middle of last century, Audemars Piguet released some of the most unusual and creative watch designs to ever leave Le Brassus. Nicknamed the "Disco Volante", this model features a 35mm yellow gold case that has been engine-turned to create the pattern that surrounds the dial. This is one for the design fanatic. Estimate: $5500-10,900USD. Click here for more details.