8 of the best dress watches of 2020 over $10K, featuring Grand Seiko, Cartier and Jaeger-LeCoultre
Zach Blass
Dress watches are the epitome of traditional horology. I know, sports watches are trendy and consume a large portion of the conversation – but there is something, whether tangible or intangible, that dress watches provide that a sports watch simply cannot and never will. They may not be your daily wearer, you certainly won't take a dress watch to the beach. But for those crucial moments, whether a wedding or a job interview, the formal dress watch provides a certain kind of gentlemanly confidence boost that you just can't find in professional tool watches. When I go out into the world as Zach Blass, I wear my Black Bay Fifty-Eight – but in those moments when I need to be Mr Zachary B. Blass, only a dress watch such as my Lange 1815 Up/Down 221.021 can truly elevate me to the task at hand. While they do not always get as much time in the spotlight as they deserve, let's take a look at eight of the best dress watches of 2020 over $10K.
Piaget Altiplano Ultimate Concept
I have to confess I have a bit of a bias here, as once upon a time I did work for Piaget – educating prospective clients and selling watches in-store. That being said, I can unequivocally state with complete impartiality and full confidence that not only is this watch one of the best dress watches of 2020 but also one of the best watches of 2020 overall. Is it accessibly priced? Absolutely not. But cost aside, I don't think anyone can argue against its horological contributions and merits. It is the thinnest watch ever made, and yet is still elaborately decorated with haute hand-finishing to the ultra-thin components that make up the watch.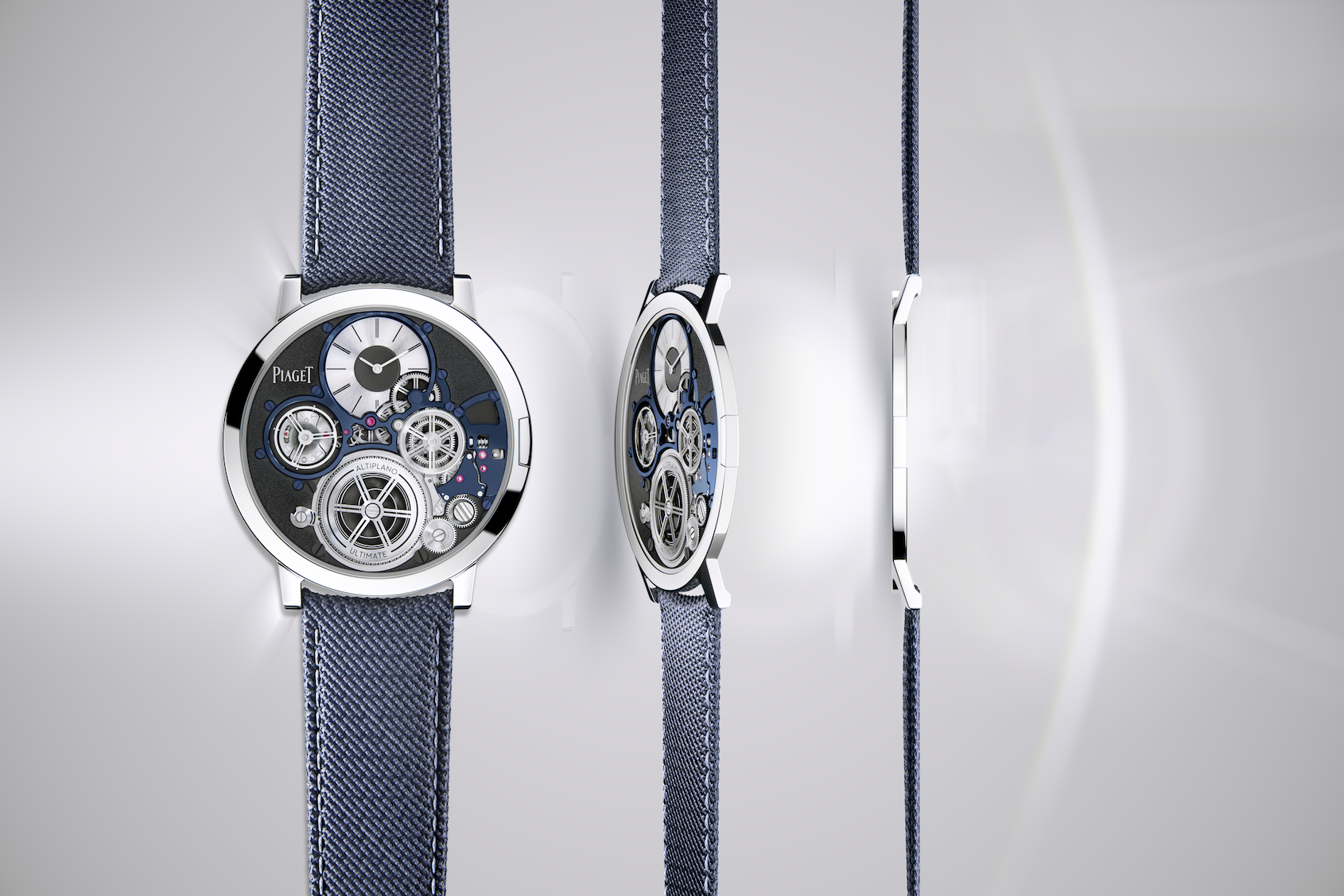 The thinness is achieved by integrating the movement into the case, effectively making them one and the same (or all on the same plane). To put things in perspective, this entire watch is thinner than practically any movement inside of other brand products. With more than 10,000 bespoke possibilities, if you are able to afford this magnificent creation, you can take solace in the fact you will be receiving a one-of-a-kind watch that will likely hold its world record for many years to come. RRP: approximately $400,000 USD (can vary based on configuration).
Baume & Mercier Clifton Day/Date/Moon
Baume & Mercier have really stepped up their game as of late, shifting from generic workhorse movements to ValFleurier and Vaucher ébauches. In the case of the Day-Date Moon-Phase, the movement supplied by Richemont's ValFleurier has 120 hours (5 Days) of power reserve, a silicon hairspring, and a silicon balance. With this level of technology and efficiency, you begin to wonder why your latest sports watch is not nearly as efficient or anti-magnetic.
As its name suggests, the watch is rather complicated with day, date, and moon-phase complications. It packs a lot of value inside the 42mm 18k pink gold case, which is executed with a blend of satin and mirror polish finishes. The straps are easy to swap via a quick-release like system, where by pulling on a tab on the underside of the strap it can be quickly added or removed from the watch. RRP: $12,200 USD
Cartier Santos "La Demoiselle" platinum
As our very own Nick Kenyon put it, The Cartier Santos-Dumont "La Demoiselle" Limited Edition in platinum is a feast of details. While seemingly just another Santos model, there is so much to discover as you get a closer look at the watch. This limited edition timepiece was created to honour the Demoiselle aircraft created by the reference's namesake, pilot Alberto Santos-Dumont. The creation is on the larger side for a Santos model, with a modern stance of 46mm lug to lug. Mechanically powered, the watch maintains a slim profile of 7.5mm in thickness – ensuring the watch will slide under any shirt cuff.
The dial is a sort of light khaki in colour, which was by no means a random choice. It serves as a nod to the trademark Panama hat that Santos-Dumont was known to wear. In its centre, a basketweave pattern guilloche continues to mimic the texture of a Panama hat to further drive home the motif. The strap matches the dial both in colour and texture, which helps tie everything together and really focuses on the theme at play. Instead of the usual sapphire cabochon, ruby is embedded in the crown instead – denoting the case is made of platinum. If it was still a tossup whether or not this watch was in fact a Santos model, instead of the secret Cartier signature within the Roman seven numeral the name Santos is printed. On its solid caseback, there is a sketch of the Demoiselle plane etched into the metal. The 30 watches are numbered, each presented with a corresponding numbered presentation box that includes an alligator leather travel pouch, matching second strap and a pair of white gold cufflinks inlaid with red tiger's eye within. RRP: CHF 41,600.
H. Moser & Cie. Vantablack Black Hands
The H. Moser & Cie. Vantablack Black Hands has the stealth of Batman, but the class of Bruce Wayne. The watch is 39mm in diameter and fashioned in high polished white gold. The dial is made of Vantablack, the blackest black pigment in the entire world. The material absorbs an incredible 99.965 per cent of light, and was developed by NASA who utilise Vantablack on their satellites and other devices in space to minimise stray light.
H. Moser & Cie. have been known to experiment with aesthetics, pairing classical and modern design that results in mad genius. The odd thing about the Vantablack Black Hands watch is that it was born out of an April Fools' joke made by the brand. While initially a concept post made in jest, the overwhelmingly positive response made the company think they should actually produce the model. Thankfully they did, as the watch elevates how black is used in a watch – with a dial that elicits wonder and thought, as if you were staring into a black hole. While it may not be the most legible, if that is the critique you harp on, you are kind of missing the point of the watch. It is less about Chronometric reliance, and more about sheer artistry and statement on the wrist. That being said, the HMC 327 movement inside is nothing to scoff at. It runs at a classic 18,000 beats per hour, which, in turn, helps provide the manual-wind movement with a nice power reserve of 3 days. RRP: $27,600 USD.
Grand Seiko SBGW263
The terms "hand made" and "hand crafted" get thrown around a lot in this industry, and in some instances are a bit of a stretch and deceptive in their usage. This is an example of where true hand craftsmanship comes into play. Master engraver Kiyoshi Terui and his small team engrave all the elements on the dial by hand. Their work covers it all: the hands, indices, and even the Grand Seiko name.
The star mark at the 6 o'clock position, also hand-engraved, denotes the watch features a "special dial". The plates, and the entirety of the dial itself are made of 18k white gold. The engraving of each watch requires many days of intense and highly skilled work. Every stroke and flourish of the blade has to be just right, something only the most trained artisans can undertake and execute. The case is made of 39mm platinum, and is 11.8mm thick. The watch is powered by the caliber 9S64, a mechanical movement with 72 hours of power reserve and accurate within +5/-3 seconds per day. The solid caseback is also made of platinum, but features a yellow gold emblem in its centre. Some subtle two-tone signals just how special this limited run of 20 watches is. RRP: $97,000 USD.
Grand Seiko SBGW258
Grand Seiko has celebrated their 6oth anniversary throughout this year with some killer limited edition releases, including the introduction of the new 9SA5 movement in a stainless steel watch. The most faithful tribute, however, is not a limited edition – nor is it fashioned in stainless steel. The SBGW258 revives the Grand Seiko First, which as its name implies was the first watch ever created by Grand Seiko back in 1960.
To bring the watch into the modern marketplace, as well as preserve and protect those who own the original vintage models, the case diameter has been increased from 35mm to 38mm. While the initial model was gold-filled, the SBGW258 case is made of 18k yellow gold and the eight-pointed star mark on the dial that signifies the appliqués and hands is fashioned from the precious metal as well. RRP: 26,000 USD.
AP CODE 11.59 Self-Winding Smoked dials
When first announced, the design language of the 11.59 definitely polarised enthusiasts around the world – interestingly mimicking the initial reaction to the Royal Oak back in the 1970s. This year the lineup was updated and improved with new fresh and interesting smoked dials – introducing a new level of depth to the Code 11:59. There are five references to choose from: the Ref. 15210CR.OO.A002CR.01 (smoked grey dial, two-tone case), the Ref. 15210CR.OO.A009CR.01 (grey dial, two-tone case), the Ref. 15210BC.OO.A068CR.01 (smoked burgundy dial, white gold case), the Ref. 15210OR.OO.A616CR.01 (smoked purple dial, pink gold case), and Ref. 15210OR.OO.A028CR.01 (smoked blue dial, pink gold case).
The watch has a modern case diameter for a dress watch, at 41mm, but maintains a slender thickness of 10.7mm. All of the cases are made of 18k gold and have a water resistance of 30 metres. Ticking away inside is the in-house manufacture movement 4302, which features hours, minutes, seconds, and date complications. The automatic caliber has a power reserve of 70 hours. The watch is outfitted on a dial-matching alligator strap with a case-matching pin buckle. RRP: CHF 27,000
Jaeger-LeCoultre Master Ultra Thin Kingsman Knife
When JLC was approached to make a timepiece for the upcoming Kingsman prequel, they knew they needed to make something that had the DNA of their heritage as well as characteristics fitting of a killer spy watch. The brand and film make a neat pair, as they both exude aspects of technical expertise and gentlemanly presence. The resulting timepiece, the Ultra Thin Kingsman Knife, was directly inspired by the celebrated 1907 'Couteau' (couteau is French for knife) pocket watch – which features a sharp crown at the 12 position that features a handsome knife-like profile.
The watch is made of a 40mm rose gold case that is only 4.25mm thick! The hand-wound movement inside is super slim, making the thin profile possible, and has a total of 35 hours of power reserve. The lugs are short and arch down, leading me to believe the lug to lug is compact and that this 40mm watch would flatter most wrists. The watch is exclusively retailed through Jaeger-LeCoulture and Mr Porter and is a limited edition of 100. RRP: $29,800 USD.