8 German watch brands that put the 'Swiss is best' argument to bed with a glass of schnapps
Andrew McUtchen
Editor's note: The rise and rise of not just the quality, but the cachet of German watchmaking in recent years has all but put to rest the notion that fine watchmaking is the preserve of the Swiss alone. It's no longer an argument that has any heat — or any credibility. Therefore, a list of great German watchmakers in 2019 (first published in 2018, the superfans will tell you) borders on a no-brainer. But that said, there may be one or two discoveries in there. Felix runs us through some of his favourites, one or two of which he wears on a very regular basis. Though, sadly, not 'The Felix' — seriously, how good would that be.   
Not so long ago, Cam — fortified with a strong cup of tea and some crumpets — ran us through eight of the finest watches from British brands. Well, today I've had my cold cuts and pumpernickel for breakfast and selected eight of Germany's most serious timepieces to start your day off right. Now, while Germany might not be the watchmaking powerhouse that their neutral neighbour Switzerland is, they're no slouches either. The industry is based around two towns: Glashütte, in the east, is the best known, as it's the oldest centre and home to big names like A. Lange & Söhne, Nomos and (unsurprisingly) Glashütte Original.
The other hub is Pforzheim, in the west, home to brands such as Laco and Stowa. And even though it's a gross oversimplification to make sweeping generalisations about national identity and watchmaking, and on the surface the unbreakable watches of Sinn and the complicated symphonies of Lange bear little resemblance, there are shared values of perfection in purpose that seem to fit in neatly with Germany's reputation for outstanding production and engineering. I'm not sure where their love of David Hasselhoff fits into this equation, but it's not something I'm going to mess with.
Habring2 Felix
Yes, they're Austrian and not German, but the watches of husband-and-wife team Habring2 are too good not to include, and they pack a serious punch. Richard Habring has a long background in the industry, and his big claim to fame is the development, while at IWC, of a new design for the split-seconds chronograph. This watch lacks that level of complexity, but it does share my name. If that wasn't reason enough for it to make the list, how about the impressive, and award-winning A11 movement beating away inside? $6975
Sinn EZM 9 TESTAF
Sinn's watches have, since their founding back in 1961, been all about purpose. The first watches were purpose-made for pilots, and while their catalogue now includes excellent divers and even some dressier options, the heart of the brand is in the sky. So much so that five years ago the brand partnered with Aachen University to pioneer a new standard and certification for pilot's watches (much like those that exist for divers) called TESTAF. This EZM 9 TESTAF meets this standard (obviously), but also incorporates other technologies and materials the brand is famous for, like a super-hard tegimented titanium case and Ar-Dehumidifying technology and temperature tolerances from -45 to +80 degrees Celsius. Tough stuff. $5080
A. Lange & Söhne Lange 1
As far as watchmaking goes, Lange are Germany's most famous export — their high quality and style are legendary amongst connoisseurs. So much so that it's hard to pick a model to showcase their greatness. Do you opt for the restrained Saxonia, the architecturally stunning Datograph or the contemporary Zeitwerk? In the end, I didn't go with any of those choices, instead picking one of the greatest modern watch designs — the legendary Lange 1, shown here in platinum. $56,300
Nomos Metro neomatik champagne
Just down the road from Lange lies Nomos, a very different, yet equally German brand. Though they're best known for their distinctive and pure modernist design, recently they've made some seriously impressive developments on the movement front, with their in-house Swing System escapement and slim neomatik calibre. One watch that combines their minimalist style, sense of fun and technical prowess is the Metro neomatik. $5690
Glashütte Original Vintage Sixties Automatic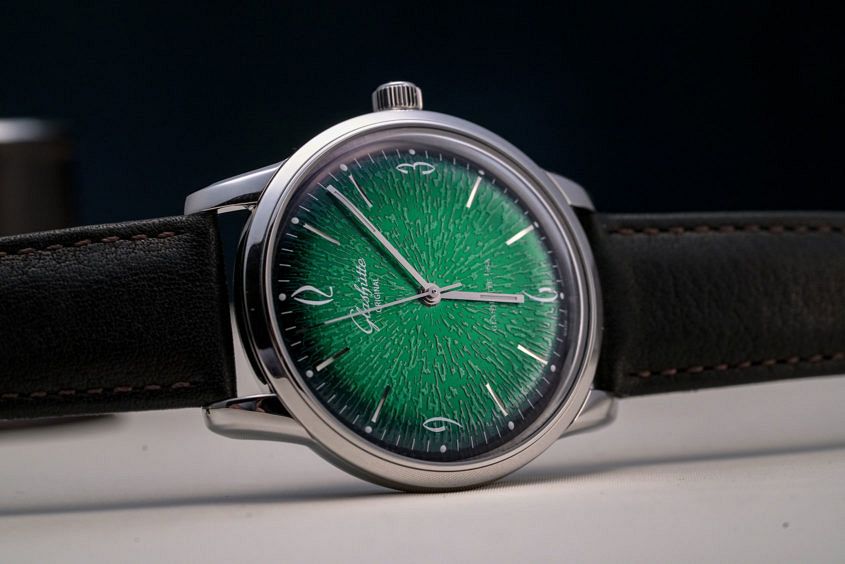 Glashütte Original, as you would expect, also calls the small town of Glashütte home. Like pretty much every other watch brand under the sun, GO has found themselves succumbing to the siren call of the heritage reissue, and their funky Vintage Sixties line is a good, dressy example of the genre. This green-dialled version, released earlier this year, takes it to another level, thanks to that vivid, textured dial. $9650
Muhle Glashütte Panova Blue
Muhle Glashütte (yep, it's that town again) are known for their 'nautische instrumente' — that's nautical instruments to you and me. But they're not all about the serious and sober divers. There's some decidedly summer-friendly wristwear in the mix too, like this Panova Blue, a no-fuss 40mm, Sellita-powered number with a clean dial that packs a lot of punch for not too much cash. $1550
Archimede Pilot Chronograph
Fun fact: an Archimede pilot's watch was the first mechanical watch I ever bought, so I'll always have a soft spot for the Pforzheim-based brand. And while they do other things, there's no denying that their specialty is traditional 'Flieger' style pilot's that are perennially popular. And while many brands make this sort of watch, Archimede's high-quality Ickler cases, and strong value offerings, ensure they hold their own. Offered in a range of case materials, dial configurations and complications, it's hard to argue with classic chronograph. 1640 euro
Dornblüth & Sohn 99.9 Power Reserve Steel Limited Edition
As the name would suggest, Dornblüth & Sohn is a family affair — making marine chronometer-style watches the old-fashioned way, without the aid of CNC machines. Their ébauches are ETA-based, but basically re-made in-house, and have real character. Stylistically, there isn't too much variance: you might get a regulator dial or an oversized sub second, but on the whole they're very traditional. We say "on the whole" because then we saw this watch, a limited edition for Australian retailer Define, with a surprisingly modern-style linear power reserve in bright red, to go with the 12. Unexpected, but we're into it. $14,300