From Zlatan Ibrahimovic to Mark Wahlberg: 8 celebs wearing the hell out of a Rolex Rainbow Daytona
Mike Christensen
Bit of an odd question but can anyone work out the relevance of the March 23, 2018? In a pretty baller move, on that day the football deity that is Zlatan Ibrahimovic was busy buying full-page ads in the Los Angeles Times to announce his signing for Major League Soccer's LA Galaxy. The ad that read, "Dear Los Angeles, you're welcome" made headlines in some parts of the world and I recall this as my best friend is a Man United fan and was sad to see the big man (and bigger ego) leave.
Zlatan won't like this but I'm going to stick my neck out (Zlatan is renowned for having a huge neck) and claim that I spent that particular day doing more baller things than him. Indeed, I was frantically slapping as many watches on my wrist while I made my jolly way around the galleries of Baselworld.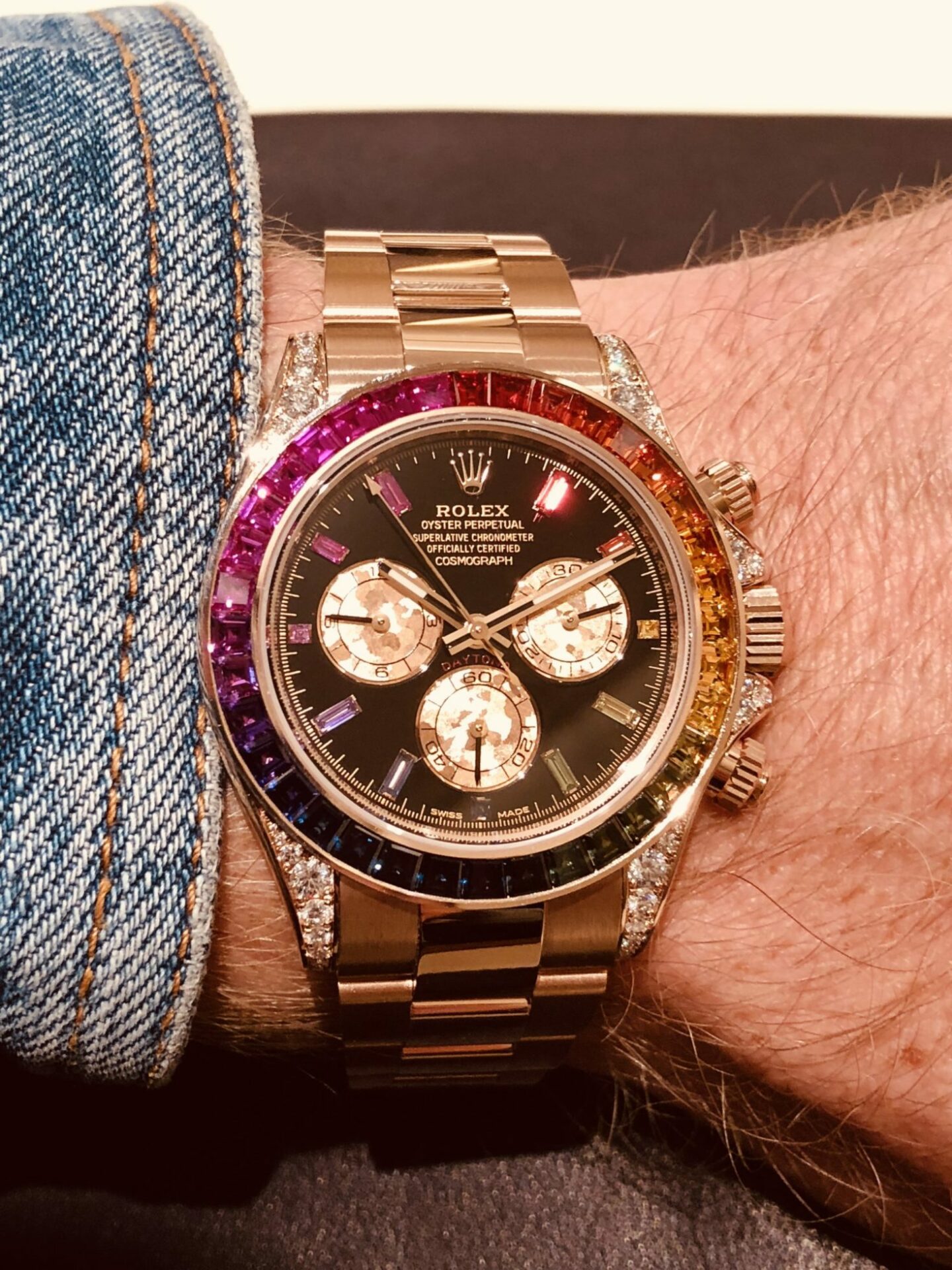 Where am I going with this? Well, while Ibrahimovic was dreaming up ways to introduce himself with his new fans, I was one of the first people in the world to put a particular watch on my wrist that – no disrespect to LA Galaxy – made considerably more headlines and left more fans' heads turning. Don't get me wrong, Zlatan has fans, but few fanbases are more fanatical than… Rolex's. Yes, I had the pleasure of being somewhat taken aback by the Rolex Rainbow Daytona. And what was Zlatan Ibrahimovic spotted wearing on his wrist this week as he posed with the world's most famous vegan and anti vaxxer, Novak Djokovic? You guessed it, a Rolex Rainbow Daytona.
I distinctly remember the gasps around the room when the watch – a version of which was first released in very low quantities in 2012 – was presented to a roomful of blood-thirsty watch journos. Given my penchant for floral and colourful-patterned shirts, I was immediately a fan but objectively for the Daytona, arguably the most sought-after chronograph out there, the way the Everose gold complemented the 36 baguette-set sapphires in the bezel, the 56 diamonds set into the case and lugs not to mention the coloured sapphire indexes, it was clearly going to bring rather a lot of the admirers and garner some serious attention and hype.
We'll assume Ibrahimovic wasn't aware of sharing the limelight with an altogether different jewel in a haystack but now that my beautifully curated segue is over, one thing this watch also brought was celebrity fans in their droves. We don't know when Zlatan – which incidentally translates as "golden" – was duly seduced into owning one but he is in pretty eclectic company. Indeed, he joins a suitably colourful club, with owners of the Rainbow Daytona not lacking any quirks of their own. From the "that's a surprise" to the "of course, he has one", here they are.
Mark Wahlberg
What's a good old-fashioned Catholic boy doing wearing a watch like this? Clutching at straws here but maybe it reminds him of church stained-glass windows? Either way, to many he's a gift from God so it is a very positive testimony of faith.
Virat Kohli
We've always suspected that one of the greatest captains in the beautiful game of cricket is a bit of high roller and our suspicions are validated by this particular member of his watch collection.
Antoine Griezmann
Another footballer, he has an abundance of je ne sais quoi about him but aren't the French known for being particularly daring and exuberant?
Adam Levine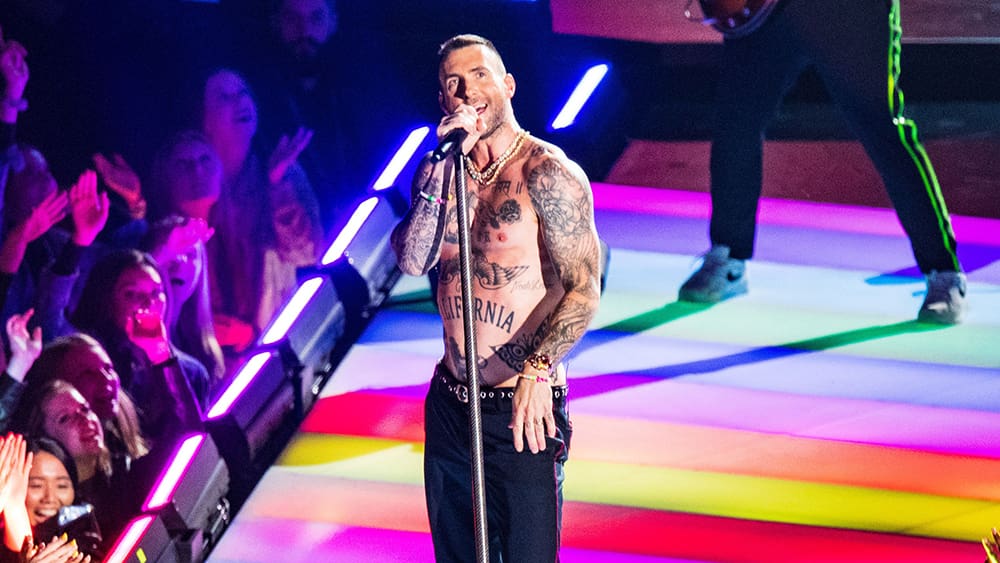 Whatever you think about the Maroon 5 rocker and The Voice judge, he's been voted the "Sexiest Man Alive" before so little wonder he can pull off a watch as attention-grabbing as this.
Stormzy
The first in a trio of musicians big time enough to pull off such a bedazzling sight to behold. The British grime artist has some serious red-carpet presence and it's amply aided by the Rolex Daytona Ref 116505.
John Mayer
Few surprises here because as far as I can tell, Mayer owns (or has owned) every single watch that's ever existed. I joke, but he is widely considered to be the first big celeb to open up about his obsession with watches, his collection deemed one of the most enviable in the world.
Post Malone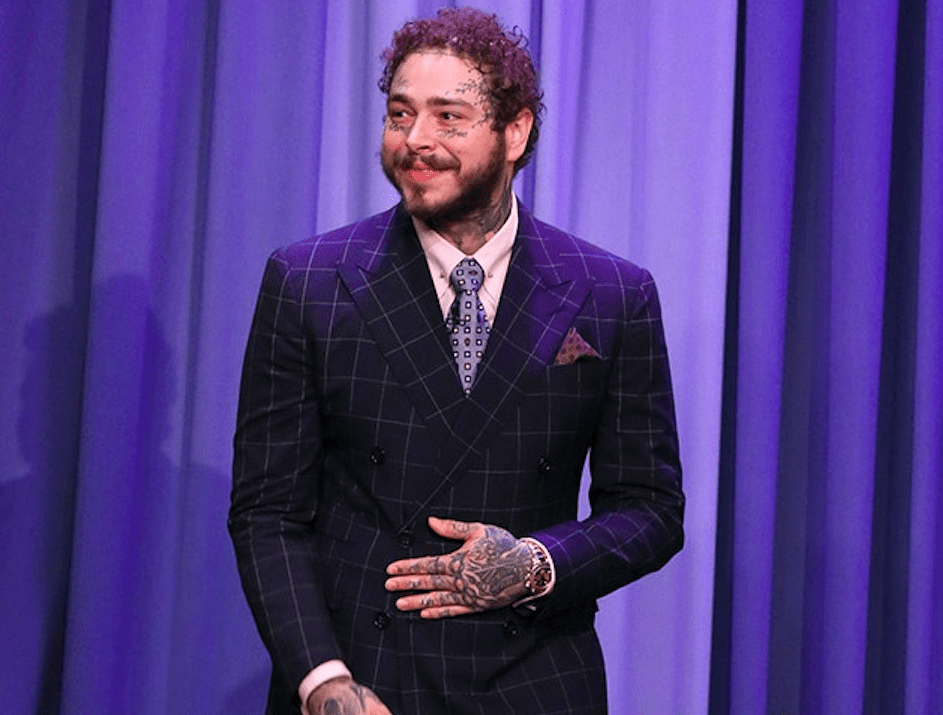 There is simply nothing plain Jane about this rapper, his style being one of the fruitiest in the entertainment industry. So what else could suit such a wardrobe more aptly than a Rainbow Daytona?