Editor's note: Seiko is a brand with a pretty incredible history. And a lot of this history goes under the radar, to be honest. Which is why, when Sandra visited Tokyo last year we strongly suggested she make a detour to Seiko's Museum. Here's what she learned …
If you're ever in Tokyo, I strongly recommend making time for a detour to Sumida. Where? A residential area north of Tokyo Skytree – a bit of a backwater, to be honest. Why? For the Seiko Museum. Even if you're not particularly a Seiko fan, it's full of horological discoveries. And if you weren't a Seiko fan before, you probably will be afterwards. Here are just a few of the many reasons why:
The name
Seiko's founder, Kintaro Hattori, started his business in 1881; about a decade later, he opened his own factory – naming it Seikosha. The museum guide told me that Seiko is the Japanese word for "precise".
Wadokei – seasonal clocks
Until 1872, timekeeping was based on seasonal variations, rather than the "fixed hours system" we are familiar with – where the length of a day is divided into equal portions, or hours. The "seasonal time system" used in Japan until the late 19th century, divided one day into daylight and night, then partitioned each into six parts. As the length of light relative to night changes from season to season, a daytime hour in summer would be longer than a daytime hour in winter. Consequently, clocks had to be adjusted continuously to stay in sync with the daylight hours throughout the year. Japanese clockmakers developed a unique type of mechanical movement to achieve this. Such traditional clocks – called Wadokei, and used for more than 200 years – are now extremely rare. The museum holds several examples. And if a modern watchmaker wanted to come up with a really cool complication … well, here's one to try.
So many 'firsts'
Given how thoroughly Switzerland has dominated watch-thinking for well over a century, it's easy to ignore the pioneering achievements of other countries. Most of us know that Seiko produced the world's first quartz wristwatch – the Quartz-Astron 35SQ – in December 1969 (and because it was so advanced, so incredibly special, it was given a gold case). But there have been so many other Seiko firsts. Just a few:
1959, the 'Magic Lever', a totally new self-winding mechanism. Now known generically as the Pallet Lever Mechanism, it replaced the more complex and less efficient Planetary Gear Mechanism
1973, world's first six-digit (hour-minute-second) LCD watch
1982, first LCD TV watch
1999, Spring Drive
2006, Spectrum – first electronic paper watch
The 'Five' — outselling the Swiss before quartz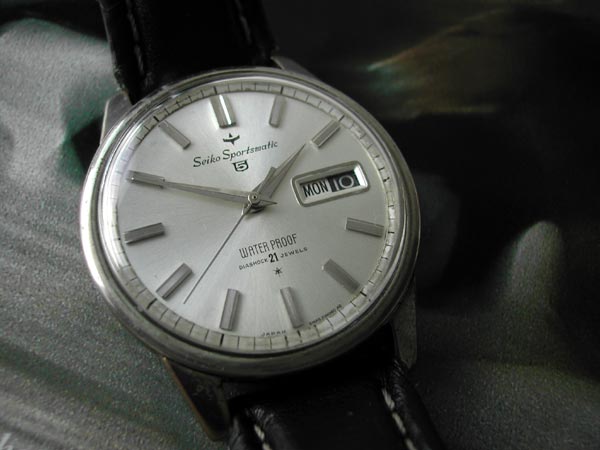 Seiko released the Seiko Sportsmatic 5 (the "Five") in 1963. Its novel, rational design and practical functions (day-date, self-winding, water-resistance) made it an almost instant best-seller. The following year, Seiko's status as Official Timekeeper for the Tokyo Olympics raised its international profile – and with it, demand for the Five. In 1966 the number of Seiko Fives exported from Japan reportedly exceeded the total number of self-winding watches produced in all of Switzerland.
Early TV stardom
The first television advertisement ever broadcast in Japan, in 1953, was for Seiko's Comet Flower Clock
Accidental art
In the fire that followed the Great Kantō Earthquake of 1923, a pile of Seiko pocket watches awaiting service was melted into a molten glob by the extreme heat. Looking like an abstract sculpture – with a strong air of Dalí surrealism – it's now on show in the museum.
Olympic Timing
Being named Official Timekeeper for the 1964 Tokyo Summer Olympics pushed Seiko to develop many innovative products (and led, eventually, to the world's first quartz watch, the Astron). Among the 36 timing models it developed, and 1278 instruments it produced was the world's first touch-pad timer for swimming. The pad disregards water pressure and wave splashes but reliably senses the swimmer's touch. The hand-to-pad touch is instantly converted into an electrical signal and relayed to the digital display. This device is still used in major swimming competitions today.