7 exceptional watches at the next Sotheby's Australia auction
Nick Kenyon
Last time I covered a Sotheby's Australia auction, it was my first time attending a watch auction, and while there were a number of highlights, the sale was heavily weighted towards jewellery. In December, however, Hamish Sharma, the Head of Jewels at Sotheby's Australia, and his hardworking team have produced a sale that not only has more watches but includes a number of very rare pieces that may have never hit the public market in Australia before. A standout among the highlights is the sale of a yellow gold Omega Speedmaster Apollo XI from 1969 ref. 145.022-69, which is an exceptional watch in its own right, but made even more special by the fact it is being sold on the 50th anniversary of man landing on the moon.
I spoke to Hamish Sharma about how the sale was coming together, and he was delighted with its "phenomenal" offerings. "We put the catalogue online last week, and have been inundated with condition reports ever since," he said. "Everyone is excited, and we have received a lot of support from sellers who are offering some very nice pieces."
While discussing the gold Omega Flightmaster and Speedmaster, he was able to say that both pieces were offered from the same consignor, the daughter of the original owner who purchased the watches in 1972 and '71 respectively. "They don't have a lot of wear on them, they have been extremely well looked after and are both in really excellent condition." This certainly shouldn't hurt their likelihood of getting paddles in the air next week. Here are my seven favourite watches that are set to hit the block this week in Sydney, on the 4th of December.
Lot #181: Omega Speedmaster Apollo XI 1969 ref 145022 69. A fine and rare 18ct gold chronograph wristwatch with bracelet, circa 1969.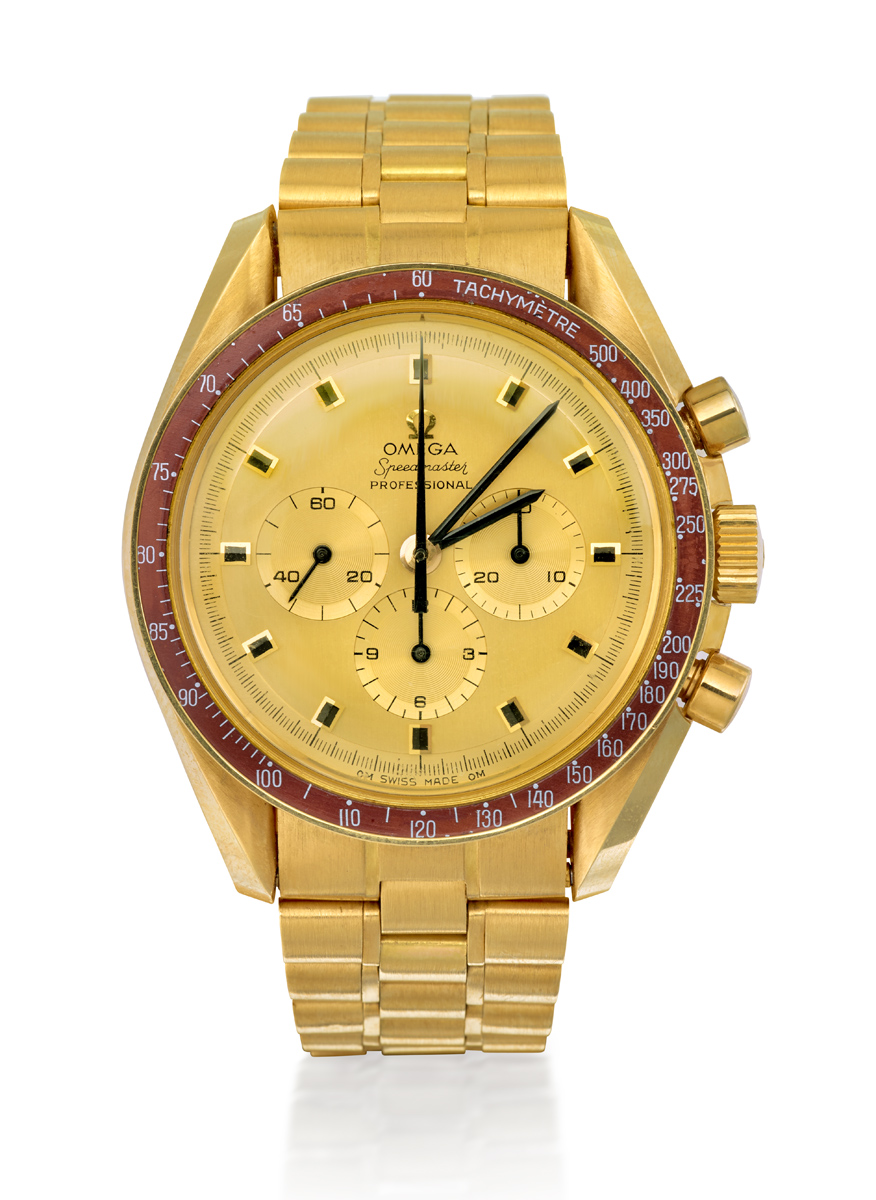 Certainly one of the most desirable references of Omega Speedmaster ever produced, the ref. 145.022-69 in solid yellow gold is a rare bird. If this example, or this example sold this year by Sotheby's (the international organisation) at their "Omega Speedmaster: To the Moon and Back | Celebrating 50 years since Apollo 11" auction are anything to go by, the current estimate of $30,000-$50,000 is looking like a bargain. See the full lot details here.
Lot #180: Omega Flightmaster ref 345 801. A large and rare 18ct gold two time zone chronograph wristwatch with registers and bracelet, circa 1971.
If you see someone wearing an Omega Flightmaster on their wrist, you can safely assume they know exactly what they are wearing. A watch that perhaps deserves the title of the ultimate "tool watch" from Omega, it offers not only a chronograph, second time zone, and movable bezel, but this particular example is an intoxicating dichotomy of form and function thanks to its robust potential being expressed in precious metal. Lot estimate: $20,000-$30,000. See the full lot details here.
Lot #168: Rolex GMT-Master II ref 16760. A stainless steel dual time zone wristwatch, circa 1986.
In a world where the entire watch-loving world is in love with Pepsi, a Coke is a refreshing sight to see. Discontinued in 1988, this GMT-Master II is everything you want in a steel Rolex, measuring 40mm in diameter, with a slimmer case profile than the modern Professional range. Lot estimate: $7000-$9000. See the full lot details here.
Lot #173: Heuer Autavia GMT ref 2446C. A stainless steel dual time chronograph wristwatch, circa 1970.
Another dual-time chronograph on offer, but this time from the Heuer manufacturer. With their sights set on mastering the timekeeping of motorsport rather than aviation, Heuer produced this vibrantly coloured wristwatch for the gentleman driver who always carries his passport — just in case. Lot estimate: $8000-$12,000. See the full lot details here.
Lot #170: Rolex Explorer II ref 16570. A stainless steel automatic dual time zone wristwatch with date and bracelet, circa 1994.
The classic polar dial Rolex Explorer II, this 39mm example comes with its Rolex booklet and pouch. Lot estimate: $4000-$6000. See the full lot details here.
Lot #174: Hublot Big Bang ref 341PE230. A pink gold and titanium automatic chronograph wristwatch with date, sold 2018.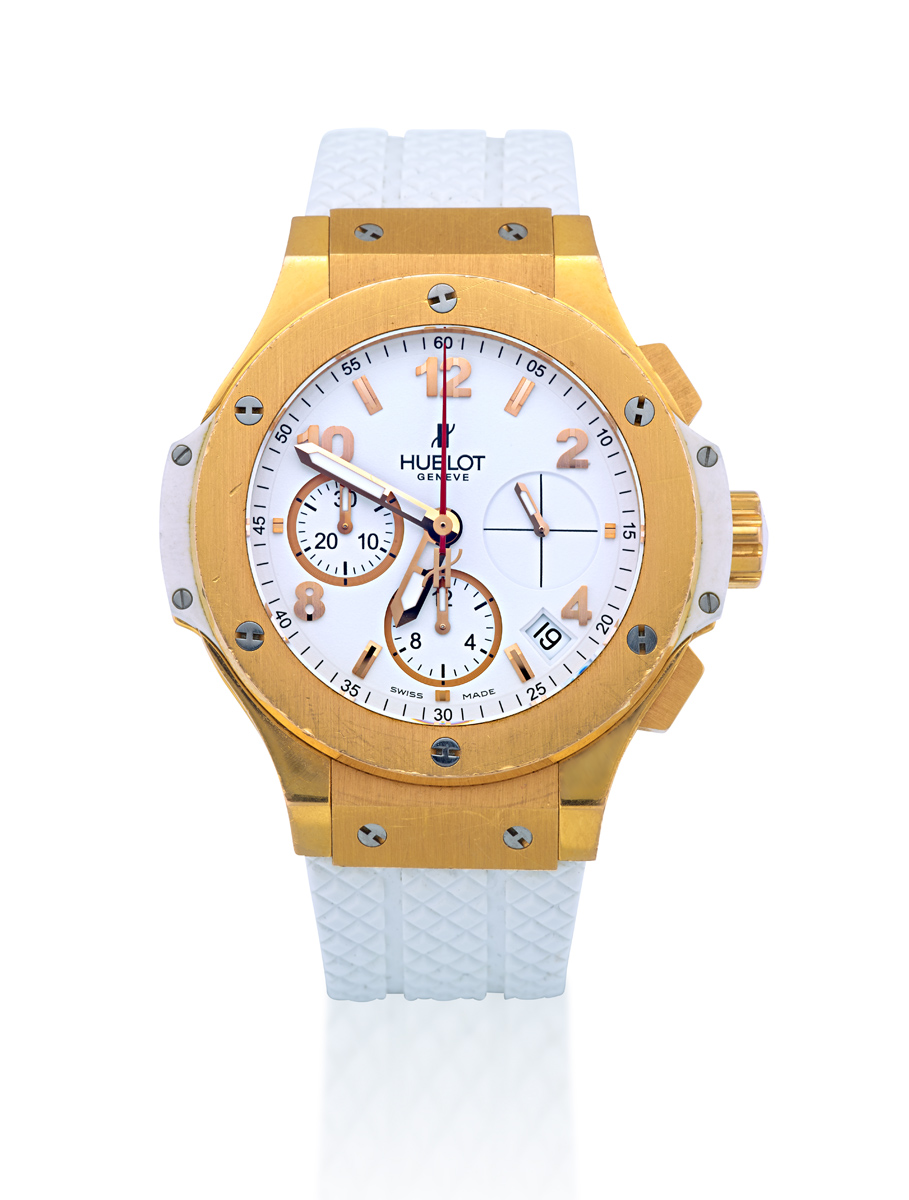 This Hublot Big Bang in pink gold and titanium is one of the newest pieces set to hit the block, having  left the retailer's doors just over a year ago. The white-on-white chronograph dial matches the rubber strap nicely, and contrasts strongly against the coloured metal case, making a convincing argument for an excellent summer watch. Lot estimate: $6000-$9000. See the full lot details here.
Lot #161: Jaeger-LeCoultre ref 6128 21. An 18ct gold wristwatch, circa 1980.
Last on the list, but certainly not least, is a watch that could end up as the best value in the catalogue. With an inky midnight blue dial that offers the perfect backdrop for the yellow gold dauphine hands, this manually wound rectangular piece from Jaeger-LeCoultre is a study in understated sophistication. Lot estimate: $1200-$1600. See the full lot details here.