A brief history of luminous watch dials
Murphy's Law states, "A man with one watch knows what time it is. A man with two watches is never sure." In watch collecting circles this is invariably true, but the number of watches in a collection is likely proportionate to the mania of the addiction, rather than proportionate to how punctual the collector might be.
It also seems to be true that you need to know what time it is most urgently when you don't have a clock nearby. This seems to happen generally at night, when you wake in a panic, disoriented and wondering how long till you need to get up for work, and you can't see your alarm clock for the simple reason you only uncover it once you turn on the light. I like to think this was the problem the Swiss boffins were trying to solve when they started producing watches with luminescent dials, tired of the drowsy confusion in the middle of the night and determined to bring clarity to this midnight mire.
In reality, it was driven by the need for soldiers in WWI to have watches that were easy to read in low light. Initially, the chosen method for making it possible to read a watch dial in the dark was the highly toxic material of radium, applied by women working in factories. To have a brush fine enough to paint the markers, the women would lick the brush to a point, ingesting paint in the process they were told by the company was totally safe. When the women started developing anaemia and necrosis in the jaw due to radiation poisoning, litigation was brought against their employer, and the use of radium was slowly phased out.
Replacements for radium included tritium (a radioactive substance that is significantly less dangerous), photoluminescent materials such as Super-LumiNova (used by brands such as Seiko and Rolex), and even electroluminescence used by Timex in their Indiglo dials. Here at Time+Tide we are very fond of a number of luminescent dials, so here's a wrap-up of some of the best lume dial watches on the market.
Ball Engineer II Genesis

The Engineer II Genesis hit the market in 2016 with a goal to bring a more entry-level offering to the market that still boasted the brand's well-executed finishing and heavy-handed use of tritium lume. This watch is available in both 40 and 43mm case sizes (at the same price), and is available with either a black or blue dial on your choice of calf leather or steel bracelet.
Nodus Avalon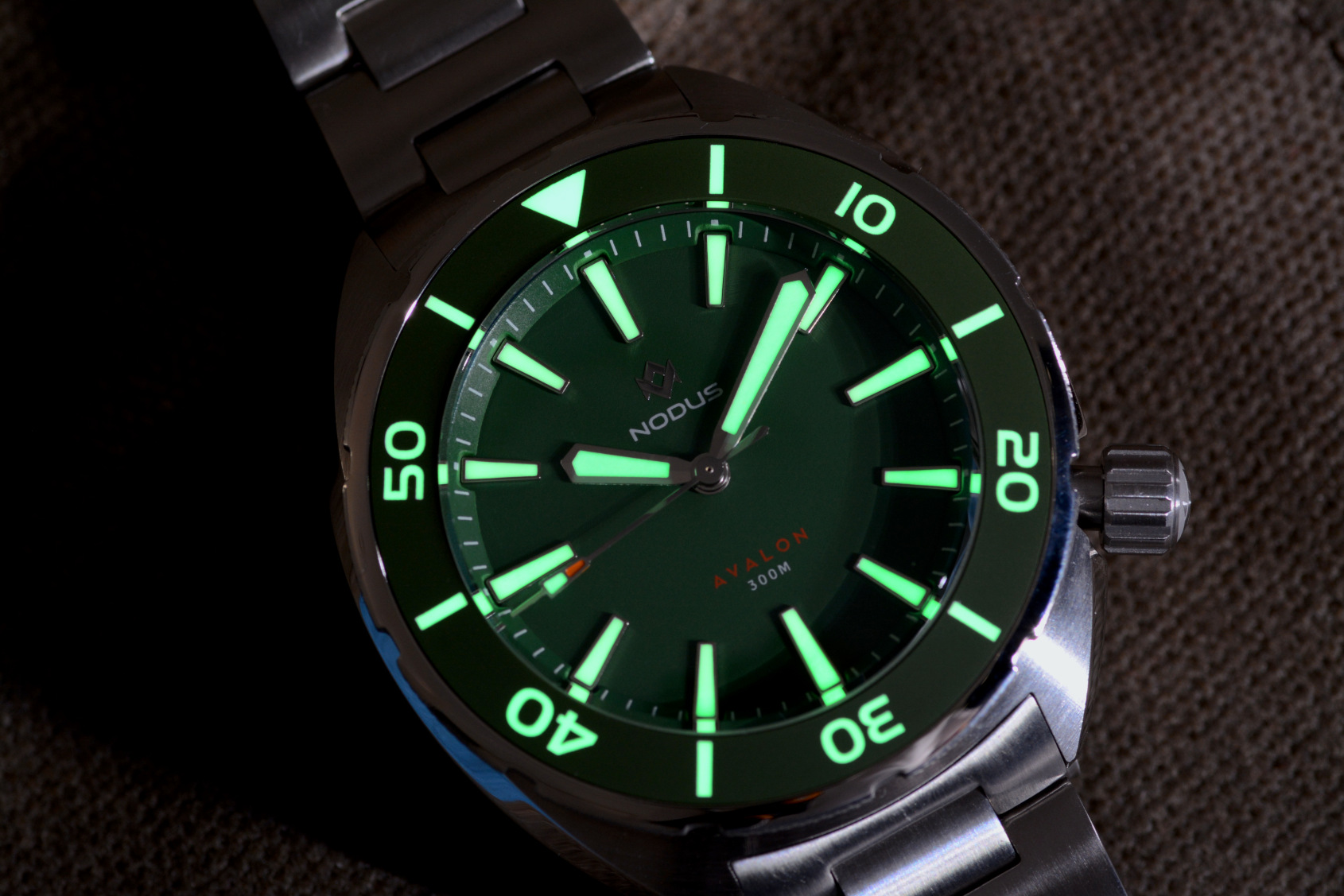 A new offering this year from the microbrand Nodus, their Avalon dive watch is rated to 300m water resistance, and has a healthy splash of Super-LumiNova across the dial and ceramic bezel. It isn't a small watch, machined from a single piece of 316L steel and measuring in at 43.5mm wide, but if you're looking for a solid watch at a great price, it's definitely worth considering.
Sarpaneva Korona K0 Northern Lights
An offering from independent Finnish brand Sarpaneva, this has to be one of the most liberal applications of lume we have ever seen. Stepan Sarpaneva teamed up with James Thompson from Black Badger for the project, and we have to say it's pretty impressive.
A. Lange & Söhne Grand Lange 1 Moon Phase "Lumen"
While comparatively restrained in its execution than some other luminous watches, this Lange 1 makes up for it in just how technical the manufacturing process is. The luminous moonphase is made by laser cutting 1164 stars and the moon into a glass disc, which is then laid on top of another disc coated in luminous material, which shines through the laser cuts. Pretty crazy stuff.
Nomos Autobahn
Featuring time, small-seconds, and date, the Nomos Autobahn has a distinctly automotive feel with a strip of Super-LumiNova in the shape of a car speedometer. The entire hour hand is also coated in the luminous paint, giving the look of a needle creeping across the gauge over time.
TAG Heuer F1 Grande Date Lume Dial
During the day, this TAG Heuer F1 Grande Date stays pretty under the radar with a contrasting black and white dial and bezel. At night, it's a totally different story. This has to be one of the brightest dials out there, with icy blue lume on the dial, and the hands coated in a slightly greener luminous paint for easier reading.