Watches are fantastic birthday presents. They couldn't really be any more fitting: A gift that tracks the passing of time to commemorate the time past. There is a poetic symmetry to it, and it's no surprise that a huge amount of watches – especially those deemed 'fashion' watches – are purchased as gifts year on year. With that in mind, we've decided to put together a list of great milestone watches to buy someone as they reach special milestones in their life.
Milestone 1 – the 21st Birthday watch
You're just starting out. Maybe your parents want to get you something to say well done for passing your degree, or maybe they're just so overjoyed that you won't be coming back to the nest, and they're happy to splash a bit of cash on a new timepiece to ensure you don't get fired for being late. As an up-and-coming kid eager to be taken seriously, this is a choice with deep ramifications …

For a young man in this situation, I would advise keeping it simple. Something that is stylistically robust, and not too off the beaten track makes sense. An Omega Aqua Terra 150m 41mm ought to do the trick. In a beguiling ocean blue, this watch is a nice balance between professional and fun. It has all the technical specs to impress the new boss, without being too brash a choice.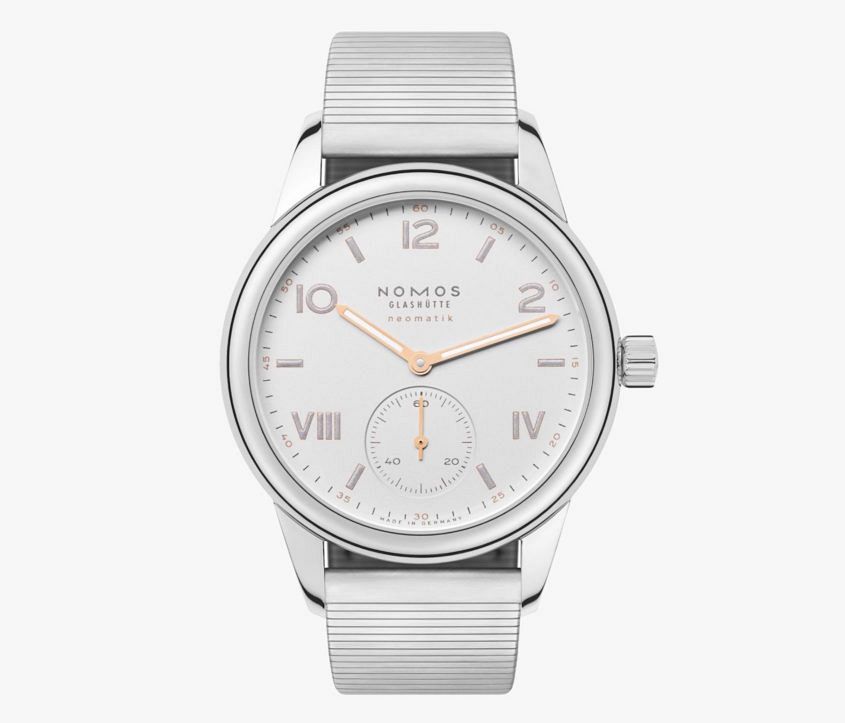 For young women, German brand Nomos Glashütte have recently released an update to the Club Campus range, which was originally aimed at graduates. The newest models feature the slim-link bracelet (a first for the brand), and a super slim automatic movement. The in-house DUW 3001 calibre is the perfect fit for the 37mm variety, which has a stainless steel case and elegant grey/rose gold hands and markers. The perfect accompaniment to a young professional stepping out into the world of work.
Milestone 2 – the 40th Birthday watch
Ah, welcome to middle age. On the plus side, you're still alive, but you're likely slap-bang in the middle of your career, juggling all the responsibilities you wish you were still as blissfully unaware of as you were in your 20s. But, on the plus side, your significant other has just handed you a watch box wrapped in shiny paper. What on earth could it be?
The choice for him at this stage is relatively easy. It's got to be a luxury sports watch, and almost certainly on a steel bracelet. But instead of telling you to buy him another Omega, or Rolex, or TAG Heuer (like all of his friends at the golf club wear), I've got a doozy up my sleeve. For this birthday, get him a Zenith Chronomaster El Primero. The El Primero is one of the highest regarded movements in the history of watchmaking. It has been used by loads of watch brands over history, but getting it in Zenith is the purest way to experience it.
I hope you've been saving your cents, because this one could sting quite a bit. Oftentimes, women's watchmaking relies upon the beautification of an existing man's watch. This is doubly annoying because not only is it quite archaic and insulting (designing women's watches for the men who will presumably be buying them for their wives or girlfriends), it also means designers are often missing the opportunity to create interesting complications specifically for women's watches. And it's okay for women's watches to have jewels on them. Just as long as the watches are consciously designed for the end user and not a shoddy regurgitation covered in sparkle to make up for the actual lack of effort that went into their conception. If you want a real work of art, try the Van Cleef & Arpels Pont des Amoureux on for size.
Milestone 3 – 65th Birthday watch
Okay, thank God, you made it. You can relax. No more work for you (pending the policies of your national government). It's time to retire and put your feet up, or perhaps the very opposite. After a lifetime of hard work, maybe you want to throw caution to the wind and travel the world! Let's assume a bit of both …

The men's selection here is a Bauhaus-inspired Nomos Glashütte Tangente Sport on the fancy new bracelet released just recently at Baselworld 2019 (very similar to the slimmer-linked version that dropped on the latest Club neomatik range). The Tangente Sport is large, robust, able to withstand a few knocks, but is, crucially, supremely legible (especially the white dial version). The wide face, sharp font, and relatively enormous date window makes reading this in-house German timepiece a doddle.

For the globetrotting grandma, I've got something very special up my sleeve. The Patek Philippe 7130R World Time is a rose gold-cased, diamond-bezelled masterpiece from possibly the most respected brand in the world. It's also the perfect (if somewhat bank-breaking) way to show how much you appreciate and respect what someone has put into their working career. If getting this on your wrist was your reward, I'm sure few would argue it wasn't worth it!