5 watch brands that know how to have a bit of fun
D.C. Hannay
"The chief enemy of creativity is good sense." – Pablo Picasso
I'm just gonna say it, watch collecting can be far too serious. Too often, collectors get caught up in what they've conditioned themselves to believe, that only the utmost examples of horological taste and restraint are worthy of collecting. And while it's true that the perfect Tank or a pristine linen-dialled Datejust are wonderful things, sometimes we could all stand to loosen up and live a little. In that spirit, here are five examples of watches that know how to cut loose, footloose.
Studio Underd0g
Britain's Studio Underd0g has been a darling of the microbrand realm since they burst onto the scene with their playful, colour-soaked take on the mechanical chronograph. The dials are the main attractions here, taking their inspiration from the hues of, among other things, fruits and veg. Strawberries and cream, watermelon, and even a pumpkin variant (an edition of two, with one going to charity) have all been sell-outs, and the brand's momentum shows no signs of abating. There was even a purple and green model with a dial made from actual eggplant skins, so founder Richard Benc certainly knows how to have fun. The watches themselves share a common architecture, with a 38.5mm stainless-steel case, a visible hand-wound Seagull ST-1901 chrono movement (based on the classic Venus 175), and a double-domed sapphire crystal, all for a reasonable £500 retail. In a bit of good news for fans who missed the boat on earlier releases, the Watermel0n and several other models are restocking soon, so keep your eyes, uh, peeled.
Seiko 5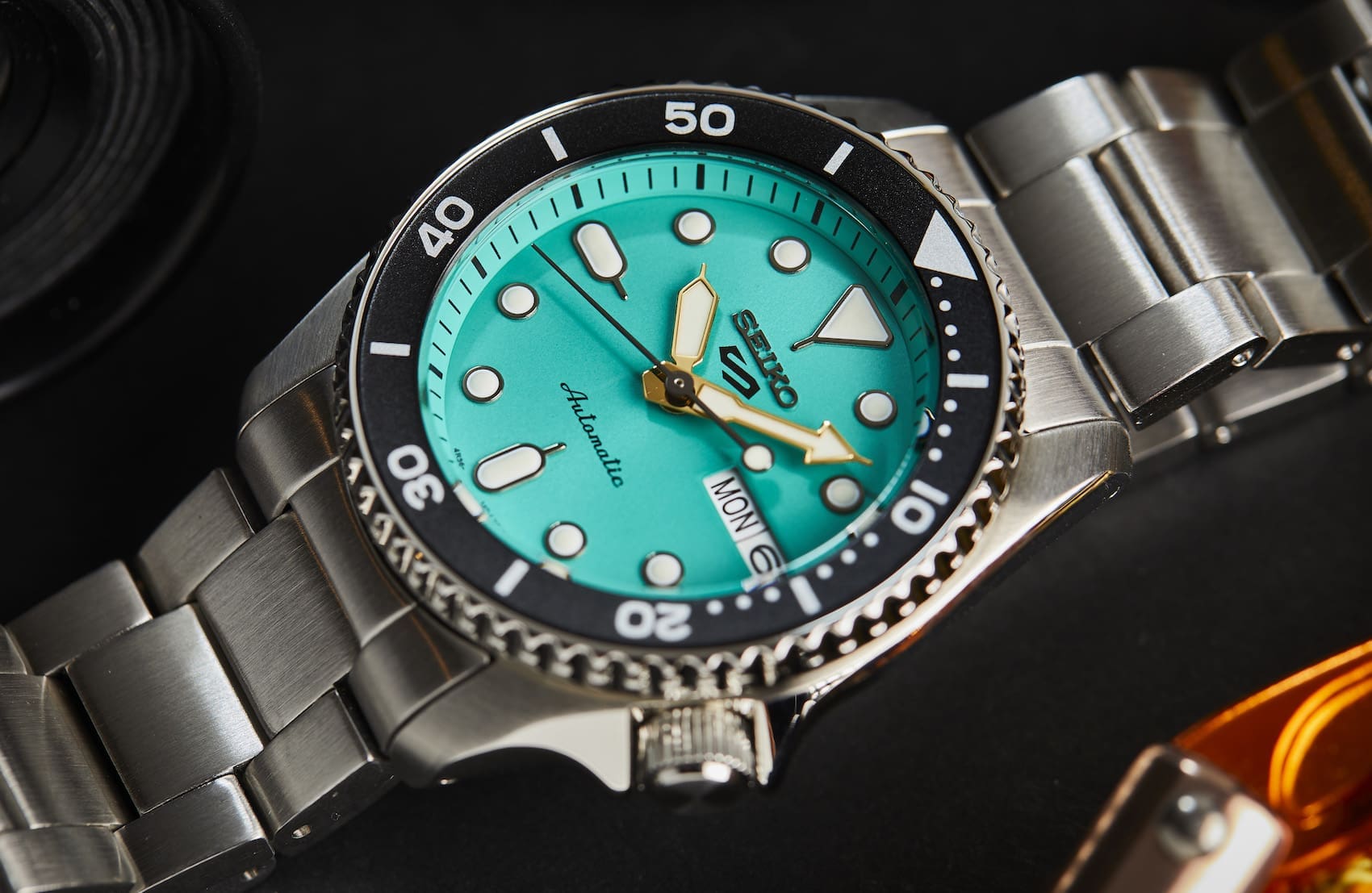 The new line-up of Seiko 5 Sports Style models certainly have their share of playful designs, including limited editions that pay tribute to the Street Fighter franchise, Ultraman, and even the iconic Honda Super Cub motorbike. But that doesn't mean that Seiko is afraid to have fun with their standard line-up, as evidenced by the recently released 38mm versions. Besides the more conservative black and champagne dial versions, Seiko's brought out a couple of dial variants in brilliant throwback tones, including a bright sunray orange, and a vibrant teal that winks at Audrey Hepburn's favourite colour. Orange-dialled Seiko dive watches are a classic look, and the newly downsized SKX-look Sports Style is right at home in the sun-drenched hue. However, I suspect the teal version is going to be the runaway hit of the new 38mm models, and this colour is a direct lift from some seldom-seen Seiko divers from the '80s. Whichever you choose, they're both far less serious than the typical black-dialled dive style watch, and the Seiko 5 Sports Style is a great everyday all-rounder.
Gorilla
Now this is a brand that knows exactly who they are, and have established an unmistakable design language in their relatively short history. Gorilla was started by, rather surprisingly, two designers from Audemars Piguet, and their race-inspired visual aesthetic couldn't be more of a 180 from AP's. These square-cased timepieces feature names like Fastback and Hugger that evoke the days of classic muscle cars, but there are some surprises under the hood. The cases feature a layered construction, utilising materials like woven carbon fibre, coloured ceramic, anodised aluminium, and DLC stainless steel, flowing aerodynamically into the contours of their perforated rubber composite straps. Movements are typically automatic 9000-series Miyotas, but Gorilla has introduced mechanical chronos and wandering hours versions in subsequent models. But the colour choices are where the brand really shines. Everything from sky blue and orange combos that recall the classic Gulf Racing livery, to startling juxtapositions like the British Racing Green and orange Espionage model. Yes, they're big, at 44mm in diameter, with a lug-to-lug of 57mm, but these are not timepieces for wallflowers. However, if the standard Gorilla case size is too much for your wrist, they've released a new Fastback Touring series with a more manageable 39mm case size.
Mr. Jones Watches
Much like Willy Wonka, Mr. Jones as a brand could aptly be described as whimsical, with a subversive edge. When you first see one of their quirky timepieces, you may be thinking, "Uh, okay, so what time is it?". And that's exactly the point. Well-priced little objets d'art for the wrist that don't obviously shout the time, but encourage you to linger on the art itself. Yes, you can read the time, usually in a unique, roundabout way, but the joy of Mr. Jones' ever-evolving line-up requires you to throw away preconceptions of what a watch "should" be, and celebrate being in the moment. There's aesthetic beauty, a bit of lunacy, and even some deep philosophical moments happening on these dials, including their latest (now sold out) limited edition, the cheeky Berry Late!. It's worth perusing the website, however, because there's sure to be a style to suit your fancy. The watches themselves come in a range of sizes and offer mechanical or quartz movements, but the dials are the real stars here.
Autodromo
Lastly, there's this totally rad piece from Bradley Price's Autodromo. Price has leaned hard into automotive-inspired timepieces that take their cues from the golden age of racing, and for their first digital model, the Group C, it's like the '80s never died. Available in four variants, the boldest of them all is this screamer done up in a unique bright yellow Cerakote finish. And it's fully race-ready, too, with both chronograph and split time modes, plus a slab-sided stainless case, sapphire crystal, a reverse LCD display, and black FKM rubber strap. It looks fast standing still, and you can always count on Autodromo to bring a sense of speedy fun to their unorthodox designs.