From hooker heists to drive-by thefts: 5 types of watch robbery and how to protect yourself
Luke Benedictus
It's one of the most lamentable watch trends of the moment. No, I'm not talking about purple dials, but the horrific rise in watch robberies. There's no doubt that consumers are more knowledgeable about their watch's value than ever before. Sadly, that also means that criminals are becoming equally savvy, too.
Watch theft has become an international epidemic.  Last week, the San Francisco Police Department issued a warning to the public stating that thieves were targeting individuals wearing luxury watches after more than two dozen recent thefts. In Paris, luxury watch thefts have increased by 31% since the beginning of 2022, according to figures published by the Journal du Dimanche. Meanwhile Catalan authorities have formed a dedicated unit to investigate watch theft after watches began to account for a growing proportion of violent robberies in Barcelona.
All up, it's a pretty gloomy picture. But forewarned is forearmed. Here's what you can learn from some of the recent watch robberies to avoid getting forcibly separated from your watch.
Drive-by robberies are rising
In London, the Daily Mail reported that machete-wielding thieves on mopeds and e-bikes struck 109 times in two months this year, stealing watches straight off people's wrists. If you're walking down the street there's not a huge amount you can do to protect yourself from such robberies, rather than avoid wearing your pricier watch when you're out and about. But the same isn't true if you're in the car.
In February, a man in Salamanca, Spain, reported the theft of a watch worth €40,000. While he was inside his car at the traffic lights, a motorcycle pulled up next to him and the driver grabbed his arm and tore off his watch. Within a month, the police caught the thief after he collided with a scooter on the pavement, after snatching an €80,000 Patek Philippe watch from another man he had pulled from his vehicle.
The takehome: If you're in your car wearing an expensive watch the precaution here is clear. Keep your windows shut and your doors locked to guard against criminal opportunists. Bottom line: your watch can only be snatched off your wrist if the thieves can reach your arm.
Maintain control of your personal space
The UK has been rocked by a gang of young East European women known as the Rolex Rippers who target older men in the weathier counties like Dorset, Hampshire, Gloucestershire, Wiltshire, Surrey and Sussex. When they see a potential target leaving a golf course or a fancy supermarket, they approach under the pretence of asking them to do a survey. One will distract the man with some form of physical contact – either leaning in for an embrace or a kiss on the cheek. Meanwhile the accomplice quickly unbuckles the victim's watch from his wrist.
The takehome: Be wary of any stranger who is invading your personal space. Whether someone is asking you for a light for their cigarette or confusing you with this "bizarre dance", misdirection techniques that enable the person to initiate physical contact can be all a pickpocket needs to snatch your watch.
As Nick Kay, a sleight-of-hand magician told T+T in an interview, certain straps are more vulnerable than others. "The sports-style bands that are typically made of rubber or neoprene are a little more difficult," Kay admits. "They have a propensity to snap back when you remove them because they're quite stiff. So you need to be wary of that [as a pickpocket] as the strap can hit the person when you're removing it from their hand."
For Kay, the most inviting target is any leather strap with a buckle. "Anything with a buckle, the moment I lay eyes on it, it's gone. Definitely, those are the easiest ones to take."
Practise crowd control
Years ago, I remember interviewing a British children's TV presenter called Keith Chegwin. "Cheggers" as he was known used to be a roving host for a show called  Multi-Coloured Swap Shop that involved him speaking to the camera from roadshows and festivals when he was surrounded by hoards of screaming children. "I was always bloody getting robbed by the kids," he told me. "I had rings stolen off my fingers and my watches taken off my wrist."
The takehome: Be particularly vigilant when you're in a crowd.  Incidental contact is easier when you're in close proximity to hundreds of other people. F1 driver Lando Norris may have been robbed of his prototype Richard Mille watch worth £40,000 when he returned to the carpark after watching the  Euro 2020 final at Wembley last year. But wearing any flashy watch in a big crowd is always going to be inviting extra risk.
Social media could make you a target
Earlier this year, British boxer Amir Khan had his diamond-encrusted Franck Muller snatched by two men in East London. Earlier that day, Khan had been pictured with a fan while shopping in Oxford Street wearing the conspicuous watch. This has raised suspicions that the muggers may have potentially followed Khan after being alerted to his wristwear.
The takehome: No one deserves to be the victim of a violent robbery. But Khan may have made himself more of a target by his propensity to flaunt his watch purchases on social media. In 2020, he celebrated buying a a £100,000 Richard Mille RM 032 dive watch with a post captioned, "Not everyday I treat myself."  Other watches that he's broadcast on social include his gold Rolex Sky-Dweller and the Rolex Cosmograph Daytona he bought for his one-year-old son's birthday.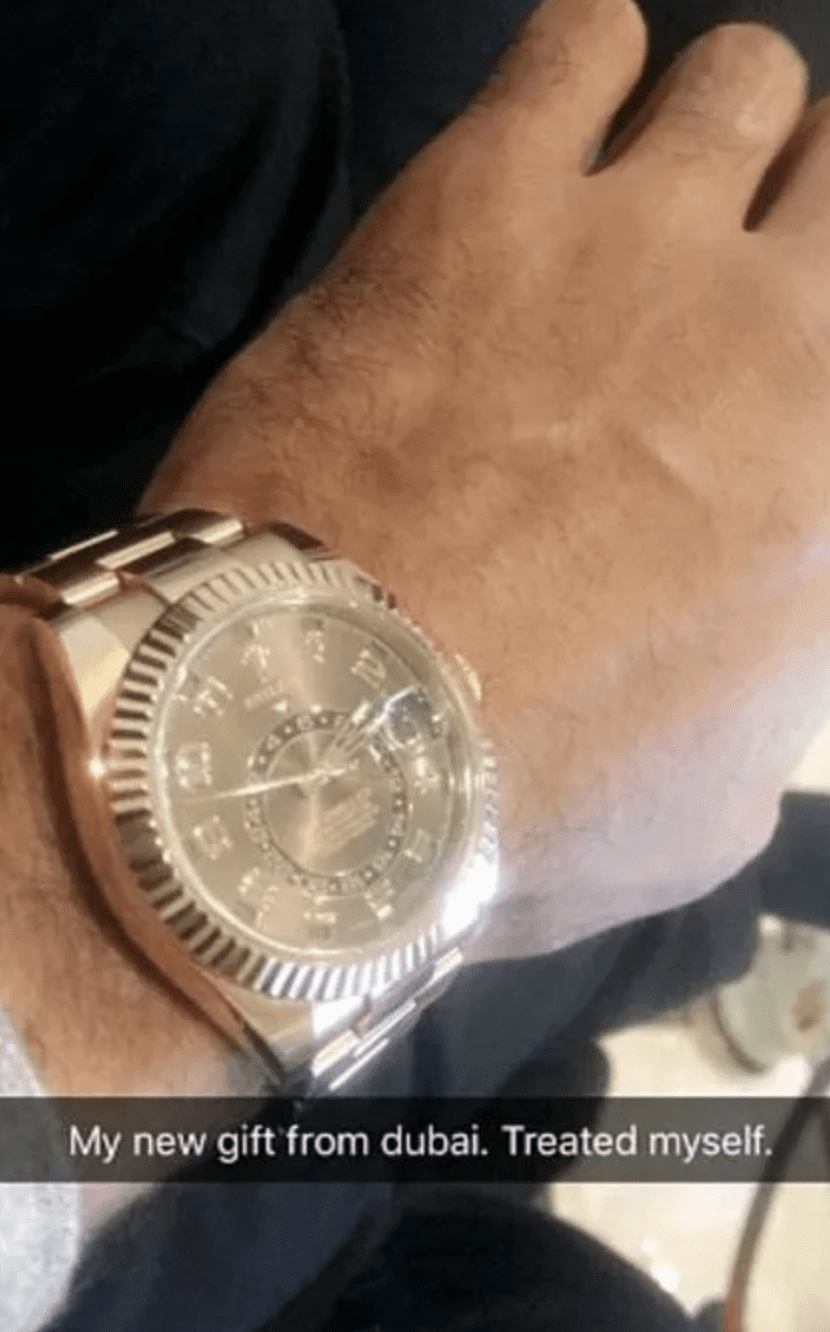 Instagram is obviously a driving force behind modern watch culture, but posting about your fancy watches will inevitably draw more attention to them and potentially alert criminal elements too.
Be careful about ordering "room service"
In 2015, married watch dealer Steven Rostovsky (above) became front-page news in the New York Post after he lost a limited-edition Greubel Forsey Double Tourbillon 30-degree Technique watch worth $590,000 USD after cavorting with two prostitutes in a Midtown hotel. While Rostovsky and one woman romped in the bedroom, the other woman allegedly grabbed his pricey watch and $6000 USD from the safe, where he had stashed the valuables but neglected to lock them up.
Similarly, last year a man lost his Audemars Piguet Royal Oak worth $37,000 after bringing a woman – who police identified as a prostitute – back to his Las Vegas hotel room. The woman in question who had a distinctive lion tattoo on her leg, was also alleged to have struck again, stealing a man's Rolex Daytona in similar circumstances.
The takehome: Maybe think twice about inviting working girls back to your hotel room. Particularly if you're married. Or if you really can't help yourself, lock your watch in the hotel safe.