Oddballs: 5 of the quirkiest watches released in 2019
Time+Tide
While a great many of the best watches unveiled in 2019 were vintage-inspired homages, there were also plenty of timepieces released that were resolutely modern and quite eccentric. And while we'd like to mention all of them, we've narrowed it down to these, the five quirkiest watches released in 2019:
SWATCH FLYMAGIC
The Flymagic is apparently a Swatch. But beyond the branding, the strap-fitting, the box, and the fact it is available in the Swatch shop, it's not very Swatch at all. While it seems at first glance to be surprisingly expensive for a Swatch, the specs stack up. A Nivachron balance spring tops the bill, reputedly reducing the impact of magnetic fields on the watch by a factor of 20. And the mechanical movement has 66 parts. You get what you pay for, after all.
Ref No: YHS100 / Case size: 45mm / Case material: Steel / Movement: Flymagic / Price: CHF 1500
GUCCI GRIP
While Gucci is primarily a fashion label, the brand occasionally produces watches of stylistic note. While this quartz-powered, cushion-shaped timepiece is not going to take home any awards at the GPHG, it is actually pretty interesting. Yes, it looks like bathroom scales, but its digital display, spread across three windows, is neat, novel and easy to read. A splash of vintage flair with a powerhouse name to boot – a frivolous, fashion watch for all.
Ref No: YA157405 / Case size: 35mm / Case material: Steel with Gold PVD / Movement: Quartz / Price: $2565
CASIO MT-G 20TH ANNIVERSARY B1000RB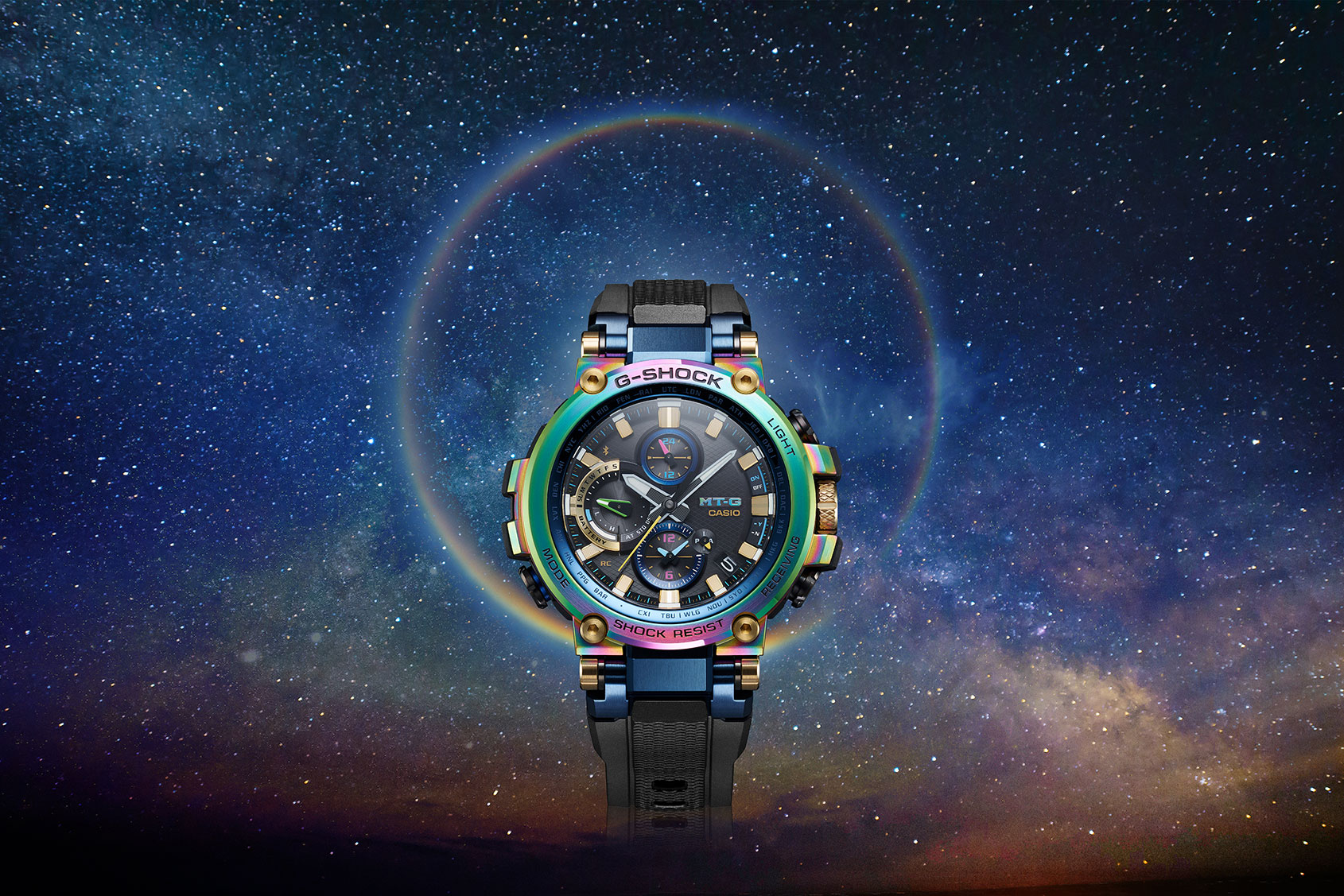 No list of the year's most noteworthy watches would be complete without the cascade of colour that is the Casio MT-G B1000RB. A veritable rainbow explosion, the B1000RB hit Baselworld like a ton of bricks, bowling people over with everything from delight to disgust. It's certainly on the higher-priced side for a Casio, but when you get it on the wrist the dimes and dollars don't seem to matter so much anymore.
Ref No: MTG-B1000RB / Case size: 55.8mm / Case: material Ion-plated Steel / Movement: Tough solar-powered quartz / Price: $1849
SWATCH PIGCASSO 2019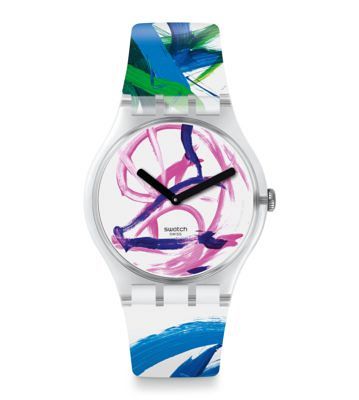 This watch is called the Pigcasso. And no, it's not a slight on Picasso or his works, but rather the name granted to one of the world's most hog-cellent artists to ever dip their snout in paint. Yes, Pigcasso is a pig that paints (with her nose). It makes for very cute and weirdly compulsive viewing and, quite bizarrely, the end result is not half bad. This Swatch is decorated with said artwork, which is included in the package.
Ref No: SUOZ299S / Case size: 41mm / Case material: Plastic / Movement: Quartz / Price: $170
BULOVA COMPUTRON LED
When it debuted earlier in 2019, the Computron heralded a fine return to 1970s form for a brand that made serious hay during that tumultuous decade, having established its popularity during the '60s on the back of the Accutron. A sensible price for a bit of throwback style makes this piece just as relevant as we continue into this model's fifth decade. The black and gold models boast a red display, while the silver option has a cool blue LED screen offering plenty of variety.
Ref No: 97C110 / Case size: 38mm / Case material: Steel / Movement: Quartz / Price: USD$395