Five people who made watches sexy again…
Time+Tide
One of the reasons that watch collecting is so fascinating is its thematic diversity. A timepiece is a wrist-bound intersection for history, culture and the audacity of the human spirit. The only thing is that – whisper it quietly – it's not always particularly sexy. Eyed from certain angles, the watch world often looks to be rather nerdy, male and not exactly overflowing with nubile beauty. All of which is fine, of course, not everything has to revolve around sex. But the following heart-throbs demonstrate that sex appeal and watches are by no means mutually exclusive.
Margot Robbie
Thanks you Martin Scorsese for introducing us to the Australian actress in The Wolf Of Wall Street. She's first glimpsed in a party scene where her voluptuous presence reduces both Leo DiCaprio and Jonah Hill to salivating wrecks. No wonder, Big Short director Adam McKay promptly stuck Robbie naked in a bubble bath when he needed viewers not to fast-forward through the explanation of some very complicated financial terminology.
Not surprisingly, it didn't take long for a watch brand to engage the actor's services, with Richard Mille swooping to partner with Robbie. "I was astonished by the intricacy of the watches," Robbie told the brand's website. "By the way in which, when you look closely, the detail and craftsmanship are incredible. I was simply amazed that a thing so delicate felt so sturdy on my hand."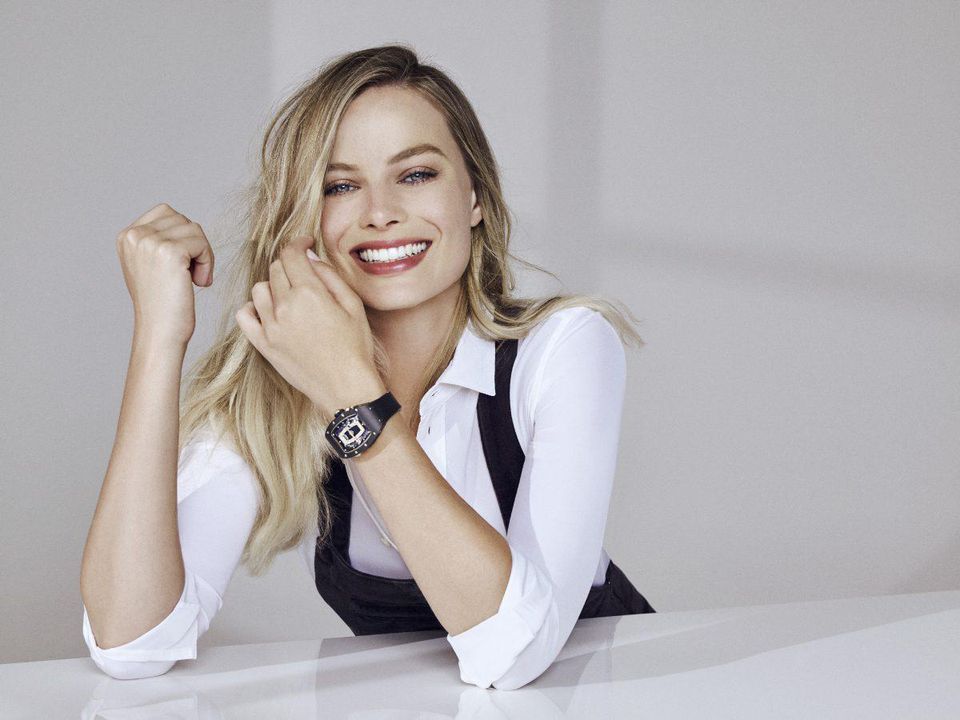 Harry Styles
If there's one man who might be able turn the younger generation onto mechanical watches, our money is on Harry Styles. The floppy-haired guy from One Direction has wound up becoming one of the best-dressed celebrities on the planet. Pleasingly, that panache also extends to his wristwear.
Styles' collection is extensive and genuinely intriguing. He clearly enjoys a spot of vintage Rolex, having been spotted in this piece that looks like it hails from the 1950s.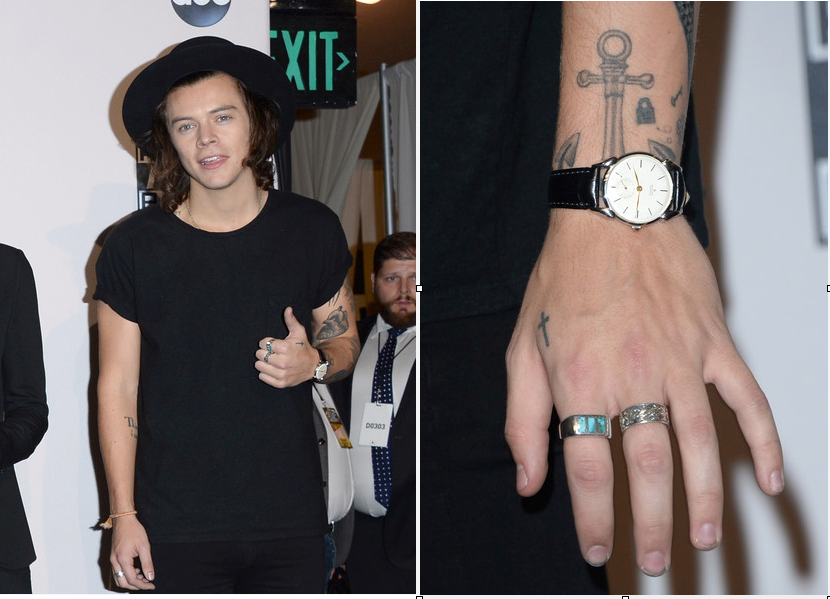 Or this Rolex Oysterdate reference 6694 from the 1960s.
But he's also got the confidence to go for gold, as demonstrated with this classic Day-Date.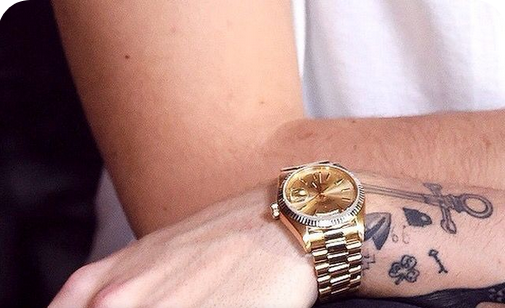 Then again, Styles isn't afraid to branch out either. This, after all, is a kid who was rocking an Audemars Piguet Royal Oak at the tender age of 18.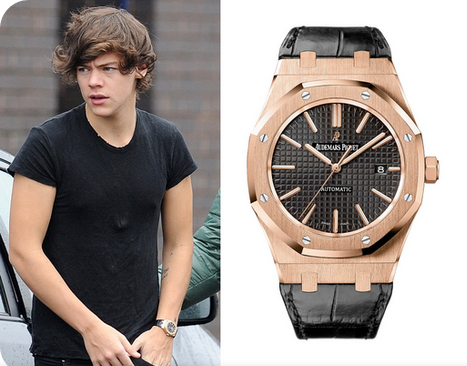 In short, this a pop star with quite the watch collection. Styles by name, style by nature.
January Jones
Marilyn Monroe, Brigitte Bardot, Greta Garbo … Hollywood cultivates a proud tradition of leading ladies with alliterative names. January Jones is shaping up to be the next star in that hallowed lineage. She emerged as America's sexiest housewife in her breakout role as Betty Draper in Mad Men, with her icy allure hammered home in this classic scene where she revealed her dangerous streak and aversion to pigeons.
Jones' statuesque beauty is nicely reflected in her choice of wristwear. This pink gold Lady Ultra Thin Reverso from Jaeger-LeCoultre is a classic dress watch whose strait-laced formality cannot contain its raw appeal.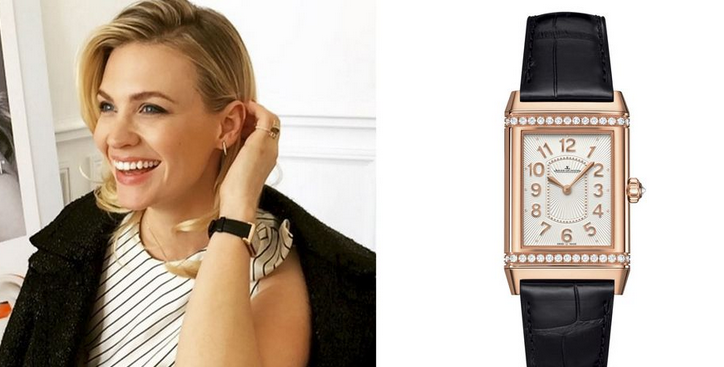 David Gandy
Do you remember when male models used to be waif-thin blokes who looked seriously underfed? David Gandy changed that entire aesthetic. Seriously chiselled and gym-buffed, Gandy's looks are unapologetically masculine and led to him winning massive Dolce & Gabbana campaigns that proved to be his springboard into supermodel status.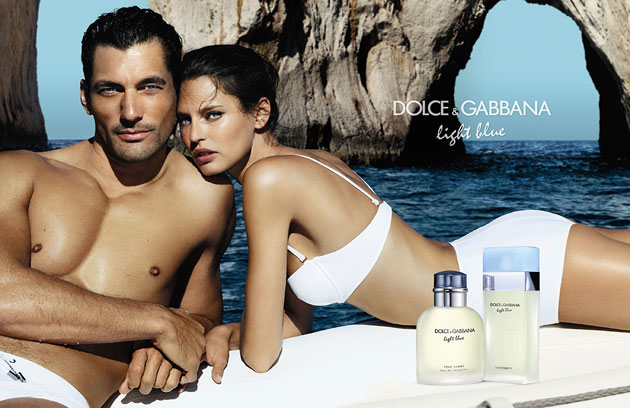 Somewhat irritatingly, the man also has taste as well as razor-sharp cheekbones. His watch collection includes a Bulgari Octo Finissimo, Jaeger-LeCoultre Reverso Classic, a vintage Omega Bullhead and Speedmaster, a vintage Breitling Navitimer and a Chopard Mille Miglia. "My everyday favourite has to be my Omega De Ville," he recently told Time+Tide. "Which everyone seems to ask me about, but never buy themselves."
Asked to explain his horological love affair in this interview,  the depth of Gandy's passion became clear. "Watches are not a statement piece for me, as most of my collection are smaller, more discreet pieces," he explained. "I suppose it's owning something with heritage and history. I love the stories behind timepieces and the hours that have gone into making something extremely special that will be cherished not only by myself but when I hand them down to a younger generation."
Rihanna
Men have been losing their minds over Rihanna for a long time. Watch enthusiasts have been losing theirs over her watch collection, too.
The Barbadian singer has always displayed a fondness for watches. She went through a notable Rolex stage, regularly spotted in a Datejust in steel and yellow gold, as well as Day-Dates in both Everose and classic gold.
But in 2017, Chopard signed Rihanna as their ambassador and it was from here that her wrist game reached the next level. Whether she's pictured wearing this 18-karat white-gold Happy Sport that's iced to the max or this equally jaw-dropping Chopard L'Heure du Diamant Oval, the singer showed she could handle some serious bling.
The partnership led to a high-end jewellery collection called "Rihanna Loves Chopard", as the brand aimed to get their high-end wares in front of a fresh market.
"I think she represents the younger generation," Caroline Scheufele, Chopard's co-president and artistic director said at the time. "And maybe they think Chopard is only for important pieces and they're not aware that we also have these fun pieces. It opens up the brand much wider."
Or to paraphase, Chopard knew that Rihanna could sex up their 177-year-old brand in a very big way.