5 of the best watches with quick-change strap systems including Vacheron, Omega and Apple
Thor Svaboe
"My name is Thor, and I am a strapaholic." It's only a matter of time before I get pulled into some kind of intervention with friends, family and a psychiatrist. I'm surely not the only watch lover who likes to swap my watch straps on a regular basis. But many brands seem to be stuck in the strap-tech stone-age and still rely on the fiddly spring bar that hardly offers a user-friendly way to change straps.  What if we coul just click'em all off and on at our leisure, changing a strap to match up that outfit in 10 seconds flat? Thankfully this vision of the future is, in fact, already upon us with some forward-thinking brands leading the way. Now excuse me while I crawl under the sofa to find that missing spring bar…
Omega Seamaster Diver 300m Americas Cup Chronograph
For those of you that think the standard Seamaster Diver 300M is a tad vanilla-flavoured, the Omega Seamaster Diver 300M America's Cup Chronograph offers a brand new look in a fresh oceanic blue pepped up by flashes of red, notably for the countdown indicator at 3 o'clock. The watch introduces a slew of new upgrades we can only hope make their way onto more models in the catalogue – including new rubber chronograph pushers, chronograph-lock system, and, notably, a quick-release strap system  The chronograph includes two straps: a stainless-steel bracelet and blue rubber strap. Both are fitted with a quick-release button on the under side of the strap. By pressing the button/tab, the spring bars retract, and swapping is a breeze – all without tools. The sell-in to your partner is easy: imagine all the money you'll save on strap purchases. Price: $15,675
Vacheron Constantin Overseas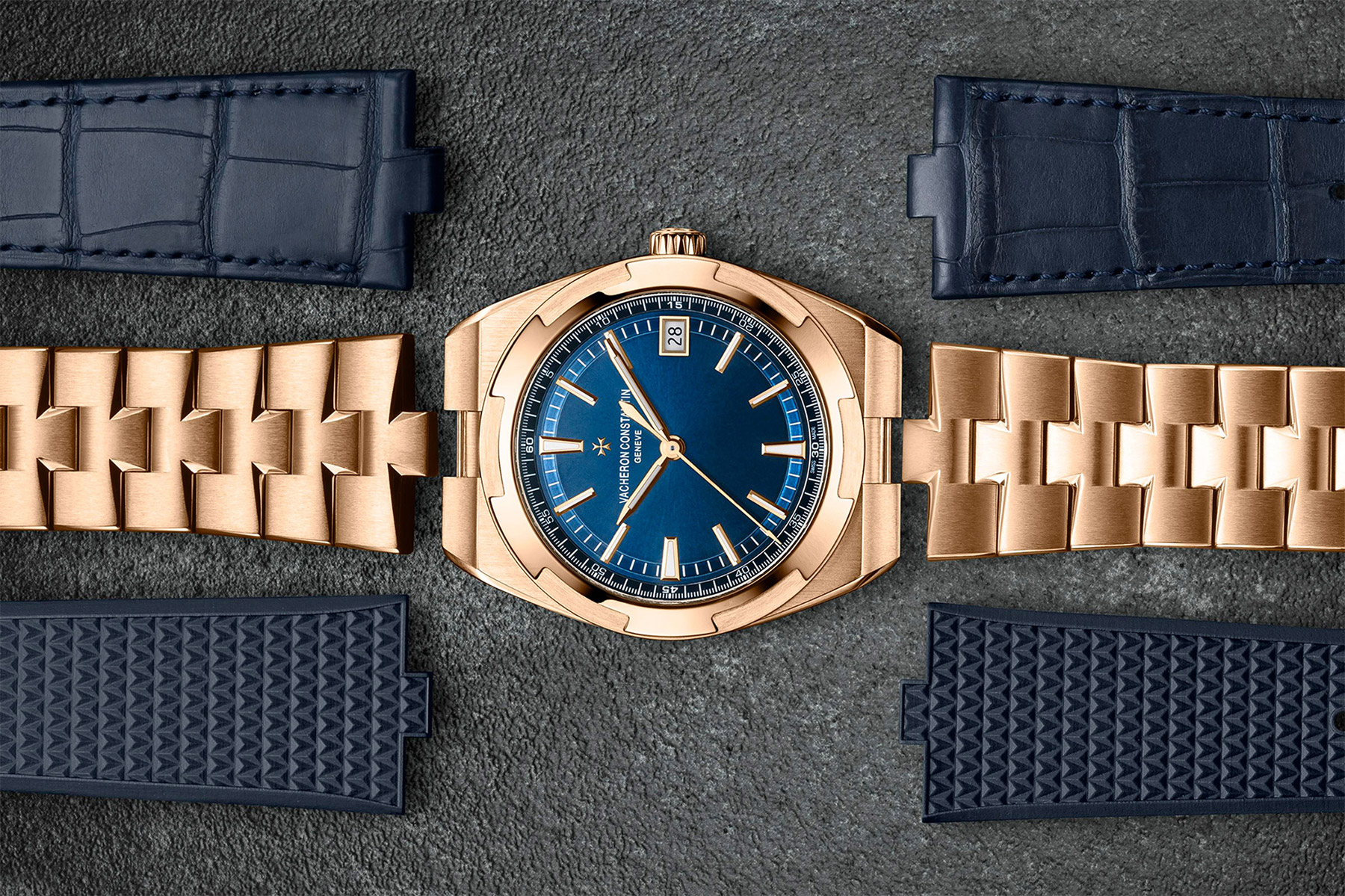 Vacheron Constantin is known as the Maison with the longest running history and a timeline that can be traced back to 1755. But ingenious strap tech, surely not?  Yet this storied manufacturer is now using quick-release strap systems. For an "only watch" with a superb strap solution look no further than the razor-sharp design of the Vacheron Constantin Overseas that comes with a simple quick release system and the inclusion of three strap options on bracelet, leather and rubber.
This is my favourite reference in full rose gold armour, I would also highly recommend that you look at one of the sharpest looking travel watches with the same tech, the Dual Time reviewed in our video here. What more do you want? OK, I admit the gorgeous blue dial of this solid pink gold Overseas might not necessarily be the starting point for that one watch for all occasions (particularly given the formidable price tag), but it's a brilliant concept nonetheless. The delicate contrast of dark blue rubber with the rose gold is as sharp as the intricate details on the bezel, inspired by the cross of the Vacheron Constantin logo. Me, I'd be happy to settle for this as "the one". In fact, the term might even be "exit watch". Price $76,500
Hublot Big Bang Unico Sky Blue

Hublot understood the needs of strapaholics a long time ago with their One Click system. This is but one example from their Big Bang and Spirit Of Big Bang catalogue, where you can have your brightly coloured cake and eat it as illustrated by Zach's article on their rainbow choices here. To catch your attention I'll use the example of the pure summer pastel of the Big Bang Unico Sky Blue with its sky-blue tone spot on against the calm grey backdrop within the open-worked dial. The One Click strap changing system is as easy to use as it is solid for such a large sports watch, with two straps in the box. Press that rhomboid-shaped button and easily remove and stick it in like a seatbelt. Pick from a summery white fabric strap with a velcro fastening and a matching Hublot-striated blue and white rubber strap. Want to formalise things for the evening? Get a contrasting pure black alligator and gently try squeezing the watch under the cuff of your jacket. Price: $30,000 AUD
TAG Heuer Autavia
The quiet release of the vintage-inspired TAG Heuer Autavia last year revealed some surprisingly fresh dials, including this special edition cherry-red fumé number in a bronze case.  It's large at 42.7mm, but very comfortable with it.  Water-resistant to 100m, the engraved caseback is intricately engraved in titanium, to avoid the patina of the bronze accelerating from touching your skin.
A pilot's watch is all about visibility at the end of the day, and here the lumed numerals are raised and delightfully blocky with angled blocks for indices climbing the rehaut with its crisp minute track.  And the strap? This special edition Autavia is supplied with a strap or bracelet on TAG Heuer's own proprietary clip, which has a plastic release mechanism on the back. It's a simple joy to use which is good news because, believe me, this watch is a veritable strapmonster. Price: €3,650
Apple Sport Loop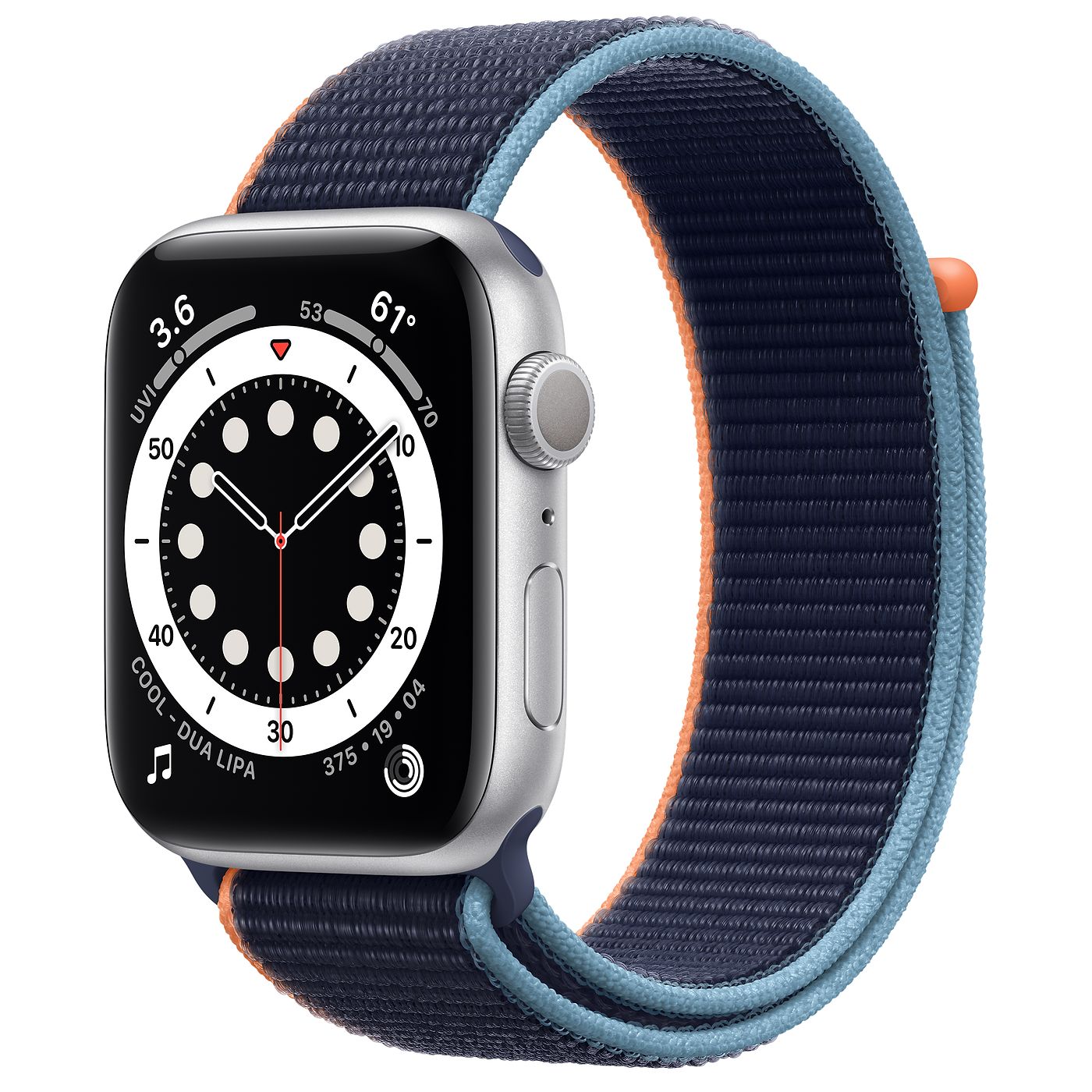 The strap tech of Apple is simply too good to leave this wrist computer out of my list. Apple seems to have it sussed for comfort, if not flexibility in changing up from the main strapaholic emporiums of the internet. While I'm not a huge fan of the Apple Watch, mainly because I enjoy the notion of cogs, the original Apple Sport Loop is a minimalist's dream in its innate simplicity and smooth fit to the case proving eminently adjustable and secure. It's a great strap if you don't want holes, and enjoy the rough security of a NATO – personally I love them but boy are they fiddly to use if you take your watch off for showering and manual labour. This stap is made of strong nylon with a secure velcro fit, and a different weave on the back for comfort. Best of all, it keeps slim with one band and nothing under the watch building thickness. Seiko – check this out for your diving watches! Price: Apple Sport Loop bands $69