5 of the best GMT watches that even platinum frequent flying snobs will approve of
Time+Tide
In this series of articles, we pick five interesting, less-often reported watches that tick a lot of boxes that seasoned watch collectors frequently look to fill. To make this a worthwhile exercise, we're defining affordable as anything below $5000 AUD.
Do you ever get the feeling the entry-level price point is dominated by bland dress watches and a slew of decent, but identikit divers? Sure, we don't expect to see perpetual calendars or tourbillons slumming it down here with us commoners (and if you do see a kickstarter campaign threatening to disrupt the watch industry by creating a tourbillon for under 1000 bucks, please run a mile), but it'd be nice if our humble collections had a bit more variety in them, right?
And before you say it, I've already got a date watch. Heck, I've even gone as far as an ETA 2836-driven day/date model. But what about that next level? What is there that could fill that void and not leave our bank accounts equally spacious?
Step forth the GMT. With plenty of mid-range options, the GMT offers an elegant upgrade from a time-only ticker. They are actually useful, too. Perhaps even more so than the ubiquitous timing bezel on a dive watch or that chronograph function you're adamant you use for timing your eggs …
Travel is becoming more and more a part of our daily lives, so what we've put together here is a list of some of the most affordable – and interesting – GMT watches that you can get for less than five grand (with one notable exception squirrelled away at the bottom of the list).
Oris Aquis GMT
Another 'affordable' list, another Oris. What this brand isn't able to do with a strict design/function/cost remit is barely worth mentioning. The Aquis range is a safe bet for a strong mix of basic complications, interesting dials, and wrist presence for a good price. This particular model utilises a handsome dark blue dial paired with a sharp yellow GMT hand, which really pops against its backdrop.
While the dial colour will not spark the same kind of rabid interest as the pair of 'sea foam green' green dials that dropped at Baselworld 2019, it is undeniably more versatile. One thing that is worth mentioning is how much these Oris sun-ray dials come alive in natural light. On pictures they can look a little dull or, at the very least, muted. In real life, however, the nuanced finish (which, again, is surprisingly refined at this price point – $3700 AUD) is something to savour every day.
The size of this watch (43mm case) gives it a fair amount of wrist presence, making it suitable for casual wear, but the elegance of the dial colour and the sensible palette make it ideal for the office, too. The rubber straps used by Oris on the Aquis range have a pleasing vanilla scent and are comfortable out of the box. The proprietary lugs may rankle with some who like to mix up their bands, but from a branding perspective they hit the nail on the head. There are few better ways than to force your intended vision on to a customer than using proprietary lugs. And anyone who thinks there's no place for such a restrictive design choice in watchmaking probably hasn't heard of the Audemars Piguet Royal Oak …
Stowa Flieger GMT
An under-the-radar German brand that often produces derivative watches at a much more accessible price point than the brands from which the designs in question derive is on to a real winner with the Stowa Flieger GMT.
One thing Stowa are always good at doing is stripping a watch back to its bare bones and letting the functionality breathe. The Flieger GMT is no exception. A huge amount of dial real estate is left undeveloped and the result is an assured watch with significant presence, and a choice of four masculine colourways to boot.
The legibility of the dial is superb, and with a nice open caseback, neat security deployant clasp, and resizable rubber strap (which is cuttable, so never, never, over cut it or you'll be shelling out for a replacement before you even get the watch on your wrist).
Stowa are no stranger to Red Dot design awards, adding some serious credibility to their in-house team's know-how. For a keen example of exactly why Stowa win these kind of internationally recognised accolades, take a look at the length of the GMT hand. That's form following function incarnate. Not bad for less than $2900 AUD.
This kind of watch goes to show there's a lot more to many brands that are, perhaps unfairly, known for one or two of their models. And talking of German brands that don't often get the props they deserve …
Sinn 6060 GMT
Sinn is held in high esteem by many serious tool watch lovers. Their Hydro UX models, full of oil, and water resistant to 5000m, set a pretty high bar when it comes to rough and ready daily wears, but this Sinn 6060 GMT takes a slightly different tack, and nails it with aplomb.
What's particularly cool about this watch is the internal rotating bezel. What that does is not only add a third time zone (using a 12-hour scale, unusually), but it also makes way for an edge-to-edge sapphire. While external rotating bezels are the norm for triple time zone GMT watches (like the Rolex GMT-Master II, for example), they can age badly. That problem has been massively reduced with the replacement of anodised aluminium inserts with colourfast ceramics for the pricier brands, but by protecting that potential with a sapphire you can be sure that your watch will look newer for longer. And who doesn't like sapphire? Its secondary benefit is that it makes a highly utilitarian watch much dressier – a perfect choice for the globetrotting businessman, and at $3995 AUD, it's well within reach.
Zodiac Limited Edition Aerospace GMT Chronograph Stainless Steel Watch
It's hard to say whether Zodiac are consciously trying to be different or whether it's just hardwired in their DNA, but the Sea Wolf GMT manages to be a bog-standard GMT beater while simultaneously looking like it's standing in line for the discotheque in 1972.
Funky colour schemes, weird case shapes, and unapologetically vintage styling make Zodiac watches a neat choice for someone looking for throwback name recognition, and something off the beaten track. Zodiac is actually owned by Fossil Group, and is perhaps their most desirable brand from the perspective of a serious watch collector (unless you like the off-the-wall bling of Michele).
The Fossil Group may not seem that important to newcomers to the watch industry, but Fossil, along with other fashion-orientated brands like Guess and the world famous Swatch, were instrumental in rebranding the watch industry during the pivotal 1980s. While most watch collectors who have graduated to serious mechanicals have little interest in Fossil's eponymous brand, Zodiac watches give the collector a nice chance to buy something credible from a company that had a lot to do with the renaissance of the industry when it looked under threat during the quartz crisis for just $2430 AUD.
Tudor Black Bay GMT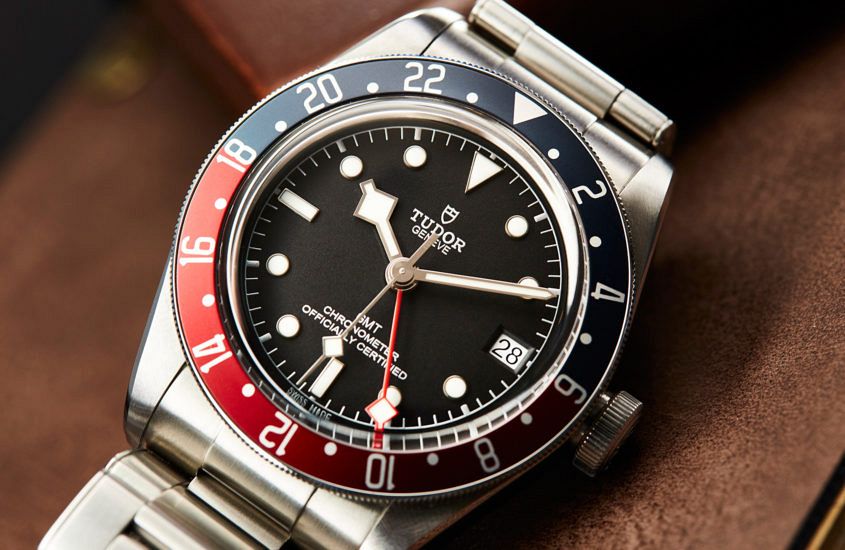 At first glance, the inclusion of a Tudor on this list is going to jar. The brand, thanks to its association with Rolex and truly immense marketing budget, seems a world away from the entry-level pieces we've listed thus far, but one of the reasons for Tudor's magnificent resurgence is the genuine accessibility of even their most storied models.
The colours of the Tudor bezel look much darker and less vibrant than those of the Rolex Pepsi that was released the same year, but in real life they have genuine depth. There's also a certain charm to a bezel you know is going to get dinged and faded after years of airport hopping. It's not for everyone (if you like the box-fresh look years after purchase, stick with the Sinn 6060), but this watch has a real heart.
Available on either a rivet-style bracelet, leather, or fabric strap, there are options for different tastes and price points. With the bracelet coming in at $4670 AUD.