5 of the best affordable chronographs — from quartz to mechanical 
Time+Tide
We analyse a lot of watches on a daily basis. Being able to identify the difference between a sales pitch and a practical benefit to the end-user is something we take very seriously. We see swathes of new brands attempting to differentiate themselves from their peers through a variety of creative strategies on the regular. But perhaps the most common area of manipulation is price. It is common now to hear an identikit spiel from the majority of new brands looking for crowdfunding. It is so common to offer luxury at an accessible price that it's about as effective as shouting into the wind if you're trying to genuinely pique the interest of an informed watch aficionado. Collectors know exactly when the wool is being pulled over their eyes. How? If something is good value, what it actually costs is irrelevant to the sales pitch. Cost is most often used as a sales argument when there is a dearth of quality in the product itself. When the absolute cost of an item is front and centre in a marketing campaign, the word is more synonymous with "cheapness" than it is with "value".
What follows is a list of five well-priced chronographs. To mix things up, this list includes three mechanical watches, one meca-quartz-driven timepiece, and a sophisticated solar-powered beater that is a perfect daily wear. These watches aren't in any particular order, and each one made it onto the list for offering a great product at a reasonable price that makes it an attractive addition to any collection.
Farer Segrave Chronograph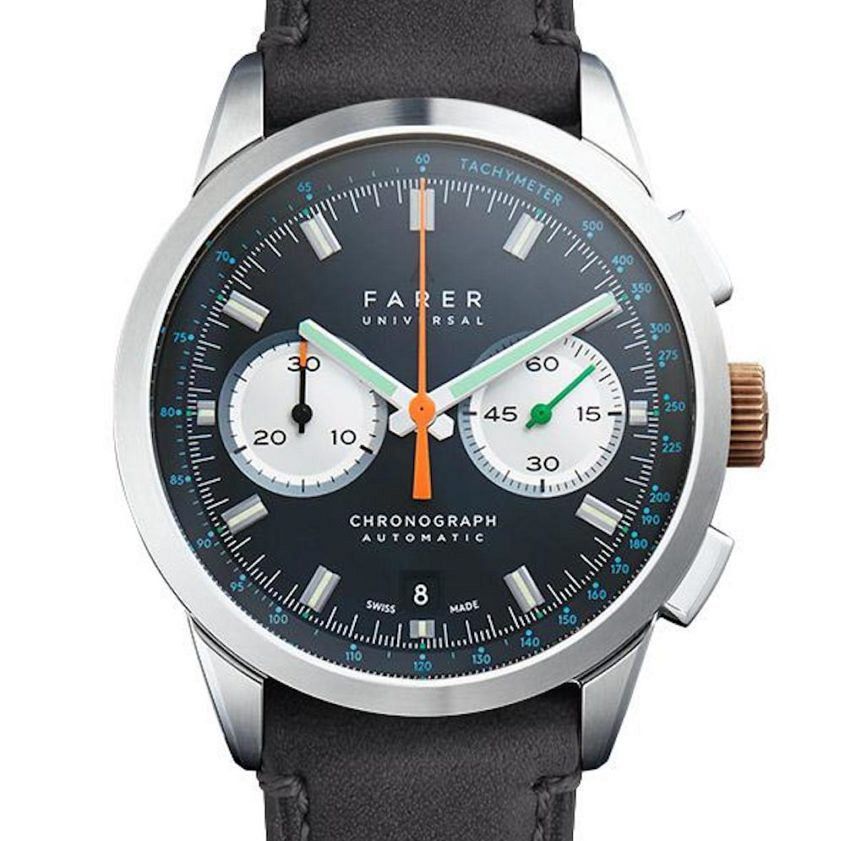 British company Farer is known for its astute use of colour when applied to classically sized and styled watches. Unafraid to take chromatic risks, the pay-off is often divisively divine. It's really hard to find well-designed, easy to use, versatile wristwatches from entry-level companies that use anything beyond the 7750, its derivatives or clones, or quartz modules in their chronographs. Farer uses an ETA 2894 modular chronograph. The advantage here is perhaps more of the novelty value (and overall size reduction), but it is very cool to see a bit of movement variety in this segment. While it would be fair enough to assume a modular chronograph (in which the chronograph functionality is added by way of a module to the dial side of a standard calibre) would be thicker than an integrated alternative, the 2894 is actually over a millimetre thinner than the ubiquitous 7750, meaning that this stocky little chrono is actually just mm thick. At just $1950 USD, the Farer Segrave Chronograph is a fine-looking watch from a recently re-established company with an interesting British heritage.
Seiko Recraft
When it comes to reliable, electric watches that offer a lot of bang for your buck, you can't go far wrong with Seiko. The Japanese manufacture has such a wide range of price points, from top to bottom, it might sometimes be a bit confusing as to what you're getting at the top end (although it is undoubtedly worth it in most cases). What that means for the entry-level buyers, however, is that confidence in the company's ability should be absolute. For just $500 AUD, the Seiko Recraft (in stainless steel) is a tantalising option. Cleverly designed, recessed sub-dials hide the photovoltaic cells needed to charge this watch. Powered by any kind of light, the Seiko Recraft offers users up to six months of running time on a full charge.
The blue-dial version in stainless steel is also an absolute strap monster and would look great on all kinds of affordable nylon NATO (G10) straps. That's a huge lure for someone looking for an affordable and versatile chronograph that may well be their only watch. Packed full of features, and driven by the Seiko caliber V175 (which features a sweeping chronograph seconds hand, a 24-hour indicator, and a date), the Seiko Recraft is an excellent pick-up for the vintage lover that wants a daily wear they can strap on and forget about.
Longines Avigation BigEye Chronograph
At 41mm, the Longines Aviation BigEye Chronograph certainly boasts a lot more presence than its proportions suggest. In fact, that illusion of size (which does not affect wearability in the same way a 43/44mm pilot's watch might) is one of the reasons this Swatch Group classic made it onto the list.
Loving the look of an IWC or Zenith Pilot watch isn't the same as being able to afford, or even wear one. What this Longines does is provide that same style, while doing so in a wearable, affordable and, most crucially, characterful package.
The BigEye gets its name from the oversized 3 o'clock sub-dial. It's weird. It's rare. It's cool. It's certainly more visually engaging than your common or garden chronograph set-up and at circa $3775 AUD it's hard to look past it (especially because it feels like the watch is always winking at you … cheeky!).
Autodromo Ford GT Endurance Chronograph – Heritage 66 Dial
A pure meca-quartz for lovers of Japanese simplicity. Having introduced and abandoned several ranges since its foundation less than a decade ago, Autodromo now has a concise but focused collection from which this model stands out at just $990 AUD. Powered by the popular VK64, the Autodromo Ford GT Endurance Chronograph with the Heritage 66 Dial is a multi-faceted champ from a beguiling Italian label. What is meant by multi-faceted? Well, the tachymeter ring around the slightly domed sapphire crystal is, rather uncommonly, concave rather than convex. This adds depth and visual interest to a case whose silhouette is far from groundbreaking, while also protecting the surface print on the tachymeter scale from scuffs and scrapes.
Bizarrely, although it's pretty uncommon, the next and final watch on our list utilises a similar plot with its case. But it would be a surprise if that was the first thing you noticed about that model …
Tockr Hydro Dipped Air Defender
Let's be honest, this one's not going to be everyone's cup of tea. In fact, it is likely to inspire a strong reaction, but in which direction is anyone's guess. The Tockr Hydro Dipped Chronograph (with the Tie-Dye model pictured here) is an explosion of colour and intrigue. Powering the watch from within is the classic Valjoux 7750 movement, which is a surprisingly conservative choice given the wild, trippy exterior. This watch is a grower. At first glance, it can inspire revulsion and annoyance for its brazen ignorance of the hallowed traditions of this sacred craft. And then it starts to creep under your skin. You shouldn't like it, because it's an abomination that has the gall to do something radically different with its aesthetics, but you do. You can't reconcile how this watch feels comfortable employing a decent, solid, Swiss mechanical movement while wrapping it in a skin that looks like an abandoned album cover for Sgt. Pepper's. If it had been quartz you could have dismissed it as a throwaway fashion item, but somehow – somehow – this watch thinks it deserves to stand alongside serious, proper watches and be respected. And it does. Because it's a joyful item, built with love and with an eye on quality. If this watch had been quartz and priced at $1000 AUD, it would not have been on this list. The fact that it boasts a mechanical movement on a par with many of its price point peers, and yet manages to come out looking cooler than Drazic (long overdue Heartbreak High reference) is a startling achievement. The Tockr Hydro Dipped Air Defender is available in six different, vastly different skins, each with a thin or thick strap option (it looks a lot better on the thick), and is priced at around $4100 AUD. The Valjoux 7750 inside has a premium finish, 28,800 vph, and a power reserve of 40-42 hours. The day-date windows at 3 o'clock are a real bonus, and the rotating inner bezel (operated by the crown near 11 o'clock) adds a great deal of functionality to this fun, but surprisingly credible watch.