5 great watch gift options under $5K if you don't know what to buy this Christmas
Thor Svaboe
Christmas is COMING. Yes, even in this year we are going to experience the delights of Christmas trees, the beach for the lucky Australians, and what will surely be extra lovely presents. So why not head over to our shop and check out these watch gift options under $5K that are here to spread some New Year Joy. Yes, of course you're allowed to buy one for yourself, we won't tell. As for shipping, we won't make Christmas from here, but we'll sure get 2021 off to a great start …
William Wood Watches Valiant
William Wood is, I admit, one of our favourite microbrands of 2020, with their sharp vintage designs in your typical '60s tool watch steel case. It's a different, vintage-tough sports watch where the details tell a captivating story — the reason why some smaller brands capture our hearts more than big-box multinationals. Behind the classic sandwich construction matte black dial with its vintage style, and fireman's helmet logo, lies a story of family, heritage and the Fire Service that you can read all about here. Under the caseback you'll find the solid Japanese Seiko NH35 movement, a bulletproof version of the well-known 4R36 automatic movement that punches well above its class. On a rubber strap inset with real, recycled fire hose (yes, you might smell the smoke), the William Wood watches remain one of the most refreshing surprise newcomers of 2020. Price: $1150 AUD, available from the Time + Tide Shop.
DOXA SUB 300T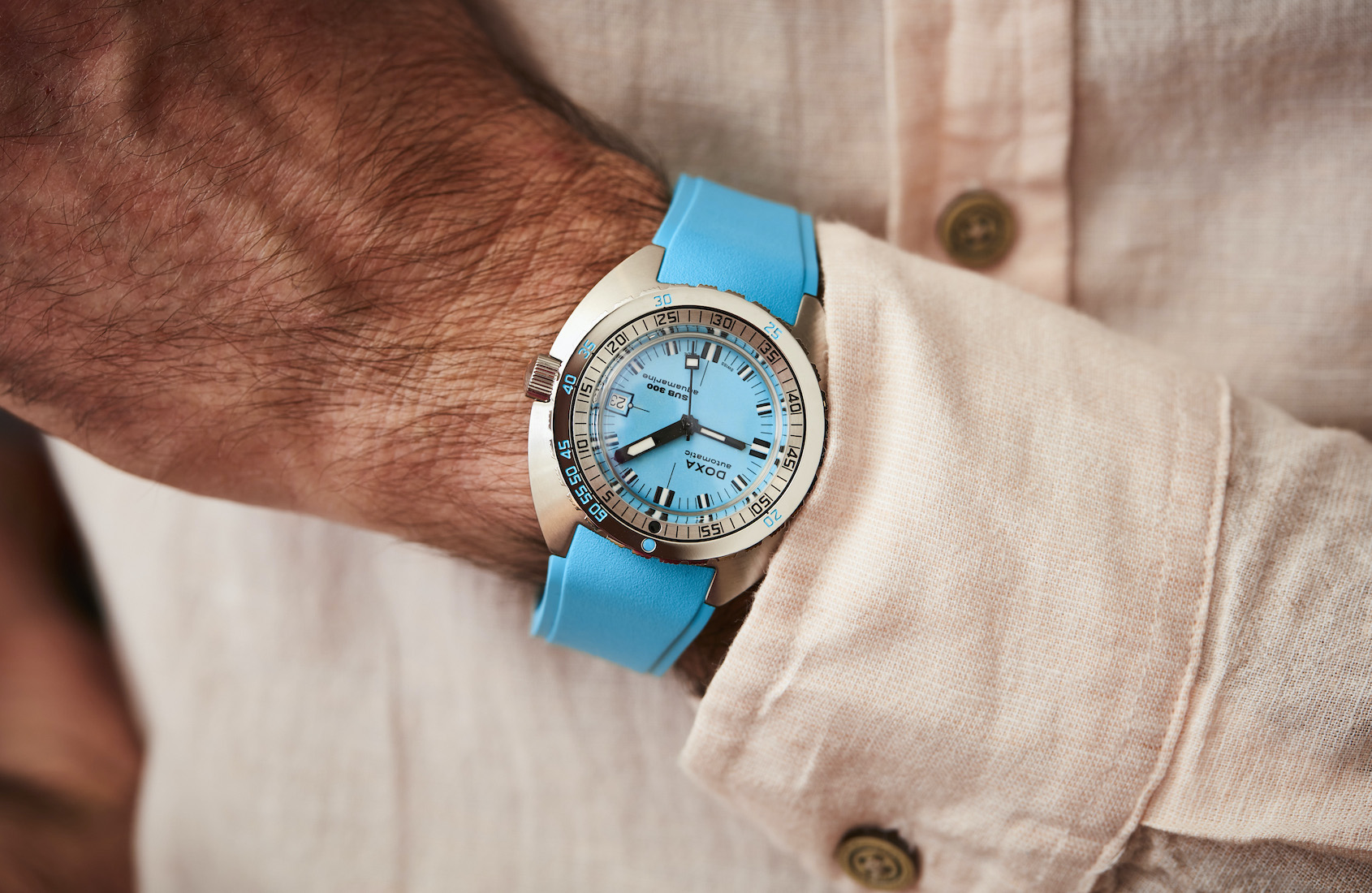 Nothing beats a cool DOXA to cheer up any holiday, and YES I implore you — do try to use it for its intended purpose: buy that scuba gear while you're at it. What colour to go for poses an unlikely challenge, as for once you'll have a full candy jar of choice. Should you be lucky enough to be Australian with the deservedly warm summer being upon you, go for the ultra-fresh Aquamarine to cool you down, and should your Christmas be dark and chilly, the bright lemon yellow will make sure you break into a grin whenever you do that Instagram-friendly wristroll, mate. On its eye-catching and comfortable beads-of-rice bracelet, this is pure fresh vintage bling, with a Swiss ETA 2824-2 Automatic heart. Dive in, we know you want to. Price: $2990 AUD, available from the Time + Tide Shop.
Baume & Mercier Clifton Baumatic
The radiant, formal blue fumé dial will definitely be your first impression of this sharp, dressy latest iteration of the Clifton from Baume & Mercier. With its razor-sharp sword hands and matching arrowhead indices it has an exquisite dress watch vibe. The dark blue of the dial draws you in to its abyss-like depth, and while close to black on the rehaut with its sporty minute markings, it is a fresh light navy in the centre. The dial, while not minimalistic, is a great example of how important the graphic design of a dial is. The size and fonts of the Baume & Mercier logo and sub text at 6 is clean and balanced, and perfectly pulled together by a classic crosshair. The result is a textbook calm dial symmetry. With its comfortable brushed and polished butterfly clasp steel bracelet and in-house calibre BM13-1975A, with its superb 5-day power reserve … maybe this is the perfect Christmas present for yourself? Price: $ 4700 AUD, available from the Time + Tide Shop.
Bremont Broadsword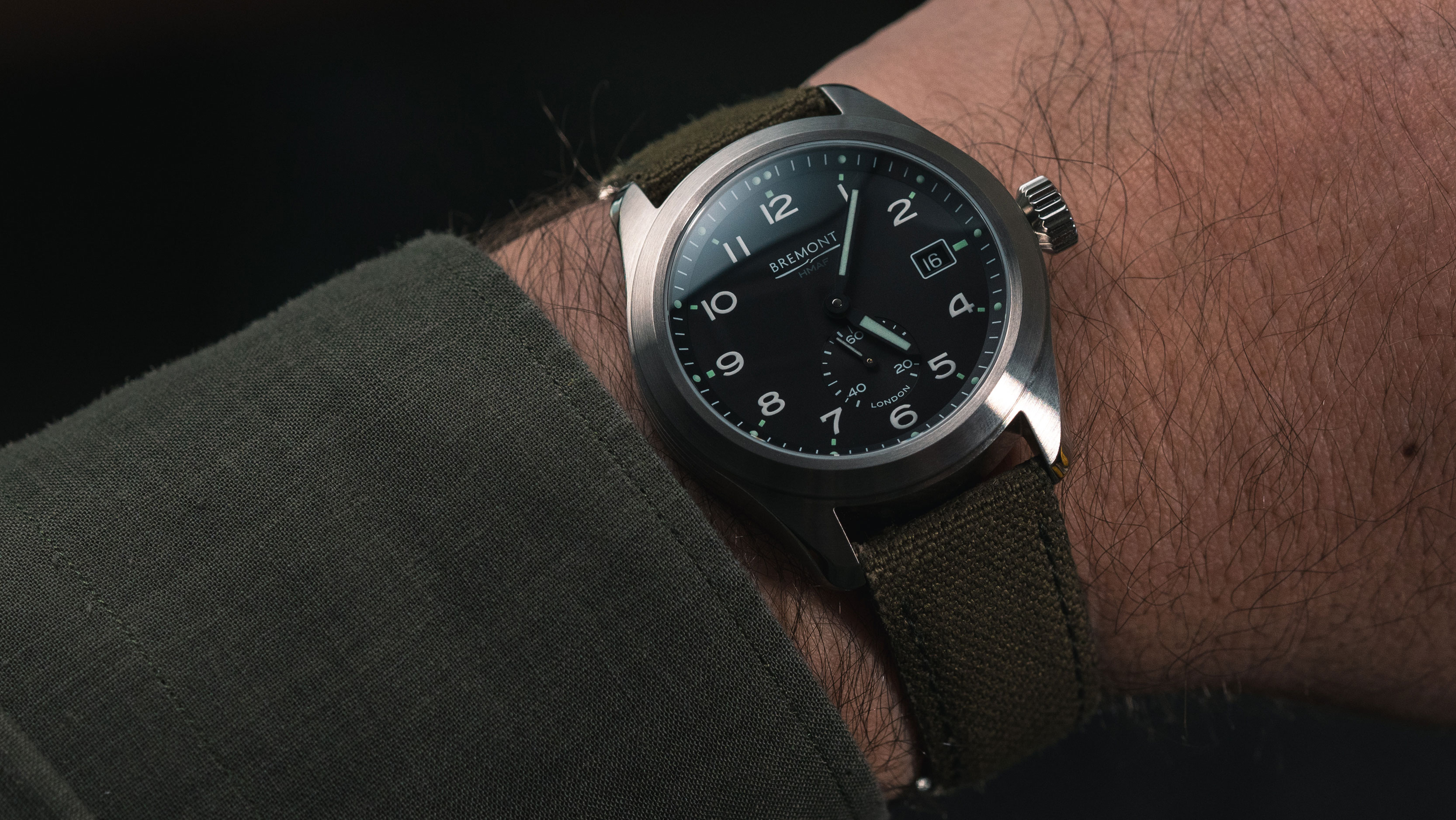 Planning an expedition during the Christmas holidays to work off that turkey? This tough 40mm brushed steel field watch is an indestructible partner in crime. No matter if your enthusiastically optimistic plan includes scaling K2 and ends up being nothing but a brisk walk in the woods. Inspired by the 'Dirty Dozen' classic weapons-grade military watches, the Bremont Broadsword has a toughened steel case: brushed, though with delicate details like the slightly twisted sharp bevels on its lugs. The language is one of a simple but elegant military wristwatch, though with a chronometer rated BE-95-2AV movement — the functionality and crisp legibility is backed up by COSC-grade accuracy. The dial, with its crisp print and black lumed hands, is the proportionate face of a well-designed tool, and the toughness is only underlined by an olive green sailcloth strap and the large and glove-friendly crown. Price: $4400 AUD, available from the Time + Tide Shop.
For that special woman in your life: The Undone Killy Sterling
Go on, you can't fool us, we know damn well that many of you ponder this list not as presents for your dad, brother or best mate, but for yourself. But why the hell not? It's a year when we've all deserved a break — and more than one new watch in an effort to perk up that post-lockdown mood. This is the point where I recommend you buy this delicious Undone Urban 34 Killy Sterling for the woman in your life, or your daughter. A brilliant vintage-styled watch with a fresh blue wrap leather strap, powered by a reliable Seiko VH61 quartz movement. It is yet another winner from Undone. This is the perfect way to vintage style for her, without the stress of a frail '60s Valjoux calibre, in a svelte 34mm size that fits all wrists. It has oodles of vintage up-down bicompax style in the typical superb value package from Undone. Price: $330 AUD, available from the Time +Tide Shop.