Our 5 favourite Franck Muller watches from the new 2019 collection, with a focus on the crazy ones
Andrew McUtchen
It's quite possible that when Steve Jobs said, 'Here's to the crazy ones', that master watchmaker Franck Muller was listening. And that he was inspired. Because when Franck Muller does watches well, the brand does them in a certain crazy, poetic and preposterous way.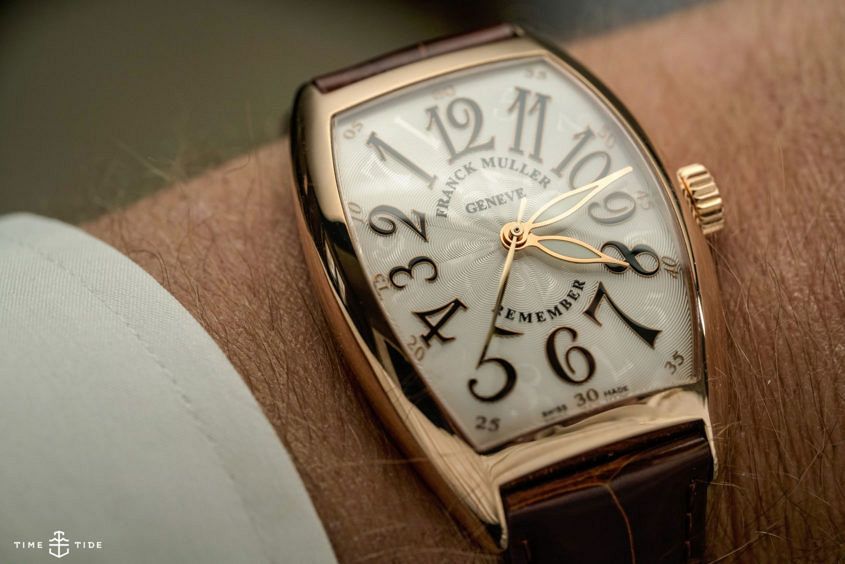 Take my absolute favourite (perhaps until a new contender, the 2019 'Remember' watch, to be discussed shortly) – which is unquestionably Crazy Hours. What is Franck Muller's Crazy Hours? It's a random scattering of numbers on the dial. It is a complication that has the hour hand snap with the speed of a switchblade from one number to the next, wherever it is on the dial.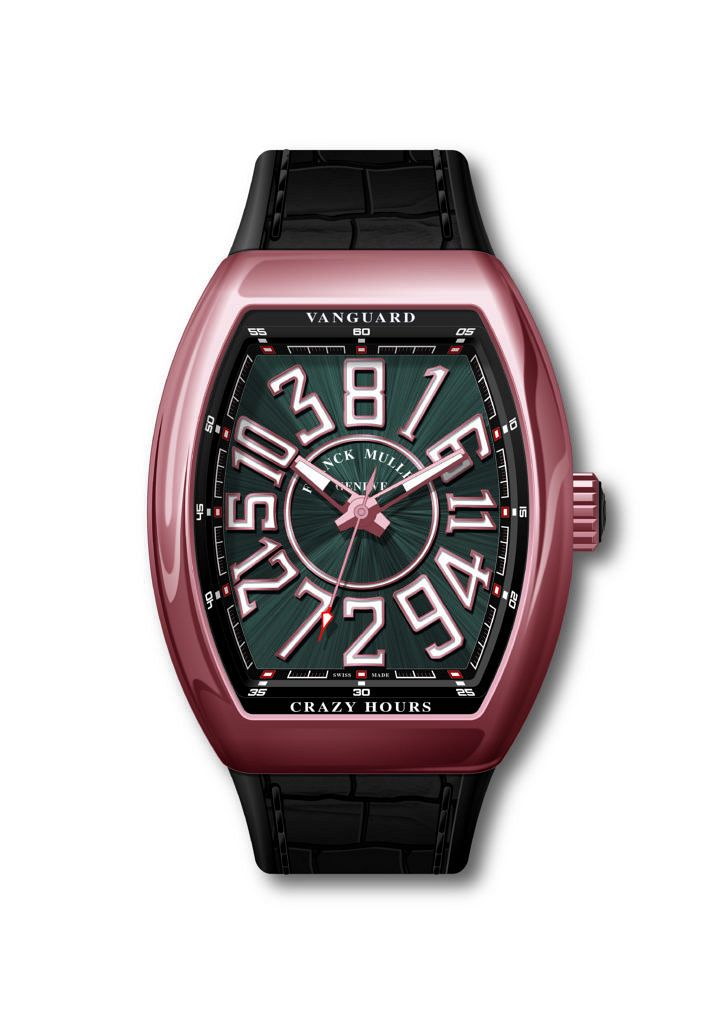 It is awesome.
To everyone else, your watch looks like it's possessed. It looks to the bystander like your watch is telling the wrong time. Meanwhile, to you, it's doing exactly what you want it to do, and it all makes perfect sense to you. The unpredictability. The refusal to conform to a linear notion of time striking some deep chord.
I digress. 2019 brings a range of notable new Franck Muller watches. And they're 'notable' because they're a mix of crazy in the Steve Jobs dreamer sense, and they're significant because there are some big moves: we're talking a mischievous, charming new complication called 'Remember' that essentially tells time backwards. We're talking about my personal favourite FM complication (Crazy Hours, what else?) in my personal favourite model, the Vanguard. And we're talking about a new line for the Vanguard that brings in classic touches; a Vanguard for the distinguished gentleman rather than the adrenalin-filled boy racer.
Vanguard Crazy Hours 2019
A young bull and the king of the paddock lock horns in the first ever Vanguard to feature the truly, yes I mean it, iconic Crazy Hours complication. For those who came in late, Crazy Hours does what it says on the tin. It scatters numerals on the dial in a random fashion, and then, with switchblade speed, flicks the hour around to the correct numeral, wherever it lays. This is something to behold. There is a reason it's the complication that put Franck Muller on the map.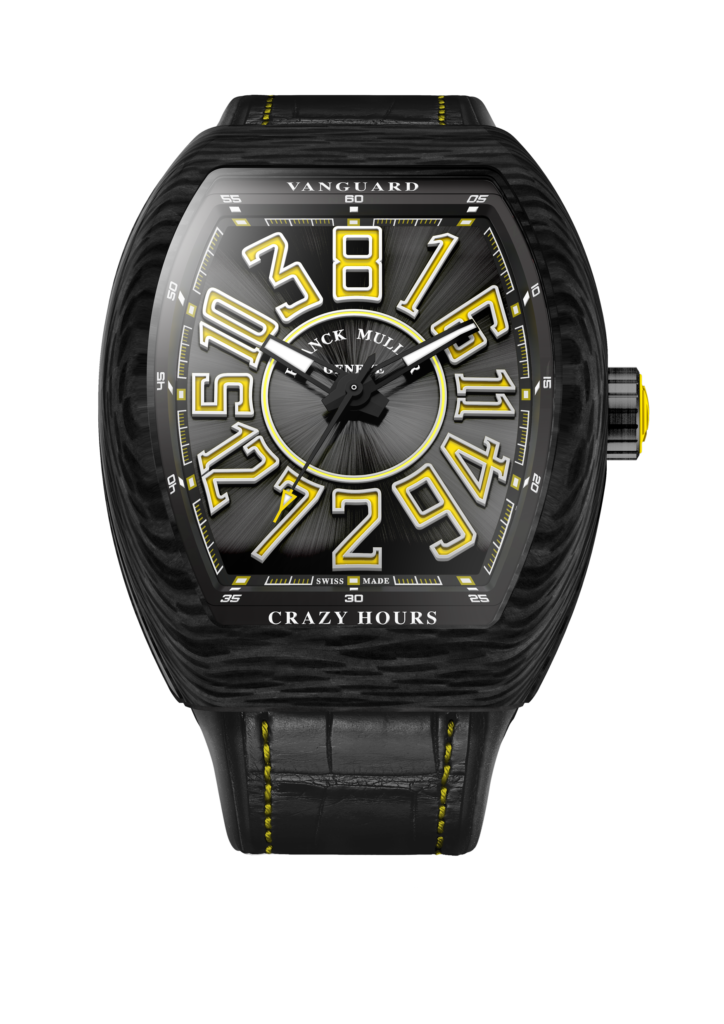 Some notable features: we have a matt black dial, a sporty case fashioned from forged carbon, which is famed for its strength of steel, lightness of plastic and rock-hard durability. The tonneau-shaped carbon composite case is formed when carbon chips and resin compounds are compressed into moulds under extremely high temperature and pressure, forcing them to chemically react at a molecular level, thus forging together. Each black marbled concoction is a unique result of the forging process, and is then finely polished to a satin-smooth finish.
Added to the mix are vivid yellow indices and yellow crown inlay contrasting with the velvet black case, coupled with the striking yellow stitch on the black alligator strap lined with rubber.
Franck Muller Remember
No, you are not losing your mind. You may have noticed that the seconds hand sweeps in the opposite direction on this watch; it is intentional. It is conceptual. This is the 'Remember' watch, that flows ever backwards, with reverse numerals to match. But it is not a time machine. It is taking you, literally (and think about this), back to the future.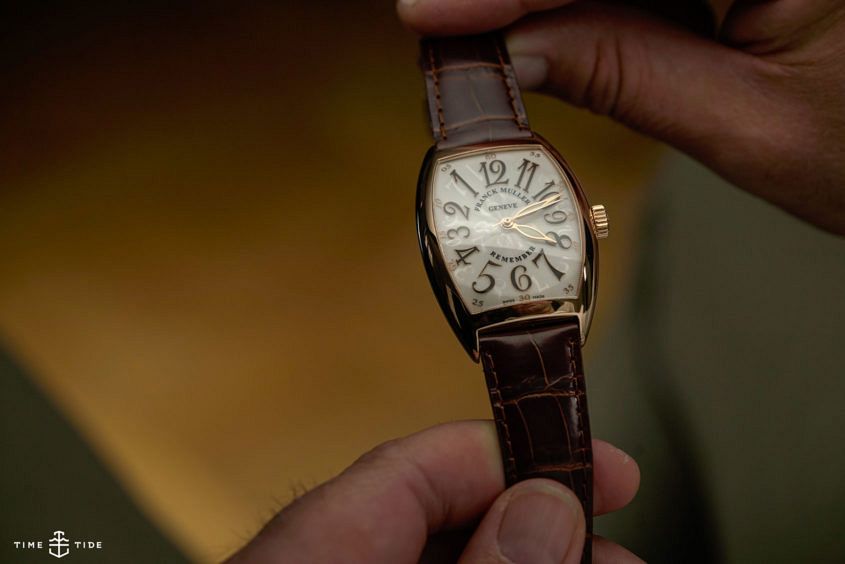 Genius. Pure, weird, Franck Muller genius. The 'Remember' collection is available in 18k rose gold and its dial is stamped with guilloché sun pattern and then finished with no less than 20 layers of lacquer.
Vanguard Yachting Anchor Skeleton
The Vanguard Yachting series is Franck Muller's youngest pillar line and that youth expresses itself in a number of ways. And let's not avoid the obvious here. The Vanguard Yachting Anchor is a strong, bordering on dramatic, look for the wrist. This is care of its sinewy case, openworked movement architecture and brightly coloured nautical accents and details popping on the dial.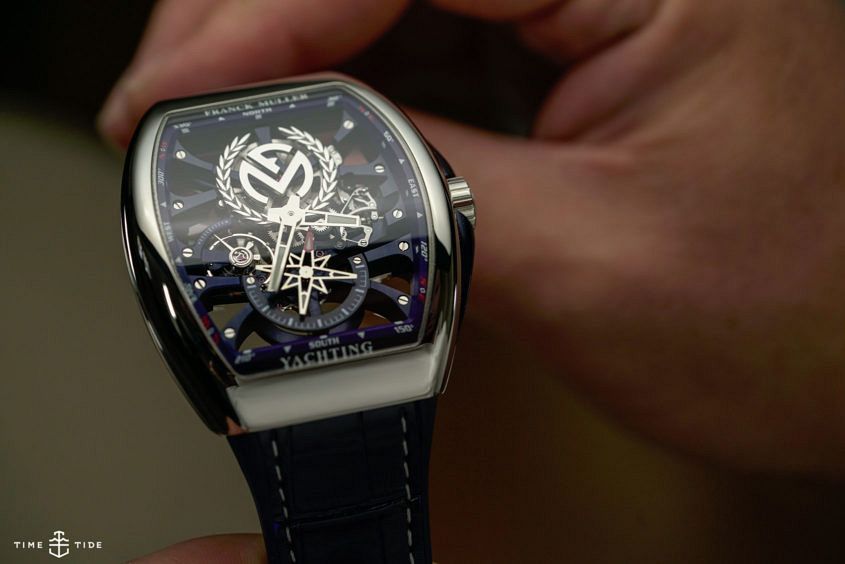 The most dominant design element is the sweeping wind rose that turns amidst three-dimensional blue beams and pillars held in place by screws. The logo is hardly going to go unnoticed at 12, nor will the polished laurels that frame it. The mainspring barrel that affords the timepiece its impressive seven-day power reserve is also visible through the dial.
Despite its obviously masculine appeal, there are some poetic touches here. Visible through the sapphire caseback are blue anodised aluminium bridges. The crown is bordered by a pair of deep-blue crown guards. It's all sun and sea in there.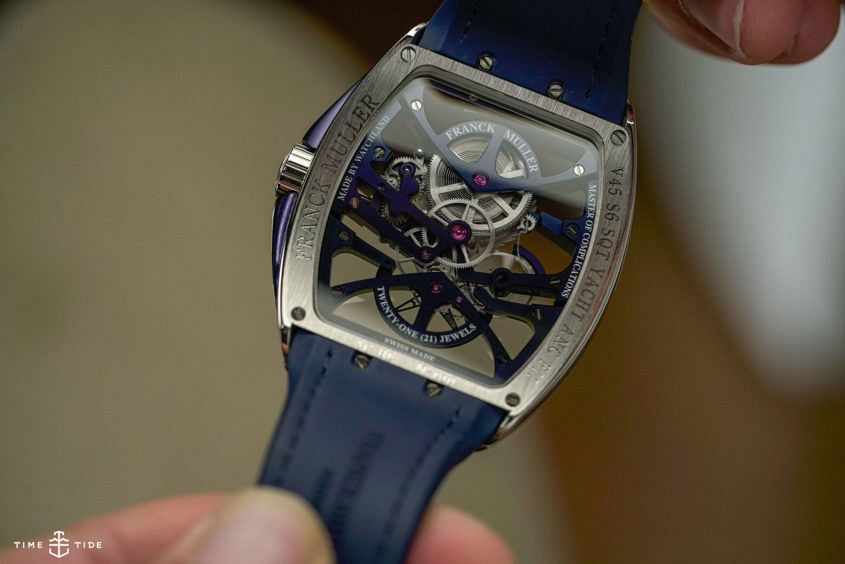 The in-house developed calibre has been skeletonised to reveal the movement. It is fitted with a blue rubber and hand-sewn blue nylon strap with contrasting yellow stitching.
Vanguard Racing 2019
It feels like it's been around forever, but the Vanguard made its debut just five years ago. The model immediately injected new energy into the 29-year-old brand, which more often trades on mature brand plot points such as mastery of complications. The model has had a masculine makeover this year – the new Vanguard Racing makes its appearance in 2019, and is a well-oaked blend of old school racing nuance with subtle metallic curves.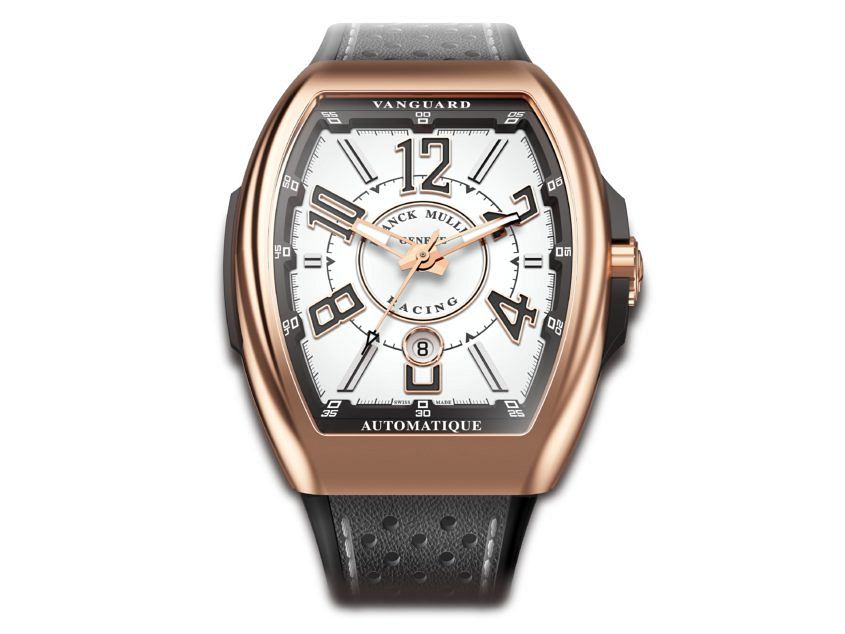 Cased in glossy, polished rose gold, the trademark tonneau-shaped Vanguard case may be a generous 45mm wide, but still manages to maintain wrist ergonomics thanks to its curved caseback. Other design features include raised indices and an inner bezel, which adds depth to the dial. The Arabic indices have been replaced by baton indices, and a protruding crown guard has been added. The black rubber strap has a top layer of perforated calf leather and has contrast stitching matched to the dial colour.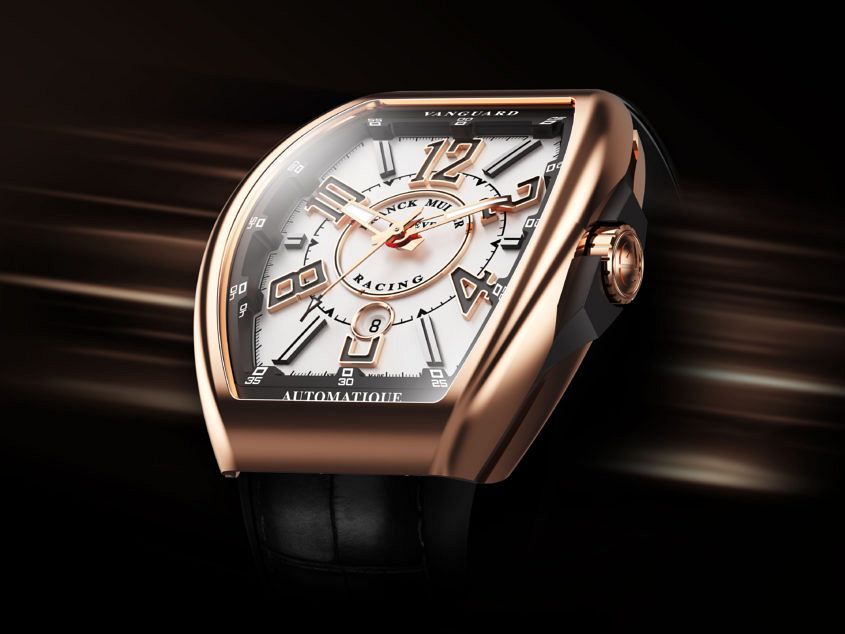 Skafander Chronograph 2019
Just over a year ago, the Franck Muller Skafander – which is Romanian for 'diving suit' – was released as the brand's first proper diving timepiece in a tonneau-shaped case. As a traditional round rotating bezel was not feasible, a unique pusher and lock system was devised to enable rapid and precise setting of the rotating inner bezel, which functions as the 60-minute dive counter.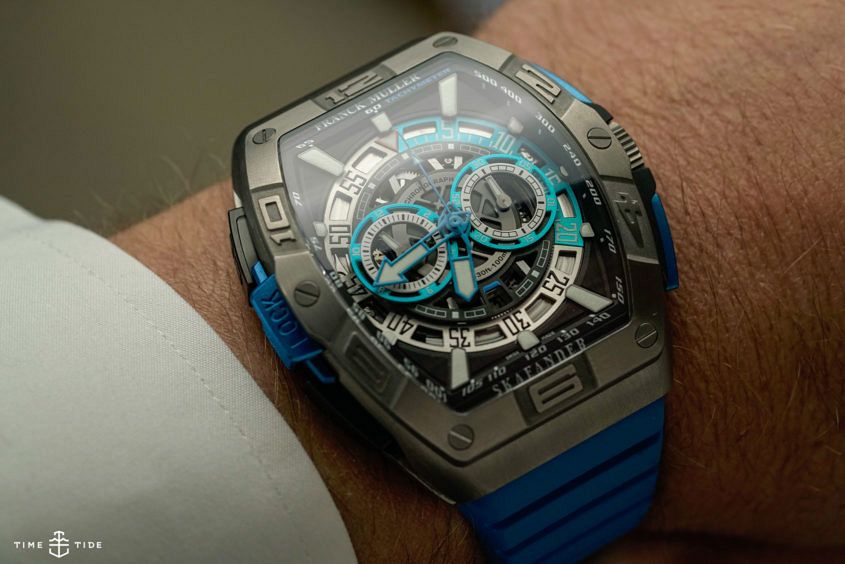 This year, the Skafander has been upgraded to include a second timing function. Housed at 8 and 10 o'clock are two pushers that advance the inner bezel by 1 and 5-minute intervals respectively, in an anti-clockwise direction. Depressing the safety lock at 9 o'clock prevents any inadvertent pusher activation.
Two chronograph pushers protrude from the other side of the case. They activate a 30-minute chronograph, which can be used as a secondary timer, allowing the wearer to time two independent events simultaneously.
So all in all, it's a year of note for Franck Muller who have brought poetry, panache and new pairings.