GPHG 2020 – 5 disruptive nominees that should be winners in a chaotic and disrupted year
Thor Svaboe
As the inaugural peak of Haute Horlogerie appreciation is upon us, a renewed GPHG convenes. This time with an expanded panel of judges, a semi-online voting process, and, refreshingly, with a truly broad range of nominees. There is a sense that perhaps disruption is the plat du jour.
So, let the GPHG roll on with the words of Bulgari CEO Jean-Christophe Babin fresh in our minds: "It's time now for revenge, it's time for coming back, it's time for reassuring watch lovers that the industry is back, that the watch industry will excite them, that the watch industry has never been so creative and relevant."
We think this very sentiment is clear in what we see as five top nominees symbolising the faces of watchmaking in 2020, set to shake up the system, from niche microbrands to tough tool watches, and extreme examples of handmade craftsmanship.
Category: Iconic – The Seiko Prospex SLA042 "Tuna"
In the exalted company of Haute Horlogerie from Piaget, IWC Schaffhausen and Girard-Perregaux there is a cat amongst the pigeons, or should that be a Tuna amongst the sharks? The 1000m Seiko Professional diver ref. SLA042, better known as the Tuna, is nothing but an icon, and in this 1000m guise it is an indestructible force. That's why it is infinitely refreshing to see it nominated here, with the bulletproof 8L35 movement bereft of engraved balance bridge, swan-neck adjustment or perlage.
This is an icon in the true professional sense, being one of the best mechanical saturation divers out there today, unapologetically large at 52.4mm, with its comfortable classic concertina rubber strap and titanium body within a ceramic shroud. With the reassuring fact of being 100 per cent in-house produced, with an obsessive QC by top Japanese craftsmen, this is a watch that can be strapped on for any adventure you are in training for. Because while you will need to prepare, the Tuna is always ready.
Category: Complications – The Greubel Forsey Hand Made 1
The Greubel Forsey Hand Made 1 is an intricate vision of ultimate craftsmanship. With its complexity and beauty, this was a natural part of our Best Dials of 2020 story, but for a different reason than the others, which is also why it stands out here. This has been a long-term project for Greubel Forsey, underlining one of my favourite claims of 2020: Craftsmanship is the new Luxury. This is perhaps more visible in this beautiful piece by Greubel Forsey than anywhere else – as it's somehow different and more clean-cut mechanical than their usual complex visions of time.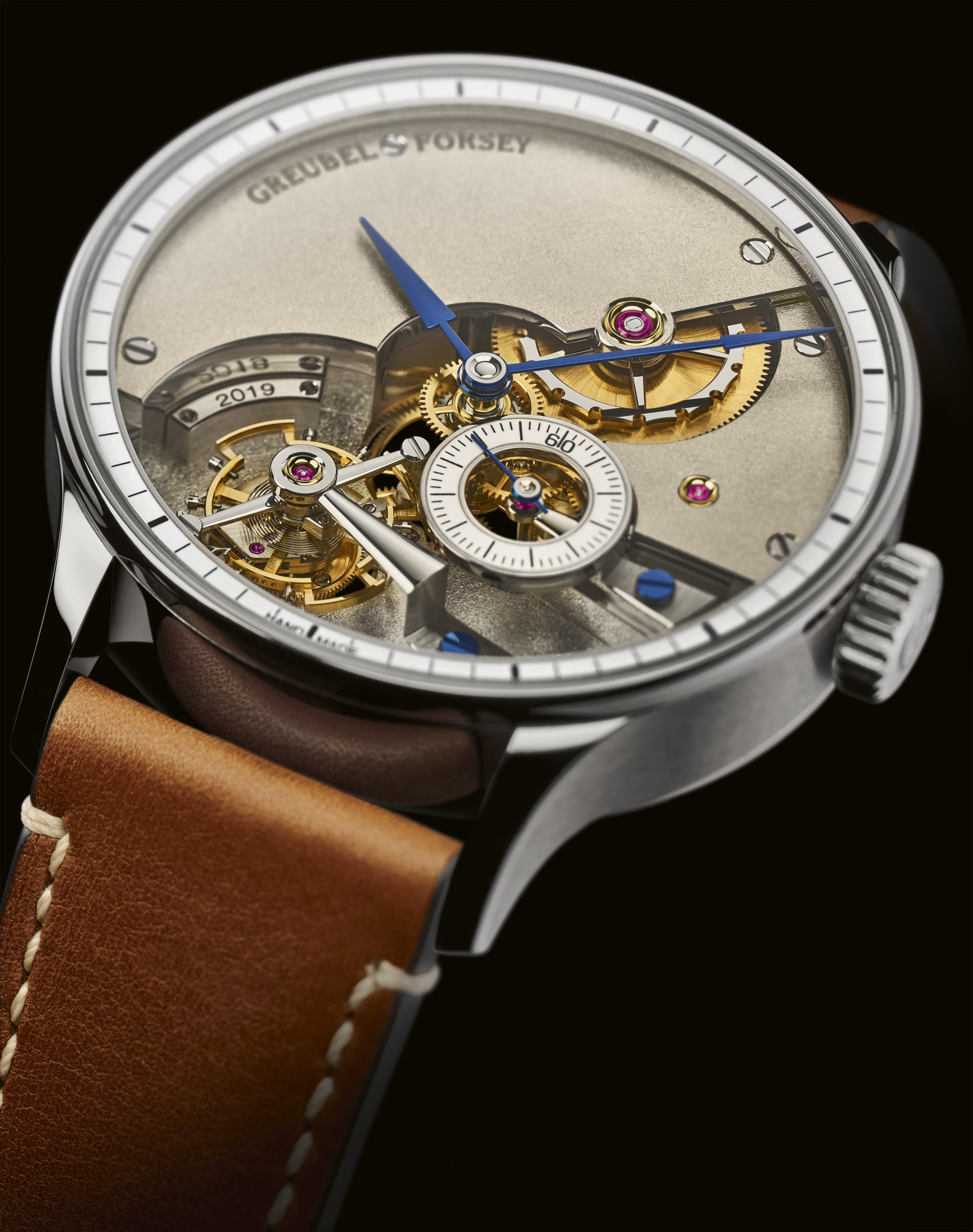 The Greubel Forsey Hand Made 1 has been a long-term project to emphasise and underline the need to keep alive artisanal craftsmanship, and the ability to make even the smallest component by hand. No component in this watch has been touched by a CNC machine, with the total of more than 6000 hours of labour being more than apparent in the complex and meticulous detailing of the openworked dial and movement. The knowledge that all major components have not only been hand finished but cut and machined without using the technology of our time is simply mind-blowing.
Category: Chronograph – The Kurono Tokyo Chronograph 1
A monochrome vision from the Japanese master of Art Deco horlogerie, the Kurono Tokyo Chronograph 1. This comes from the inspired spin-off brand of the Japanese one-man band of Haute Horlogerie and hand-printed dials, Hajime Asaoka. Kurono has no fewer than two watches in the nominations this year, with their quiet take on production, marketing and pre-orders.
This is the accessible ticket into the wonderful world of Hajime Asaoka, with a perfect 38mm case, strong cues from the polished world of Art Deco in the layered dial, with a solid Seiko NE86A movement under the caseback that helps this stay at a very decent price point of $3680USD. The dial is a highly complex panda or reverse panda style with a pinstripe centre, radially brushed silver large registers cutting into the exquisite grey minute track. The printing on the dial is razor sharp, and the classic chronograph date window at 6 is balanced by the classic Asaoka detail of a long lonely double indice at 12. The fact that we have a low production enthusiasts piece like this in one of the most important categories for men's watches is a surefire sign that the world is changing to a more inclusive scene.
Category: Divers – The DOXA SUB 300 Carbon Aqua Lung US Divers limited edition
Let's not pretend, the DOXA SUB 300 Carbon Aqua Lung US Divers limited edition is easily recognised as one of our favourites this year; you'll find our in-depth story here.  So enamoured were we by this carbon diver's tool, we even made a tribute video.
DOXA is fast becoming a serious player in the diver's market, having long been established as one of the go-to brands for pitch perfect vintage for the diver-focused, both real and desk-bound. Last year we saw the launch of the retro-inspired but brand new shape of the SUB 200 with its short-lugged ergonomics and usual vivid colour scheme of DOXA, and then the SUB 3oo Carbon Aqua Lung changed everything.
DOXA has embraced cutting-edge materiality with the darkness of carbon fibre and a fresh yellow – while keeping the SUB shape we love for all its Cousteau and scuba connotations. An ultra-light forged carbon case, with even the bezel and intriguingly patterned dial being carbon fibre, this is equally bulletproof as it is feather-light on the wrist at a mind-boggling 87g. Reinforced by a titanium inner shell, this is DOXA's black and bold move into the future, and it says much for this dark diver that it sits between established players in one of the three most important men's GPHG categories. Let's be honest, in this round we are putting all our money on the toughest flyweight fighter in town.
Category: Chronometry – The Brivet-Naudot Eccentricity
The Brivet-Naudot Eccentricity is a handmade pièce unique giving recognition to the 30-year old watchmaker Cyril Brivet-Naudot, and this is his debut into the world of independent watchmakers. This is a simple yet spectacular take on traditional watchmaking – and a chance for the GPHG panel to not only give recognition to a piece of horological art, but to inspire a much-needed new generation of watchmakers.
Like the Handmade 1 by GF, this has been manufactured by Brivet-Naudot by hand with the only exceptions being the hairspring, jewels and crystal. The openworked dial is a spectacle of frosted base, details with exquisite hand polishing and bevelling, with a large balance and an orbital hour and minute indication taking centre stage in this theatre of craftsmanship. The movement is a free eccentric escapement developed in collaboration with Luc Monnet, and deserves more words than this reminder of what GPHG can achieve this year for watchmaking in general – should they make the right choices …
For the full overview of this year's nominations visit GPHG here.