The 5 best GMTs of 2020 over $10K, including Audemars Piguet, Hermès and more
Thor Svaboe
Editor's note: Arguably, the GMT complication is the most practical in a watch. Everyone has at least one other time zone they want to track, but there aren't many people using their chronographs to measure F1 lap times. The GMT complication also offers an opportunity to think about the world at large. It reminds you of how big the world is, and presents an opportunity to forget the moment-to-moment stresses that we all face in our lives. If that wasn't enough, the wristwatch GMT complication has been imagined in innumerable ways over the decades, and are an exciting and creative corner of the watch world. So with that in mind, we wanted to look at what we think are some of the best GMTs of 2020 over $10K. Let's go. 
AP Royal Oak Concept Tourbillon GMT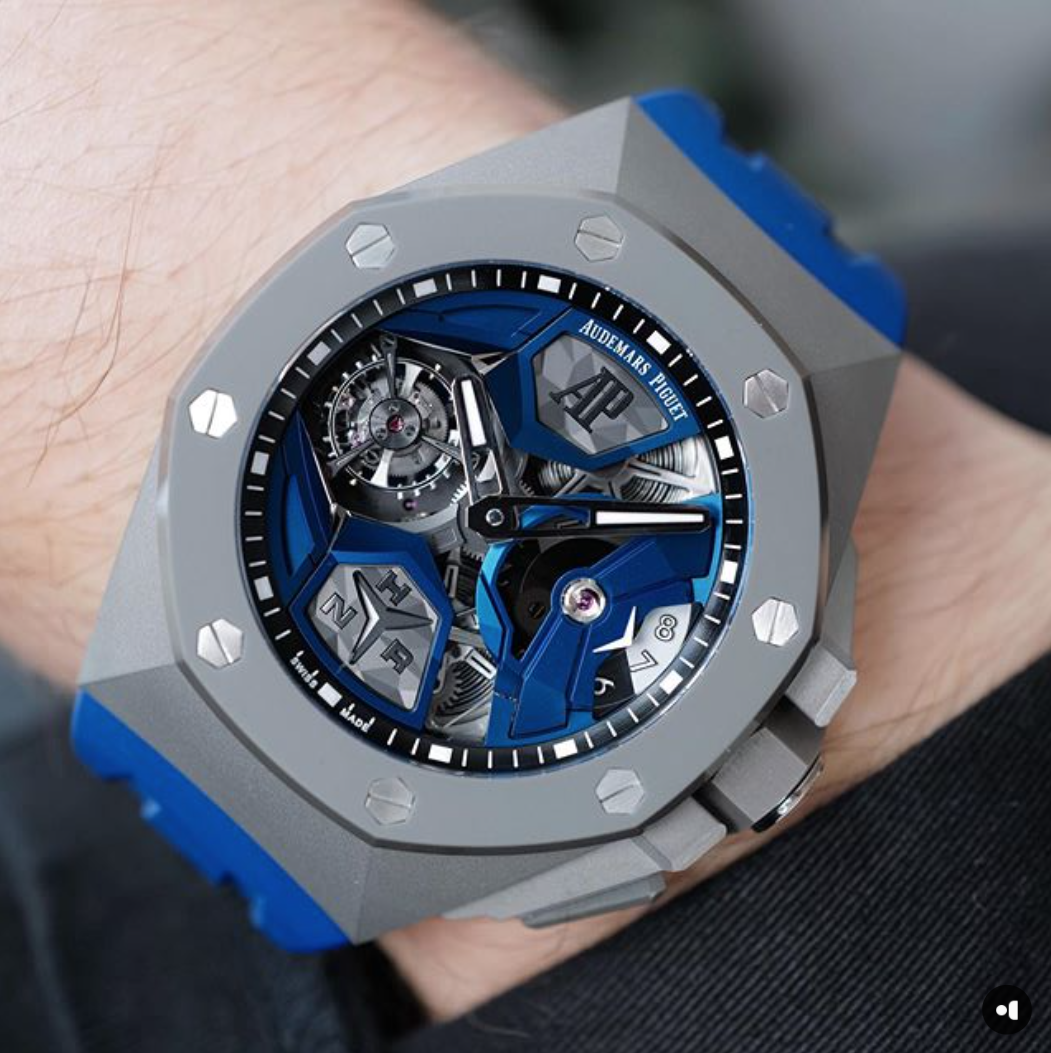 The Concept range by Audemars Piguet is a latter-day classic, and since its introduction in 2002, has attracted a new clientèle to the brand. Hell, the cutting-edge angular weaponry of the Concept will blow even the flashiest Offshore out of the water, and that says a lot for its imposing presence. As Fergus Nash underlined in our in-depth story here, the AP Royal Oak Concept Tourbillon GMT is about as avant-garde as Switzerland gets, and it only takes but a furtive glance to both conclude and confuse yourself. As if smuggled out of Area 51, here is yet another Concept reference ready to mess with our frontal lobe's horological memory chip.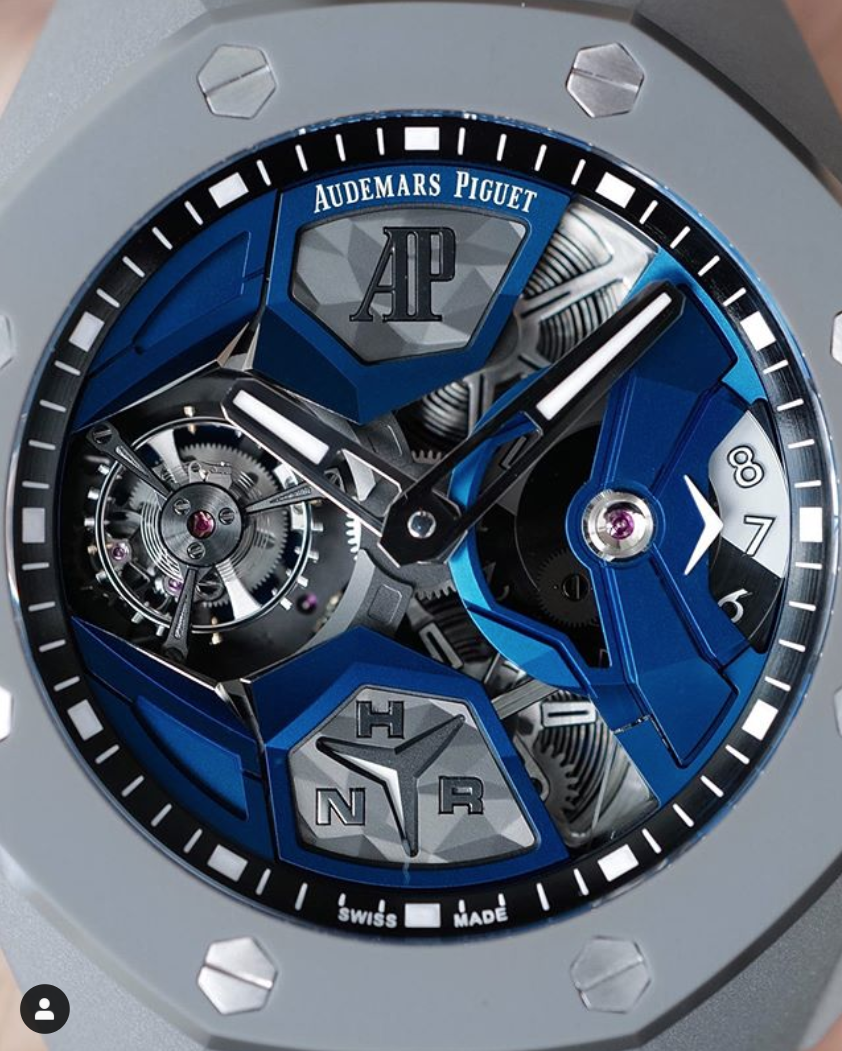 There is a vague familiarity in the bold octagon bezel, the shape of the crown and the logo, whereas the rest is a defiantly angular work of art in dark titanium. Within the massive fortress-like case structure, the dial is a mash-up of deliciously sharp blue shapes, seemingly asymmetrical but in perfect centred balance, leading our eyes to the immaculate flying tourbillon at 9 o'clock. The movement itself has a mind-boggling 237-hour power reserve, legibility on point with large blunt sword hands, and the perfect simplicity of a 9 o'clock jumping hour GMT display. At 44mm, with a 16mm height, it is no sweet-spot 38mm everyday piece. But hey, that's exactly why something so massively present on your wrist is a fresh breeze in a world of serious fauxtina. Available now at $198,400 USD.
Hermès Slim d'Hermès GMT
French by design and by nature, infused with Swiss Haute Horlogerie, the Slim d'Hermès GMT is thoroughly more modernist than our perceived image of the French Maison. Starting with the dazzle of a rare palladium case, resembling platinum but rarer still, and a surprisingly functional dial: the sleek minimalist lines of the polished case have a futuristic interpretation of wire lugs, the delicately angled tips turning inwards, grasping a hand-finished blue-stitched crocodile strap. The GMT function has the easiest reading of day and night by two circular apertures named L and H for Local and Home, with white or blue appearing to let you know.
The delicate grey colour of the dial has charmingly vague silver print for the hours, an interesting depth being created by the darker grey date register intersecting the outer rim at 6, and then THAT second time zone at 10. The large, seemingly whimsical design of the GMT sub-dial at 10 in a dusty silver also sits recessed, but pops out at you with its confusing message. The hours seem randomly scattered, but are in fact in perfect order as if floating on transparent axis from the centre of the delightfully blue pointer. The adjustment is child's play through a simple pusher at 10, obvious in its functionality. If there was an award for the artful science of mixing abstract dial art with pure function, the Slim d'Hermès GMT would walk away with the spoils. The Slim d'Hermès GMT is priced at €12,000.
Panerai Luna Rossa GMT 44mm
After 15-20 years of rocket-like upward trajectory graphs, Panerai might have been accused of resting on their laurels for the last couple of years. But even with a quiet main catalogue for 2020, their exceptions are razor sharp. With the Luna Rossa GMT, they're sticking to their large 44mm guns with a familiar shaped high-tech weapon, and it's working. Like the silhouette racers of the '80s, the shape is familiar, but upon closer inspection reveals a darker, tougher sense of purpose. The grey familiar Luminor case has the unusually light weight of sandblasted titanium, with wood-like veins in the bezel created by their own Carbotech composite.
A familiar black sandwich dial has the look of a meteorite, but is yet another high-tech composite material of recycled carbon fibre, called Scafotech. The high-tech bravado is coupled with superb legibility from white Super-LumiNova, with a useful GMT complication based on the in-house P.9010/GMT calibre. A popping pièce de résistance is found in the flash of red for the GMT arrow, and the delicate running seconds pointer at 9. Tough, large and fresh. The Panerai Luna Rossa GMT is available in a limited edition at €10,800.
Grand Seiko SBGC238
As anniversary celebrations go, Grand Seiko has for their 60th anniversary forgone the understated, quiet Japanese traditions, to compete for the 2020 Top Trumps of strategic marketing. Hardly a month has gone by in the horological game without another strong Japanese reference being revealed, and has left Seiko with loaded dice. But nothing prepared us for the samurai-armour inspired, angular magnificence of the SBGC238. Yes, we are looking at a rather large chunk of 18k rose gold, bringing a subtle twist to the toughness of this particular case design, inspired by the Grand Seiko lion.
This is especially visible in the sharp, angled lug-corner of the cushion-shaped case, symbolising a razor-sharp lion's claw. The delicate juxtaposition of the Zaratsu polish on the case end and sides plays brilliantly against brushed angularity, made even clearer with the rose gold. This is where the traditional indigo colour of Katsu-iro comes to play, a dark piercing blue found in traditional Samurai armour, symbolising strength in battle.
We have seen the intricate dail structure earlier this year in a golden brown tone, but with the dark indigo it turns a more secretive nocturnal shade, with delicate touches of blue reflecting the smallest ray of light. The sharp brushed sword marking the minutes have signature Zaratsu-polished bevels reflecting the light, and the hour hand is a large swathe of brushed steel weaponry. Along with the chunky applied indices, this might be one of the most legible of Grand Seiko chronographs, with an insouciant air of indestructibility. Powering the golden beast is the 9R86, the latest iteration of Grand Seiko's Spring Drive movement in GMT form, with an accuracy of +/- 0.5 seconds a day, and a beguiling glide of the seconds hand. Every movement is hand finished with Grand Seiko's take on striping, bevelling and the small details that matter, while in-house testing exceeds the COSC standards we are used to. The lion on the golden rotor is a potent symbol of Grand Seiko, only fitting for their strong 2020. The Grand Seiko SBGC238 is available at 5,060,000 Japanese yen (approx $65,500 AUD), and is limited to 100 pieces worldwide.
Louis Vuitton Tambour Spin Time GMT
This time I'm close to being lost for words, and that's a first. Louis Vuitton reinvents their own Spin Time within the familiar strong Tambour case, making it a new and sparkling proposal. The spectacle of the floating cubes is still here, though somewhat more quiet, as they are present within cut-out windows on a grey sunray dial, made more legible through the actual hours being printed on the cubes. For added functionality, the large, smooth case is also inhabited by a GMT complication, regulated by large pushers at 10 and 8 o'clock, with some fresh red pops of colour and a date wheel, with lume squares for the hours.
So is this a functional tool watch? Well, it does have a 100m depth rating but, boy, have Louis Vuitton done their best to balance out the excellent functionality with one of the most spectacular cases of 2020. The 18k gold case is still ergonomically round, yet in this case beset with 744 brilliant-cut diamonds, including larger ones inset into the octagonal pink gold crown. I love the functional aspect of the clear and snap-happy Spin Time cubes, with a delicately simple GMT function. But let's be fair: for me it would be more a question of keeping track of my own ability to focus, faced with another splendid example of what seems to be an infinite scope within La Fabrique du Temps for renewing our perceptions of les horloges du Louis Vuitton. Impressed? Very much.