Attention space cowboys: 5 alternatives to the Omega Speedmaster that you probably haven't considered
Thor Svaboe
The Speedmaster Professional is so well known, so in command of its hallowed place in the history of watchmaking, how could you possibly find an alternative? Given that it is a watch that has actually been to the moon (conspiracy theories about the Mojave Desert aside), any comparisons will have to be approximate at best. This will be an attempt to offer alternatives to the actual space-flown chronograph that can also muster period-perfect and legible chronographs with monochromatic balanced designs. The Speedmaster now represents a huge range, from the Speedmaster Professional to versions in platinum and gold, but all are essentially functional and tool-minded chronographs. So without further ado, let's take a look at a few possible options.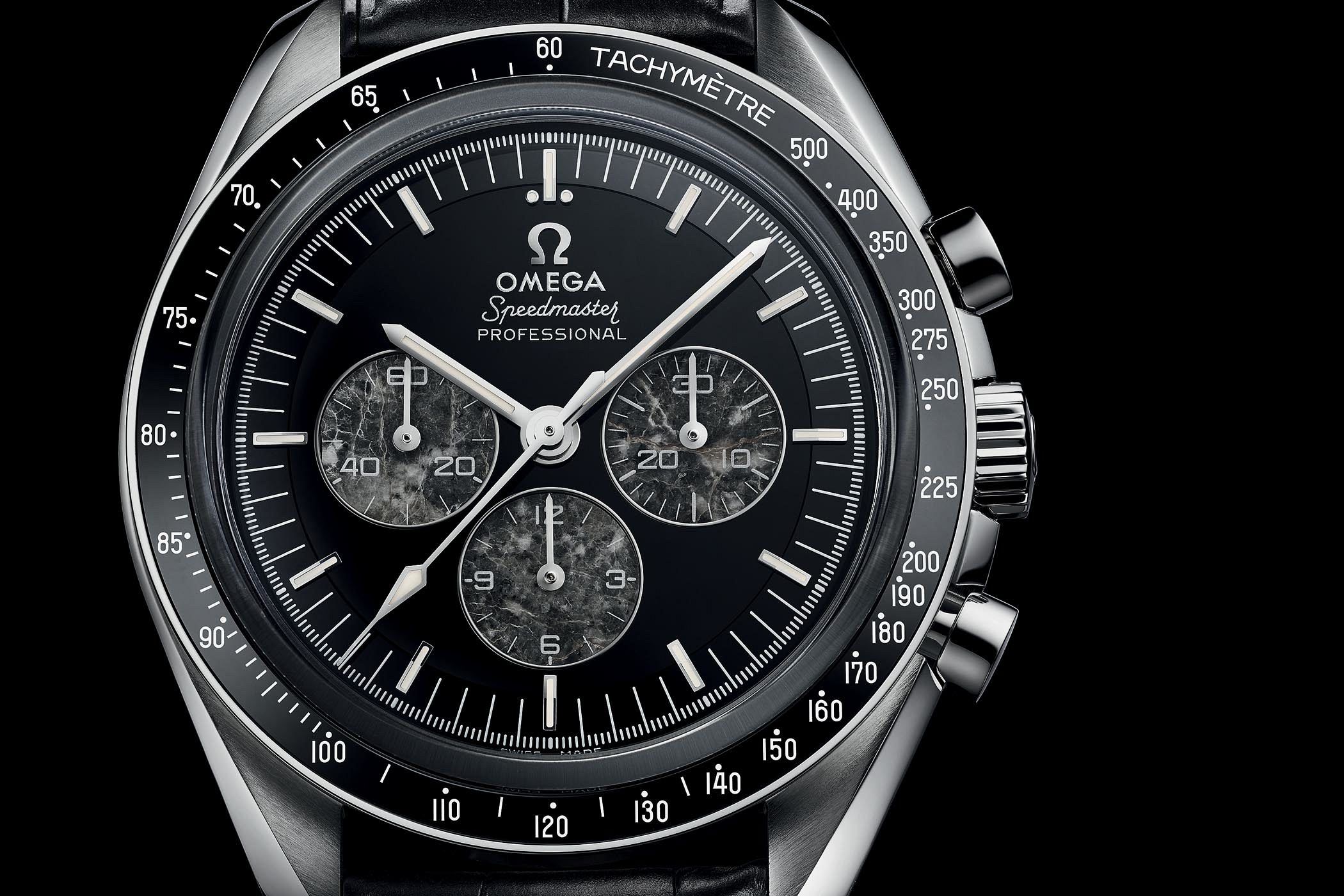 Bell & Ross Heritage BRV2-94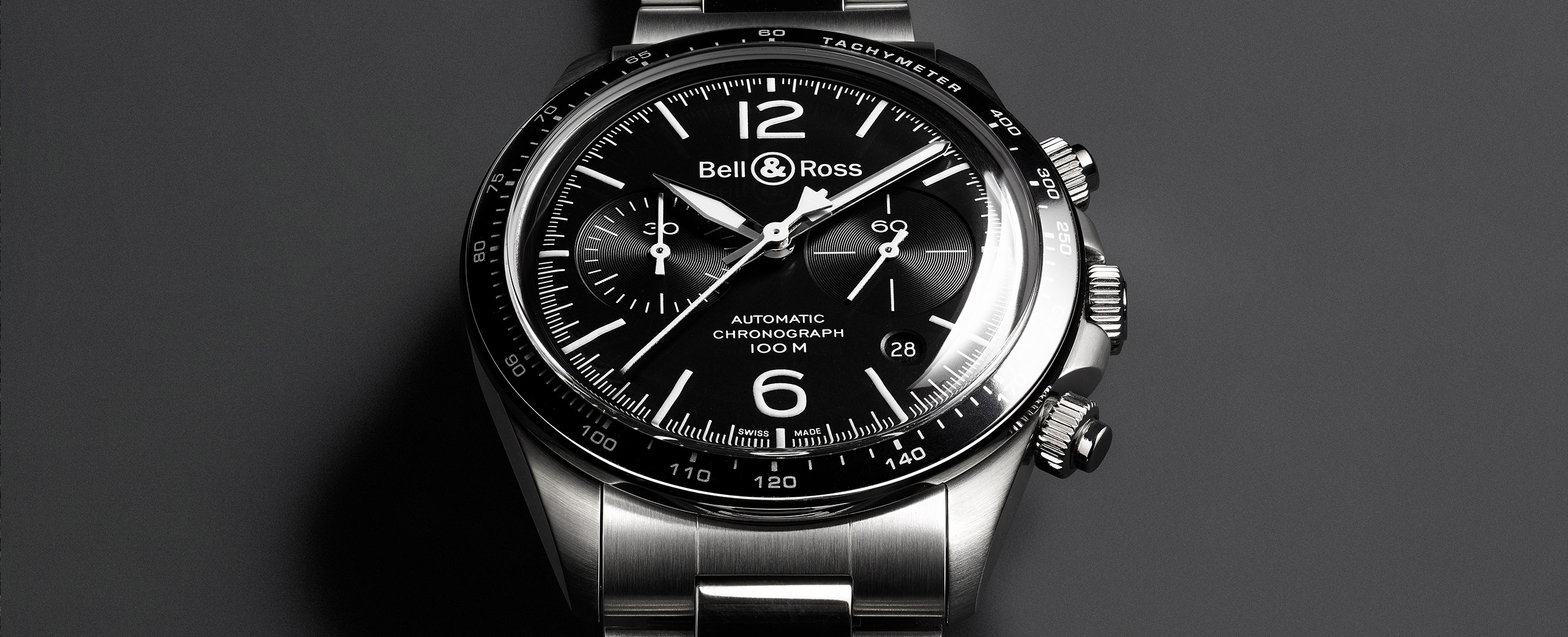 Flight-inspired, like most of the Bell & Ross range, this is a slightly smaller, yet more muscular, proposition to the beloved Speedy. While the brushed and polished 41mm case is Daytona-esque with its distinctive crown guards, screw-down pushers and broad-shouldered looks, the dial is a pure vision of monochromatic legibility. The dial is a pure twin-register chronograph with clear B&R design elements like the polished, dagger hour hand and sword minute hand and – my favourite touch – the white lacquered second hand with its delightful delta wing jet counterweight. A typical large 12 and 6 completes a well-balanced face, and yes, that round date window at 4.30 is as unobtrusive as it is useful. An ergonomic case, with classic curved lugs, ensures comfort, while a robust bracelet with brushed and polished links ensures a distinct identity along with the reflective fun of the super-domed sapphire crystal.  The movement is a solid BR-CAL.301 automatic modular chronograph movement based on the trusted ETA 2892. Price: $6800 AUD.
Seiko Prospex SSC757J1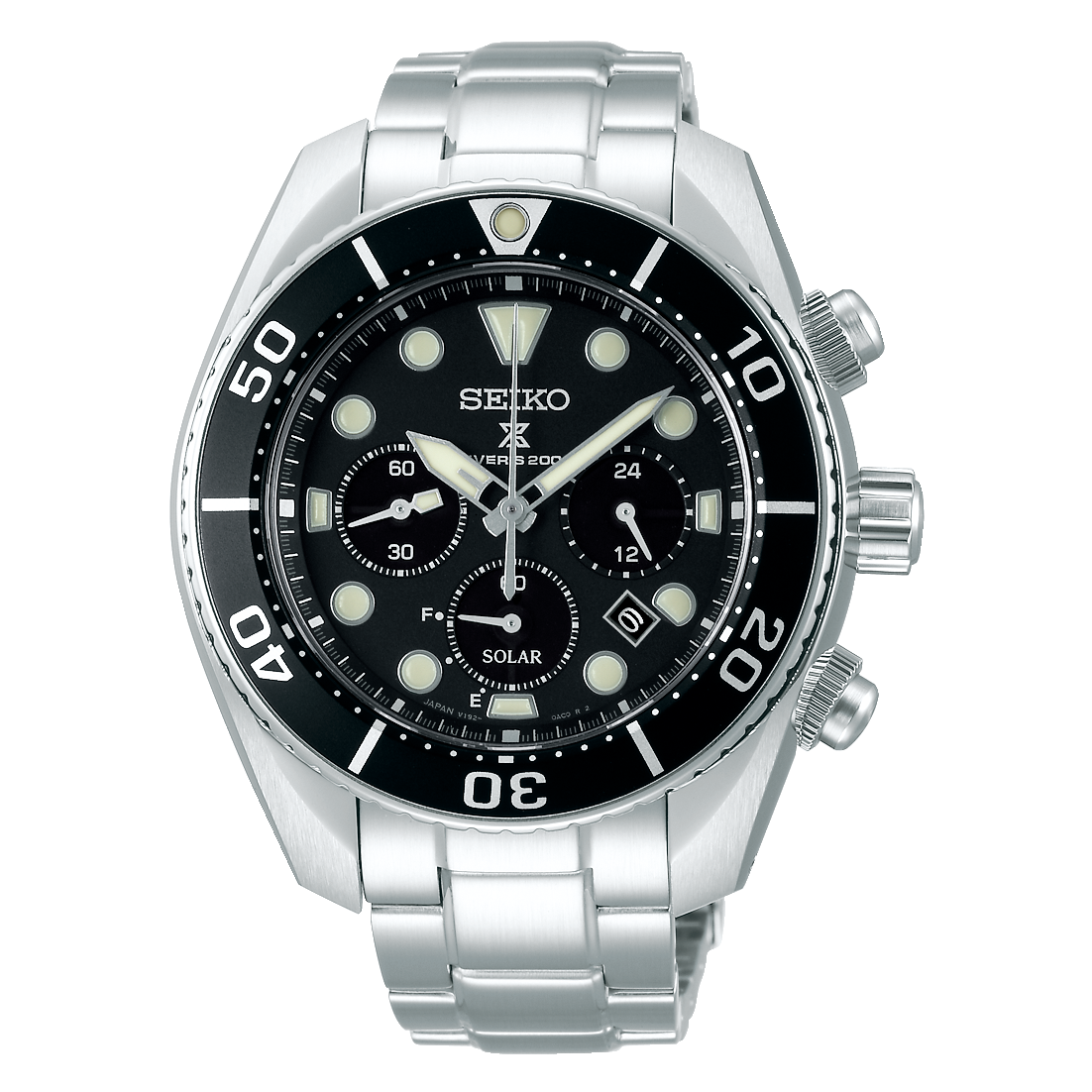 OK, so it's not a mechanical chronograph, it's not even hand-wound, but it's a rock solid Seiko, and no matter what reference it has, we will still refer to it as the Sumo chronograph. A highly legible matte black dial with large polished indices punching above its class? You betcha! This will take all the punishment you can throw at it – stray asteroids, alien spaceship collisions – and keep on ticking. As the name suggests, the Sumo is not a small watch, but speaking from personal experience, Seiko are wizards of ergonomics and can make a 44.5mm watch feel like 41-42mm on the wrist. The case detailing is better than what you might find on a Swiss watch for three times the price, with exquisite polished bevels on the lugs and the Prospex's inwardly angled sides that deliver a slimming effect. Performance? It boasts an accurate V192 Solar movement and a 200m depth rating, while the lume is lantern-like, so presumably legible even in the deepest black hole. Price: $1100 AUD.
Sinn 140 St S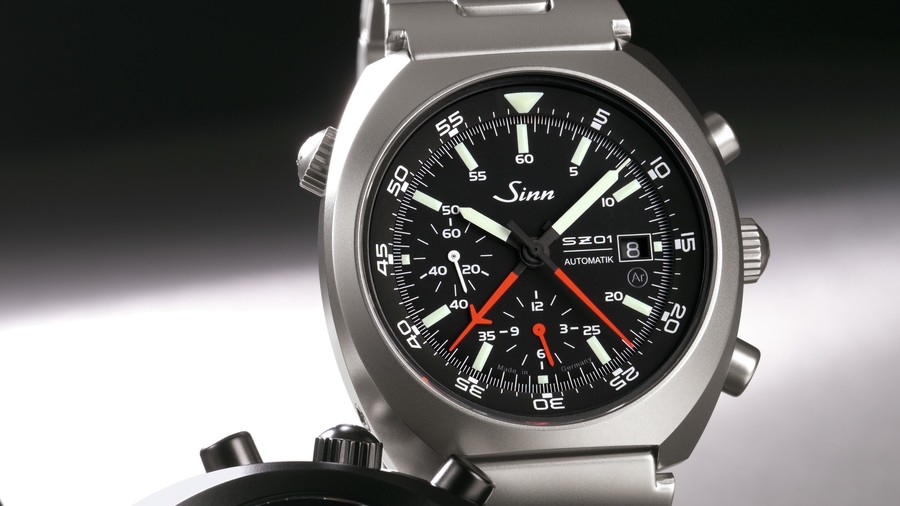 This is the 2020 version of the Sinn 140 S that German astronaut Reinhard Furrer wore during a D-1 Spacelab Space Shuttle mission in 1985 and which — in typically restrained German fashion — he bought with his own money. Sinn, the German meisters of instrument watches, deliver a chunky, cushion-shaped case not too dissimilar to an astronaut's helmet. Shape-wise, it is more inspired by the Mark II Speedmaster, but I seriously enjoy the pops of red on the dial that are well balanced with powerful lume, and an inner rotating timing bezel. The case itself is bead-blasted and Tegimented (a chemical process hardening the metal). While not small at 44mm, superb comfort comes from the smooth H-link bracelet. There's a trust-inspiring 100m depth rating and the SZ01 (ETA 7750 based) automatic caliber is antimagnetic and shock resistant. This is a chronograph that will surely outlast both you and your adventures in outer space. Price: EUR 4250 on bracelet.
The Bulova Lunar Pilot Chronograph (the other moon watch?)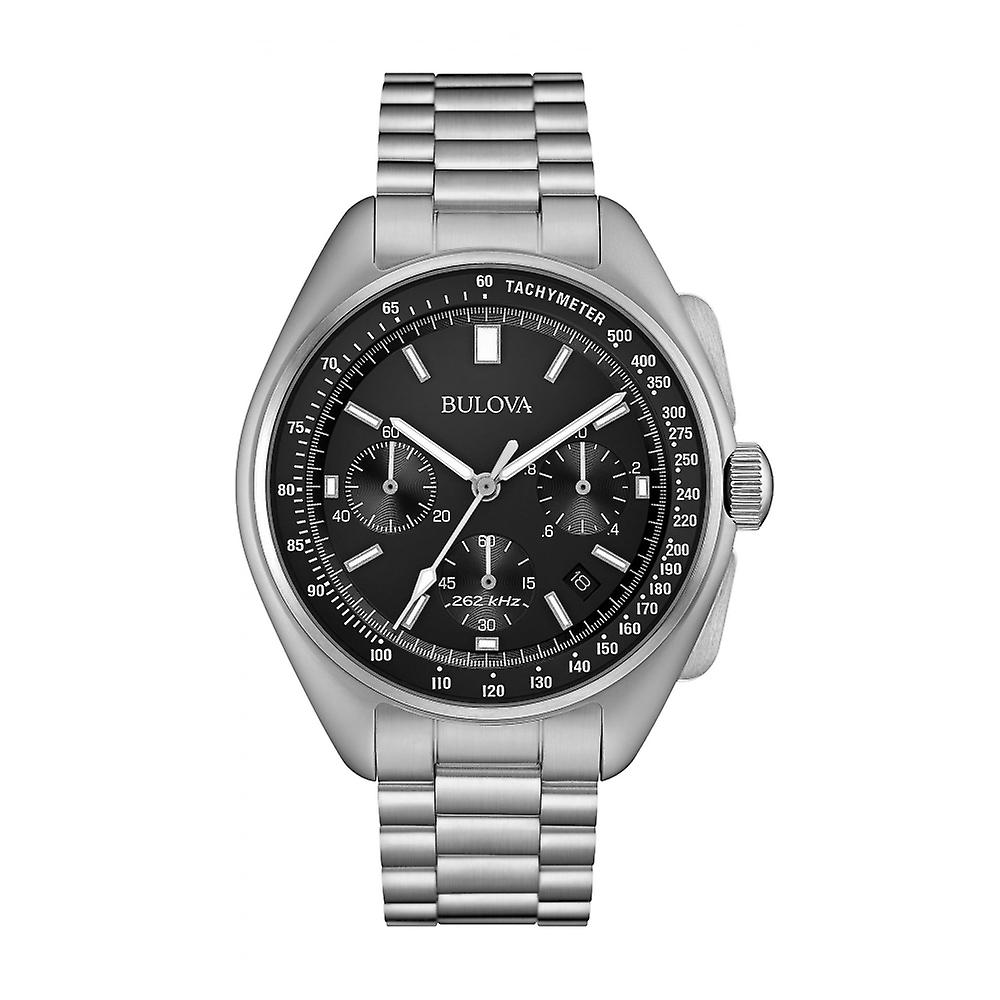 Astronaut David Scott wore a Bulova Lunar Chronograph on his Apollo 15 mission. When it surfaced in 2015, it sold for a huge $1,300,000 USD at auction. So for those of you who just see a Speedy homage or a good-value chronograph, this has bona fide history under its belt. After lobbying NASA and the government for the 1972 Second Qualification round (Google it, it's juicy), it seemed that the American Bulova company, while under the "buy American" banner, snuck in a rebadged Universal Genève Space Compax. Unlike the slightly larger Omega Speedmaster with its unbroken pedigree, this is a pure re-edition, first appearing in 2015, but still. While a bit on the chubby side at 45mm, it delivers proper value, even with its quartz movement. This is a hell of a lot of reissued moonwatch for the money. Price: $599 AUD.
Bulgari Octo Velocissimo Chronograph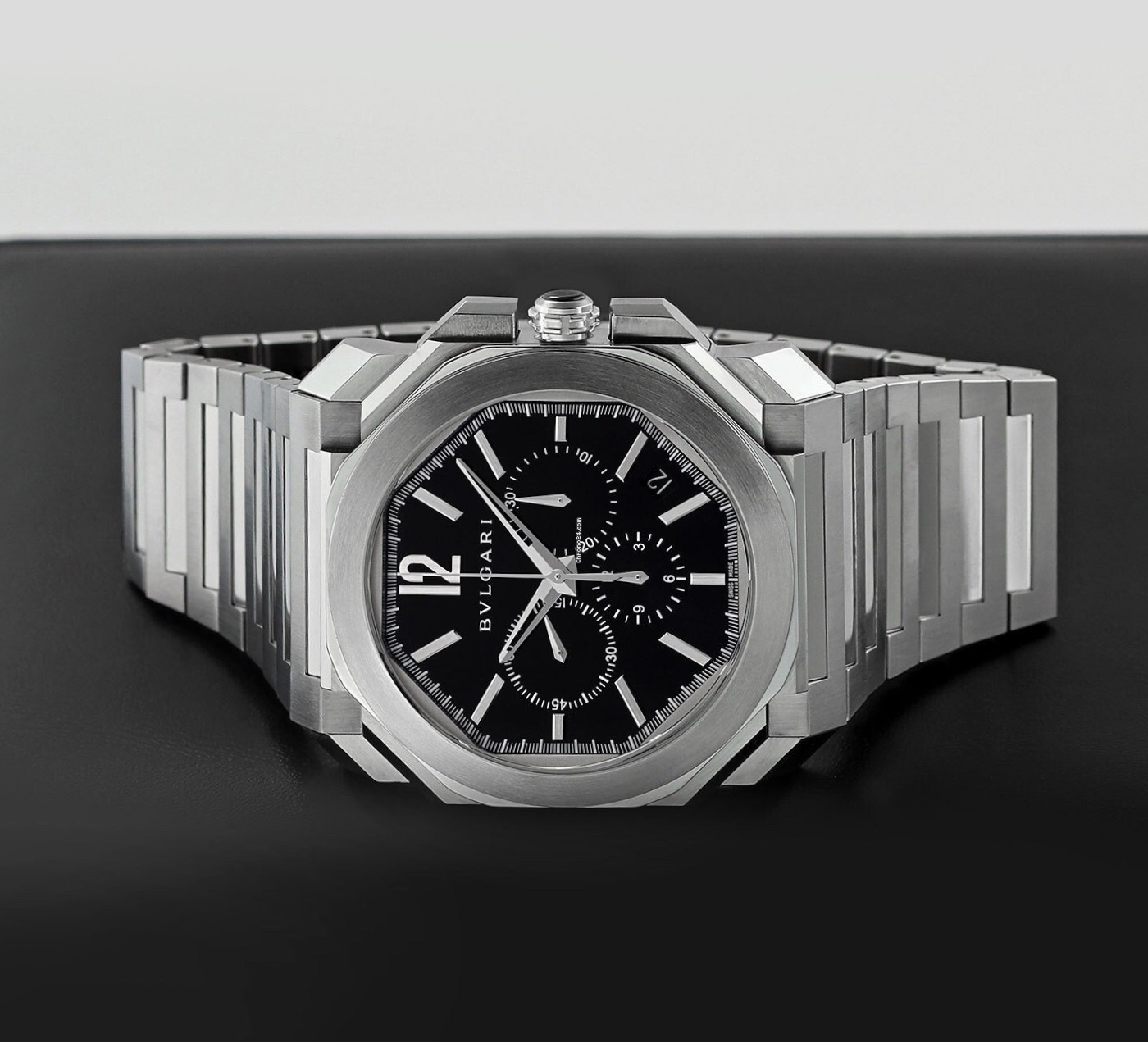 Yes, it's angular and not even vaguely similar to the Speedmaster Professional. But if you shut your eyes and really concentrate and imagine a Speedy with no history and no emotional baggage, this could represent a possible alternative. Let's be honest: the Bulgari Octo Velocissimo is more glamour piece than tool watch. But I love the feast of angles that combine to create an architectural masterpiece of facets and leaves you with a seriously functional chronograph that looks like, well, nothing else on the planet. Admittedly, this is a discontinued model, and while you can get your pants charmed off by the sandblasted matte ultra-thin wonder of the Octo Finissimo Chronograph, consider the following. If you want to stick within a certain budget and still get a vague echo of the Speedmaster, seek out a pre-loved Octo Velocissimo. They're available from reputable sites and dealers in splendid bold monochrome black and steel for around $10,000 AUD.