EVENT: 4 watches & 4 quotes from the Australian launch of the new Grand Seiko quartz GMT calibre
Andrew McUtchen
During the week, we were privileged to host the official Seiko Australia launch of the Grand Seiko GMT Quartz Calibre at a Melbourne restaurant called Kuro Kisumé. We've had some good old times over the years, but this was really up there. Minds were blown by the food – believe the hype – wrists were tempted by the watches, and new friends were made, from all walks of life. From firefighters to plastic surgeons to an elite bodyguard, to 'Mr Grand Seiko' (handle: @mrgrandseiko — too legit), we had the right people in the room.
The atmosphere of the evening, my tablemate John commented, was "like we were in a private home" – an ambience complemented by the genial presence of Seiko Australia Managing Director Toru Koizumi, who spent much of the evening in deep conversation with some of the most fanatical Seiko fans in the country. There were four watches in particular that received the most attention, and four quotes that summed up the night's proceedings.
"TIME+TIDE WILL HAVE EXCLUSIVITY ON THE FIRST ALLOCATION OF THE LIMITED EDITION PRESAGE 'FUYUGESHIKI' COCKTAIL TIME MODELS …"
The announcement by Mr Koizumi that we would be selling the first allocation of the Presage 'Fuyugeshiki' Cocktail Time Limited Editions (SRPC97J1 and SRP843J), in both men's and women's versions, would not have been a total surprise. It builds on the story of the Seiko Presage SPB069 'Moonlit Night' that we were lucky enough to offer in December last year. We have 40 of the men's models and five of the women's to offer from November 1. They are priced at $725 and $699 respectively, and are limited to 7000 and 5000 pieces. Stay tuned for more details, and register your interest at [email protected]
Presage 'Fuyugeshiki' Cocktail Time Limited Editions (SRPC97J1 and SRP843J)
"THIS IS THE BEST SUSHI I HAVE EVER EATEN"
This is a recent quote from one of Australia's leading food critics John Lethlean, and it was echoed by many around the table. Kisumé proved to be extraordinary, and perhaps the most 'Grand Seiko feeling' venue you could possibly imagine. Brushed concrete ceiling with exposed concrete beams, a horseshoe Chef's Table anchoring a long black dining table and muted lighting, some spilling from a separating wine cellar wall comprised largely of bottles of Chablis. The night began with a sushi/sashimi box (the knife and prep work on this creation has to be seen to be believed), Wagyu truffle balls to foie gras beef tenderloin with a side of wasabi, beetroot and green apple salad … this was Off. The. Chart. If there was a handcrafted watch equivalent of this handcrafted culinary experience on hand, it was the extraordinary Credor Eichi II in rose gold that guests were able to handle at the Chef's table.
Credor Eichi II in rose gold
"I'D NEVER CONSIDERED A QUARTZ WATCH BEFORE, BUT THIS GMT …"
If ever there was a gang of watches sent to change your thoughts, fundamentally, on the power, the precision and the appeal of high-end quartz watchmaking it's this new vanguard of Grand Seiko GMT models. A buyer of the green dial SBGN007 version on the night said how glad he was to have "ventured outside" of his usual brand set and that the "dial is amazing". Happy days, and some very cool new models in the increasingly contemporary Grand Seiko range.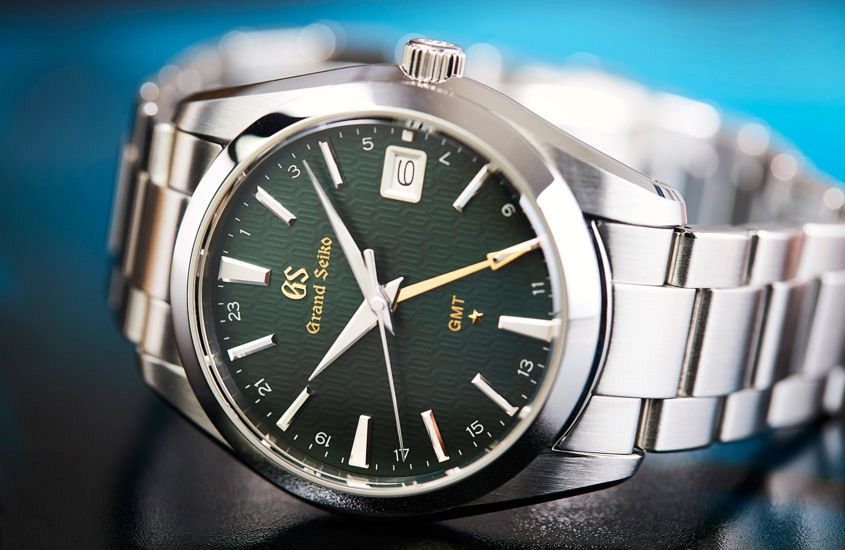 Grand Seiko SBGN007 GMT
"FELIX IS SO RELATABLE IN PERSON"
We kicked off the evening with a video of Felix and his '10 things you should know' about Grand Seiko. But this was just an entrée. Because before main, guests were treated to the real thing – Felix, in full voice, and without a script (that's the way he rolls), talking about his growing respect and passion for Grand Seiko. The feedback after was that he's fine online, but better in the metal — "so relatable", said one. The watch Felix singled out to devour with words was the Grand Seiko Sport Collection Spring Drive GMT Limited Edition SBGE245 – he praised its sumptuous ox-blood dial and its sapphire crystal bezel, which is a very unusual look.
Grand Seiko Sport Collection Spring Drive GMT Limited Edition SBGE245
Lastly, it's important to note that this event was far more than the work of just Felix, myself and the Seiko Australia team; it was largely commandeered by Time+Tide marketing manager Emma Thomas and a crack team at Kisumé, who were able to translate an ambitious vision into reality. Hats off to Emma and the Kisumé team — Sarah, Amelia and Florian — for creating one of the most nuanced and on-brand evenings that we've ever been involved in.