By day she's a watch buyer for a well-known American jeweller, by night she's Batwom – no, wait – by night she's @watchgirloffduty!
Name: Zoë Abelson

Occupation: Watch buyer at Govberg Jewellers

Handle: @watchgirloffduty
Followers: 3397
Location: Philadelphia, PA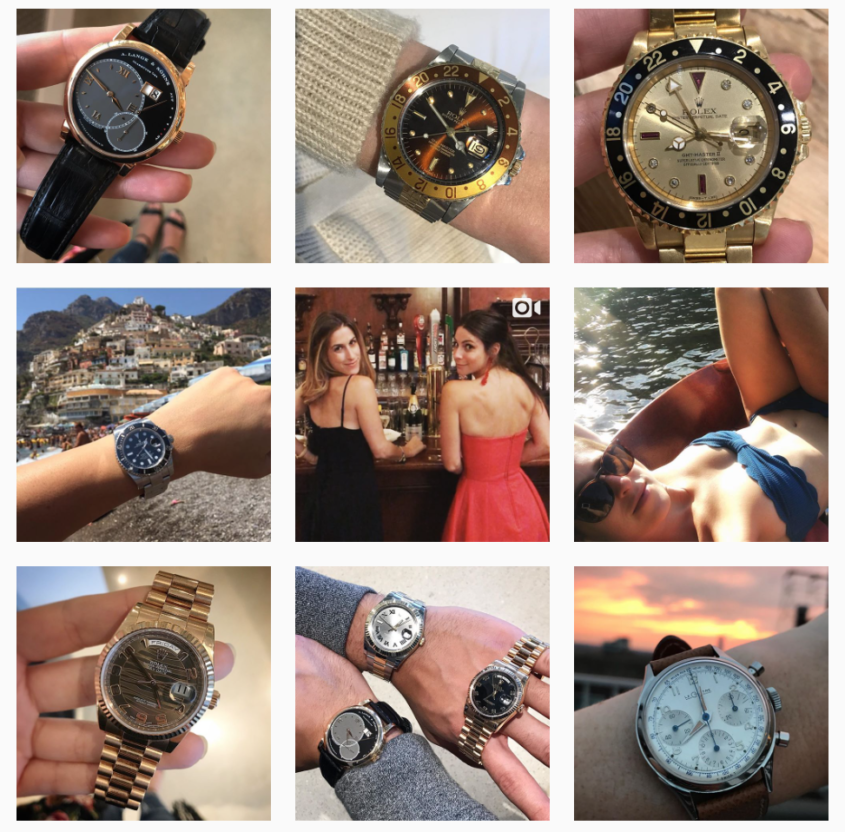 How do you unwind?
After work I typically get some exercise in, cook dinner, and take a long bath. It's a therapeutic process that helps me get some sleep after a mentally draining day. If I'm out and about, I'm exploring Philly by way of my stomach. Before starting a career in the crazy watch industry I worked in the crazy hospitality industry, so I love keeping current with the food scene and trying new restaurants.
What's your daily watch and why?
Good question, but I don't really have one. I have a pretty solid rotation between four of my watches. It depends on what I'm wearing and what the plan for the day is. If I had to pick one that sits on my wrist the most, it would be my vintage LeCoultre chronograph with a Valjoux 72 movement.

Of my six watches, the ones that I wear the most are the vintage LeCoultre Chrono, a Rolex Datejust with a blue dial, a JLC Reverso Night & Day, and my great-grandfather's Patek Philippe Ref. 2431. I've acquired all of my watches in pretty interesting and non-traditional ways. I have a strong attachment to all of my watches for different reasons, so I don't choose favourites. But, I would say the most special watch that I own is the Patek Ref. 2431. My great-grandmother gifted it to my great-grandfather as a 25th wedding anniversary present and it has a beautiful note engraved on the back. Clearly good taste in watches runs in the family. The piece was handed down to my grandpa, then to my father, and although I do have an older brother who was definitely next in line for it, I was very vocal that I should be the one to have it next. Sorry, Mike!

What's your daily ride? How do you get around town?
Uber! I lived in NYC for six years and now just moved to Center City, Philadelphia, so there isn't much need to have my own car.



Am I right in assuming you prefer men's watches?
You are correct, I much prefer men's watches. There are a select few ladies' watches that I wouldn't mind having in my collection, such as a diamond Bulgari Serpenti. Otherwise, I'm pretty lucky that vintage watches are considered "small" by men's standards today because that just leaves more for me.



The handle @watchgirloffduty – how did that come about?
I started this handle about two years ago when I was curating watch auctions at Auctionata. I created a new account because I wanted to show off some of the cool pieces that I came across, but I knew none of my friends or family who followed my personal account wanted their feeds to be inundated with wrist-shots. After my first post that I took of some amazing pieces that were going to be in my next auction, Eric Wind included my post in a "Bring a Loupe" article on Hodinkee. I quickly gained a couple hundred followers, which really jump-started the account. I only have 3000-odd followers to date, which is very few compared to the more popular accounts in the watch world.
I try to be a little different and show both my life working in the watch industry and also my personal life outside of it. Still, you can see that watches are apart of my life even outside of work. I think anyone who looks at my Instagram can easily know a lot about me. I leave very little offline.



If you could own any watch tomorrow, what would it be?
Another good question, and probably one that I get asked the most. My answer changes daily. Today, I would say a Rolex Day-Date ref. 1803 with a blue "Stella" diamond dial.