Ever since its unveiling way back in 2005 at Baselworld, Hublot's Big Bang has been not only an inimitable collection of timepieces but also a provocateur in the horological landscape that has challenged the notion of what a timepiece can and should be.
As we're sure many of you will already know, the Big Bang is the brainchild of a true doyen of the watchmaking world, Mr Jean-Claude Biver.
Mr Biver, who came onboard with Hublot in 2004, was tasked with reinvigorating the brand and taking it to the next level.
His answer was the Big Bang.
Its distinctive portal-shaped case, paired with Carlo Crocco's signature natural rubber strap, marked it out as a distinctly different timepiece compared to its contemporary rivals and, to this day, you can still spot a Big Bang on the wrist from miles away – it's that iconic.
And here are three of our favourite iterations:
Hublot Big Bang Tourbillon Power Reserve 5 Days Blue Sapphire
This watch perfectly sums up what Hublot is all about – technical and material innovation that's at the very forefront of the industry. You see, not only is the Big Bang Tourbillon Power Reserve 5 Days Blue hewn from solid blue sapphire, which is an incredibly hard material to craft, but it also houses, as its name would suggest, one of the most revered and intricate complications a wristwatch can possess – a tourbillon. This watch presents an undeniably contemporary and striking aesthetic as a result. It also commands one hell of a price tag. $224,000
Hublot Big Bang MECA-10 Full Magic Gold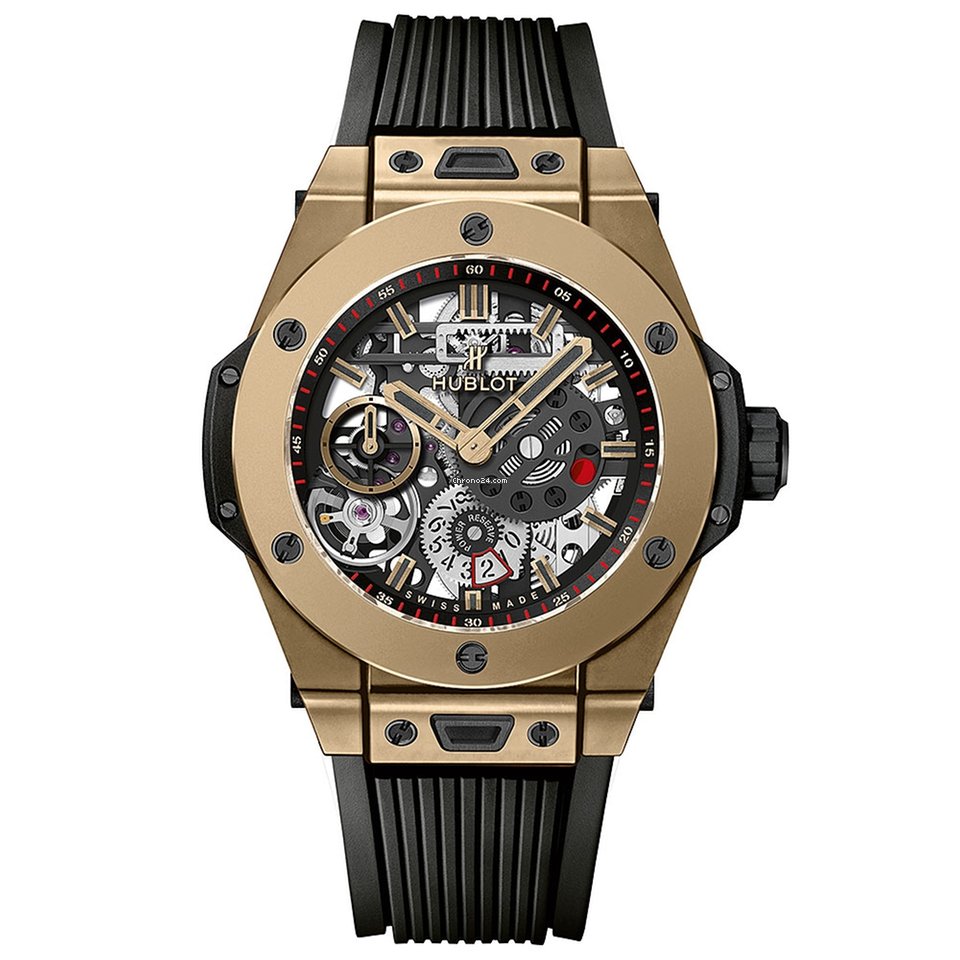 Yet another personification of Hublot's class-leading material expertise, this example of the Big Bang MECA-10 features a case created from the Swiss marque's proprietary "Magic Gold". This unique material is the consequence of blending 18k yellow gold with ceramic. The result of the amalgamation is a precious metal that retains its traditional lustre and charm, while also being incredibly scratch and mark resistant, thanks to ceramic's anti-abrasive and hardwearing properties. Paired with Hublot's technically advanced, manual-wind MECA-10 movement, which offers up an absurd 10 days of power reserve, and you've got a timepiece that is unparalleled, especially at the price point. $44,600
Hublot Big Bang Unico Rainbow King Gold
This wouldn't be a Hublot list without having some form of a "Rainbow" gem-set timepiece, and nothing says 2019-chic quite like a wristwatch completely covered in "coloured ice drops". Extravagant as it may be, you've got to hand it to Hublot for this one, because the Big Bang Unico Rainbow King Gold is as awe-inspiring as it is … extrovert. And the sheer amount of man-hours it takes to create one of these dazzling timepieces beggars belief, as each and every precious stone is handpicked and adorned on the 18k King Gold case. $118,000