Hublot's Spirit of Big Bang collection is unquestionably one of the most varied and nuanced in the Swiss watchmaker's catalogue.
The quintessentially tonneau-shaped timepiece, which has only been around since 2014, has spawned quite a few different iterations, in a number of different sizes and materials, since its inception.
In fact, as of right now, there are more than 30 different examples of the inimitable timepiece on offer.
So, to save you the hassle, we thought we'd pick through extensive offerings and choose three of our favourite models that can cater for different occasions:
Hublot Spirit Of Big Bang Moonphase Titanium 42mm – The daily spirit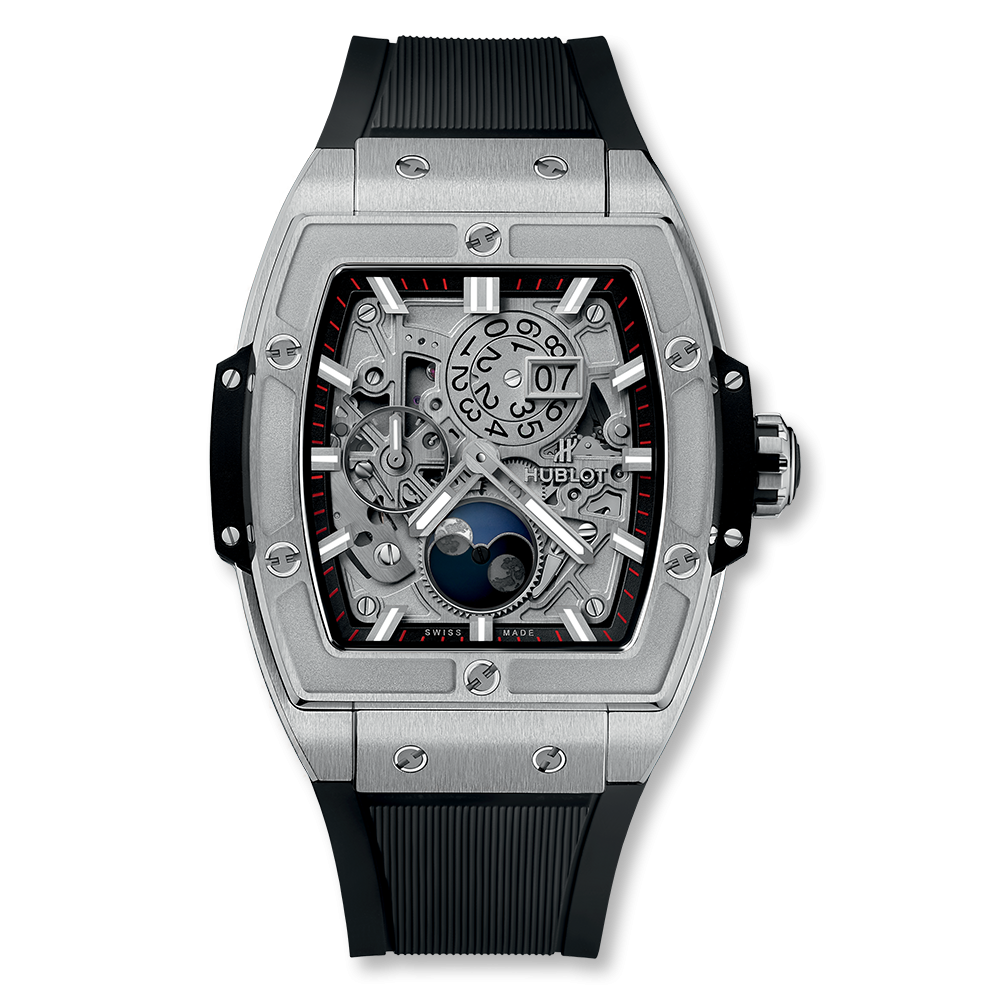 This particular example of the Hublot Spirit Of Big Bang would be ideal as a daily wearer. Why? Well, for a start, the mid-sized 42mm case ensures that it's versatile enough to fit under things like a cuff, and the fact that it's made from titanium also means that it's lightweight, adding to its breadth of ability. Equally, because it comes fitted on Hublot's signature natural rubber strap, comfortability is optimised. And, if we're being honest, it's just a hot watch. $24,300
Hublot Spirit Of Big Bang White Ceramic 45mm – The weekend spirit
We've written about this watch before, and for good reason … just look at it. The weekend vibes this watch exudes are off the charts, and, as should always be the case with a Saturday-through-Sunday wearer, it's got a great sense of humour – there's nothing too serious about it. It's not all fun and games, however, as this Spirit Of Big Bang has got some firepower thanks to its in-house Calibre HUB4700, a self-winding, skeletonised movement that offers up a chronograph and date complication and 50 hours of power reserve. $33,800
Hublot Spirit Of Big Bang Sapphire 45mm – The flex spirit
Not only does this Spirit Of Big Bang perfectly imbue the ethos of a flex watch, it also showcases why Hublot is considered one of the vanguards of the watchmaking industry when it comes to material innovation and design. Let's also not discount the fact that this solid chunk of sapphire just looks cool as hell, especially when paired with its translucent natural rubber strap. $102,000